Garden to table lifestyle is just that; a Lifestyle. An approach to life's daily meals that incorporates ingredients grown my you; whether in the ground or a windowsill pot!
Garden To Table
Calling all rookie gardeners!! Not you, flower lovers, but those of us that want to eat what we might grow! Ever feel overwhelmed at the thought of planting something in your yard, pots on a deck, or try your hand at a kitchen window herb garden? Well, I did.
If I put pots on the deck, the caterpillars often had a smorgasbord while I ended up with sticks in dirt. If I tried my hand at a lovely kitchen window herb garden for my winter cooking, invariably I drowned them. Ugh. So whatever gave me the audacity to think I should consider a large patch of ground outside? Right in a spot next to woods… you know, deer? My husband just scratched his head, walked away and must have thought, 'oh, this ought to be interesting'!
Edible Flowers
Flower lovers, cooks and home remedy folks are going to love this! I found I had great success growing edible flowers in both the ground and in pots.
Edible flowers are finding their way into many of my recipes:
Not only do I get to use the buds for food, or beautifully garnish meals that I've cooked but they all make my yard beautiful and the bees and butterflies happy!
Garden To Table Herbs
I went to a garden shop to discuss which herbs deer wouldn't eat. They said if a plant has a strong smell, chances are the deer won't eat them. Hmmmm. Lavender? Yes, they said, that would work.
Well, I love lavender in herb mixes, desserts (think panna cotta) and if all else fails I can use it in my salt bath. Herbs de Provence? Hmmmm, now I must really be going off the deep end. Well, why not! And so, I went crazy planting!
I first planted 24 lavender plants. After 3 weeks, and none had yet died, I decided to add to the garden: oregano, sage, rosemary, fennel and mint.
Much to my surprise, everything took off and grew! The oregano was the biggest surprise, especially since I had tried those little buggers in small pots in my kitchen window and they always dried up. Apparently they like room to play! They spread and spread. Yay!!
Cooking With Herbs
During the summer months, fresh herbs will always find their way into my recipes. In fact, I will often find myself creating a new recipe just to showcase a particular herb.
Whether incorporating fresh herb leaves into a recipe or using them as garnish on top, it's nice to know a little chef tip for cutting the leaves.
How To Chiffonade herb leaves, or other leafy vegetables, comes in handy and is easy to do. One day, while my (then 10 year old), grandson was hanging out with me, I asked if he wanted to learn a kitchen tip his dad would smile about.
His dad (my son), is a professional chef and my grandson was all too eager to learn something that his dad would get a smile out of.
I will share this easy 'how to' with you here!
Garden To Table Dried Herbs
Now it is Autumn and I am delighting in the fruit of my labor, drying everything and bottling for winter and holiday gift giving. As winter approaches I will attempt to protect my delightful new project by covering the plants with evergreen branches. I read it will protect them from snow and ice. We shall see.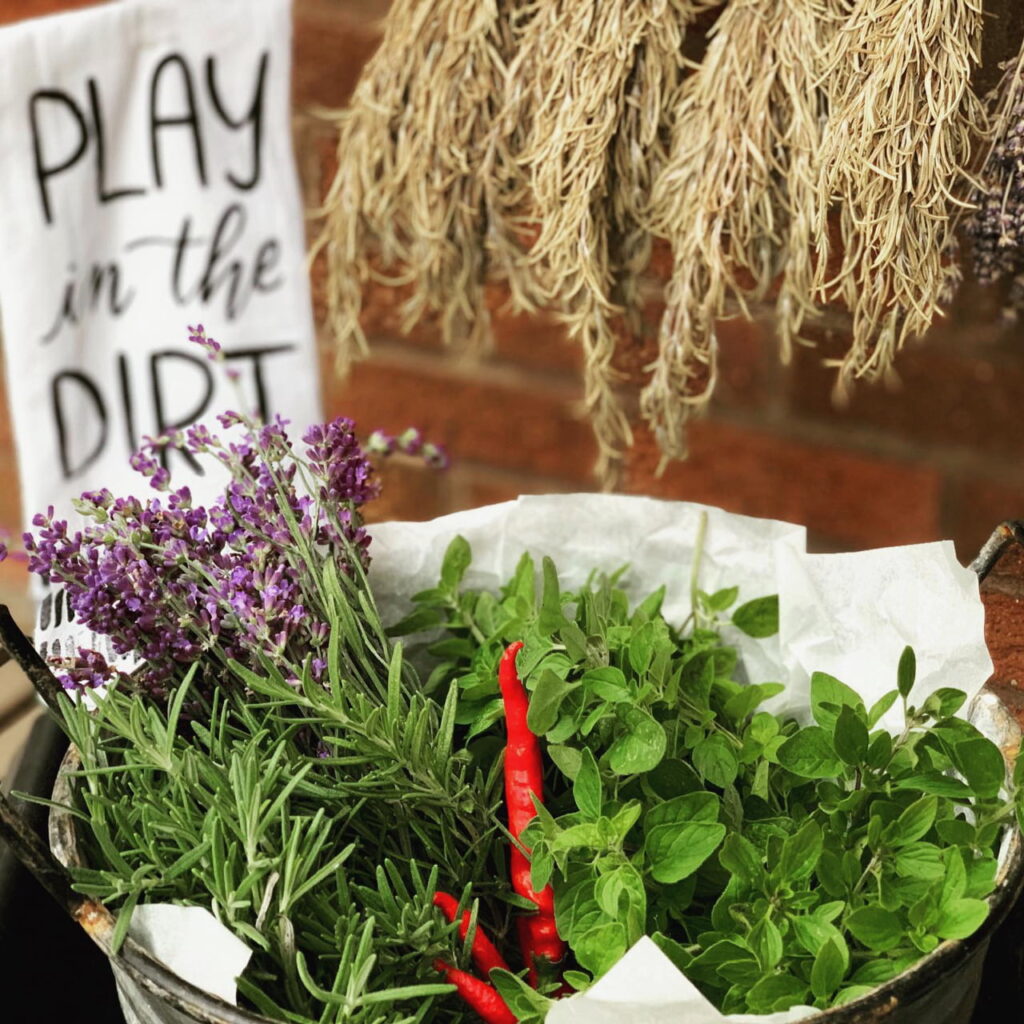 I hope you too will experiment a little and have a blast playing in the dirt! xo