Fat slices of eggplant from a summer garden, sautéed to a crispy outer and meaty inner, stacked with fresh pump tomatoes and sheep cheese, a pesto wine drizzle and fresh basil.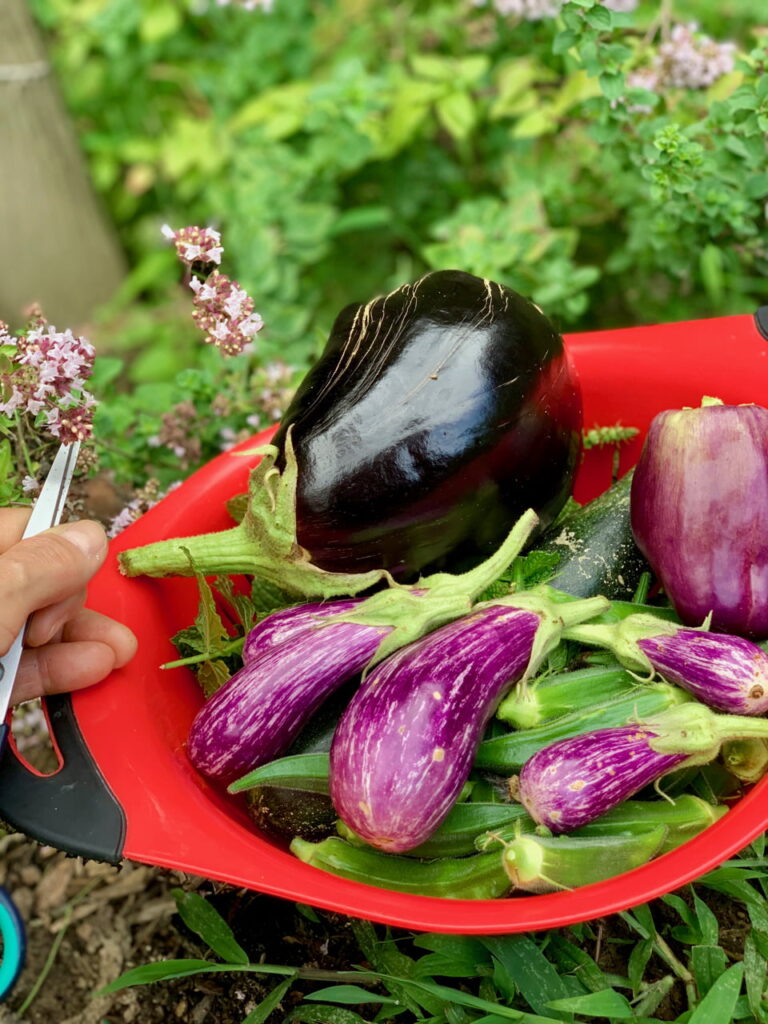 Summer Garden
Whether it's a huge garden in your backyard, pots on a deck, windowsill herbs or the local farmer's market, freshly picked veggies and herbs are a feast to celebrate!
I didn't grow up gardening. I was lucky to keep a house plant alive. Then one day, life afforded me a backyard that was screaming for a garden.
It was trial and error at first, but I finally got the hang of what I could grow with little difficulty, what I would never be able to grow and mostly… what I wanted to grow to eat.
Eggplant
What's not to love about eggplant! It's creamy yet meaty texture could easily replace meat in many dishes.
Freshly picked from the garden, no matter the variety, or in the dead of winter from a local market, will satisfy even your meat lover's 'Meatless Monday' meal.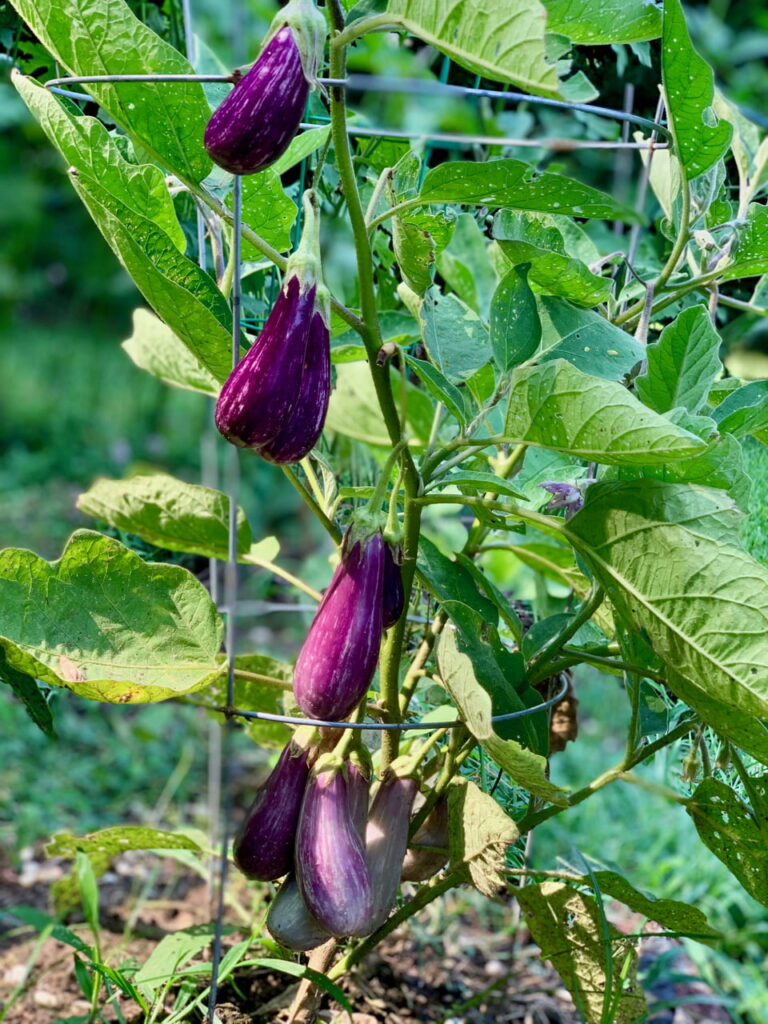 Many of the eggplant dishes I grew up with, Baba Ganoush or Moussaka, cooked or pureed the eggplant into the dish. Luscious, loved by all, but that beautiful plump eggplant visually disappeared.
I wanted to make a dish that made that big ole purple veggie the visual star on the plate. These towers are a meal in themselves and certainly showcase Eggplants!
Mushrooms
Do you ever crave mushrooms? I love eating lots of vegetables and in fact make it a practice to go meatless several days a week. While I love nearly all vegetables, none of them leave my taste buds satisfied quite like mushrooms.
Mushrooms have a meaty texture and an earthy flavor. They also are wonderful sponges of flavor, especially fresh herbs or garlic.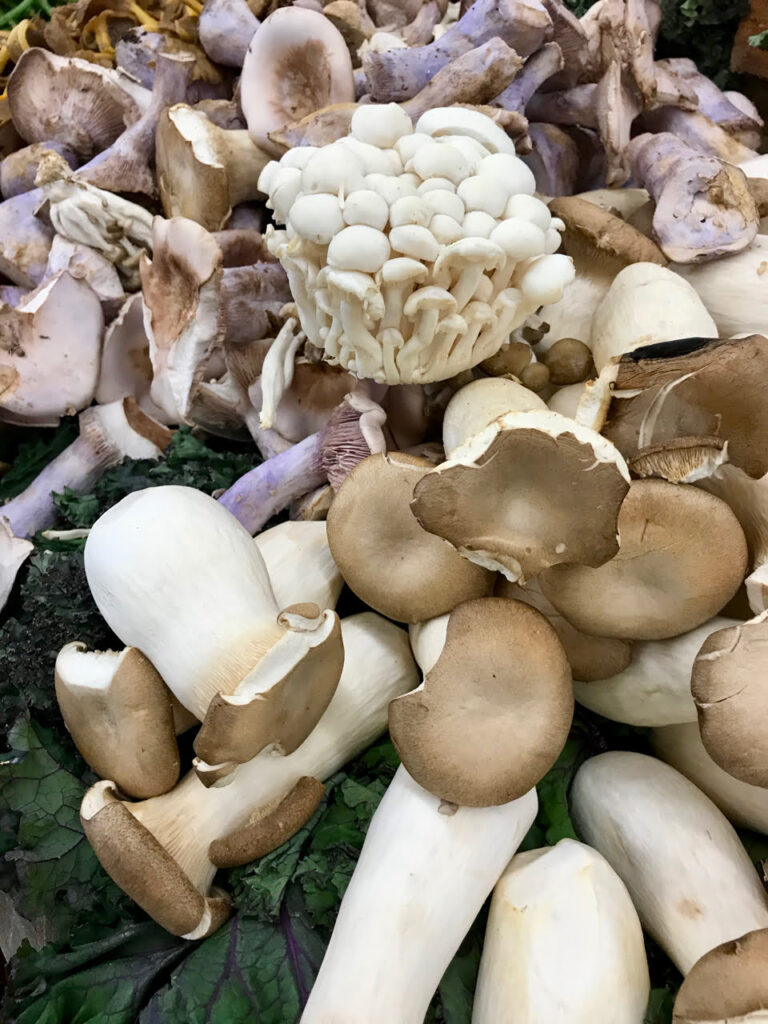 I knew I wanted to bring mushrooms to this eggplant stack but I didn't want them to fall off the stack, so the natural solution was to choose a mushroom equally large in size.
The portobello mushroom is pairs deliciously with the meatiness of the eggplant. Together, it's almost like having a big ole burger!
I sautéed the eggplant slices after a light dusting and did the same with the mushroom slices. The slight crust that formed on both the eggplant and portobello, took the place of needing a bun or other bread.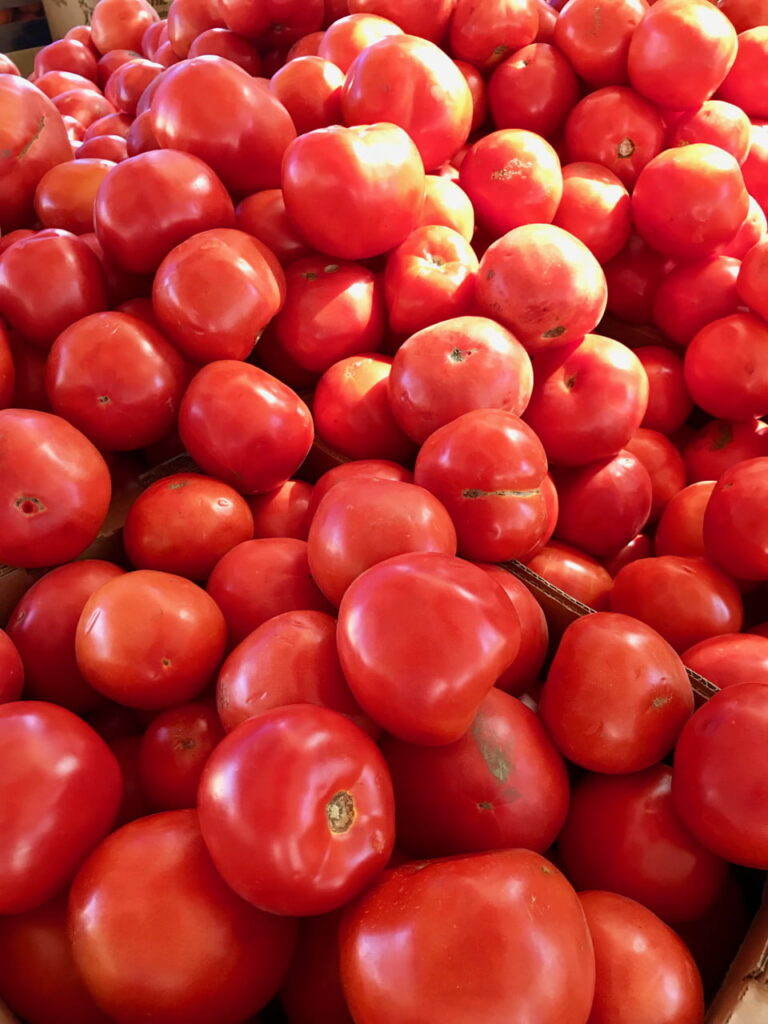 Tomatoes Tomatoes Tomatoes
What's not to love about this luscious juicy fruit! Yes, fruit. It all has to do with growing from a flower. Makes no sense to me because okra emerges from a flower and it's a vegetable.
Who cares! Between these two plump meaty veggies, the eggplant and the portobello, I wanted a plump, juicy, drippy sweet, yet salted tomato to bring a taste of the Mediterranean cuisine to my plate, right here in Maryland.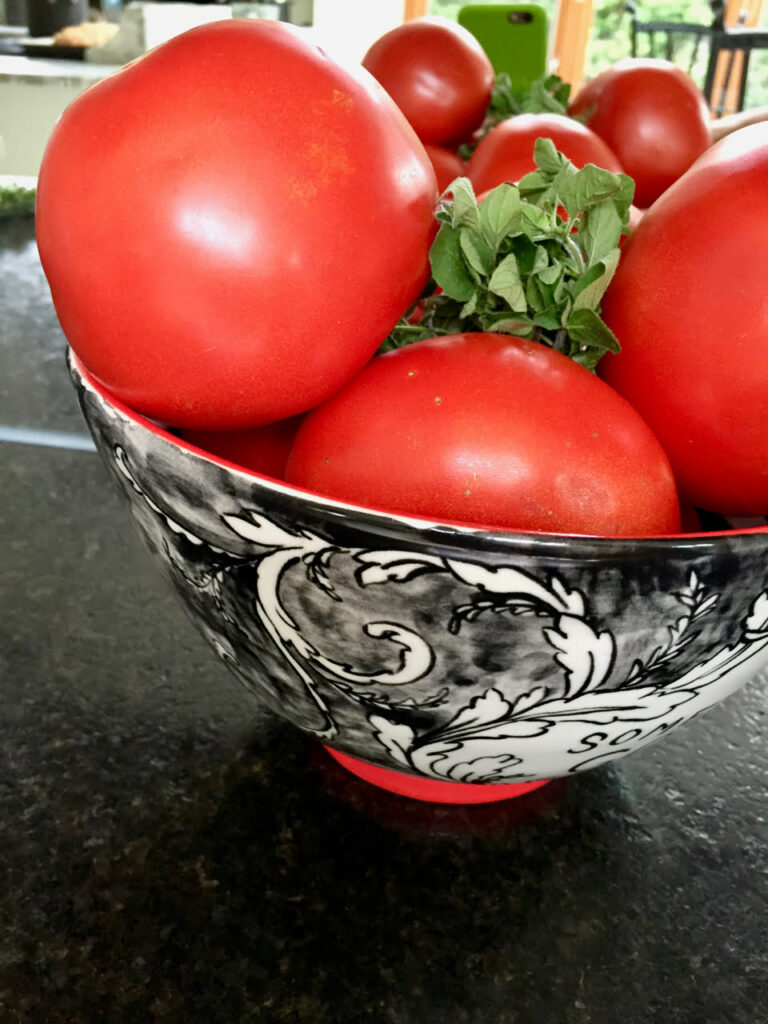 Which, by the way, tomatoes grow abundantly here in Maryland, whether it's an entire field or a pot on your deck with clusters of cherry tomatoes hanging from it.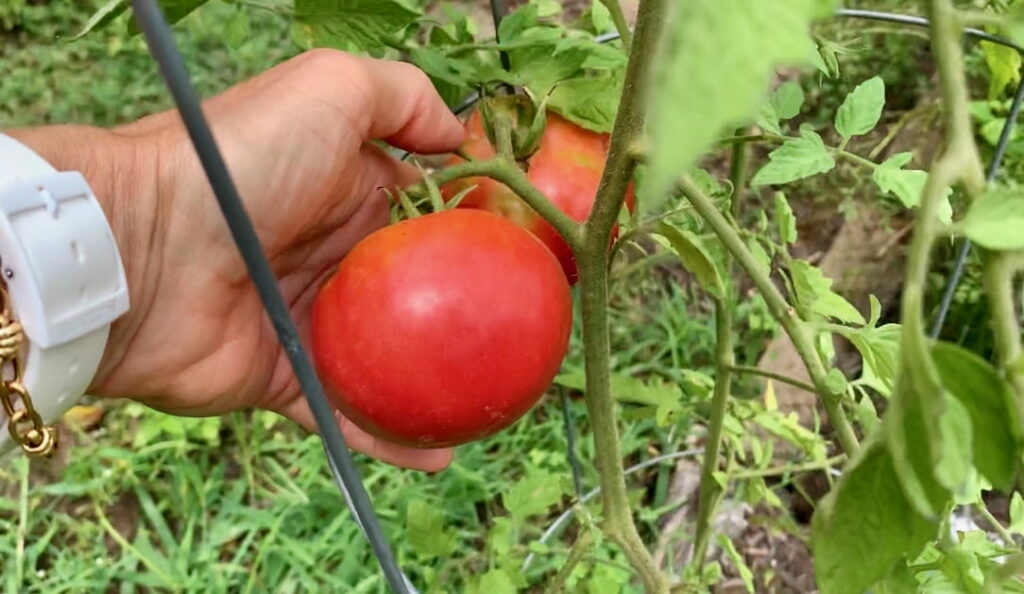 Making An Eggplant and Tomato Stack
Think about making this tall tower of deliciousness, the same as you would approach stacking a big ole sandwich or burger!
Each component gets treated individually, whether sautéed, sliced and salted, or the whisk of a wine and basil drizzle.
Fresh basil, finely chopped and mixed with a little olive oil and something acidic, in this case white wine, will extract the aromatic flavor of the basil. This drizzle compliments the eggplant tower beautifully.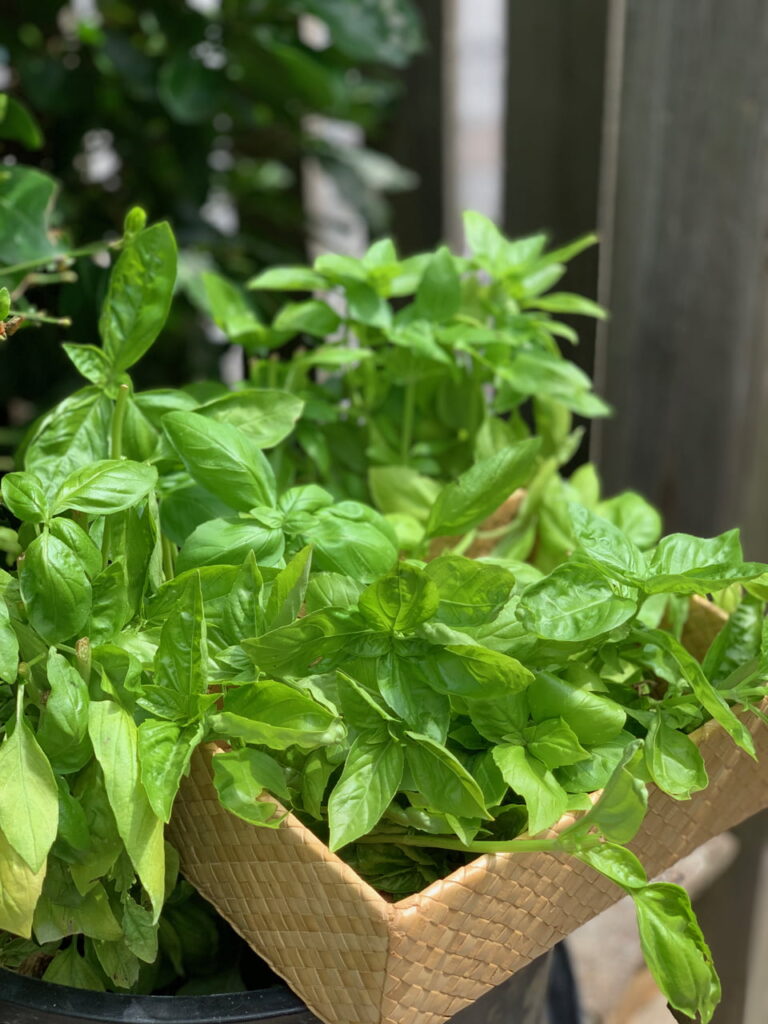 Once each component is completed (which can be done in advance), the tower gets stacked, baked for a short time and served!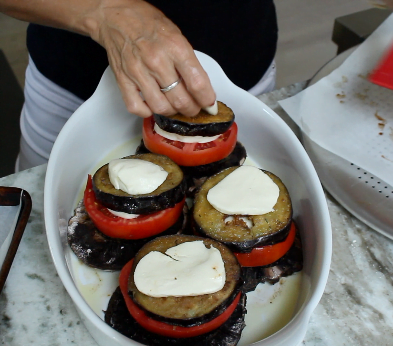 Ingredients Needed
Portobello mushrooms
Eggplant
Tomatoes
Sheep Cheese – Manchego or others. They melt slower.
Fresh basil
Olive oil
Butter
Flour
Corn flour
Smoked paprika
Salt
Dried thyme
Garlic
White wine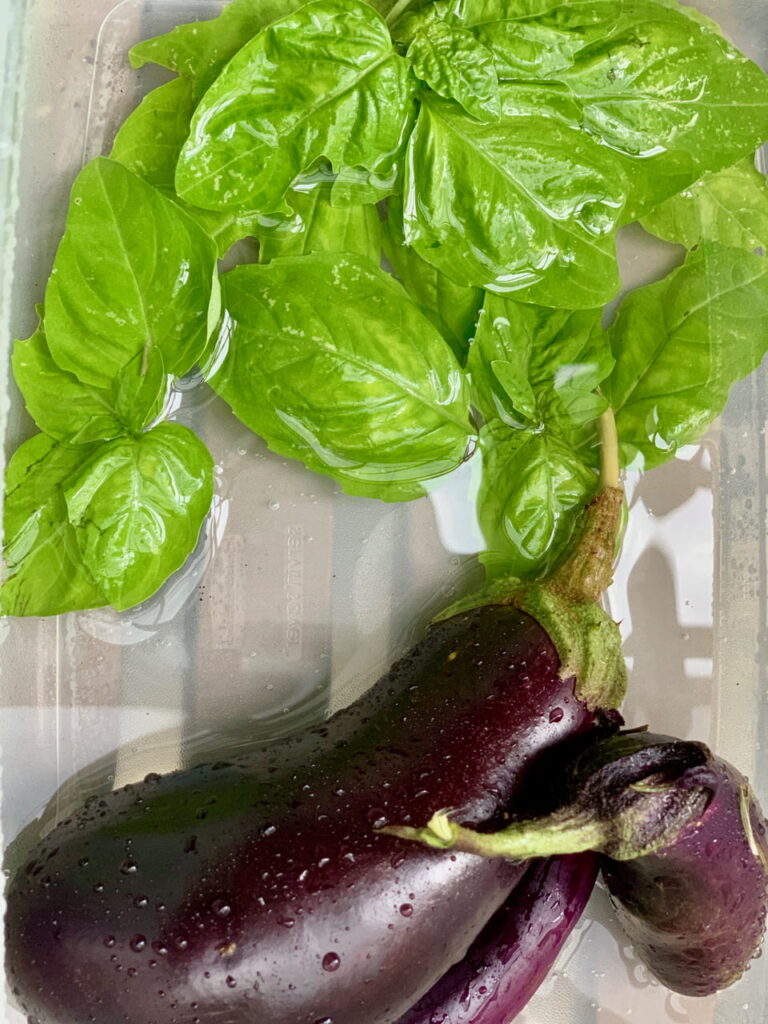 Equipment Needed
Cutting board
Saute pan
Metal spatula
Chopping knife
Medium mixing bowl – for dredging
Small mixing bowl – for drizzle
Basing brush
Baking sheet
Parchment paper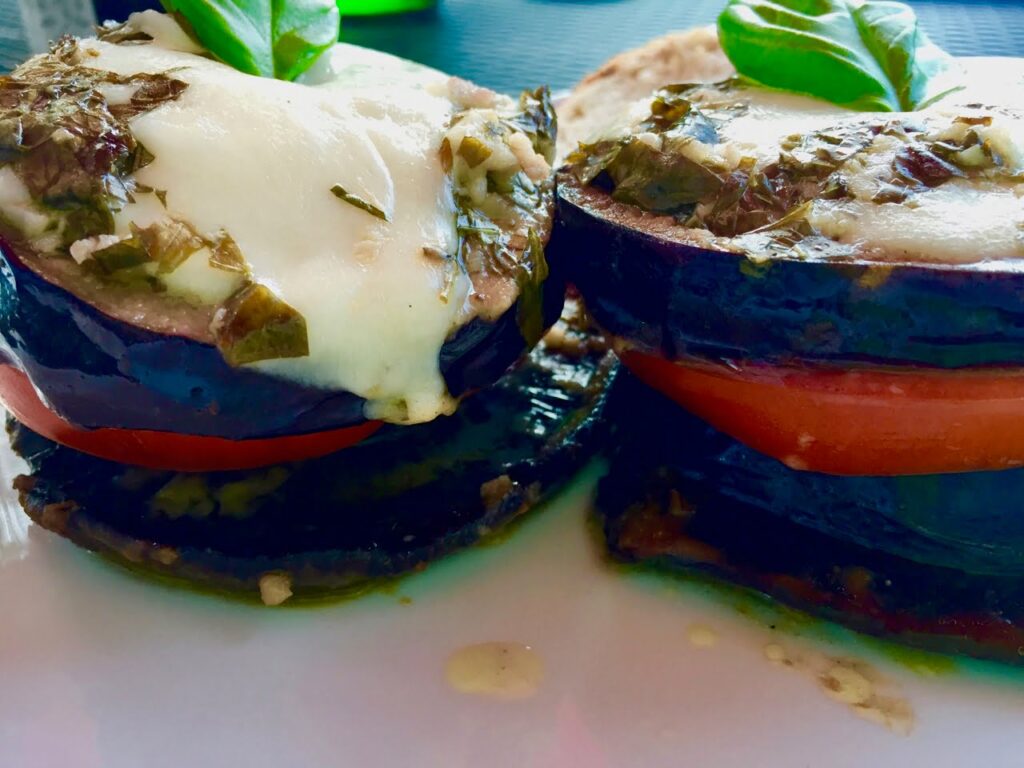 Summer Garden Eggplant and Tomato Stacks
Course: Salads and Veggies, World Cuisine
Cuisine: Mediterranean
Garden fresh Eggplant, tomatoes and basil Stacks
Ingredients
Portobello mushrooms – 4 medium size

Eggplant – 2 medium size (enough for 4 slices per eggplant)

Tomatoes – 4 large

Manchego or other Sheep Cheese – 4 oz, sliced into 8 slices (2 per tower)

Fresh basil – 1 bunch

Olive oil – 1/3 cup (approximately)

Butter – 4 tbsp

Flour – 1 cup

Corn flour – 1/2 cup

Smoked paprika – 2 tbsp

Salt – 2 tsp

Dried Thyme – 1 tsp

Garlic – 2 cloves

White wine – 1/2 cup
Directions
Cut eggplants 1/2 inch thick. Place on a baking sheet, sprinkle with salt 1 tsp salt. Let sit for 30 minutes. Brush the salt off after 30 minutes.
Cut stems off mushrooms and trim to a 1/2 thick round (4 total). Set aside.
Cut tomatoes 1/2 inch thick rounds (8 totally, 2 per tower). Set aside.
Mix the dredging ingredients: flour, corn flour, paprika, 1 tsp salt and thyme and mix.
Preheat oven to 350
In a hot frying pan, place 2 tbs olive oil and 1 tbsp butter. Brush a little olive oil on both sides of the eggplant, dip in dredging flour and and sauté both sides of the eggplant. Set aside. Do the same with the mushroom slices.
Arrange the towers on a parchment paper lined baking sheet. Place the mushroom upside down first. Place an eggplant slice, a tomato, cheese slice, then another eggplant, tomato then cheese.
In a small bowl, whisk the white wine, 2 crushed cloves of garlic, finely chopped basil (leaving some whole for garnish), and 2 tbsp of olive oil. Drizzle the sauce over each tower. Cover with parchment paper first then foil.
Bake at 350 for 30 minutes.
Place finely chopped basil on top just before serving.
Recipe Video