Edible flower cookies made from butter, mascarpone, a sprinkle of cardamom with a variety of edible flowers on top, are nothing short of romantic! There is no cookie prettier than one that has been dressed with edible flowers!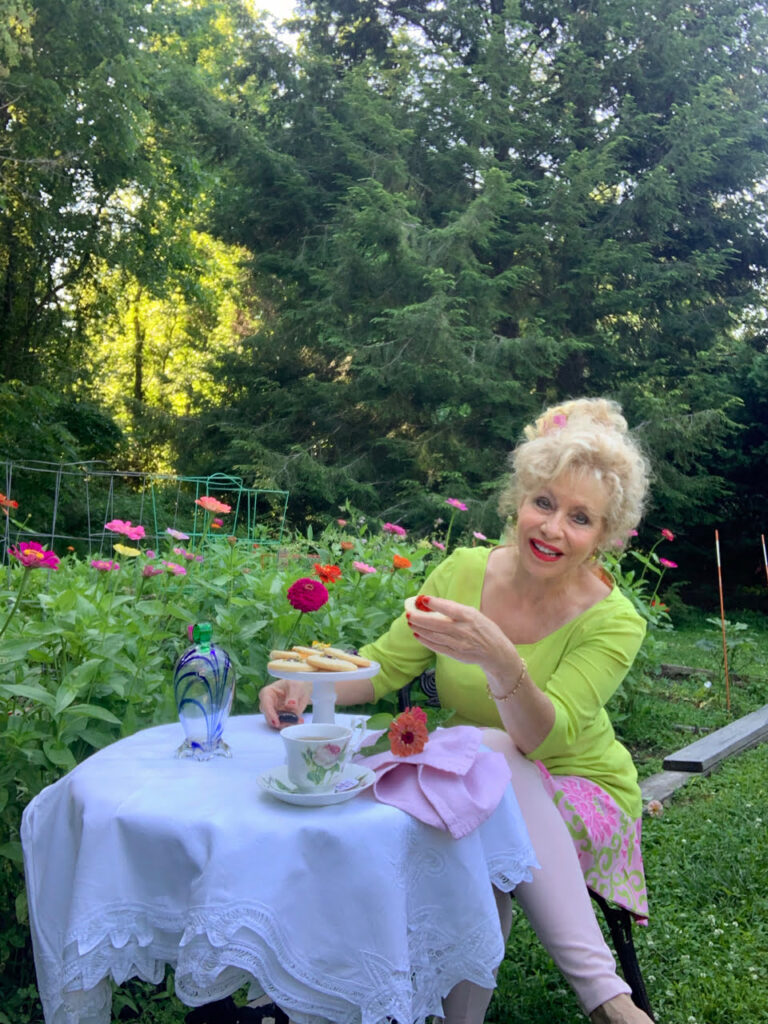 Who Eats Flowers!
Flowers Are Nature's Perfect Art Work. Nothing more beautiful than a splash of color across our yard. A vase of flowers on a tabletop. Table settings for a special occasion decked in flowers. But who eats them?
Flowers, in many ways, are just veggies or the essence of a fruit before the fruit is developed.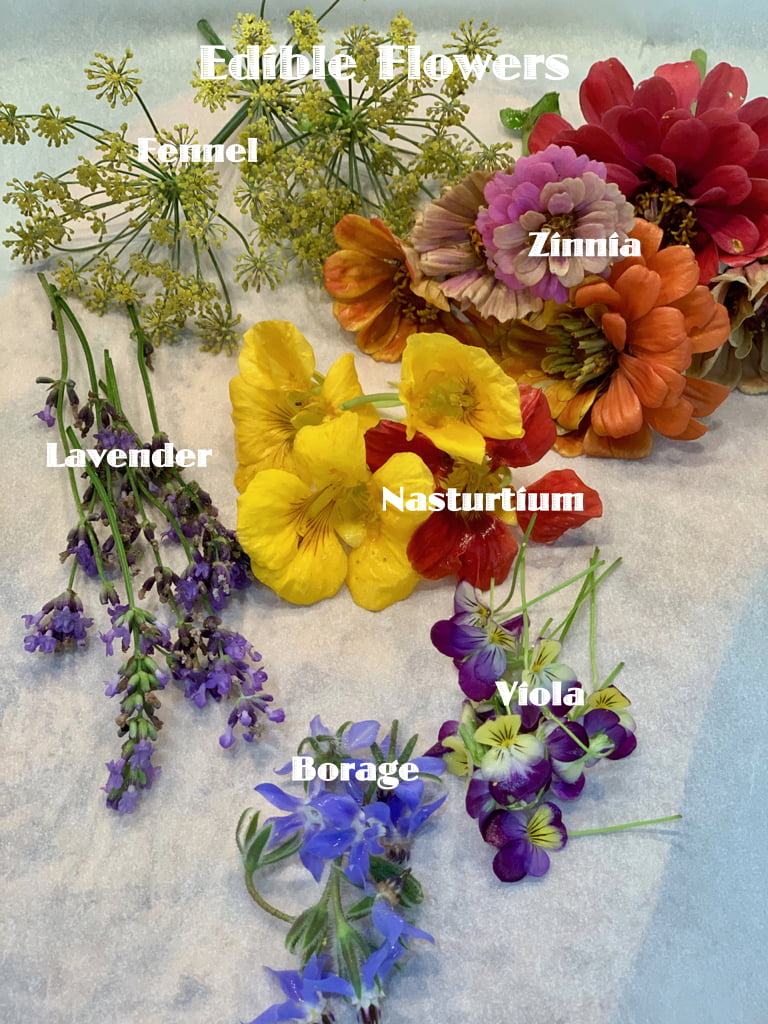 Roses Are Edible Flowers
Having grown up in a Middle Eastern influenced home, we always had desserts flavored with rosewater or orange blossom water. Never thought about eating the roses though.
The flavor of rosewater, like the Rosewater Baklawa I made on the PBS program: The Great American Recipe, was delicate. Floral, yet still delicate.
Or my favorite Rosewater Baklawa Muffins, from My Muffin Madness Cookbook. Everything we love about Baklawa but in a muffin!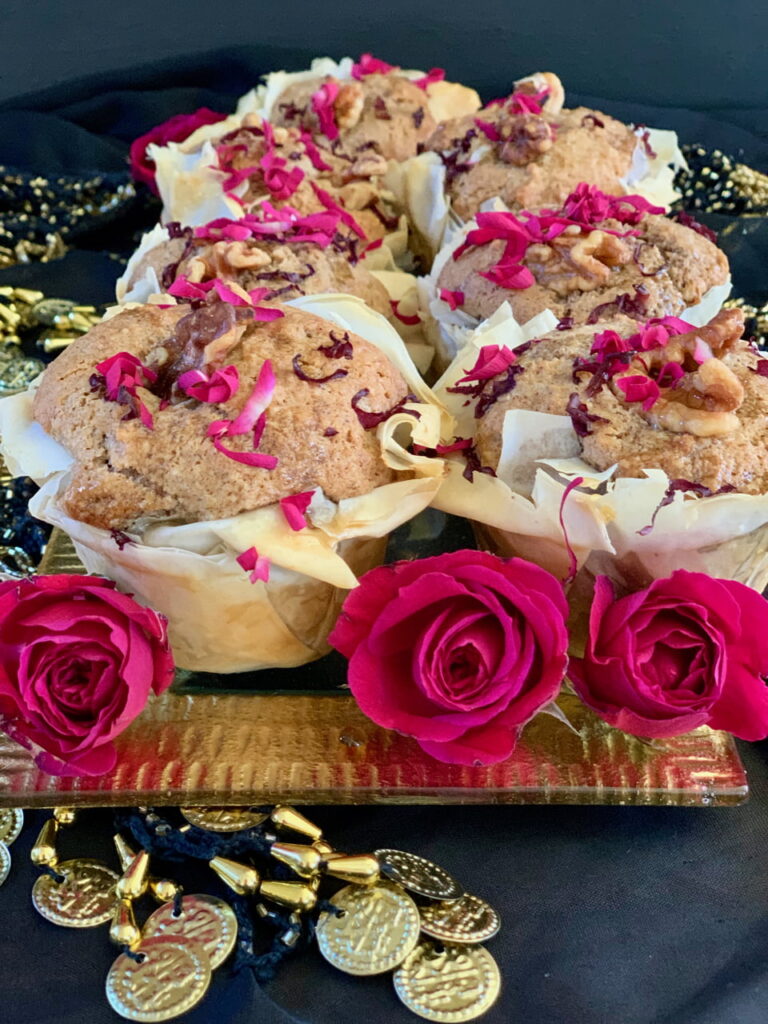 The chopped rose petals I sprinkled on top added a beauty the cameras were elated to photograph.
Edible Flower Cookie Food Trends
Fast forward to the gazillion different trends in the culinary world today and everyone is eating flowers!
Years ago, when I was working with my son on a catering job, I experienced the first display of edible flowers. We were serving 250 salads at a lovely spring wedding. Every plate got a variety of edible flowers. Man, was that expensive!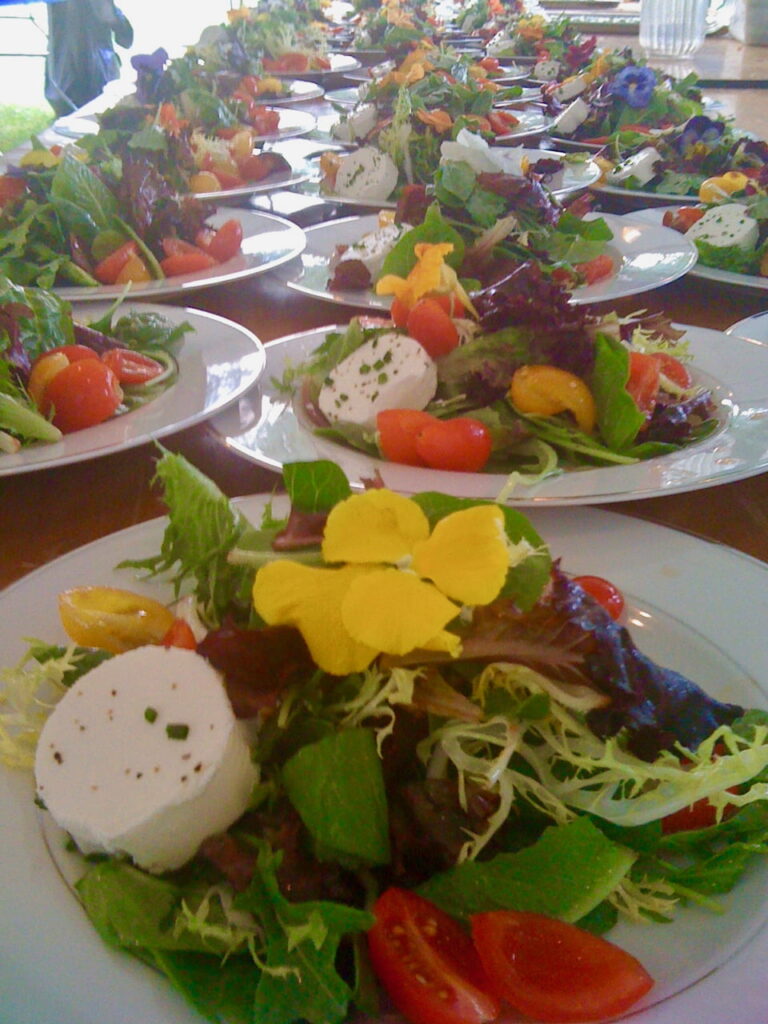 Growing Edible Flowers
Now that I have a yard large enough to grow things on, I decided that I would experiment with edible flowers.
Sure, I have roses, who doesn't. I use them often when baking Baklawa. This year though, I wanted to try my hand at other edible flowers.
I went overboard planting such a variety of edible flowers and you know what… I will do it again next year!
Edible Nasturtium Flowers
First, I tried planting Nasturtium flowers in hanging baskets. Nasturtium blossoms were the first flower I encountered on those salads, years ago. Since they taste much like a radish, they were the perfect flower to grow for both sweet or savory dishes.
They cascaded over the basket with so many bursts of color! I have used them on salads and now with these cookies.
Flower Cookies
Secondly, I went all out and planted every edible flower I thought would grow. By mid-summer, I have quite a selection of edible flowers growing. I couldn't wait any longer to make something spectacular with them.
Zinnias have an almost tea-like aroma and taste when baked on top of the cookies. Violas are delicately floral like the rose. Fennel flowers… OMG are they fabulous! The flowers of the fennel smell and taste just like licorice.
Perfect Cookie Dough For Edible Flowers
There is a dough that is quietly, yet most perfectly the only dough to hold up to the showing of these stunning flowers.
A dough that comes together in a food processor in minutes. Rolls and presses into whatever shape you'd like. Bakes to perfection. Scented with flowers yet spiced with cardamom.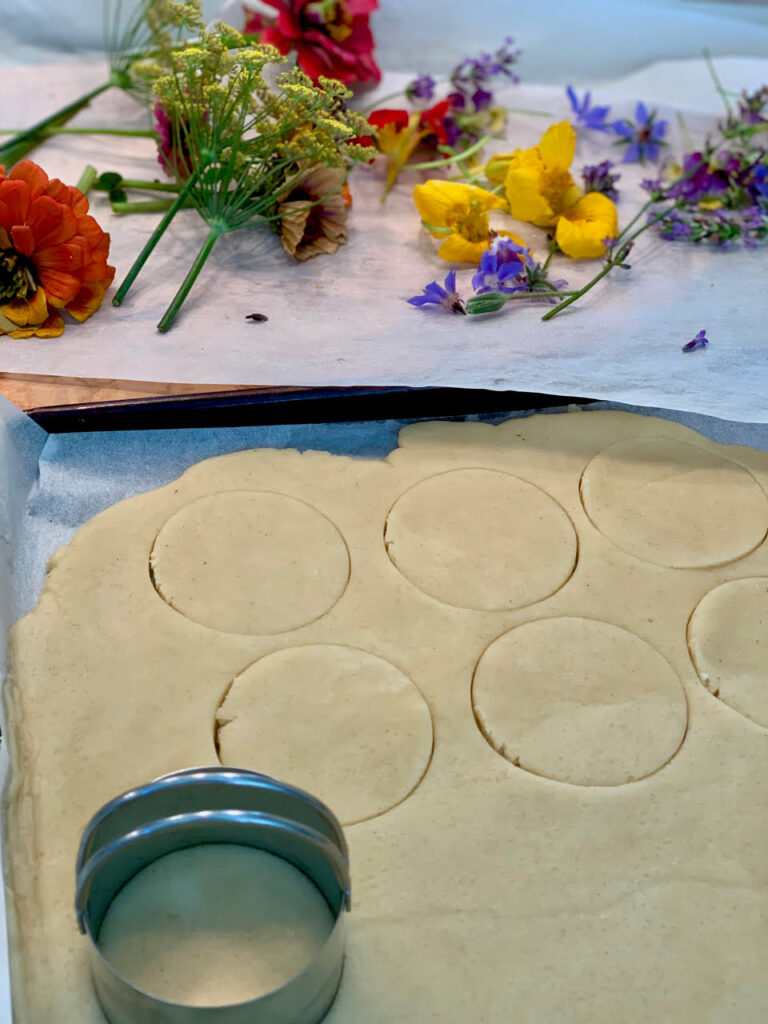 How To Make Edible Flower Cookies
First, you will want to gather the flowers and soak them in water. Once they have soaked, to both vitalize and clean, blot them on a towel.
Secondly, while the flowers are being prepared, leave the butter and mascarpone out to soften.
Lastly, puree the ingredients in a food processor, roll out the dough, pop in the fridge for 15-minutes and cut out the cookies.
Press the flowers on top of the cutout cookies, sprinkle with sugar and bake. Often, especially for guests, I place an added fresh flower on top.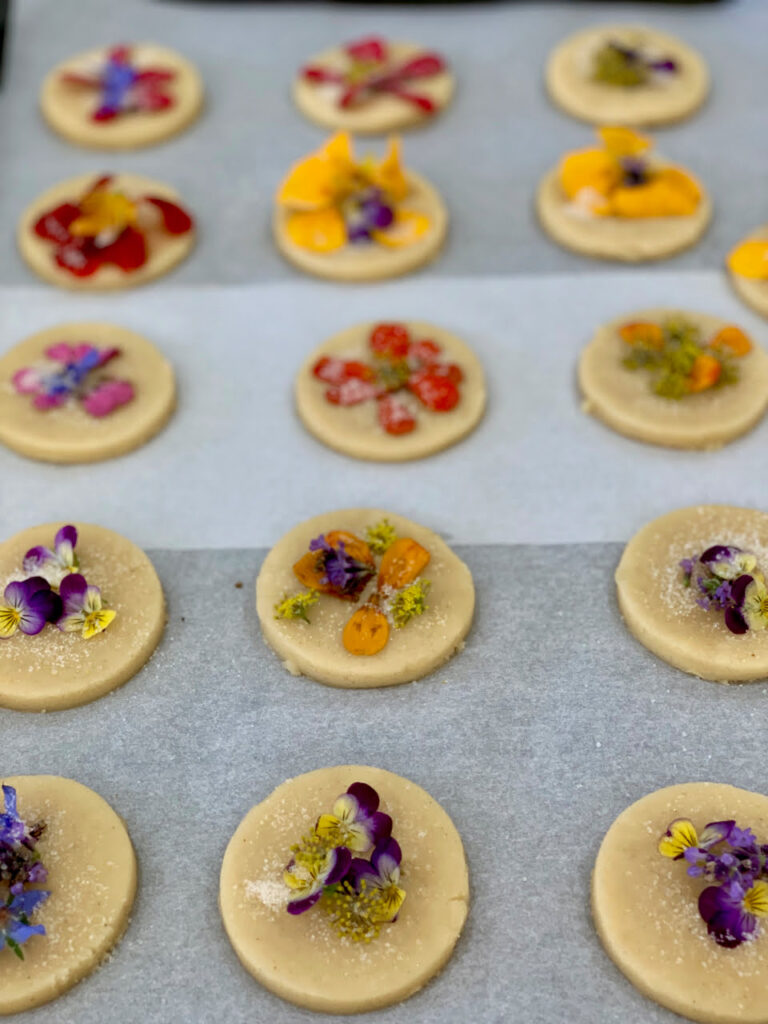 The scent of the flower intensifies when it bakes, but the color does fade, so adding a fresh flower on top brings the color back.
Equipment Needed
Food processor
Measuring cup
Measuring spoons
Cookie sheet
Cookie cutter
Parchment paper
Dish towel
Oven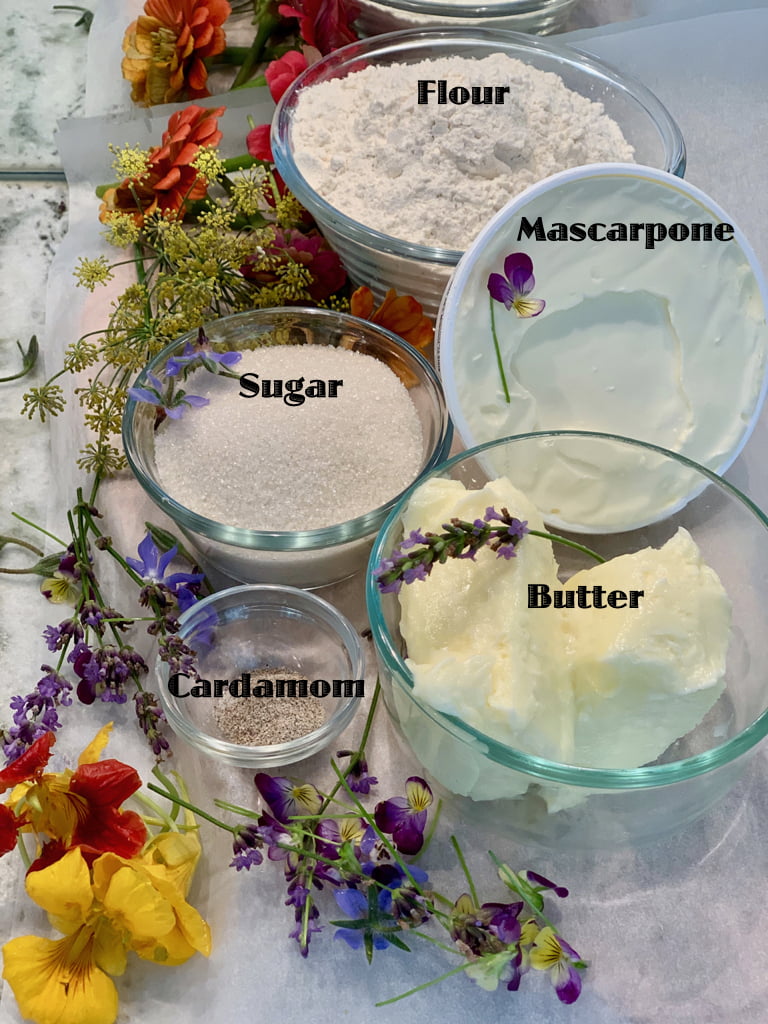 Ingredients Needed
Butter
Mascarpone or creamed cheese
Sugar
Coarse sugar
Flour
Salt
Edible flowers
Edible Flower Cookies
Course: Cookies, Dessert
Cuisine: Whimsical
Difficulty: Easy
Butter, mascarpone, a sprinkle of cardamom with a variety of edible flowers on top. 
Ingredients
Butter – 16 oz, softened

Mascarpone – 8 oz, soft

Sugar – 3/4 cup

Coarse sugar – 2 tbsp

Flour – 3 1/2 cups

Salt – 1 tsp

Edible flowers – a variety, garnish
Directions
In a food processor or stand up mixer, place the softened butter, mascarpone, sugar, salt and 3 cups of flour. Whisk until the dough forms a ball.
Add a little more flour at a time until the dough forms and ball and is not sticking to the fingers.
Roll out the dough between 2 pieces of parchment paper, to about 1/2 inch thickness. Chill for 15-minutes.
Preheat oven to 350.
Using a cookie cutter, press out cookies and place on a parchment paper lined cookie tray.
Place the flowers on top. Sprinkle with coarse sugar. t
Bake 15-18 minutes, until golden in color. Place extra flowers on warm cookies. Cool and enjoy.
Recipe Video