Easter Bunny Shortbread Cookies are whimsically fun to make from buttery shortbread dough, coco-butter glaze and chocolate bunny features!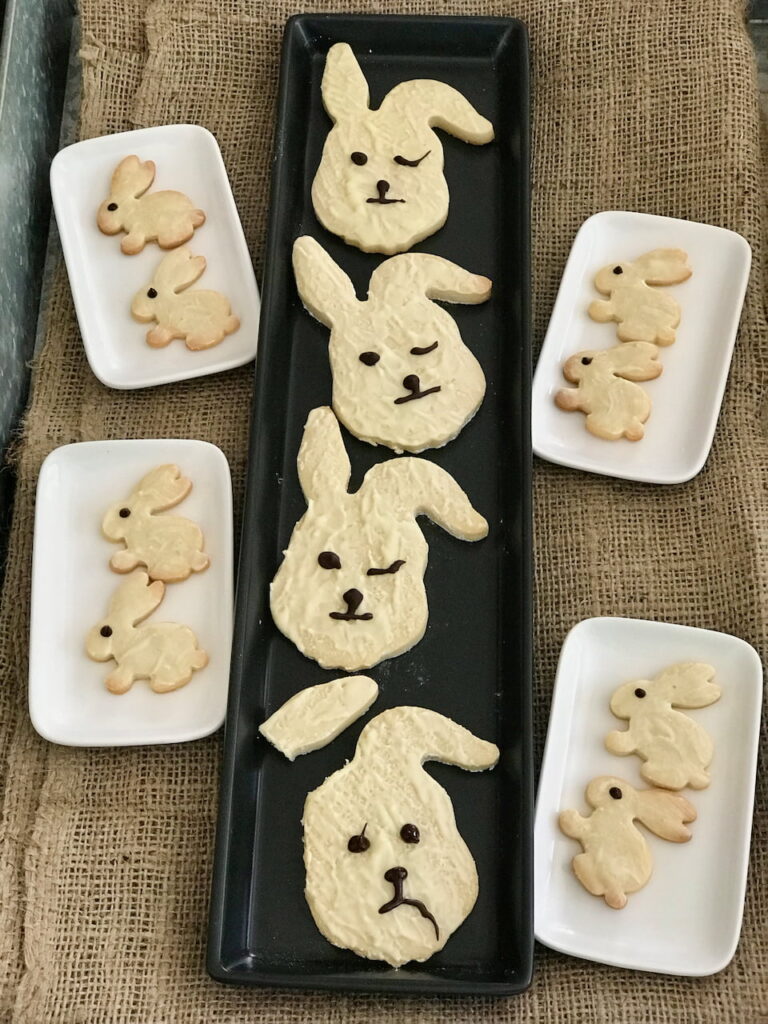 Easter Bunny
What child doesn't love the whimsy of the Easter Bunny! Heck, even my mom started a collection of them late in her life and loved the happy faces they set a mood to.
While Easter is celebrated by some as a religious holiday and by others simply because it rings in the spring.
Much like the Christmas tree that denotes a religious celebration to some and simply a time of sharing for others.
None the less, the Easter Bunny is adorable, well… just about every caricature of a whimsical rabbit makes us smile.
Trust me, I visited the World of Beatrix Potter in the countryside of England and never wanted to leave!
Shortbread Cookies
The perfect cookie dough for cutting out these whimsical bunnies is going to be a shortbread. It is rich in butter and the dough holds together beautifully for using a cookie cutter.
After all, since I was inspired in England to make these whimsical rabbits, why not go next door to Scotland and work with a traditional Scottish biscuit dough! I did and these are so easy to make.
For other beautiful shortbread cookies ideas: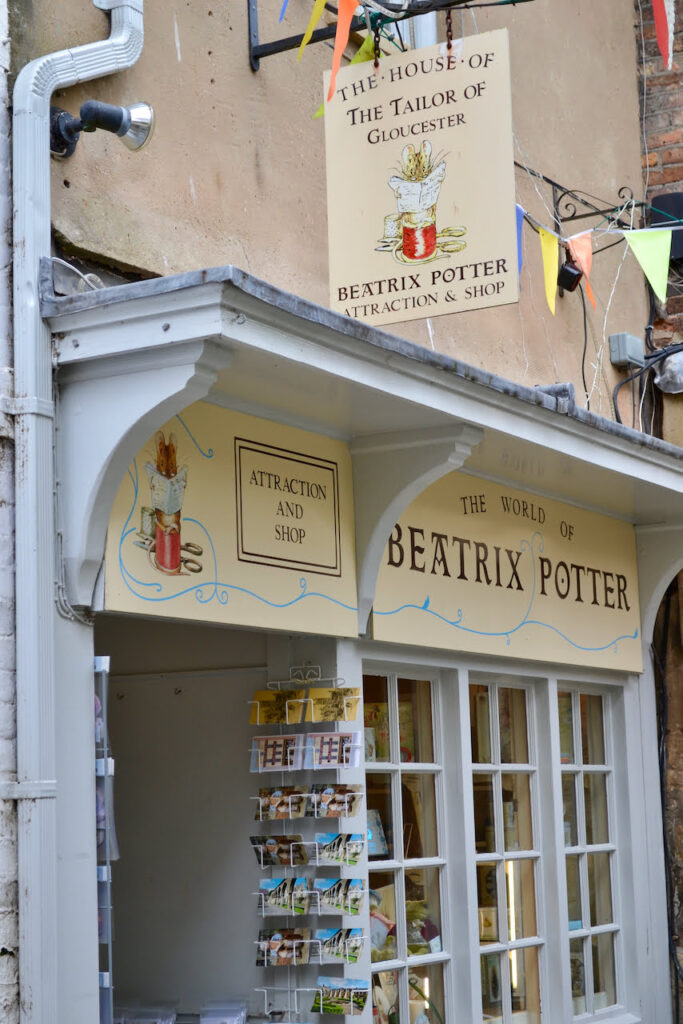 Easter Egg Hunt Cookies
As my sisters and I are starting to experience our childhood all over again, through the little ones coming into the family, we've started the tradition of the Easter Egg hunt for the kids.
Perhaps our adult-ness kicked in a little too much because somehow we went from colored real eggs for the kids, to plastic eggs filled with cash. (Yes, I see you rolling your eyes). Truth is, we had too much fun with it to stop and so it still continues.
I first made these cute bunny cookies for one of the Easter festivities for the kids. Might I say that the kids probably enjoyed the cookies more than they did the cash. Just wait until they are older though!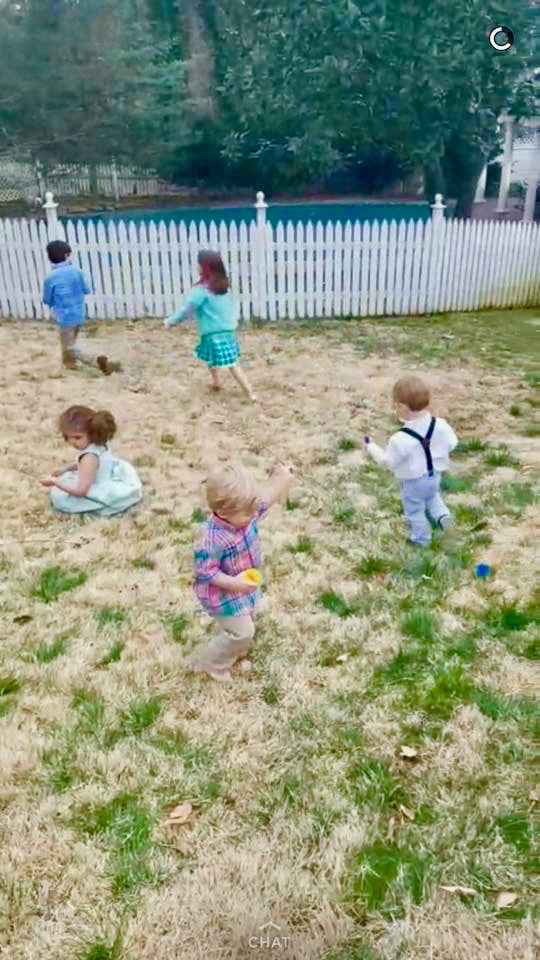 Chocolate Bunny Smile – Yum!
The cookie dough whips together fast. The pressing of the bunnies with a bunny cookie cutter goes fast. Baking is fast, but now it's time to give these bunnies expression.
A small tipped plastic bottle, the kind you would find for applying hair color (about a buck each), is an easy way to go about this.
Melt the chocolate, put it in the bottle, allow it to cool so it starts to thicken just a little and your are ready to create smiles and winks on the bunnies.
Should the chocolate become too thick, simply immerse the bottle in a cup of tap-hot water.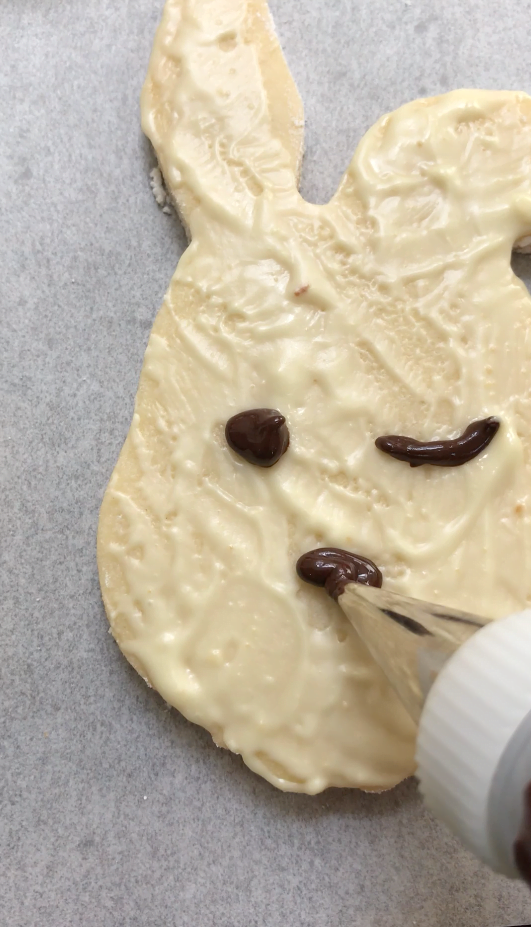 Ingredients Needed
Butter
Mascarpone
Sugar
Flour
Salt
Egg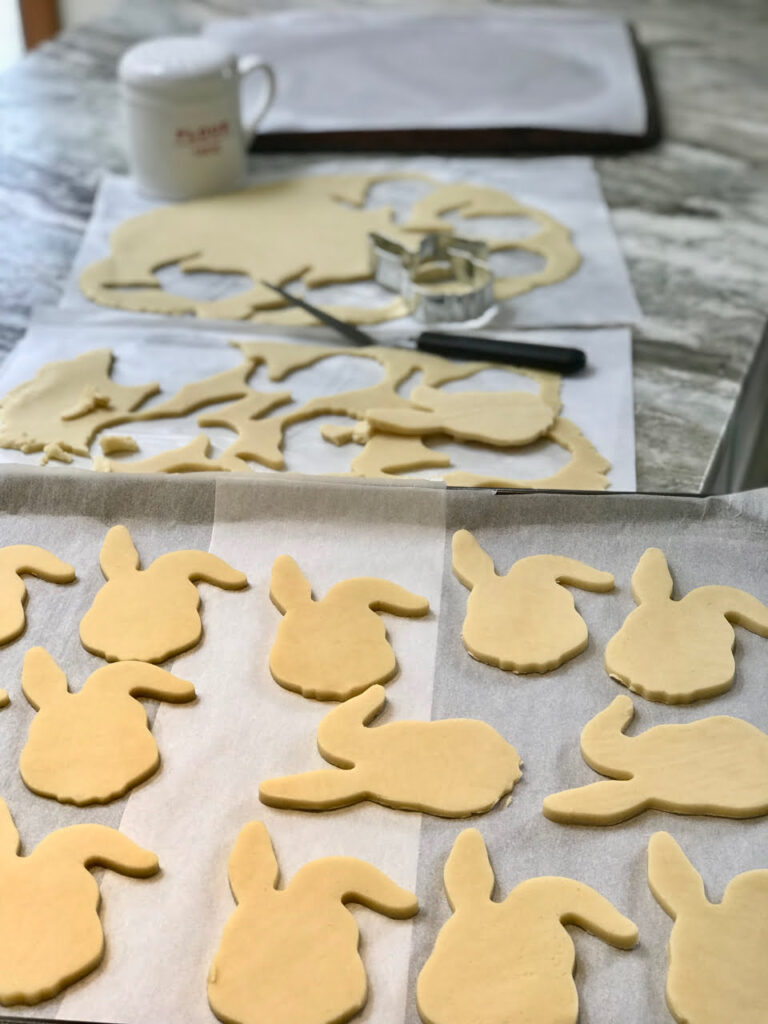 Equipment Needed
Rolling pin
Food processor
Bunny cookie cutter
Baking sheet pan
Parchment paper
Basting brush
Metal spatula
Small tip plastic applicator bottle of pastry bag with a small tip
Melting pot – for chocolate
Oven
Easter Bunny Shortbread Cookies
Course: Cookies, Holidays
Difficulty: Easy
The Whimsical Easter Bunny needed to be made into buttery shortbread cookies with coco butter glaze and chocolate features for the whimsy of children.

Ingredients
COOKIE

Butter – 16 oz, 2 sticks, room temp.

Mascarpone – 8 oz, room temp.

Sugar – 1/2 cup

Flour – 3 1/2 cups, more for dusting

Salt – 1/2 tsp

GLAZE

Coco Butter – 2 oz

Confection sugar – 3/4 cup

Rosewater – 1/4 tsp, or 1/2 tsp vanilla

Chocolate – 1 oz.
Directions
Preheat the oven to 350
In a food processor place the room temp butter, mascarpone, sugar, flour and salt and whirl until the dough comes together in a ball.
Remove the dough and roll it out on a floured surface. If the dough is too soft to press, roll it out to quarter inch and place in the fridge for 15-minutes.
Press the bunny shaped cookies and place on a parchment paper lined cookie sheet.
Bake 12 – 15 minutes, or until a slight golden color appears on the tops. Cool.
Melt the coco butter and whisk it into a bowl with the confection sugar. Drizzle in the rosewater. Brush the glaze on top of the cookies. Allow to harden.
Melt the chocolate and transfer to a squeeze bottle with a pointed top (the kind for applying hair color works great), and make the face features. Allow to firm and serve.
Recipe Video