Their creepy and their kooky their buttery, sweet and ooky, the kids will think their spooky, let's treat, and not rebukey!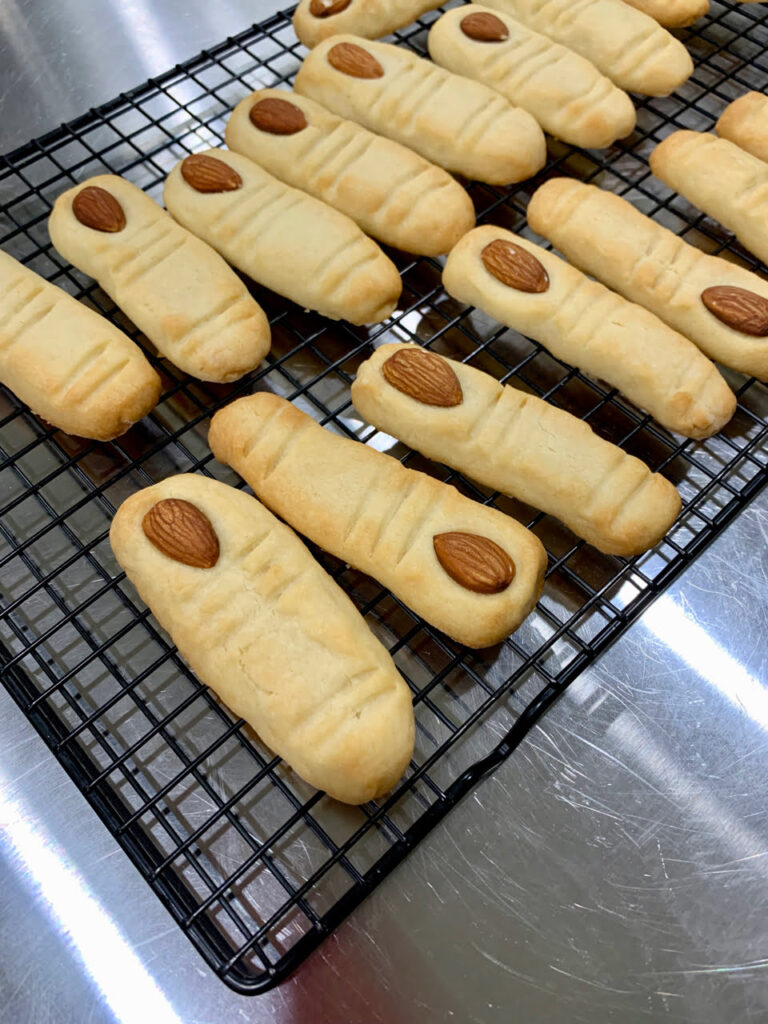 Who Loves Witches!
I grew up in the 60's with Bewitched, the classic show with Elizabeth Montgomery, a witch-turned housewife whose magic made life… interesting, fun and humorous!
While Disney certainly gave us our share of fairytale witches, it was Bette Midler, in Hocus Pocus, that fast became my all time favorite.
To date… humor is my most favorite emotion! Is it an emotion? Actually, it is said to be an 'auditory expression of a number of positive emotional states.' Positive, being the operative word for me. I love laughter and Hocus Pocus is my favorite witch laughter!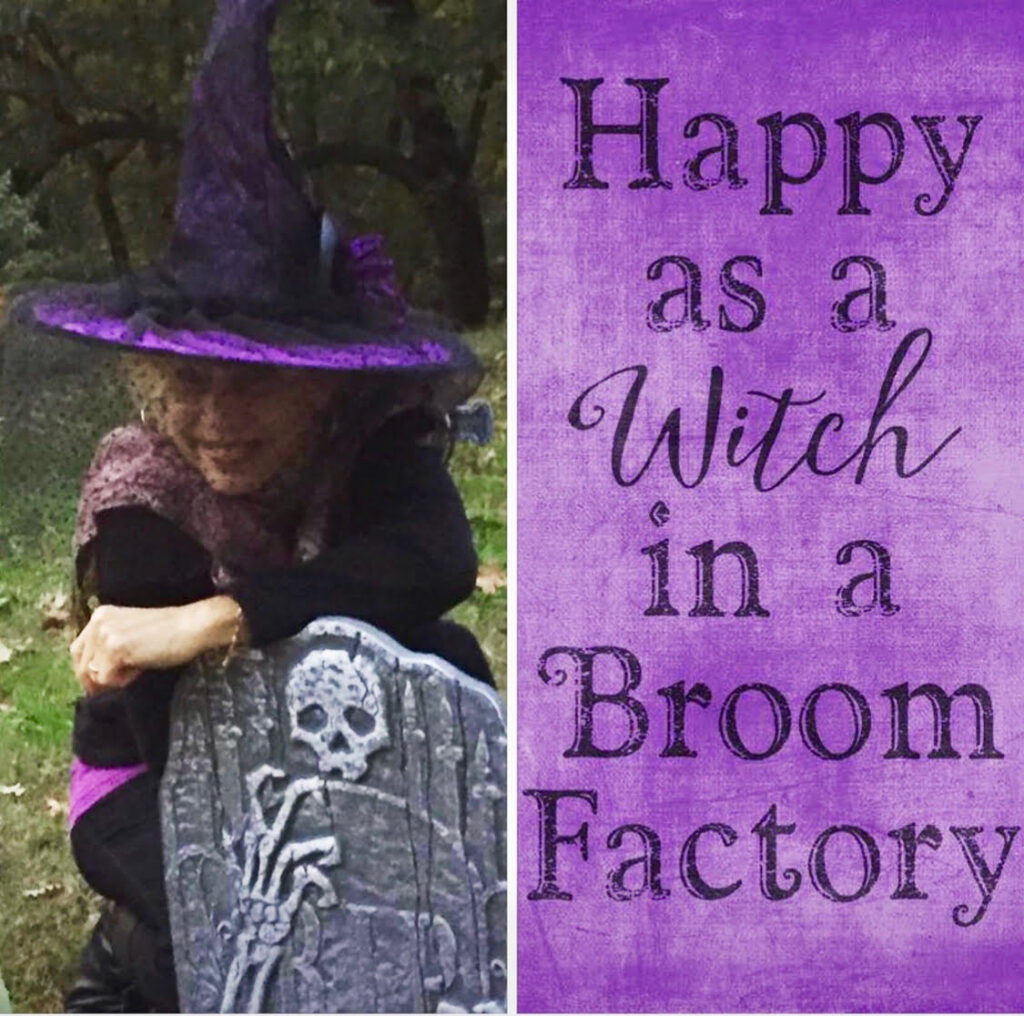 Witch Fingers vs. Ladyfingers
The difference? Eggs! Proper ladies (ladyfingers), are whipped. Witch fingers are whisked…. with a magic wand, of course!
Ladies are soft, witches have stability!
Shortbread Cookies
While witches in Scotland suffered a horrid demise, back in the 1700's, Scotland's shortbread cookies certainly gave us all a sweet taste to erase the horror of their history.
Shortbread cookies hold together beautifully for pressing into shapes with a cookie cutter or shaping by hand to make cute designs.
My shortbread cookies have an extra measure of lusciousness to hold them together, they are made with both butter and mascarpone. Yummmmmy!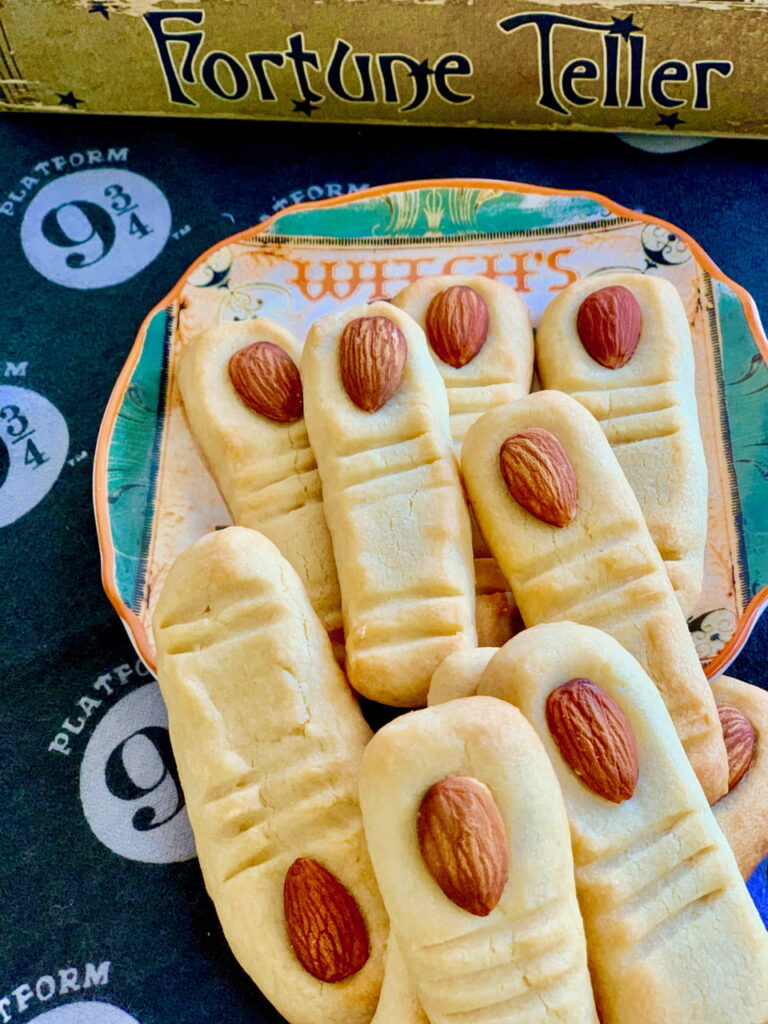 How To Make Witch Finger Shortbread Cookies
The food processor is my most used equipment in my kitchen. I toss all the room temperature ingredients into the food processor, whisk like crazy, roll out and start shaping, or fridge for a later day.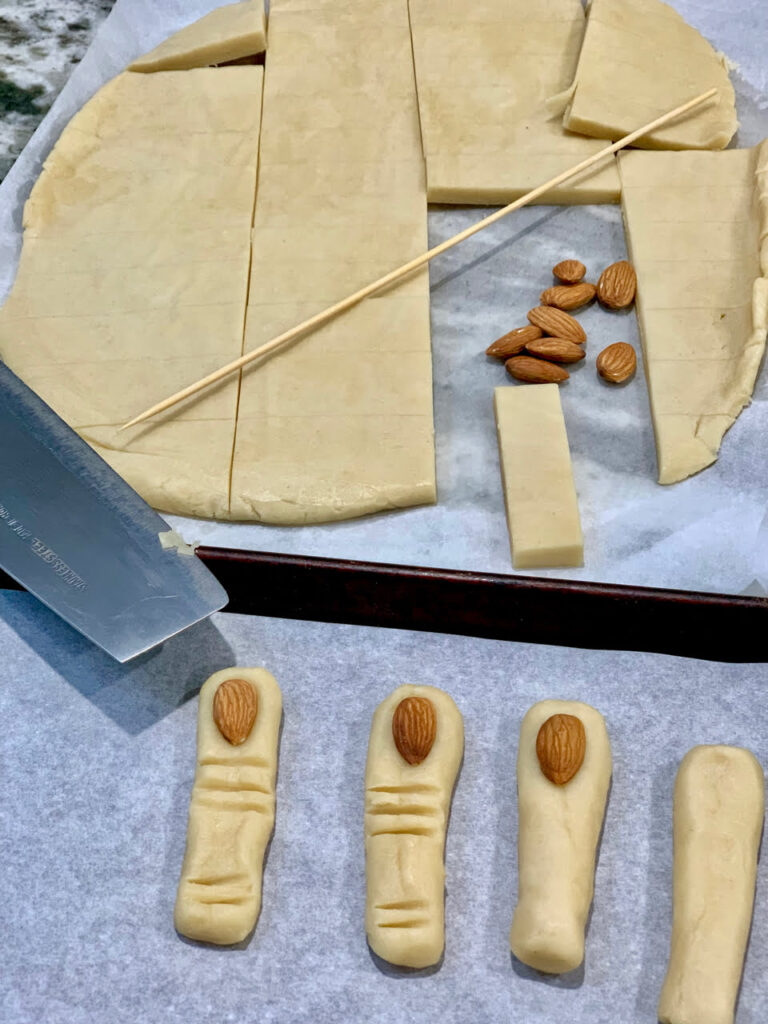 Once rolled to about half inch thickness (no need to be precise, remember these aren't fussy ladies), cut into strips 1/2 inch wide by 4 inches long.
Shape into fat little cylinders, lay your own finger across each and press, round off the top and bottom and press a whole raw almond in the top for the fingernail. 
The cookies can be baked once shaped, or again, they can be stored in the fridge until ready to bake and freeze quite well too. Baking only takes about 15- 18 minutes and they are ready for the party!
Ingredients Needed
Butter
Mascarpone
Sugar
Flour
Salt
Whole Almonds
Equipment Needed
Baking sheet pan
Parchment paper
Rolling pin
Pastry knife
Food Processor or Mixer
Oven
Witch Fingers Shortbread Cookies – Fun Halloween Treats
Course: Dessert, Holidays
Cuisine: American
Butter and mascarpone rich shortbread cookies easily shaped into witch fingers with an almond.
Ingredients
Butter – 16 oz, softened

Mascarpone – 8 oz, soft

Sugar – 3/4 cup

Flour – 3 1/2 cups, more for rolling out

Salt – 1 teaspoon

Raw whole almonds – 12 – 24, 1-per cookie
Directions
In a food processor or stand up mixer, place the softened butter, mascarpone, sugar, salt and 3 cups of flour. Whisk until the dough forms a ball.
Add a little more flour at a time until the dough forms and ball and is not sticking to the fingers.
Roll out the dough between 2 pieces of parchment paper, to about 1/2 inch thickness. Chill for 30 minutes.
Preheat oven to 350.
Cut the dough into strips about 4 inches long by 1/2 inch wide. Gently roll each strip into cylinders, resembling a finger, shaping the ends to a rounded edge.
Place each finger on a parchment paper lined baking sheet. Press one almond per finger at the top to resemble a fingernail.
With a knife or round toothpick, press wrinkles into the fingers.
Bake 15-18 minutes, until golden in color. Cool and enjoy!
Notes
For an added creepy touch, a few drops of green food coloring can be added to the dough.