Easy homemade burger buns for all your favorite burgers, full size or slider size.
Burger Gatherings
Picture it. A huge family gathering, with a table spread of burgers, sides, toppings and Buns! Everyone gets a plate, starts piling lettuce, tomatoes, pickles, squirts of ketchup onto the burger sitting on top of a bun.
Juices from those perfectly cooked burgers begin to ooze out of the meat, the portobello mushroom burger, grilled to perfection, also oozes its juices onto the bun as it begins to cool, throw some cheese on top to melt while the burger is still warm, close that baby up with the top of the bun, head to a seat and get ready for your first yummy bite… the bun gives up!
The heat, the juices, the melted cheese were all to much for that wimpy, after-thought bun you picked up from the grocery store. Wow, talk about a deflatable moment!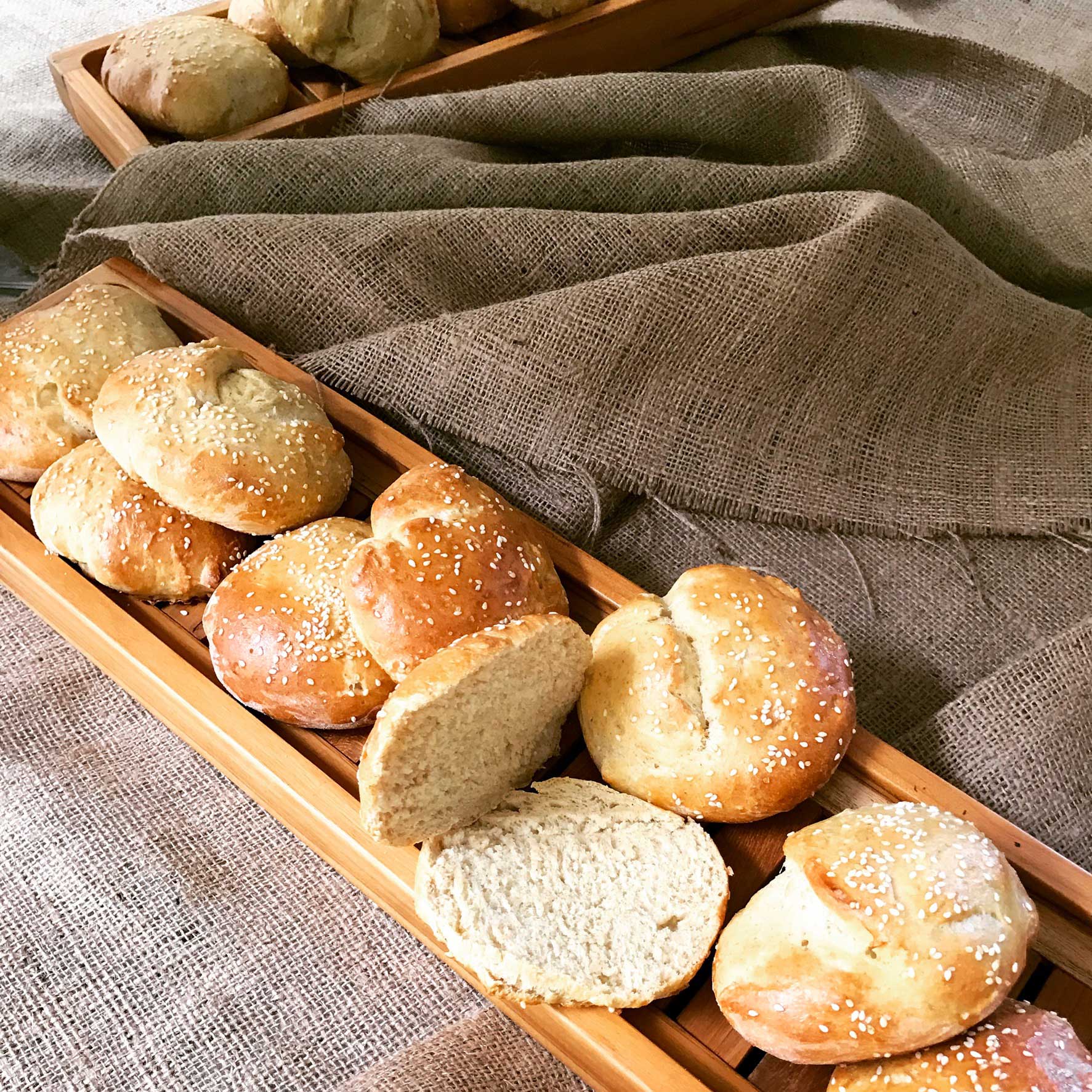 The Better Burger Bun
Picture this instead. That same huge family gathering. Grilled meat, seafood or veggie burgers piled high on top of heated platters. Everyone gets a plate, places one of your Homemade Burger Buns open on the plate. Lettuce, tomatoes, pickles, squirts of mustard and horseradish begin to mound on top the burger of their choice.
Go ahead, throw some cheese on there too, so it can melt while the burger is still warm. The Burger Bun says, "Is that all ya got, gimme some more, I got this"!
That burger sits proud on the plate, heads for a seat and that first bite… "OMGosh, where did you get these buns"! The family is now asking about the most delicious bite of bread they've ever had. Who cares what's in the middle! That's, what I'm talking about!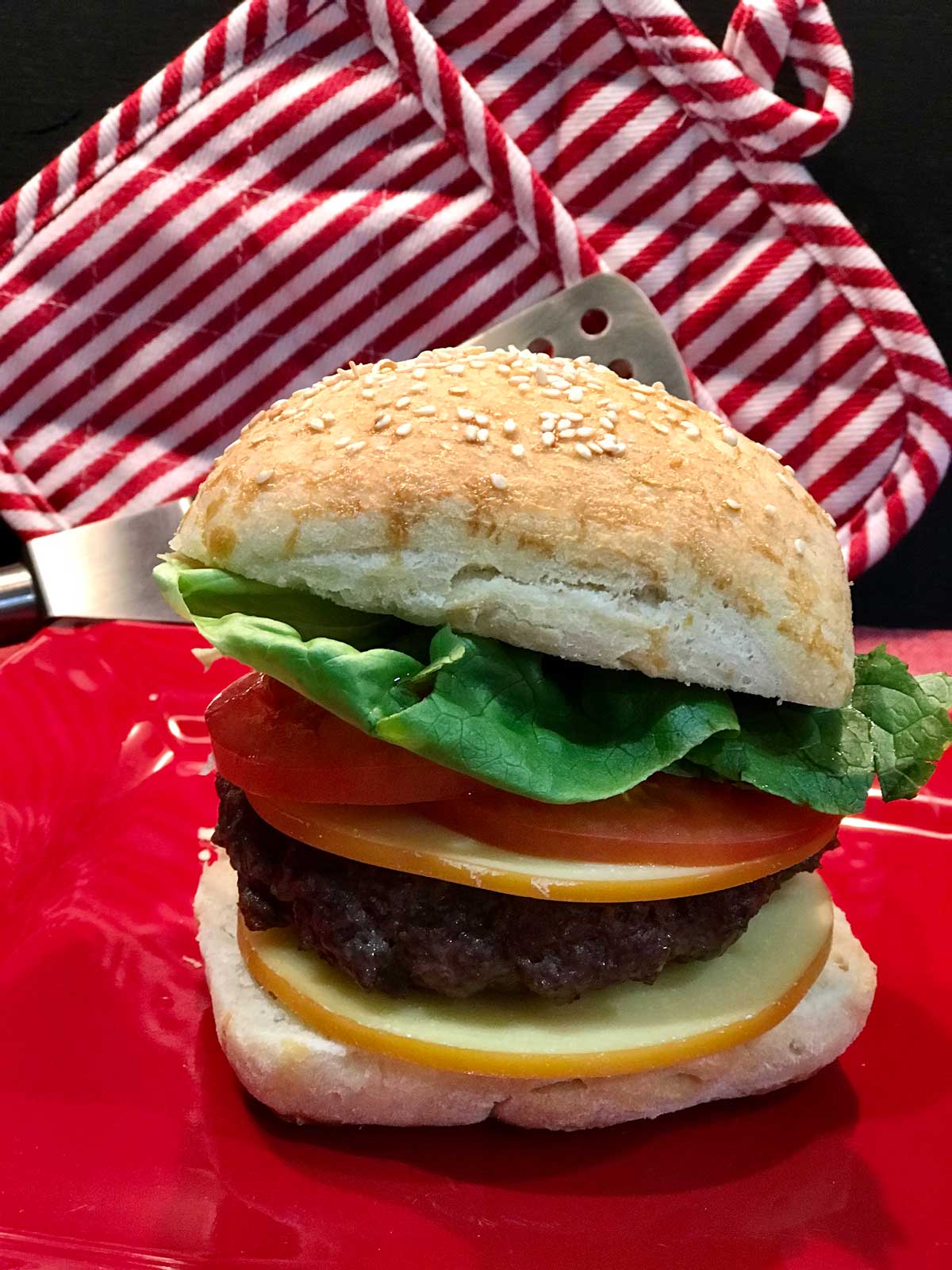 It's All About The Bun
In my home, it all starts with a great Bun! Burgers, for us, are not just a summertime meal. Burgers are not always meat. Burgers are simply a ground patty of something delicious to put between two slices of the most amazing bread, often making the bun the star and not what goes inside.
Burger Gatherings in my home, have changed over the years; beef or lamb burgers for some, salmon or shrimp patties for others, while some want a veggie burger that reminds me more of falafel!
Two things all of these burgers have in common? Ground something or other, and the desire for a Fabulous Bun! One challenge every burger has in common? Nobody likes a soggy bun!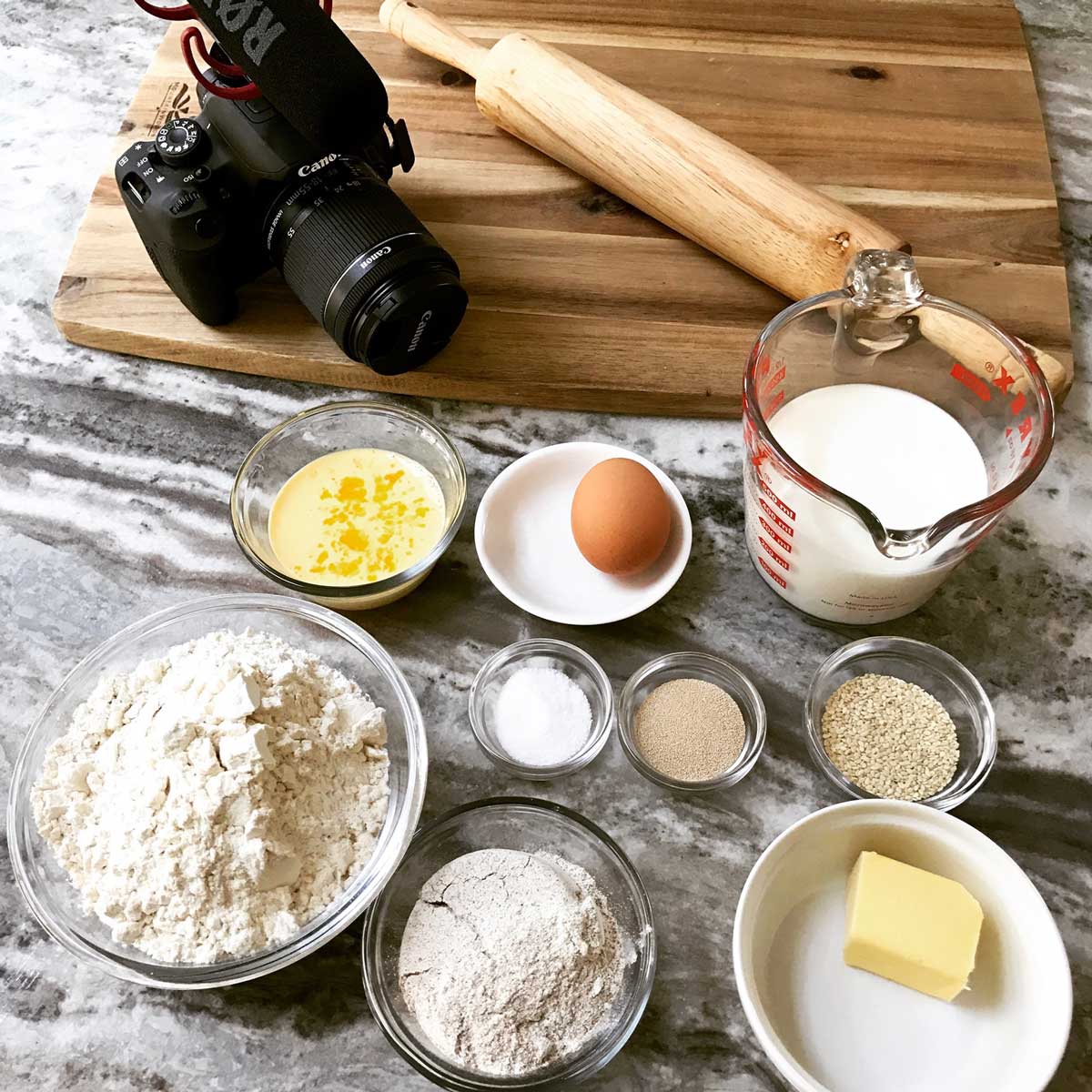 Moist Burgers Firm Buns
A perfectly cooked juicy burger of ground meat, any meat, always poses the problem of making the bun soggy after the first bite. In my home, a meat burger is most often lamb, but wild boar, turkey and venison burgers have also been the rave with my family.
The key challenge is not to dry out the meat during cooking, savoring all the natural juices of the meat. That first bite tells it all; flavors are there, juiciness was retained, but the next concern becomes the bun.
These homemade burger buns hold up to quite a lot of expectations, mostly because the dough has substance as well as great flavor on its own.
While soft and fluffy may be the texture you're after for a loaf of bread, it's not what you want for a burger. It just won't hold up!
Add a few grill marks on the inside of a homemade burger bun, just before serving, and the family can layer anything on it they want, and enjoy every last bite. Which is why I made an entire Valentine's Dinner theme at home, all around these fabulous burger buns, fireside, in the dead of winter. So there, summertime grilling! Burgers are for winter too!
American Burgers
A few years ago, I married a snob of a European, who used to turn his nose up to the American Burger. I surely fixed that! He used to tell me that when he first came to America everything was so oversized, especially the burger.
I asked, "Is more of a good thing a problem for you"? His answer surprised me. "The burger buns here look airy and fluffy but as soon as you take a bite, the soggy bread sticks to the roof of the mouth and ruins the rest of the burger."
Hmmmm. He had a point. It was then, that I decided I was going to make the most amazing burger bun and make him eat his words, along with my fabulous burger! I did. He did. Now he loves American burgers, well at least my homemade burger bun, American burgers!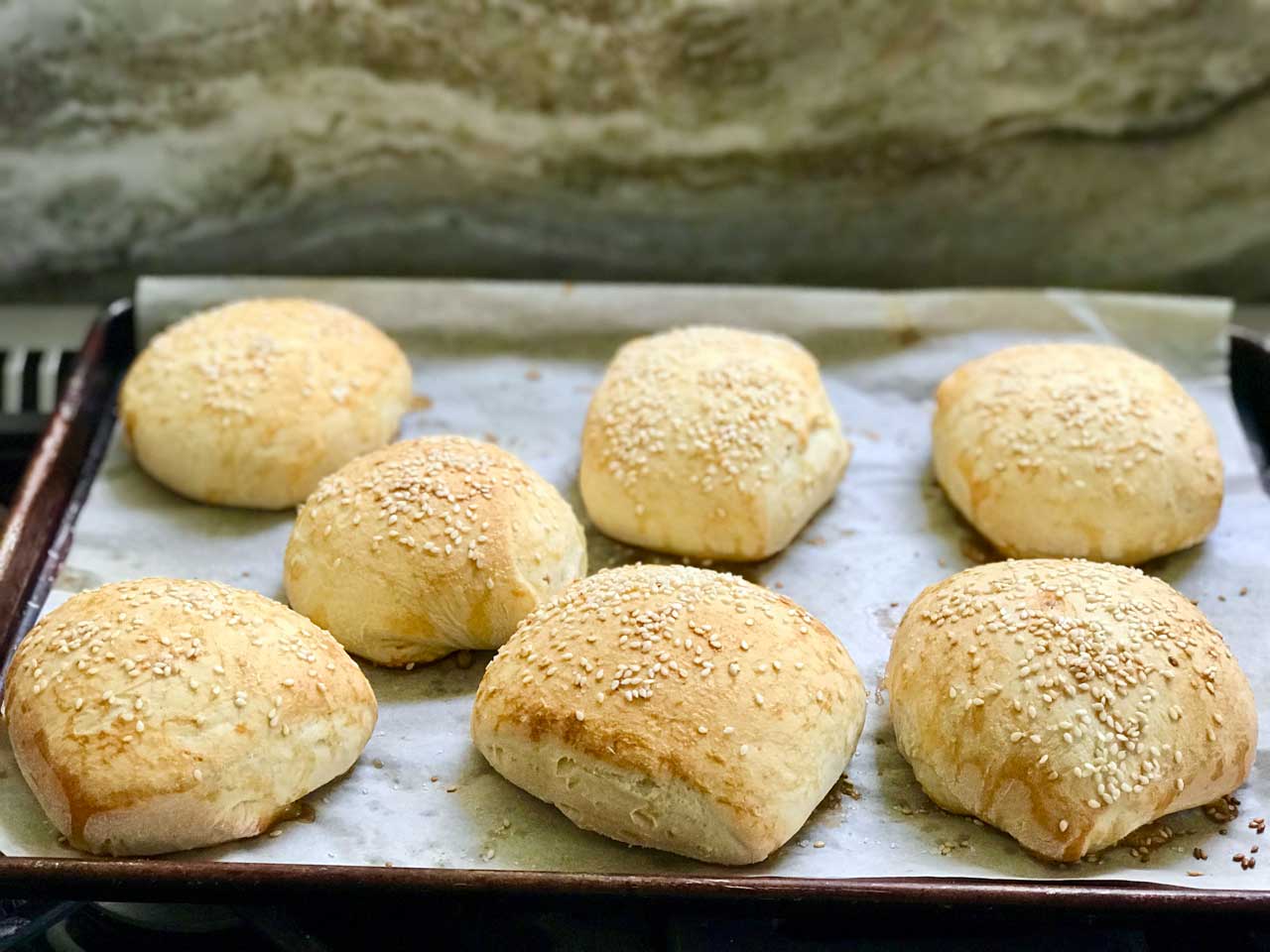 The Perfect Sandwich Bread
Burgers ain't the only show in town! Personally, I am more of a sandwich kinda gal. I love a great homemade pesto schmeared on a homemade sandwich bread, slices of avocado, micro-greens, tomatoes, lots of pepper and salt. Mmmmm. My homemade burger buns are the perfect bread for a spectacular sandwich!
Packing lunches to-go for your loved ones, are one of the best opportunities to show off your homemade burger buns, because they will hold up in their lunch bag without getting soggy, taste totally amazing even if the sandwich is just an ole nut butter and jelly, plus that first bite will remind them of home.
Burger Bun Variations
While my recipe is full-proof, easy to assemble, and rises quickly, sometimes I like to spruce it up a bit. Chop some fresh herbs, like oregano or rosemary into the burger bun dough while mixing the flour in, and you have an impressive flavor filled bun no matter what you decide to use it for.
Throw a little grated Parmesan or Pecorino cheese in the dough while mixing, and the burger bun just became a cheesy burger bun, adding a beautiful firm texture to the dough from the milk fats of the cheese.
Once egg wash has been brushed across the top of the burger bun before baking, sprinkle coarse salt, sesame seeds, poppy seeds, or even hemp seeds across the top for another added, eye-catching attraction to the buns.
Take this little heart-felt piece of advice from this old grandma, 'the quickest way to loved one's hearts, is through a batch of homemade bread,' so why not make buns too, while your at it!
Ingredients Needed
Yeast
Sugar
Water
Milk
Egg
Rye or Barley flour
Bread flour
Salt
Butter
Egg wash – an egg with water
Equipment Needed
Mixing bowl
Wooden spoon
Measuring cup
Measuring spoons
Cookie Sheet
Parchment paper
Basting brush
Oven
Ingredients
Yeast – 1 tablespoon

Sugar – 1 teaspoon

Water – 1/4 cup tepid warm

Milk – 1 1/2 cups

Egg – 1

Rye or Barley flour – 1/2 cup

Bread flour – 2 1/2 cups, as needed to form dough and more for dusting

Salt – 1 tablespoon

Butter – 3 tablespoons, melted and cooled

Egg wash – 1 egg mixed with 1 teaspoon water to brush tops
Directions
In a large bowl, place the yeast, sugar and water into the bowl and let sit 5 minutes to form a foam. Add milk, egg, rye flour and salt. Mix. Add melted butter, taking care that the butter is not hot. Slowly add a little flour at a time, mixing well. When dough becomes too difficult to work with a spoon, it's time to get a little messy and use your hands. Work as much flour into the dough until it is no longer sticky.
Oil a clean bowl. Place the dough inside and cover to keep warmth inside and draft out. Let it rise for 60 to 90 minutes in a warm (not hot), place.
Preheat Oven to 400. On a floured surface, roll dough out into a log. Cut desired sizes for the buns.
Lightly flour and shape each bun and place on a parchment paper lined baking sheets.
Brush egg wash on top of the buns. Sprinkle toppings as desired. Let sit another 30 minutes while oven preheats to 400. Pop in the oven and bake for about 18 minutes or until firm and golden. Serve or store airtight for up to 5 days.