The traditional Turkish style poached egg, over garlic yogurt, Aleppo peppers and virgin olive oil is a Mediterranean delight that dates back to the time of the Ottomans, known as Cilbir.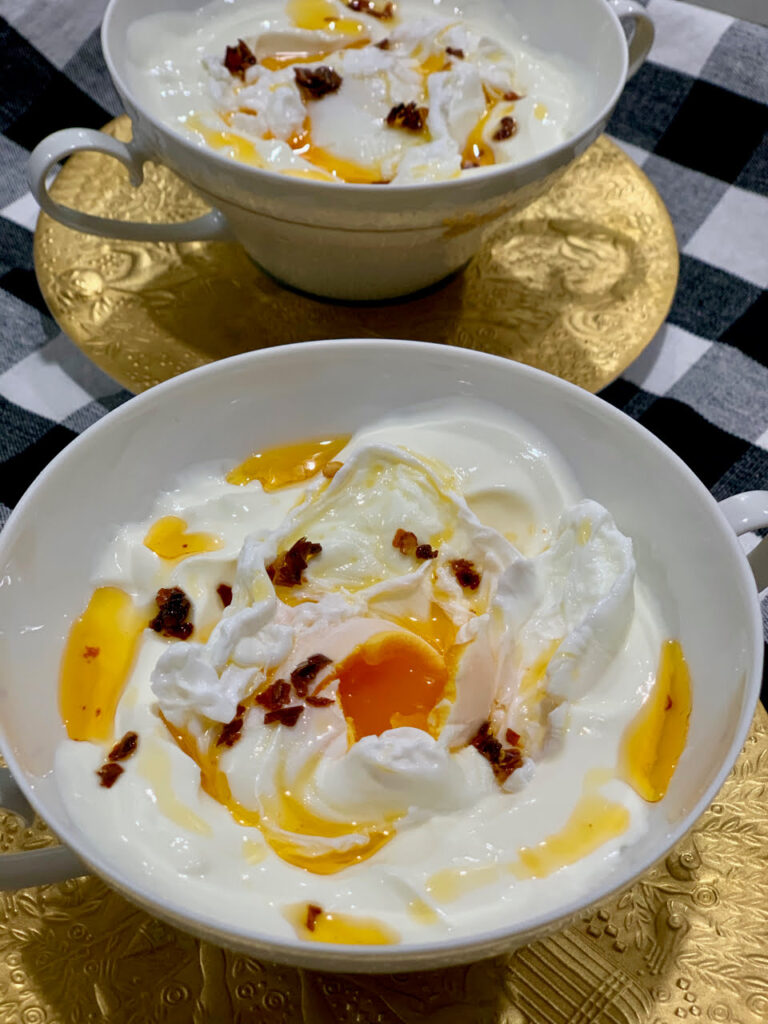 Cilbir
Dating back to the time of the Ottoman Empire, a time in history known for its many contributions to the world of art and culture. It seemed only fitting that I serve Cilbir in a plate adorned with gold.
Cilbir is traditionally served as a breakfast meal. Having come, not from Turkish decent but rather Syrian, I have always enjoyed the style of dining known as Meze.
Meze dining is a spread, whether simple or fit for an Ottoman Sultan, filled with one's favorite dishes. A cooks best way to show-off their refined style of cooking. I chose to serve Cilbir on a Meze spread!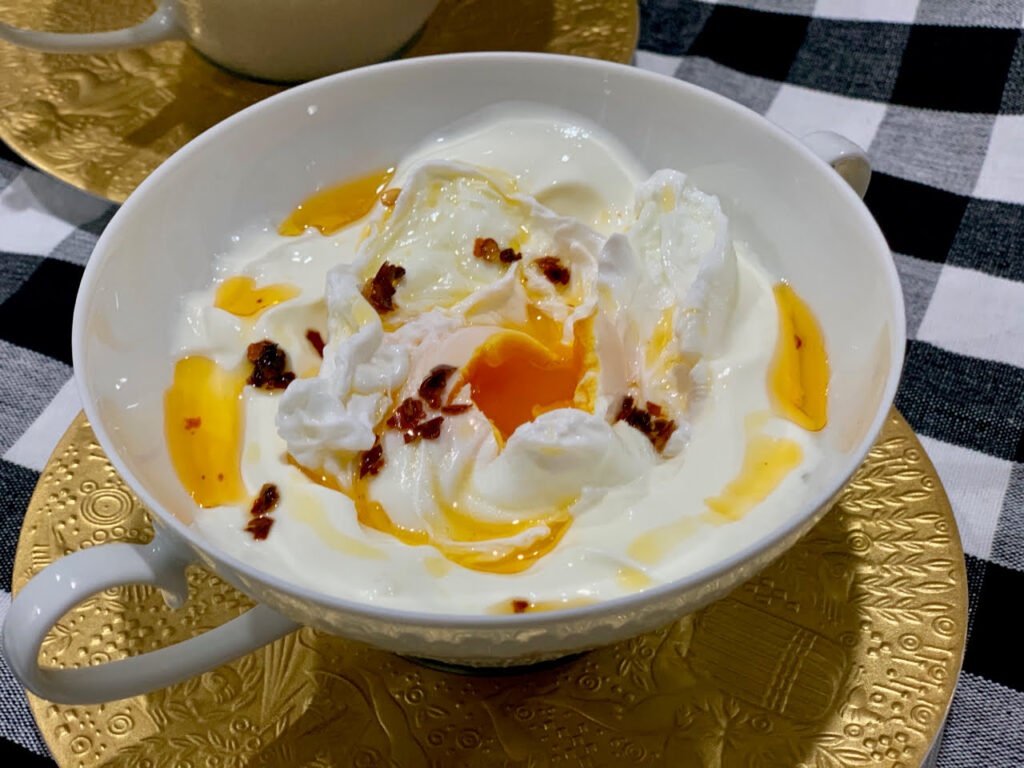 Yogurt
Lebneh, which is Yogurt, in my home, was always homemade. In a large pot of boiled milk and a little rowbee, a starter saved from the previous batch, was added once the milk boiled and cooled. It was a temperature you could detect by holding your finger in, to the count of 10.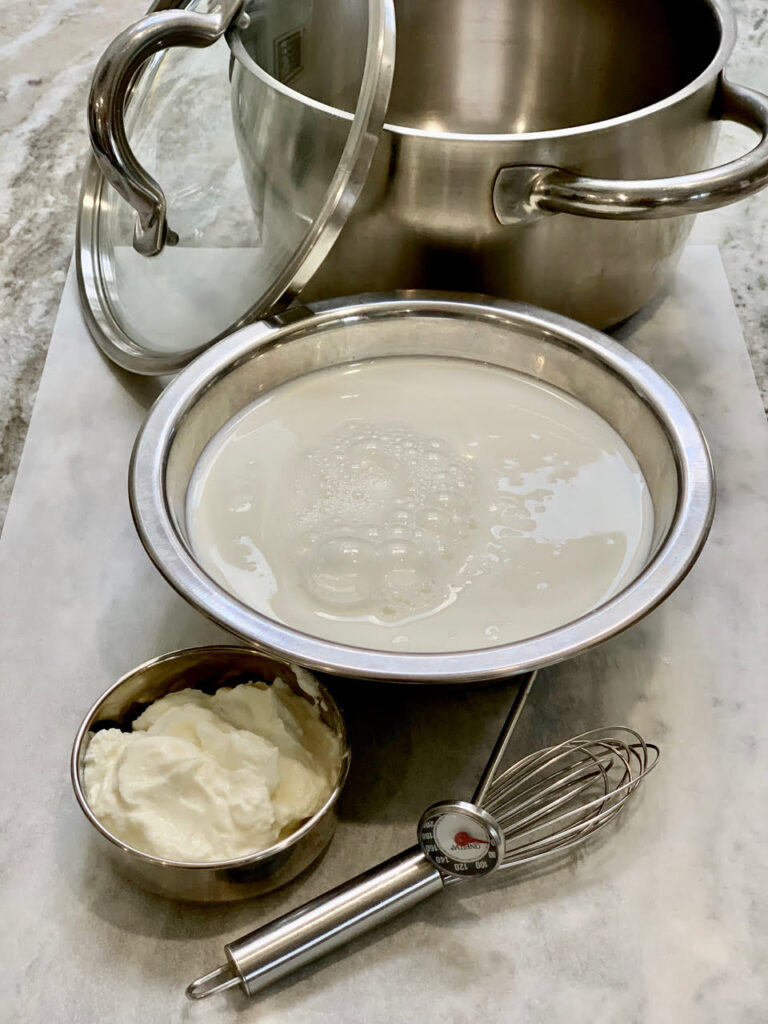 Kind of like making sourdough bread, in which starter is saved and continued to use in the next batch.
This creamy, luscious, soothing, milky fermented bacteria has been around for longer than it has been documented.
While here in America we know yogurt that is primarily made from cow's milk; it is sheep, goat, and camel milk that were the first documented yogurt recipes made.  
The Yogurt from my childhood was not sugary, not frozen, not a dessert. Instead, this type of yogurt is the staple in many savory meals, sauces, soups, cheese, drinks, or eaten alone. An aid to the body's immune system, by incorporating healthy bacteria into the intestines, makes yogurt a preventative health aid.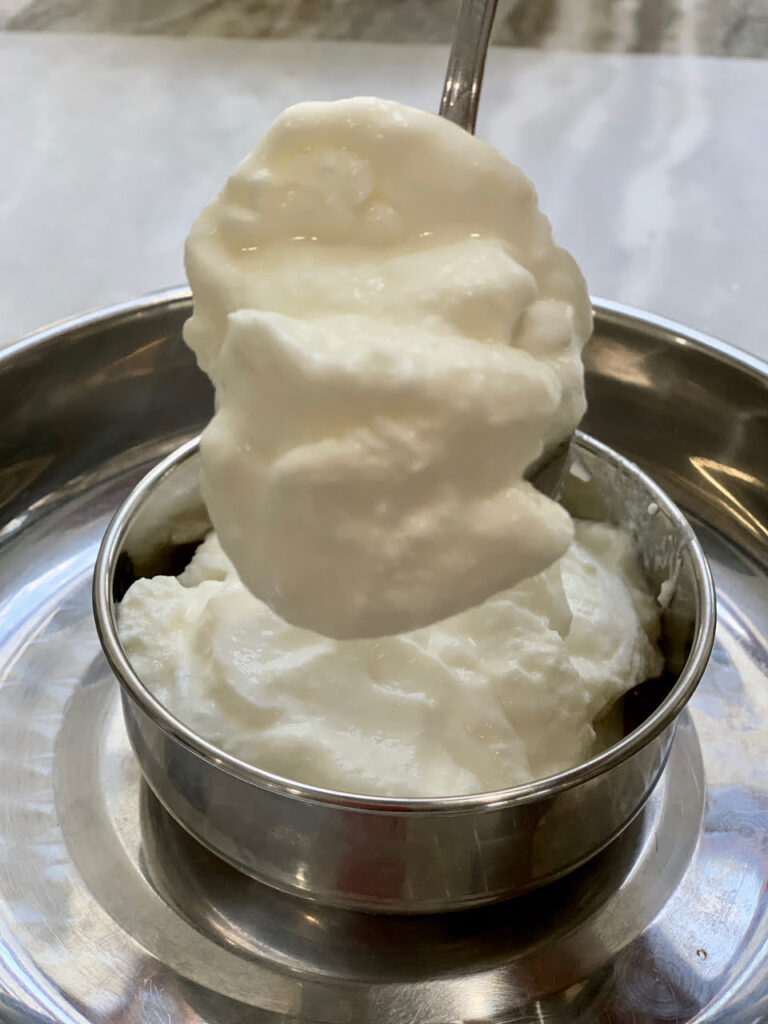 If it was ever served sweet, it was a rare treat for breakfast in which honey, real honey, cinnamon and pistachios were added.
Mediterranean Garlic Yogurt
Yogurt, in my Mediterranean home, was always served with meat. It was sometimes a sauce with garlic, herbs even raw vegetables, but it was there as an aid to the digestion of meat.
Tzatziki, is a savory yogurt dish which is the basis for many Middle Eastern and Greek sauces served on top of meat or on the side as a salad.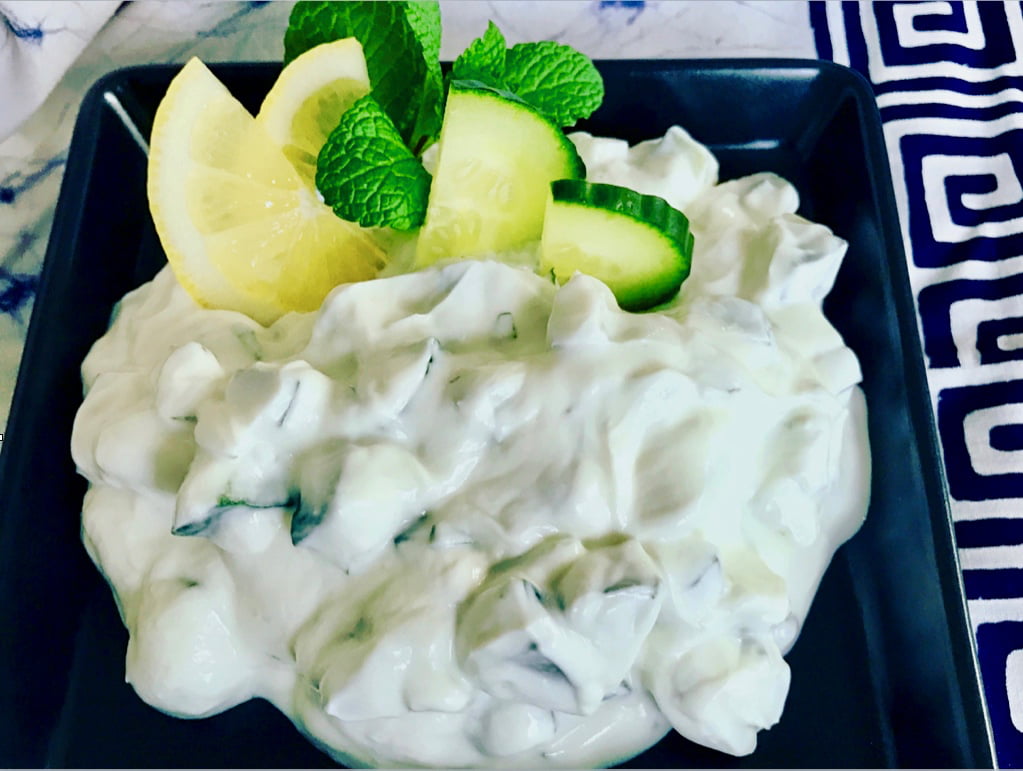 Garlic yogurt is the basis for Cilbir, this lovely Turkish inspired poached egg dish. The cloud of eggs sits on top of the intensely flavored garlic yogurt.
Generous drizzles of the best olive oil you can come by, topped with a sprinkle of Aleppo pepper. Aleppo pepper is a little sweet, somewhat hot and also smokey. A beautiful trio of flavors for this, seemingly, delicate looking dish.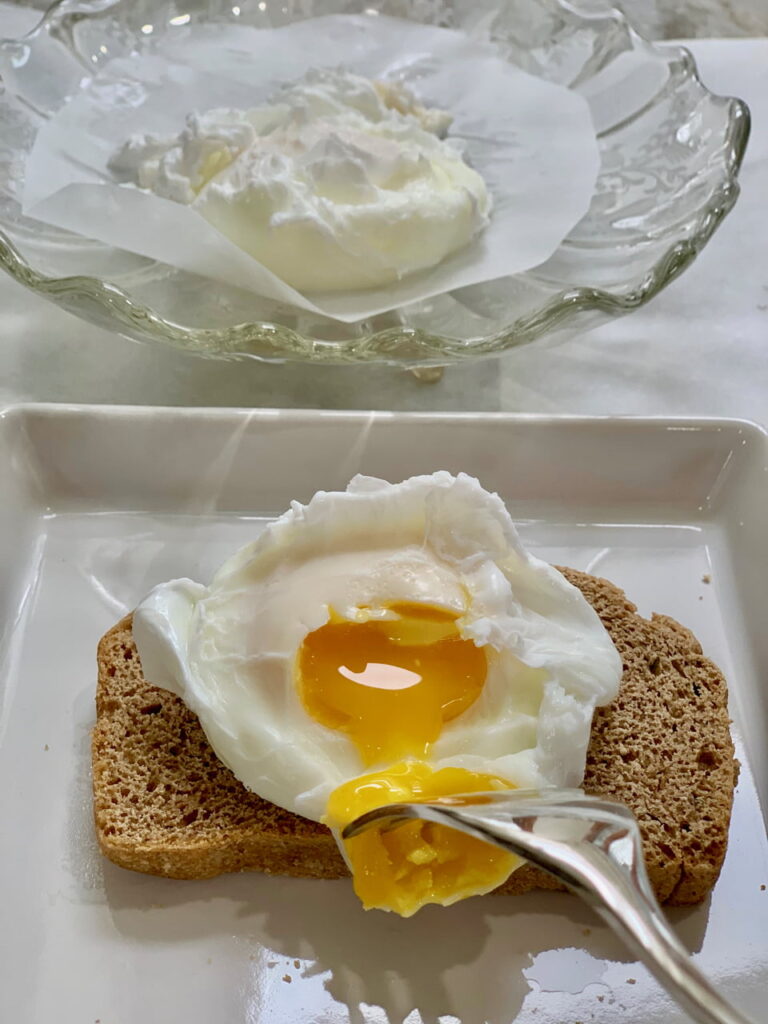 Poached Eggs
Ever wonder how a restaurant kitchen, with so much going on, can perfectly poach lots of eggs at one time? What magic happens in that kitchen that always gives you that 'showstopper yolk' trickling down the ingredients it was mounded on?
My son Omar Daumit, is a professional chef. I don't know why it took me so long to ask him to teach me how to 'professionally' poach an egg. Then one day, I did.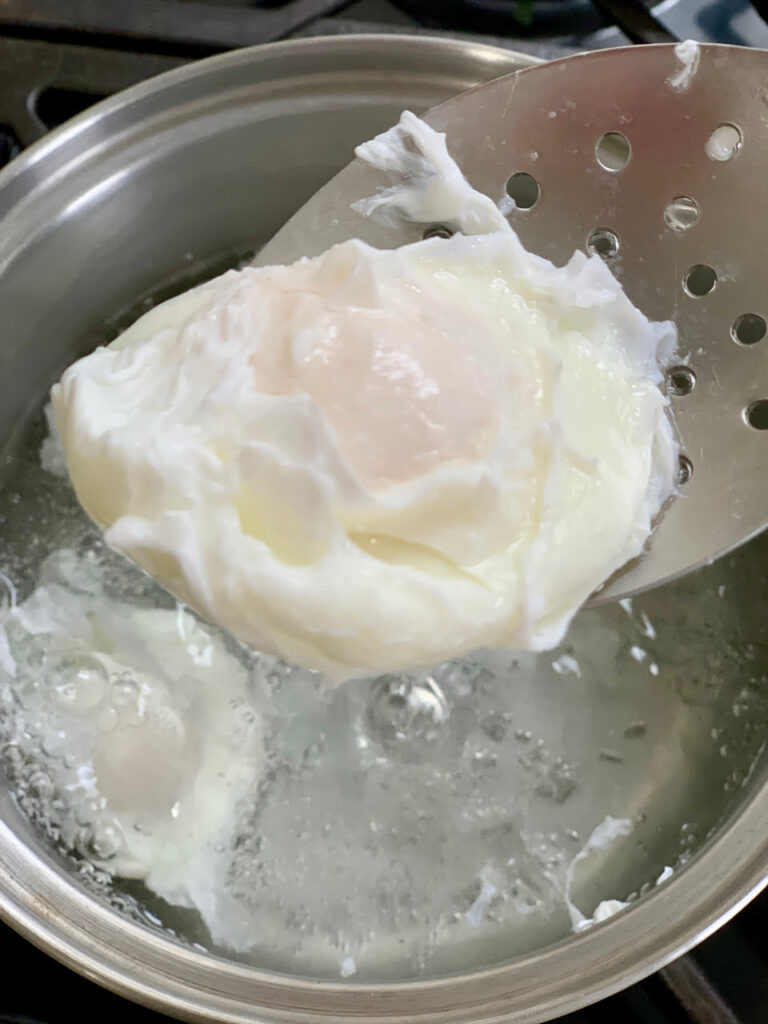 Once Omar showed me how a perfectly poached egg is done in a restaurant kitchen, I put away all the pans and gadgets I once used and only poach eggs this way now. So easy, so fast, so Professional!
Ingredients Needed
Lebneh or thick yogurt
Garlic
Salt
Eggs
Olive oil
Aleppo pepper
Equipment Needed
Mixing bowl
Garlic press
Measuring cup
Measuring spoons
Boiling pot
Slotted spoon
Stovetop or burner
Mediterranean Poached Eggs Over Garlic Yogurt – CILBIR
Course: Appetizers u0026amp; Tapas, Eggs
Cuisine: Mediterranean
Cilbir, the traditional Turkish style poached egg, over garlic yogurt, Aleppo peppers and virgin olive oil. 
Ingredients
Lebneh or plain thick yogurt – 1 cup

Garlic – 1 clove, crushed

Salt – a pinch

Poached Eggs – 2

Virgin Olive oil – 2 tbsp

Aleppo pepper – 1 tsp
Directions
In a mixing bowl, place the lebneh/yogurt, crushed garlic clove and a pinch of salt. Whisk these ingredients together, divide into two serving plates and set aside while making the poached eggs.
The poached eggs can be make at this time, following a familiar technique to you or by making the technique I use for restaurant style poached eggs.
Place a poached egg on top of each serving dish with garlic yogurt.
Drizzle the olive oil across each egg, followed by a sprinkle of Aleppo pepper and serve.