What's not to love about a silky Chocolate custard pie with a cookie-like almond crust! is a silky cocoa and cream custard with a cookie-like almond pie crust. Therefore, I've created the best of both desserts; an almond cookie and a chocolate custard all made into a luscious pie!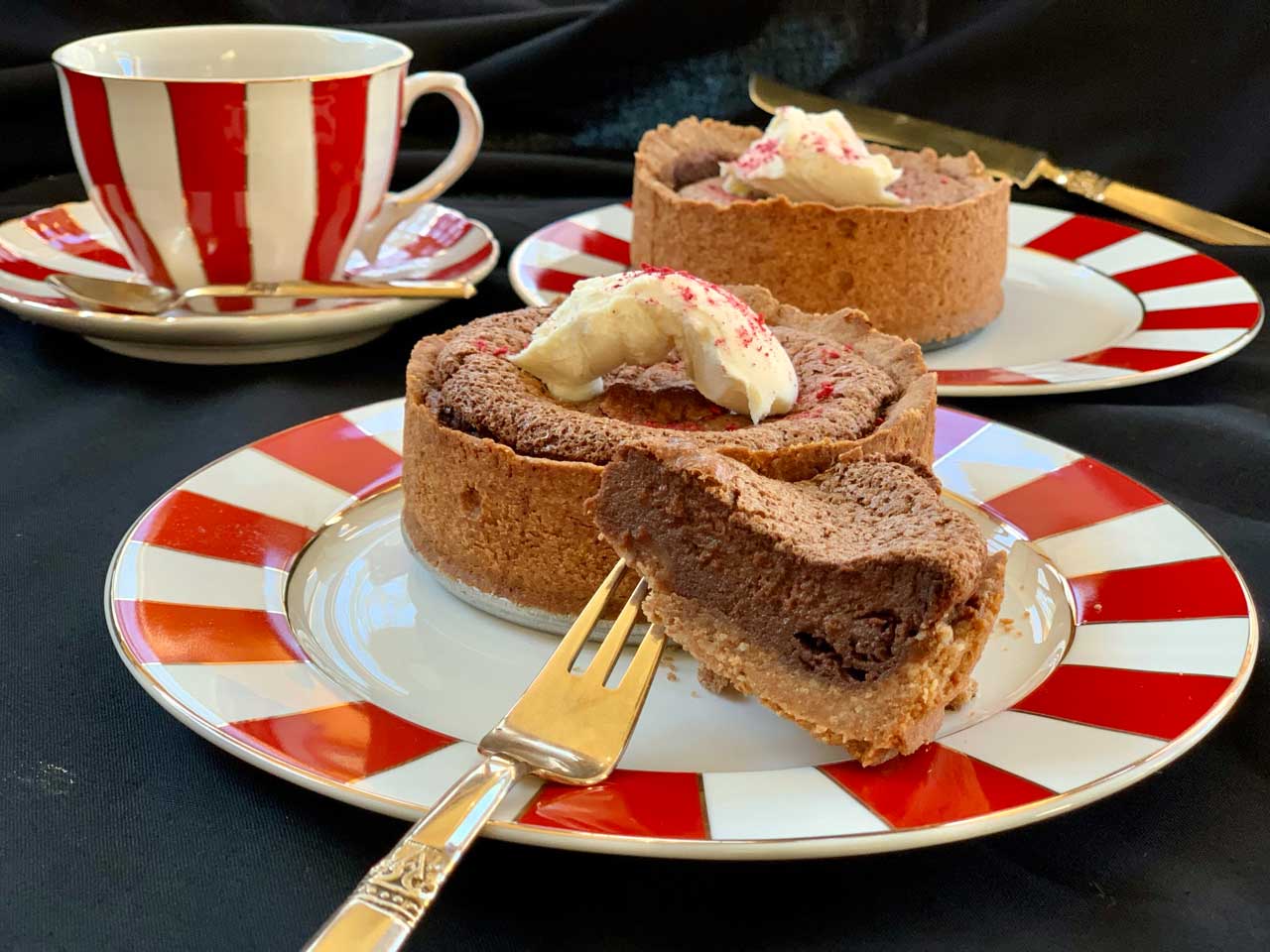 Chocolate Pie Recipes
I was in the mood for chocolate, but since I am a pie lover, over cakes, I searched for a chocolate pie recipe and found very few that appealed to me. Unfortunately I was met with the realization that many of the well known magazines or food blogger's recipes used thickeners (yuk). There is no reason to put cornstarch, gelatin or tapioca in a chocolate custard. All you need is eggs!
So, out of a hankering for chocolate, I created the BEST chocolate pie recipe you will ever taste, simply because I was making it for me!
I'm a dessert snob! That's right, take a close… really close look at this bite! Pure, raw cacao, little sugar, cream and eggs! Yum!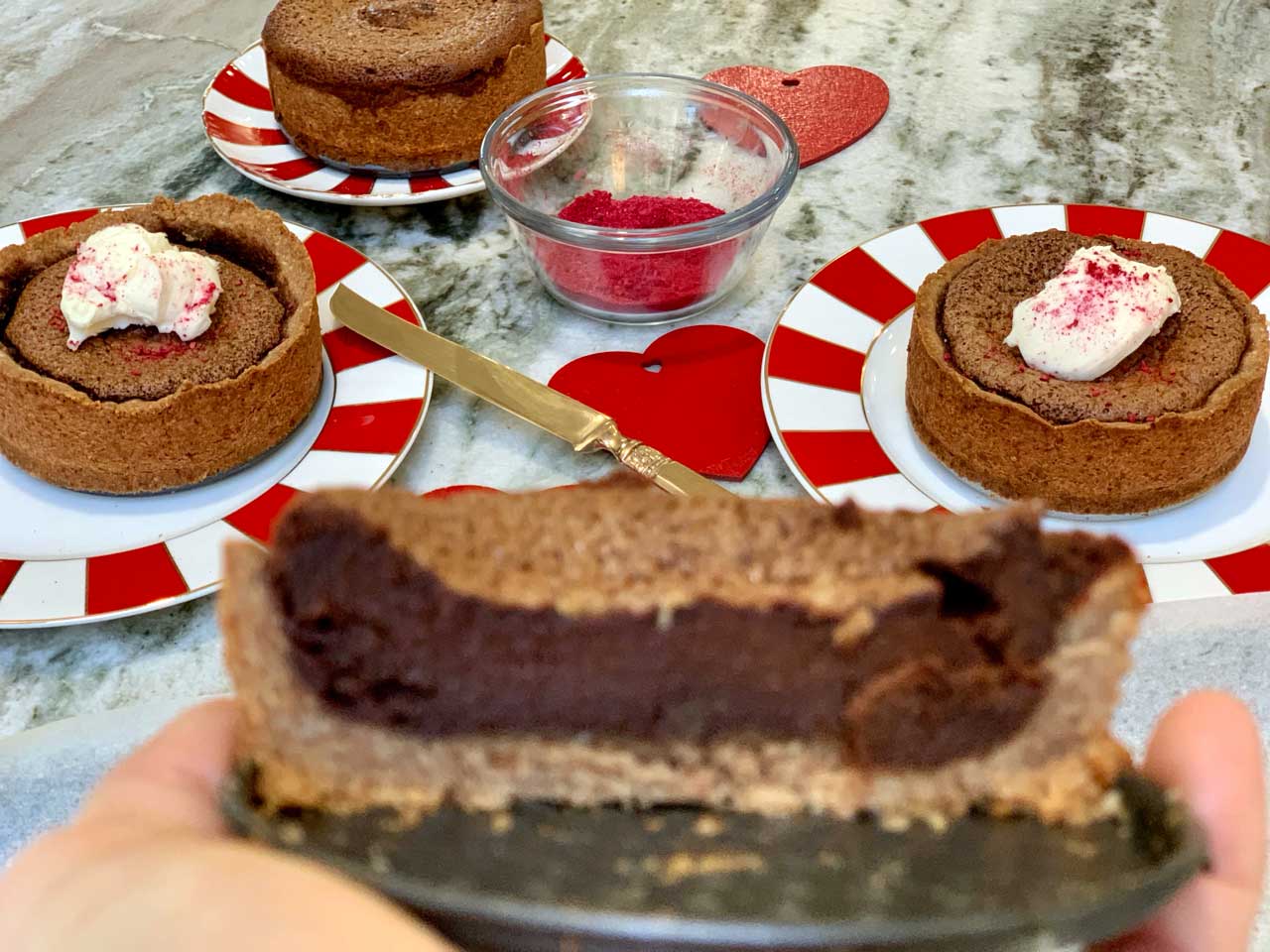 Almond Crust: The Perfect Pie Crust For Chocolate
Did you know that a pie crust is really a very simple combination of dry ingredients balanced with wet ingredients to hold it together?
It's easy crushing almonds into a powder and it becomes part of the dry ingredients; and who doesn't love nuts with their chocolate!
Dare I say, a cookie pie crust is actually my preferred crust for a tart. No, it's not a pie crust that can be rolled out and shaped to fit a pie pan. For that type of pie crust you just need flour and butter.
This almond pie crust has pizzazz! It is easily plopped into the pie pan and pressed with your little fingers into shape. 
Surely these simple ingredients can be easily whisked in go into the silky chocolate custard. Then almonds, butter, a dusting of cacao with a few other ingredients will make up this cookie-like crust.
Ingredients Needed
Butter
Almonds
Flour
Sugar
Cocoa
Salt
Egg
Cream – Full cream coconut milk can be substituted
Coffee or Chocolate liquor (optional)
Raspberry or Strawberry Dust – Make from freeze-dried of either
Equipment Needed
Food Processor
Oven
Individual Spring Form Pans
Fork
Measuring cup
Measuring spoons
Oven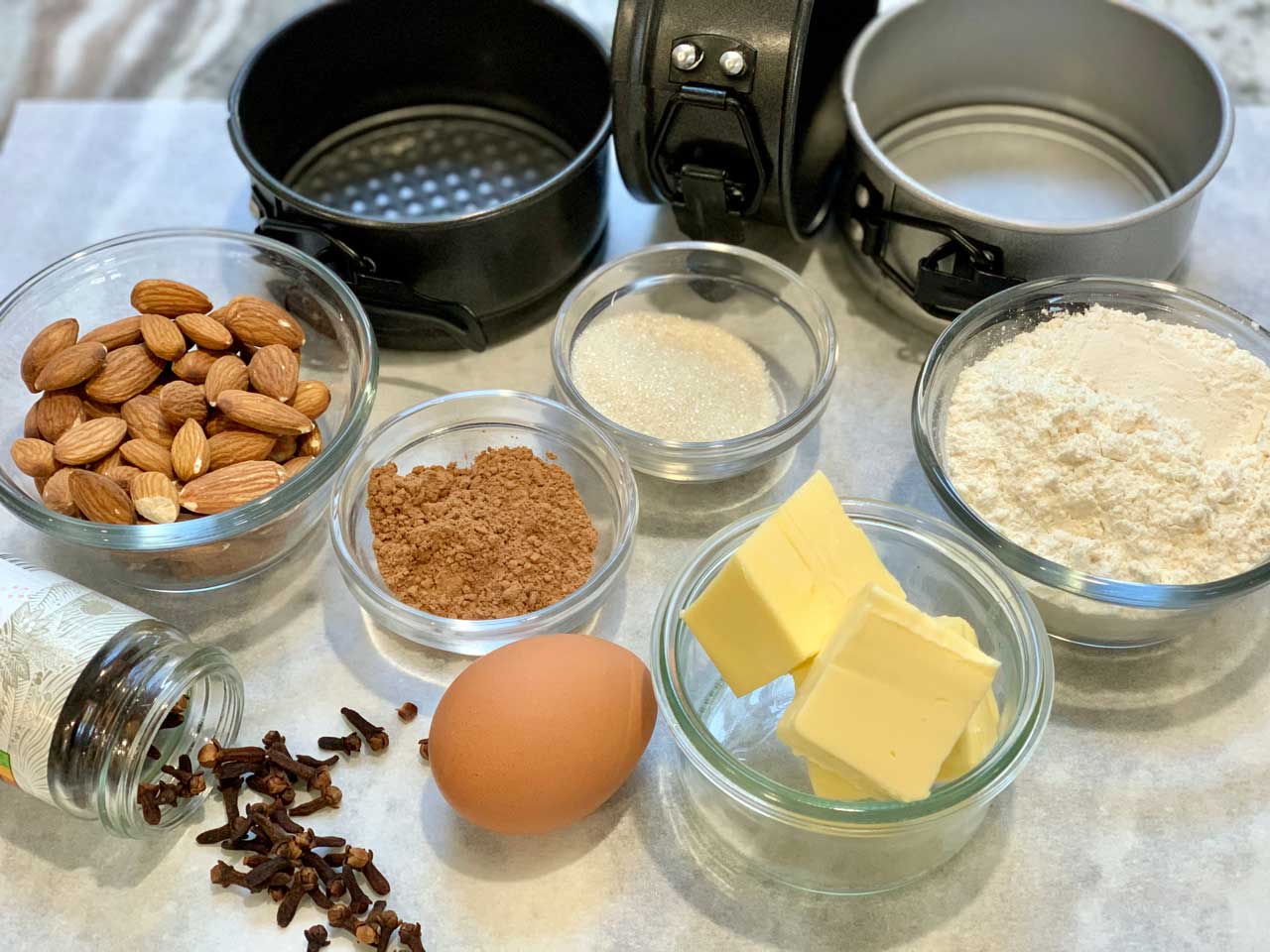 Silky Chocolate Custard: The Perfect Chocolate Pie
Before the custard goes into the pan, the almond crust is pressed into the pan, for an easy to assemble pie crust.
Secondly, simple ingredients will make up this luscious chocolate custard: Raw cacao, an equal amount of sugar (not a truckload), and eggs.
Finally, a little color on top of the chocolate pie, using crushed freeze-dried raspberries or strawberries, makes it look more festive.
Baking A Chocolate Pie
This recipe easily accommodates a single pie pan. Overall I like the security of knowing a pie or cake can be easily removed from a pie pan, so I prefer a removable bottom pie pan or spring-form pan.
Equally, another trick I like to use, is Mason Jar Lids as the pie pan. They makes for a small pie, about 3 bites, but is so easy to remove and slide onto a plate or make a dozen and slide onto a lovely serving tray for a larger gathering.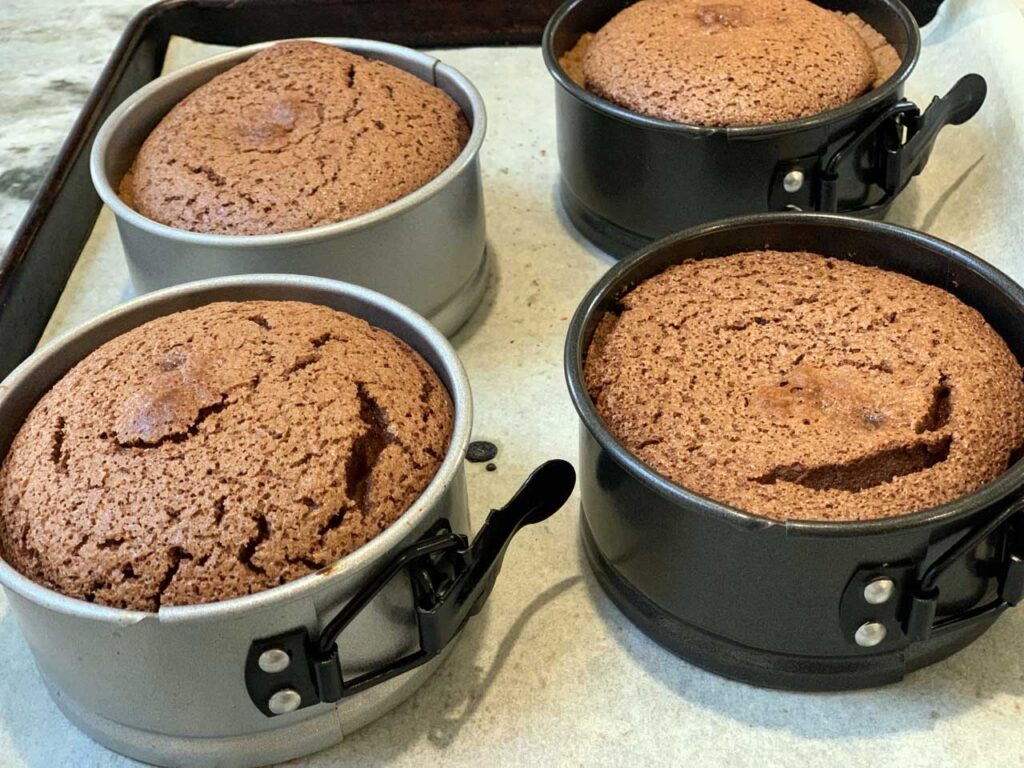 Chocolate Pie With Almond Crust For Valentine's Day
Undoubtedly, what better dessert could there possible be for Valentine's Day or any other special occasion, than a chocolate pie, baked in a cookie-like almond crust!
I created this festive tree in 2021 winter, after the Christmas tree came down and the room seemed void of anymore bling.
Since I wasn't ready to let go of the festive feeling of my Christmas tree, I went out for a walk in the woods, found a tall branch and created a new festive feeling. Indeed, a little more bling in my living room!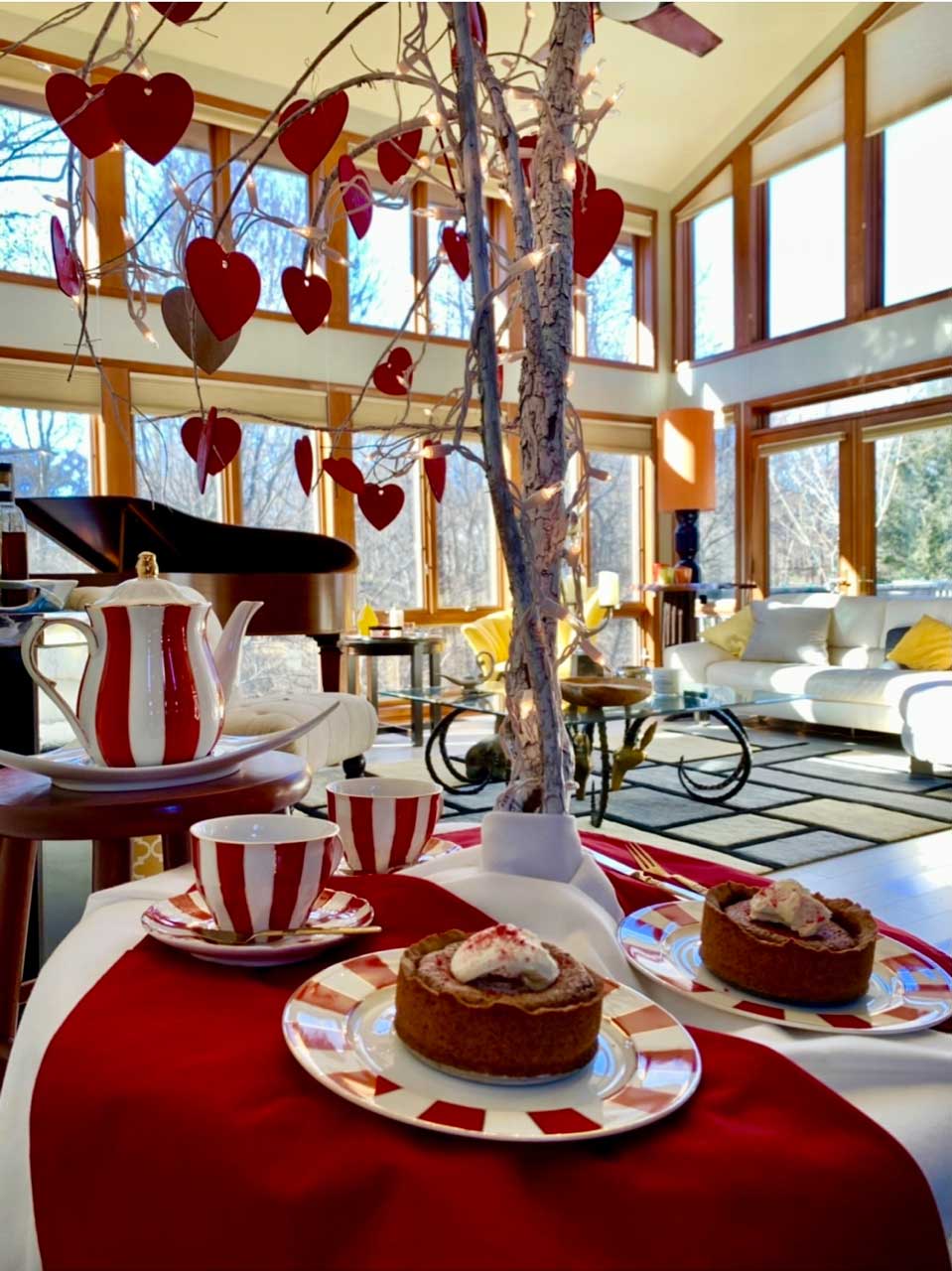 Undeniably, I am certain, if you are a chocolate lover, an almond cookie lover or a pie lover, you will love my very snobbish chocolate pie with almond crust for a gazillion special occasions!
Chocolate pie with almond crust is a silky cocoa and cream custard with zero thickeners and a cookie-like almond pie crust.
Ingredients
Almond Crust Ingredients

Butter – 6 tablespoons

Almonds – 1 1/2 cups

Flour – 3/4 cup

Sugar – 1 tablespoon

Cocoa – 1 tablespoon

Salt – 1 teaspoon

Egg – 1, whisked

Chocolate Pie Custard Ingredients

Eggs – 3

Sugar – 1/3 cup

Cocoa – 1/3 cup

Cream – 2/3 cup (full cream coconut milk may be substituted)

Coffee or Chocolate liquor – 1 tablespoon (optional)
Directions
Place the almonds in a food processor. Grind to a powder. Add butter and pulse. Add remaining dry ingredients. While mixing, pour in the whisked egg. The crust will come together into a ball.
If making one single pie, place crust ingredients into a pie pan and press to fill the pan, crimping edges. If using 4 individual (4 inch) pie pans, divide the crust into 4 and press into individual pie pans. Set aside.
Whisk eggs and sugar together for 2 minutes. Add cocoa, cream and liquor if using. Whisk until well blended. Pour into prepared crusts.
Bake for 35 minutes or until tops are firm and begin to form cracks.
Notes
This chocolate pie is delicious just as is but can be served with whipped cream on top, powdered sugar, crushed freeze dried raspberries or strawberries or a dollop of mascarpone on top.