Dates, prunes and lots of eggs, crushed almonds and oat flour make for a moist and dense torte with a spread of Carob butter on top.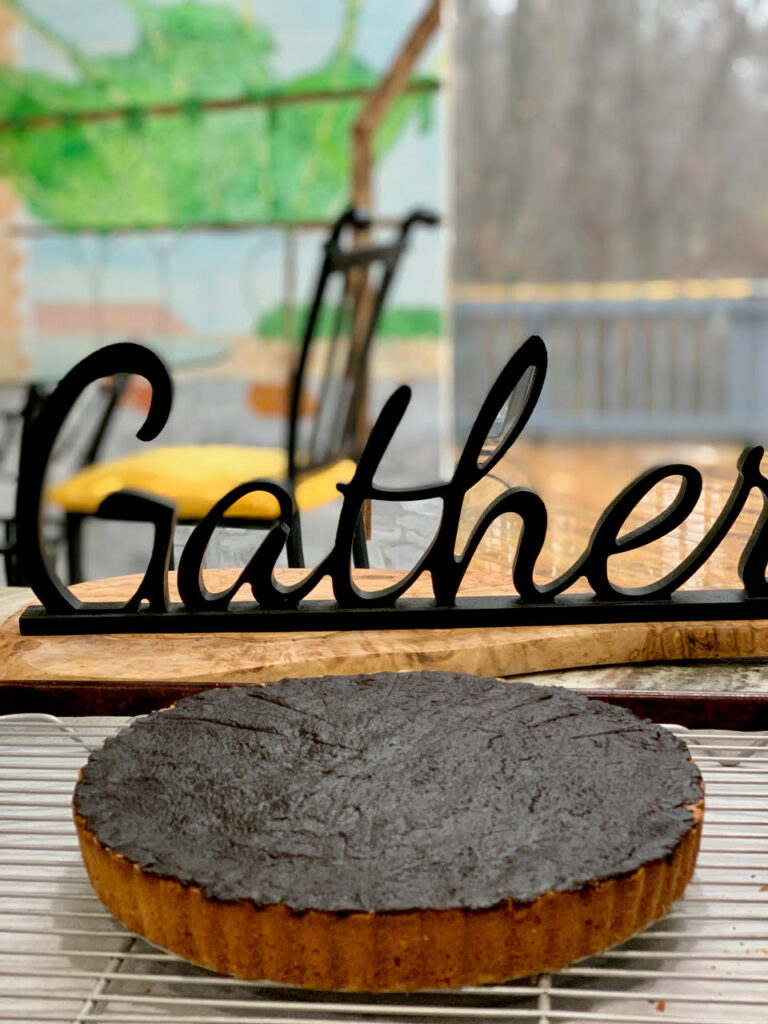 Torte of Dried Fruits
A thin sliver of this dense torte, sweet with dates and prunes is almost too healthy to be called a dessert.
While dates are often my go-to to for sweet treats I also chose the 'often forgotten' prune to balance the sweet dates.
Remembering that prunes are simply sun-dried plums, I knew the prune would bring a slightly tangy flavor to the caramel sweetness of the dates. It does!
Almond and Oat Flour
Oat flour and almond flour have become my favorite flours to use in many of my baked goods. Grinding the oats into a powder takes seconds and is one-third the cost of buying it already ground. The same for the nuts.
This torte is rich and dense in a way that almost seems like a health bar, but it is the perfect slice for afternoon tea or an evening dessert.
Carob Butter
Carob and cacao are not the same thing! In fact, carob powder is naturally sweeter and has a nutty flavor while cacao is bitter.
Melting a little butter, then whisking it into a bowl of carob powder with no sugar (a drizzle of maple syrup or agave if you want a tad sweeter), does something strange.
At first it looks as though it has separated, curdled and definitely doesn't pour. But, while it's warm, you simply spread and then 'press' it on top of the torte or cookie.
Carob butter forms a solid top on a cake or cookie. It gives this torte a beautiful finish without mounds of icing or added sugar to an already sweet cake.
Torta de Frutta E Amaretto
Yes, this is my take on an Italian concept for a cake! Sweet dried fruits, crushed almonds into a flour with a sprinkle of oat flour to give the torte structure.
Call it a fruit and nut bar if you must, but this 'torta' is one you will make often, even if you change up the prunes for apricots or raisins!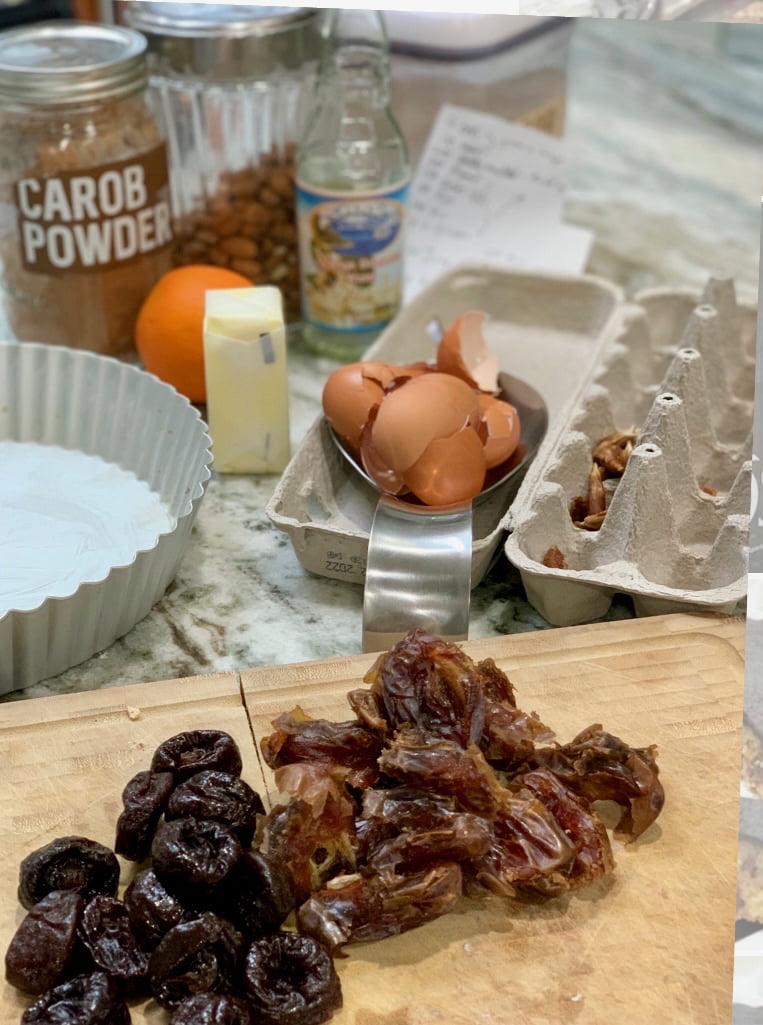 Ingredients Needed
Eggs
Sugar
Butter
Almonds
Rolled oats
Baking powder
Baking soda
Salt
Mace
Cardamom
Pitted dates
Pitted prunes
Orang blossom water
Orange zest
Carob powder
Maple syrup
Equipment Needed
Removable bottom torte pan
Small pan – for melting butter
Basting brush
Food processor
Measuring cup
Measuring spoon
Icing knife, or spatula
Cutting board
Chopping knife
Dried Fruit and Almond Torte with Carob Butter
Course: Dessert
Cuisine: Mediterranean
Dates, prunes and lots of eggs, crushed almonds and oat flour make for a moist and dense torte with a spread of Carob butter on top. 

Ingredients
TORTE

Eggs – 4

Sugar – 1/2 cup

Butter – 16 oz (2 sticks), melted

Almonds – 1 cup, crushed to a powder

Rolled Oats – 1/2 cup, crushed to a powder

Baking powder – 1 1/2 tsp

Baking soda – 1/2 tsp

Salt – 1/2 tsp

Mace – 1/2 tsp

Cardamom – 1/2 tsp

Pitted Dates – 3/4 cup, finely chopped

Pitted Prunes – 1/2 cup, finely chopped

Orange blossom water – 1/2 tsp (or vanilla)

Orange zest – 1 tbsp

CAROB BUTTER

Carob powder – 1/2 cup

Butter – 4 tbsp

Maple syrup – 2 tbsp, or agave
Directions
Preheat the oven to 350
Melt 2 sticks of butter. Brush a little butter inside a removable bottom torte pan.
In a food processor of mixer, whisk the eggs, orange blossom, zest and sugar for a good 3-minutes until light and creamy.
With the machine running, slowly pour in the melted butter. Turn the machine off.
Add the dry ingredients. Whisk until blended.
Stir in the dried fruits. Transfer to the prepared torte pan.
Bake until golden and firm, about 45-50 minutes.
For the Carob butter, melt 4 tablespoons of butter, remove from the stove and whisk in the carob powder and maple syrup.
While the cake is still warm, spread the carob butter on top, using the back of an icing knife to press the butter into place. The carob butter is able to be molded with a knife or hands while it is warm. When is cools, it hardens.