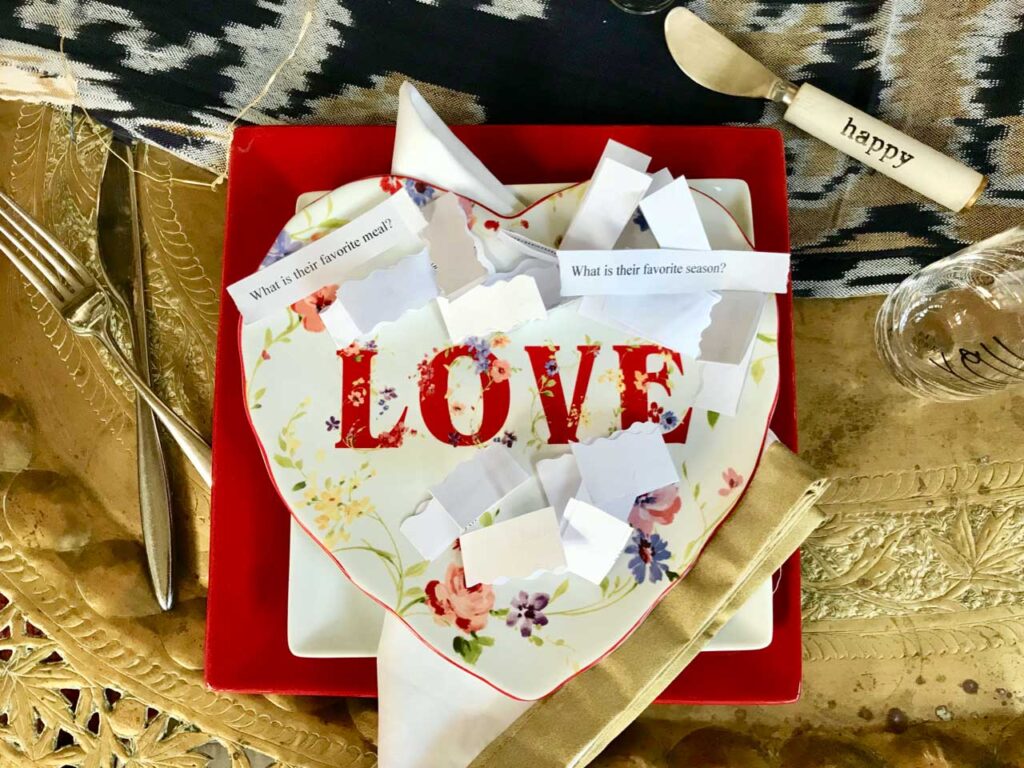 Valentines day dinner at home with a helping of creativity, can be fancy and gourmet or cozy and casual depending on the whimsy you desire.
Do you really want to go out to a busy restaurant? Surely the servers would rather be elsewhere on Valentine's Day and not serving you on a night they too might want to experience a little whimsy for themselves.
You're creative. Surely with a little help and a few ideas, you could arrange an amazing evening to celebrate Valentine's dinner at home. No hurry to leave. As little or as much as you want to drink and eat. Take some great selfies to remember the occasion without on-lookers. Play your favorite music. Watch a favorite love story. Play some fun games.
Best Valentine's Day Dinner Dates At Home
Are you planning a romantic dinner for two? How about a fun evening with a few friends? A special evening you'd like to simply pamper yourself? Valentines day dinner at home, especially in this year of 2021, is going to be a fun, memorable evening and I'm going to help spark your creativity, cause chances are… You WILL be having Valentine's Day Dinner At Home!
If you were dining out, rather than having Valentine Day dinner at home, what would you do when dinner is finished? There are two of you or maybe a few of you? I've got some fun conversation sparking questions, questions you might never get around to asking or using for interesting conversation. They will get printed out days before, folded and drawn from a plate. Laughter, inquisition and fun shall prevail Valentine's Day!
How about a solo Valentine evening at home? I have an adorable idea for you to have an evening down memory lane, with photos and prompted questions to spark answers to write out in a journal, one you will have purchased as a gift, just for yourself, for this special evening.
Valentines Day – Ouch
Have you ever stepped into a marriage or relationship for all the wrong reasons? I have. More than once, I am not embarrassed to say; It's life. We learn. We move on.
Valentine's Day can often feel like a slap in my face. But… we have a choice; whimper and whine about a current situation or do something that makes us feel better. Being the self-hugger that I am, I often threw the biggest damn romantic Valentine's Day dinner parties at home. It helped me to take the focus off what might be wrong in my own relationship by setting the stage for others to enjoy theirs.
I was amazed at how many couples were grateful to have someone else create a celebration evening, give them a reason to get dressed up and be certain of great food, laughter and entertainment.
Sometimes I hired musicians, often people I knew and since I have a piano at home it was easy to pull together a small jazz ensemble. But other times I simply planned a great playlist which also created a romantic mood.
One year, many years ago, I sent out invitations for a Valentine's Day celebration in my home, and with the responses, also came lots of other creative ideas. Some responders offered to make many of the desserts, while others were delighted to put together charcuterie boards.
One responder told me something I never knew about: Flowers. Should I want to have flower arrangements in my home for the occasion, and not spend the money for them; funeral homes were the go-to destination. Yep! Often funeral homes will take a large amount of flowers to a grave site, but never all, since there just is not room. No one really knows which arrangement is theirs anyway. So… you call the funeral home, tell them what you are planning, something special for the community, and they often will set the overflow of flower arrangements out their back door for you to come gather. Take them apart, and re-arrange them for your vases and bowls. Free!
I tell you the story above because you would be surprised just how many married couples remain, 'unhappily' together, for a variety of reasons, but come Valentine's day, that sense of 'ouch' can creatively be turned into something fun.
Set The Stage For An At Home Valentine's Day Celebration
Creating a mood, a nook in the home can be as simple as transforming a rarely used area and making it into a new spot for the night.
Ever see the film "The Holiday"? Remember that tent scene? Magic! Picnics often feel the same, a new spot for a meal. Depending where you live, February 14 is winter and cold in many regions. Fire is often a transforming mood changer. Set up a coffee table in front of the fireplace and throw some pillows on the floor to sit on.
A fire pit outside is a great mood setting. Pack 2 baskets of food with drinks and enjoy the night sky. Candles easily transform a room, if a fireplace is not in the home. Lots of candles at various different heights make for a lovely setting.
Food And Drink For Valentine's Day Dinner At Home
Boy, do I have some fabulous, easy to prepare, maybe even do-ahead delicious dinner ideas for Valentine's Day Dinner At Home. Enjoy the videos I prepared for you that are intended to lure you in, inspire you to create something fun and new, and hopefully make you feel as though you are right there with me in a way only a live video can do!