Pomegranate Martini, made with pomegranate vodka, the sweetness of cranberry juice and the zing of lime makes for a beautifully festive holiday drink.
This keeper of a cocktail is my favorite cocktail to serve from Thanksgiving through Valentine Day. Rosemary sprig with cranberries makes for a beautiful garnish and a scent with each sip that keeps you coming back for more. 
Cranberry and Pomegranate
The ruby color of both cranberries and pomegranate make for a unique cocktail, rich in color and full of flavor.
Pomegranate is quite tart, even sometimes bitter so rather than use a simple syrup of boiled water and sugar, I make my own cranberry syrup by boiling cranberries, sugar and water. Way better than just a simple syrup and adds another element of color to an already beautiful pomegranate martini.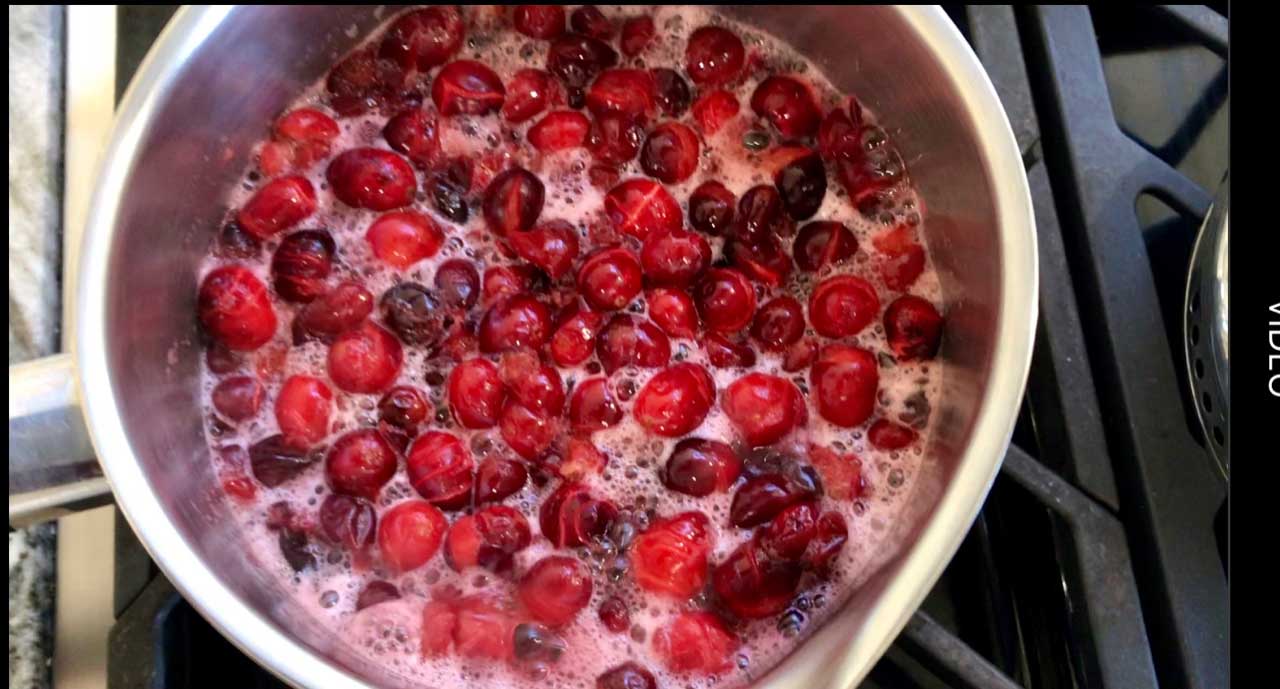 Shaken Not Stirred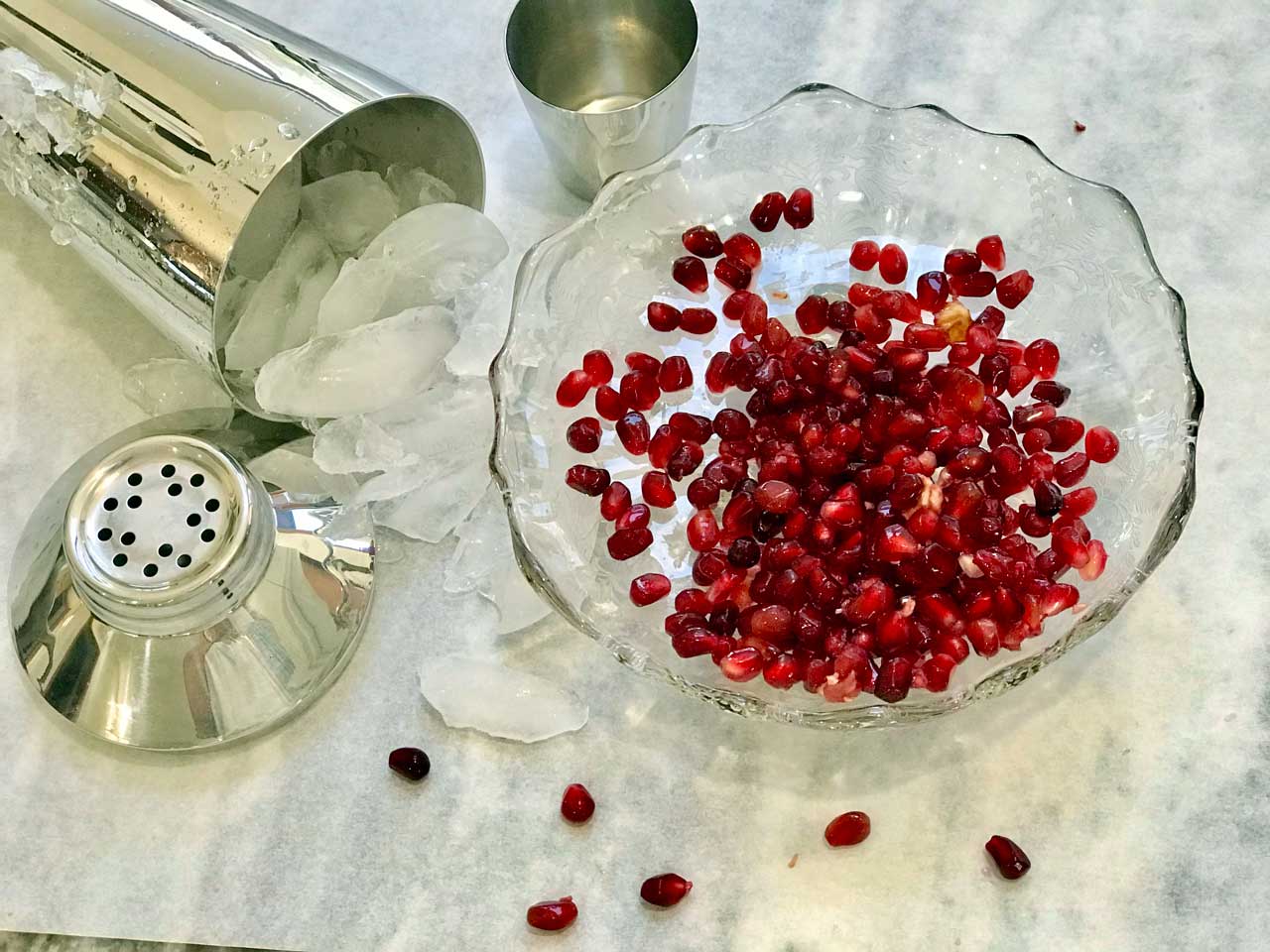 Who made martini's desirable? We all know it was James Bond! So many saucy photos emerged from the many 007 films. I'm not sure why shaken is better than stirred, though the ice may have something to do with it, or is it simply because a pomegranate martini, shaken not stirred is just so 007!

Pomegranate Cocktails
While I am most comfortable popping the cork on a wine bottle, I know very little about cocktails, and so I asked my very savvy, very beautiful niece, also a wedding planner in the metropolitan area around the nations capital – www.kenscreativekitchen.com – to show her auntie how it's done.
In the video above you can enjoy the making of her pomegranate martini, made with cranberry simple sugar, a cocktail I now enjoy throughout holiday seasons. While she used pomegranate vodka, an unflavored vodka can be used as well because the pomegranate juice and cranberry syrup are more than enough flavor. In truth, I just like the pomegranate vodka for the bottle!
Placing cranberries on a stick of rosemary for a garnish, makes for a very festive pomegranate martini, one I'm sure James Bond would be honored to drink.
Oh! Speaking of James Bond and his very dry, gin and vermouth martini, did you know there's talk of a new James Bond is on the horizon?
Hottie Rege-Jean Page, the star of the series Bridgerton would certainly make a very yummy James Bond, and since he is British-Zimbabwean, my money is on him changing up the dry, colorless martini known to James Bond and adding a tropical zing to it in both color and flavor. I will be sure to suggest to the producer to give him this Pomegranate Martini, shaken, not stirred! (wink)
Ingredients Needed
Vodka
Pomegranate juice
Cranberry juice
Lime
Rosemary sprigs – for garnish
Fresh cranberries – for garnish
Sugar
Ice
Equipment Needed
Shot glass
Cocktail shaker
Measuring cup
Measuring spoons
Citrus press
Ingredients
Vodka – 4 shots

Pomegranate juice – 1 shot (it's concentrated)

Lime juice – 1 lime

Rosemary sprigs – 1 per glass

Cranberries – 2 berries per sprig

Ice – 1 – 2 cups

Cranberry juice – 2 tbsp

Sugar – 1 tbsp
Directions
Fill the shaker half full with ice. Add vodka, pomegranate juice and cranberry syrup (cranberry juice and sugar boiled until dissolved and cooled), and give a good shake.
Pour into martini glasses, squeeze half a lime in each glass.
For garnish, simply stick the bottom end of a rosemary sprig through 2 cranberries and lay garnish across the drink.
Notes
Simple syrup can be used in place of cranberry syrup or simply boil 1 tablespoon sugar to 1/4 cup of prepared cranberry juice.