Garden fresh strawberries, ginger root, rum and ginger crisps, layered between scoops of classic vanilla ice cream for a yummy and fast summertime dessert.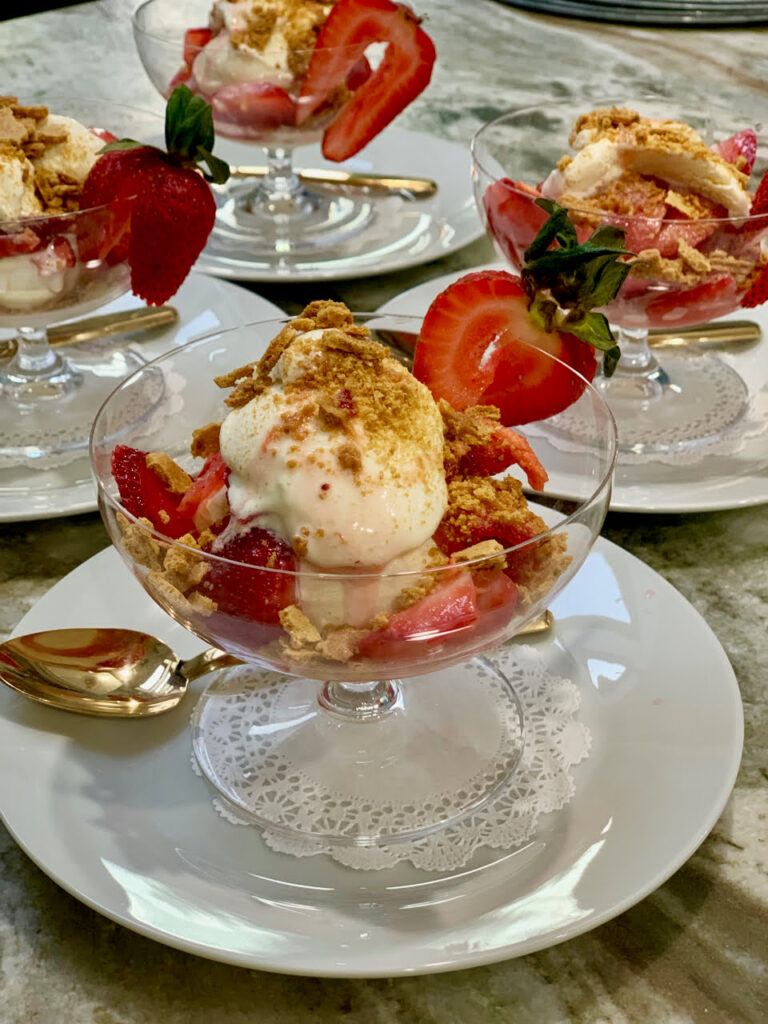 Garden Fresh Strawberries
Ahhhh strawberries! You beautiful, ruby red, sweet juicy treasures that emerge from the dark sleeping earth of winter, first!
Several years ago I planted a few strawberry plants in a small area of my garden. I am always amazed that year after year they grow back and bring the sweetest announcement of summertime!
Sweet juicy strawberries are what we are after. Farmers Markets are a great place to buy perfectly sweet strawberries, or try your hand at a 'You Pick' farm for a true appreciation for strawberries.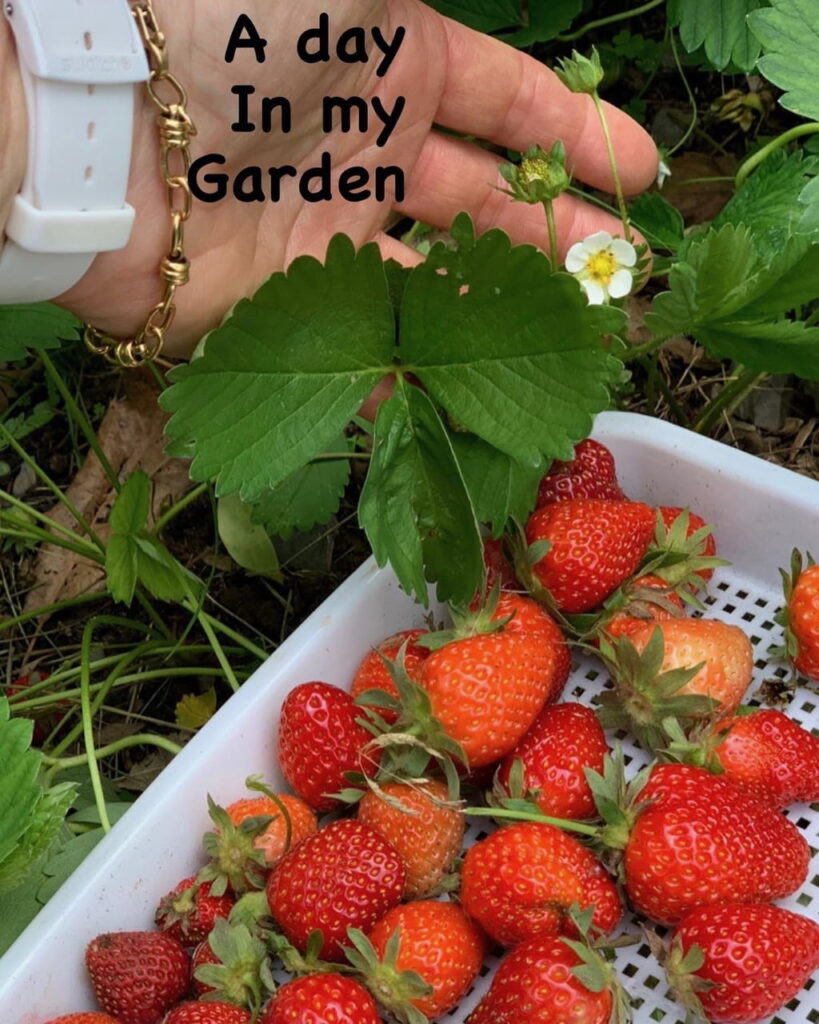 What Is An Ice Cream Bowl?
Bowls of everything have become the new trend in eating. Piling all your favorite ingredients into a bowl, like the Buddha bowl. So then, let's not forget a fabulous dessert bowl!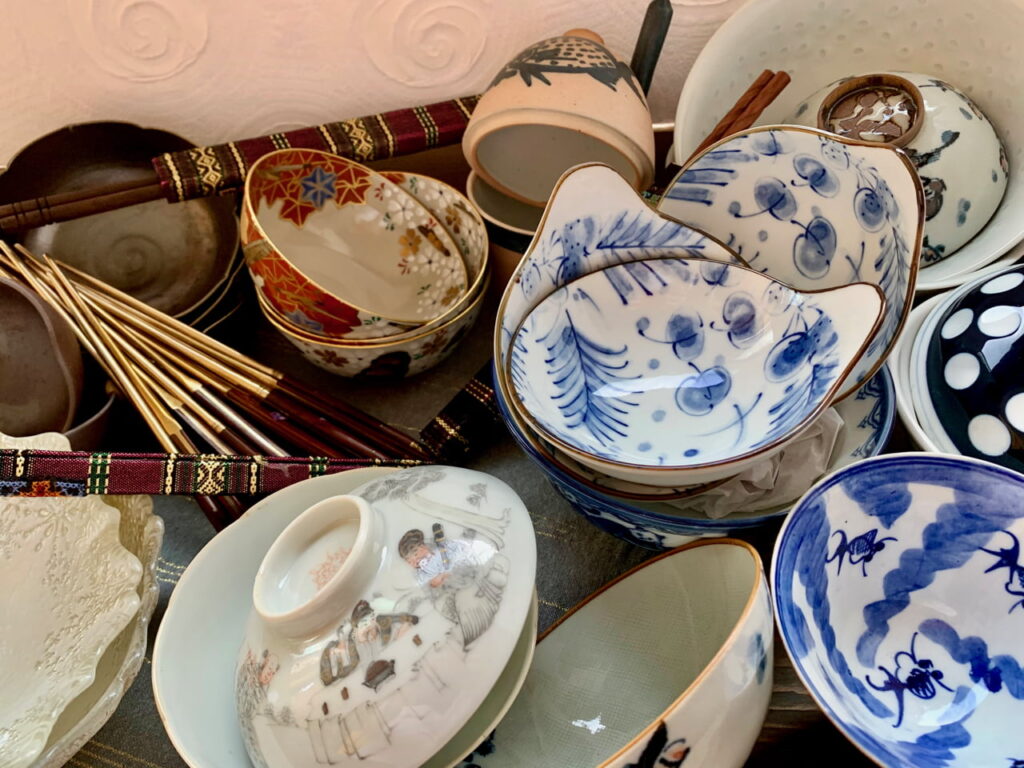 Ice cream is the inspiration for a great dessert bowl. Something creamy and cold on a hot summer day.
Layer that with fresh fruit, a fabulous drizzle and something that crunches and you've got summertime dessert bowls!
What To Drizzle In An Ice Cream Bowl?
Of course a chocolate drizzle is an all time favorite but how about we bring a more creative, adult umami to these dessert bowls.
Rum. Oh yea, how about we start with a little rum. Okay, maybe this isn't a kid friendly dessert but we adults need 'our' little treats now and then!
Macerating a few strawberries (or other fresh fruits like peaches, plums or other berries), for their sweet juice, add to that the bold kick of fresh grated ginger root, a sprinkle of sugar or honey and a little rum, and we've got a fabulous, adult drizzle for our ice cream bowls!
Triple Ginger Ice Cream Bowl
Overly sweet desserts on a hot summer day are not invited to my summertime meals, leave those for winter. I want sweets that sing of summertime. Fresh fruits have plenty of sweetness to build a dessert around.
Ginger, with its juicy yet almost peppery hot, spicy kick is the perfect counter ingredient to a summertime dessert; leaving the tastebuds refreshed rather than heavy ladened.
Wafer thin ginger cookies (homemade or store bought), the spicier the better, smashed to sprinkle throughout this ice cream bowl, along with the ginger rum drizzle are the sweet yet spicy umami a summertime dessert should have.
How To Make An Ice Cream Bowl
Have your own homemade ice cream on hand? Great! My Rhubarb and Strawberry Homemade Ice Cream would make you want to skip dinner and just have this in this ice cream bowl.
Store bought is fast, but check the ingredients to make sure you are getting real ingredients in your ice cream.
The macerated strawberries with ginger and rum have been marinating in the fridge, the tops trimmed off the strawberries and cut into bite size pieces, the ginger cookies smashed (leaving some texture), so now we begin to layer.
A small scoop of ice cream, a sprinkle of crushed ginger cookies, a spoonful of strawberries, a spoon of strawberry ginger rum drizzle, repeat all the ingredients until the bowl is perfectly appointed and place a slice of strawberry on top!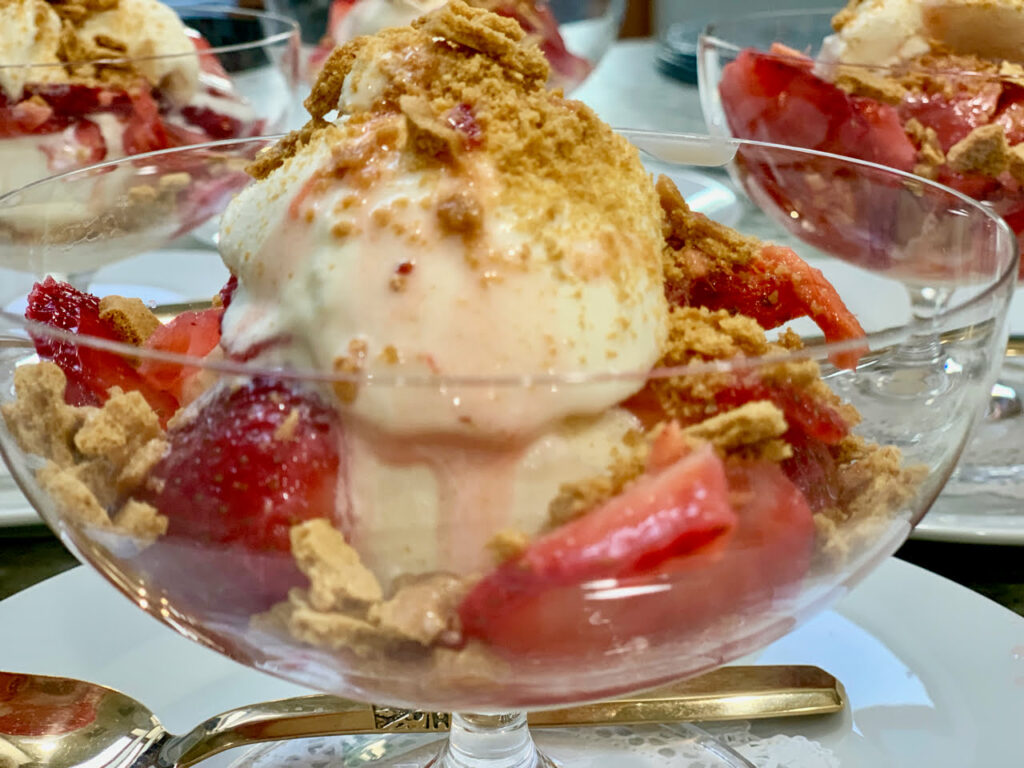 Ingredients Needed
Vanilla ice cream
Fresh strawberries
Ginger root
Rum
Confection sugar or honey
Ginger cookies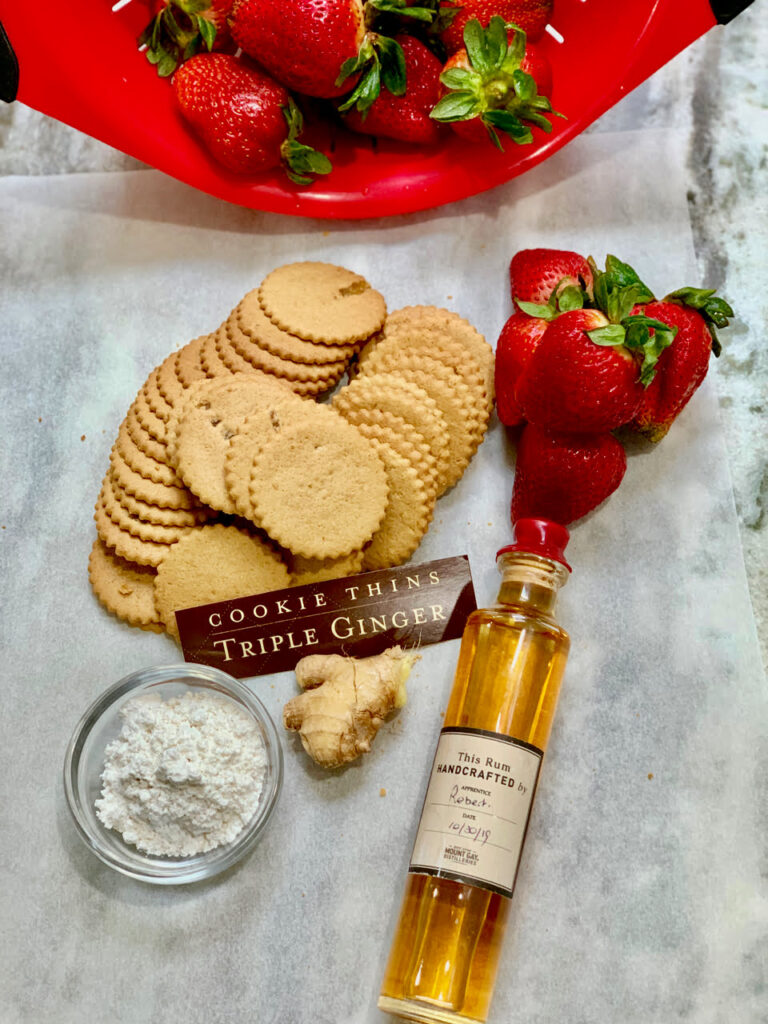 Equipment Needed
Cutting board
Chopping knife
Measuring cup
Measuring spoons
1 zip baggie
Vegetable peeler
Ginger grater
Medium-size bowl
4 serving bowls – about 6 ounce size
Ice cream scoop
Fork
Freezer
Strawberry Ginger Ice Cream Bowls
Course: Dessert
Cuisine: American
Difficulty: Easy
Garden fresh strawberries, ginger root, rum and ginger crisps, layered between scoops of classic vanilla ice cream for a yummy and fast summertime dessert.

Ingredients
Vanilla Ice Cream – 10 oz, or flavor of your choice

Fresh strawberries – 1 pint

Ginger root – 1 tbsp, grated

Rum – 3 tbsp

Confection sugar – 1 tbsp, or honey

Ginger cookies – 1/2 cup, smashed
Directions
Remove 3 plump strawberries from the pint and macerate (crush), in a medium-size bowl, with the back of a fork. Add the grated ginger root, rum and sugar. Whisk and set aside.
Remove the tops from the the strawberries, saving the largest strawberry to get 4 long slices from, for garnish. Cut the strawberries into bite size pieces and toss them into the ginger/rum liquid. Marinate in the fridge until ready to serve. *See notes.
Place the cookies in a zip baggie and smash them with a meat tenderizer or the bottom of a small pot. Leave some chunky pieces. Set aside.
When ready to serve, place a small scoop of ice cream in each bowl, followed by a sprinkle of smashed cookies, a spoon of strawberries, a little drizzle, and then repeat again until the bowl is sufficiently layered with all the goodies. Place a slice of strawberry on top and serve.
Recipe Video
Notes
Ice cream is often difficult to scoop, straight out of the freezer, so I find setting the ice cream in the fridge for about 30 minutes before serving makes scooping easy. 
As the strawberries marinate in the drizzle mixture, more strawberry juice will extract from the strawberries, providing plenty of drizzle.