This perfect balance of hot, sour and sweet sauce over mango, a bundle of fresh herbs and grilled squid, topped with the crunch of peanuts and fried shallots and served over crispy rice is the best Buddha bowl ever!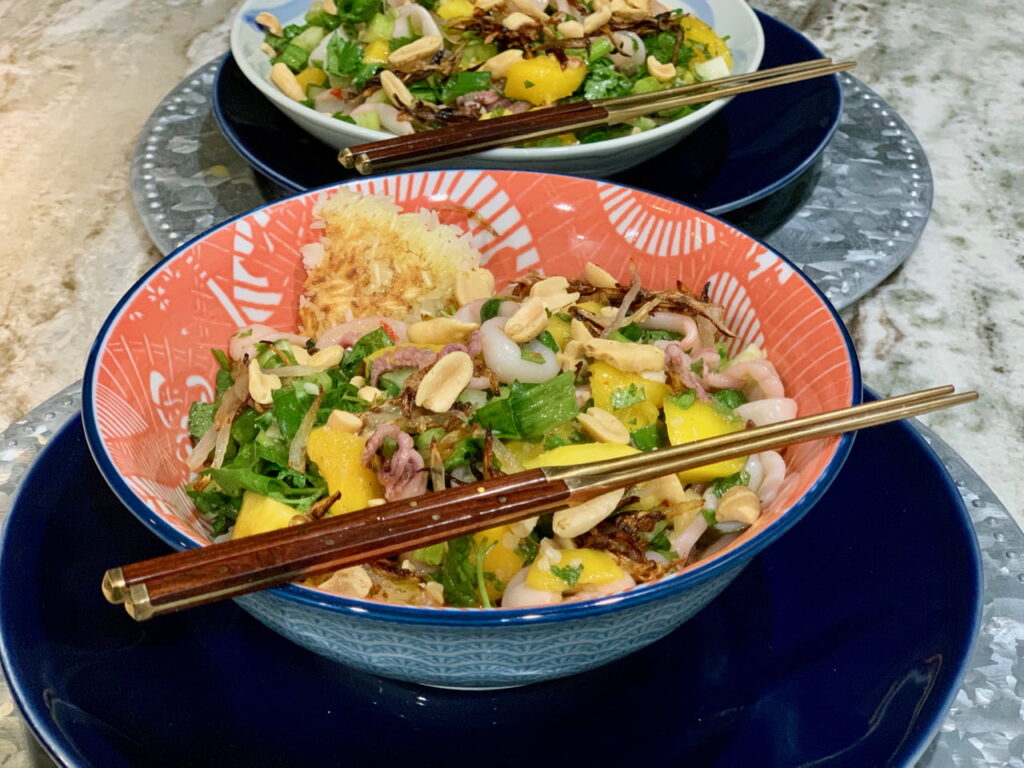 Buddha Bowl or Goi Xoai
This recipe, vibrant in color from herbs and fruit, protein rich from squid and the grain often found in a traditional Buddha bowl, rice, is actually my take on a fabulous Vietnamese dish a friend made for a gathering: Goi Xoai, made from green mangos and cuttlefish.
The flavors are both fresh, very Yin and surprisingly Yang, from chili paste, fish sauce and lots of garlic. While I could never hope to create my friends dish as he did, since his heart and soul is Vietnamese, I did ask him if he would permit me to attempt his flavors and put my own spin on it. Hope you approve Foo!!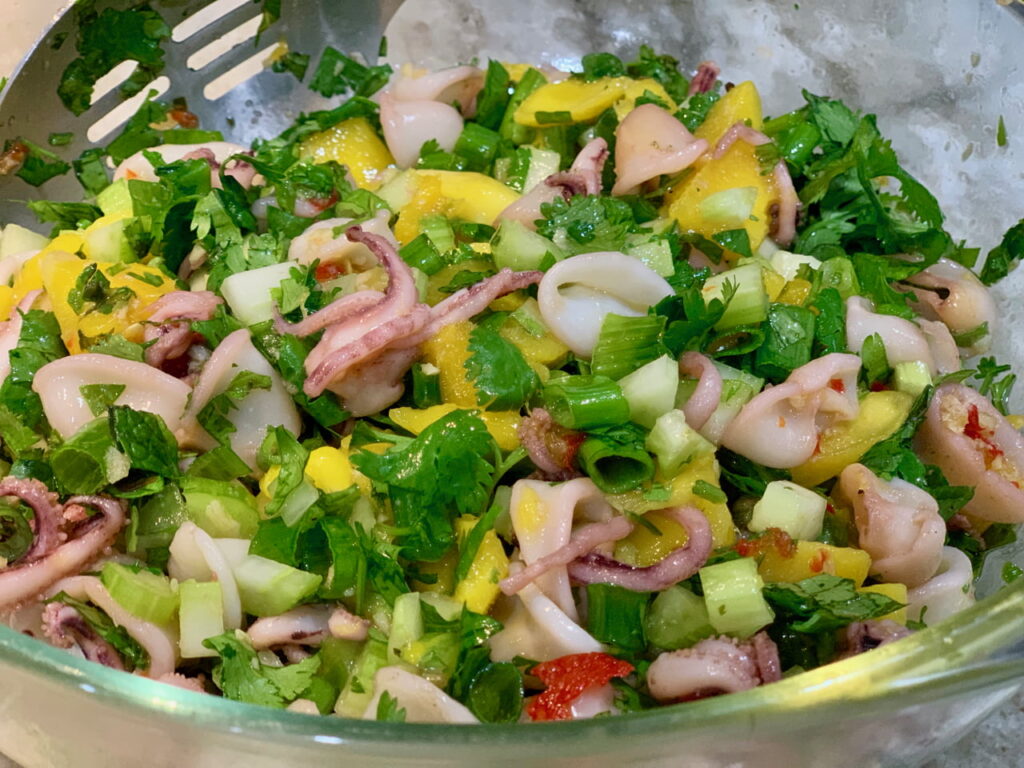 About Buddha Bowls
As the story goes, without getting into religious teachings here, let's just say The Buddha went from riches to rags, by choice. Taking a bowl of rice around from neighbor to neighbor for their charitable offerings of this and that to put atop his bowl of rice.
The Buddha Bowl really just started like that. A balance of healthy, nourishing bits and pieces of charitable offerings from those who valued his teachings.
What Goes Into A Buddha Bowl?
The quick answer is: Anything. As we westerners have been taught to eat from the balanced food pyramid; grains, veggies, fruits, proteins, so too is the Buddha Bowl a balance of these very same food choices.
Visuals are the second most considered aspect when choosing what to put in a Buddha bowl. And no, a Buddha bowl is not a mish-mash of foods, resembling a casserole! The visuals must be pleasing to the eye. Individual colors and textures, flavors and appearances are what we are after.
If you have ever eaten at a family style Chinese or Indian restaurant (or home), there is often a Lazy-Susan in the center of the table. On it a huge variety of carefully chopped items in lots of small bowls have been placed. Some of the items of pickled veggies, or sautéed roots, smoked fish or slivers of fruits.
An assortment of sauces will also be in the center with these bowls. Each person has a bowl of some type of grain in front of them, could be rice or a rustic wheat berry, quinoa or steamed millet. As the Lazy-Susan turns, each person selects items to put on top of their bowl of grain, a splash of sauce and the meal goes on and on like this until all the bowls are empty.
This, is very much what a Buddha bowl is and how it got its concept for becoming a trendy dish here in America, much like the Shrimp Buddha Bowl with quinoa, a relatively new trending grain here in America, though not new at all.
My Buddha Bowl Recipe
Since Buddha went around accepting love offerings from people for his bowl of grains, I went to my fridge to see what love offerings it had for my bowl of grains, because I think if we go about our Buddha bowl from any other perspective (like, go out and buy an array of fancy things to put in it), we're missing the point of this very humble bowl of food.
Veggies and Fruit
First I went looking for veggies I wanted in my bowl, but decided to stick with the ingredients I remembered in my friend's dish which were an array of fresh herbs: mint, cilantro and Thai basil. While the dish I had was made with green mangos, I only had the bright orange mangos in my freezer. I thawed them and chopped them. Don't cringe my friend but it was all I had!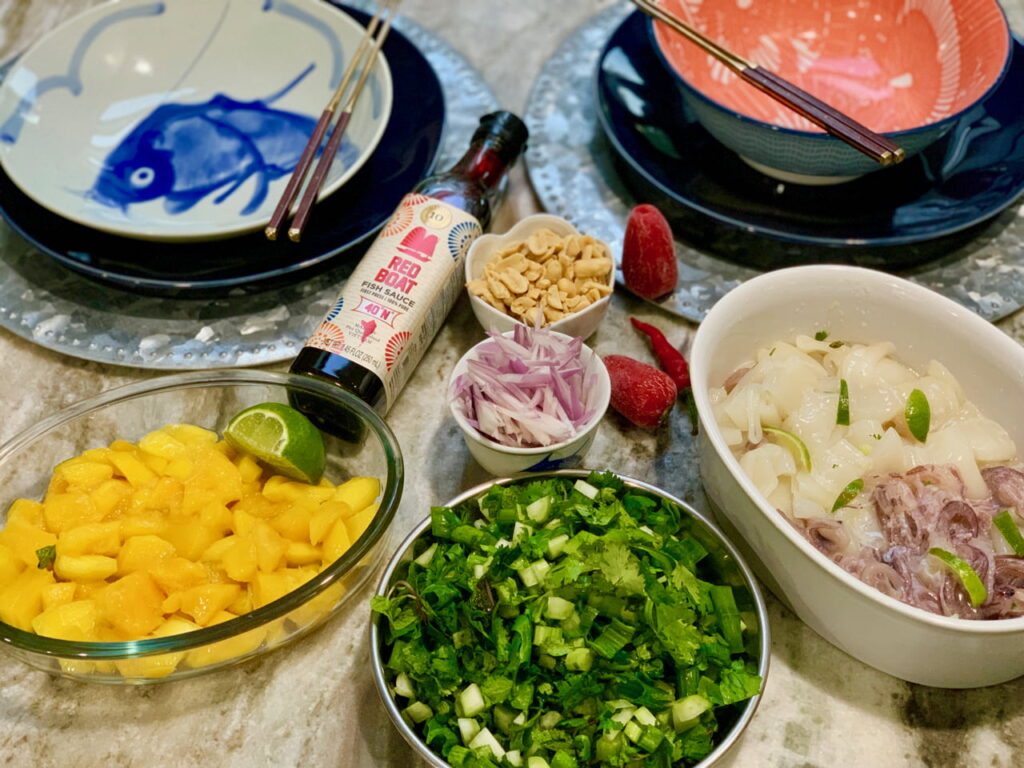 Protein
Squid was what I had in the freezer as well, so I went with the small, sometimes sad looking squid sold in the freezer section. It perked up nicely once grilled. A sprinkle of peanuts on top this Buddha bowl and there is plenty protein.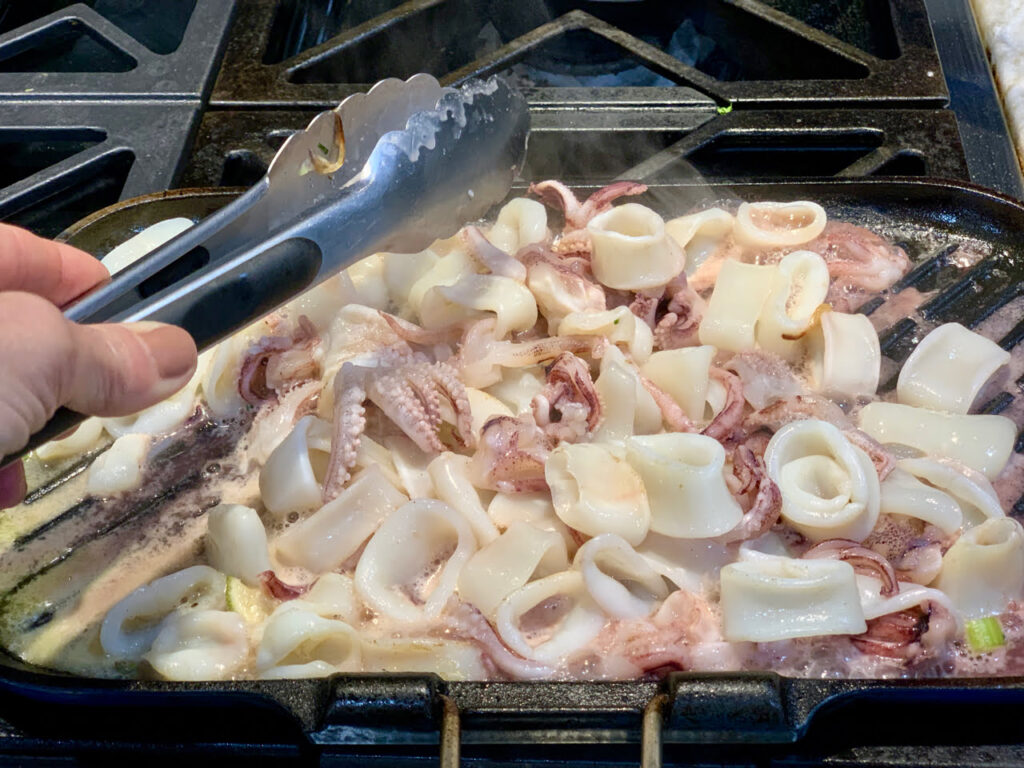 Flavor and Sauce
My kitchen is most often fitted out with Mediterranean flavors so this part was the real challenge for me. I didn't have chili paste, but what I did have was a gazillion varied peppers from my summer garden, in my freezer.
Yep, I do have more in my freezer than I do a pantry. Several chilis, garlic cloves, olive oil (I know, I should have used sesame oil), and a splash of fish sauce went into the blender for my version of a chili paste.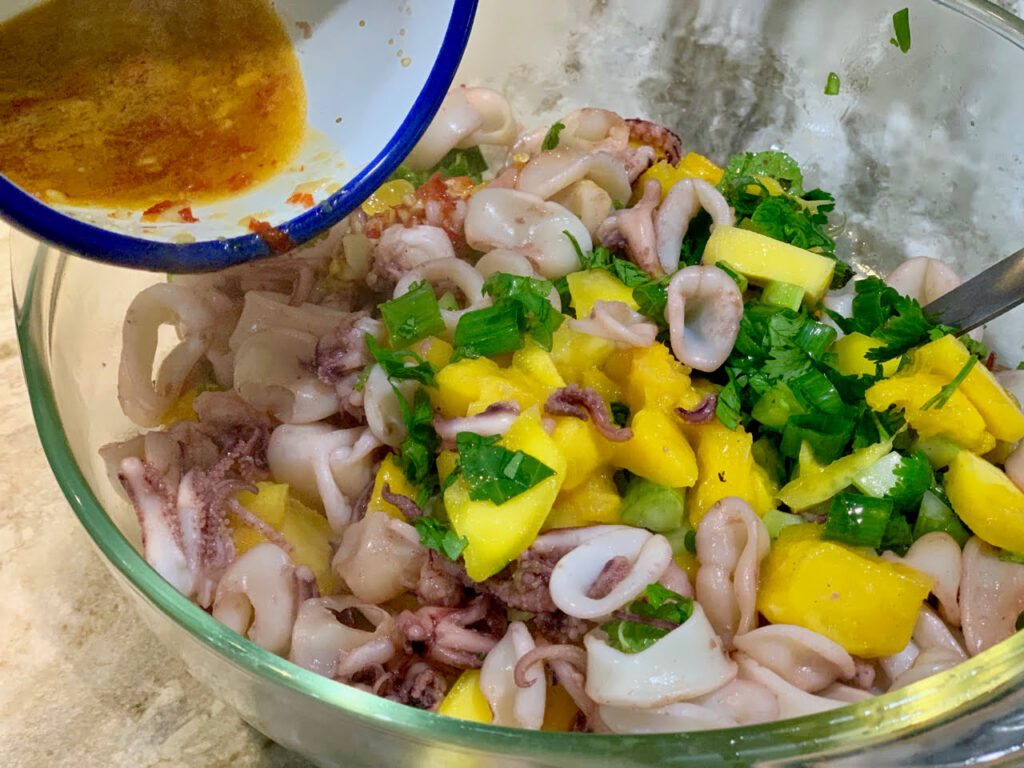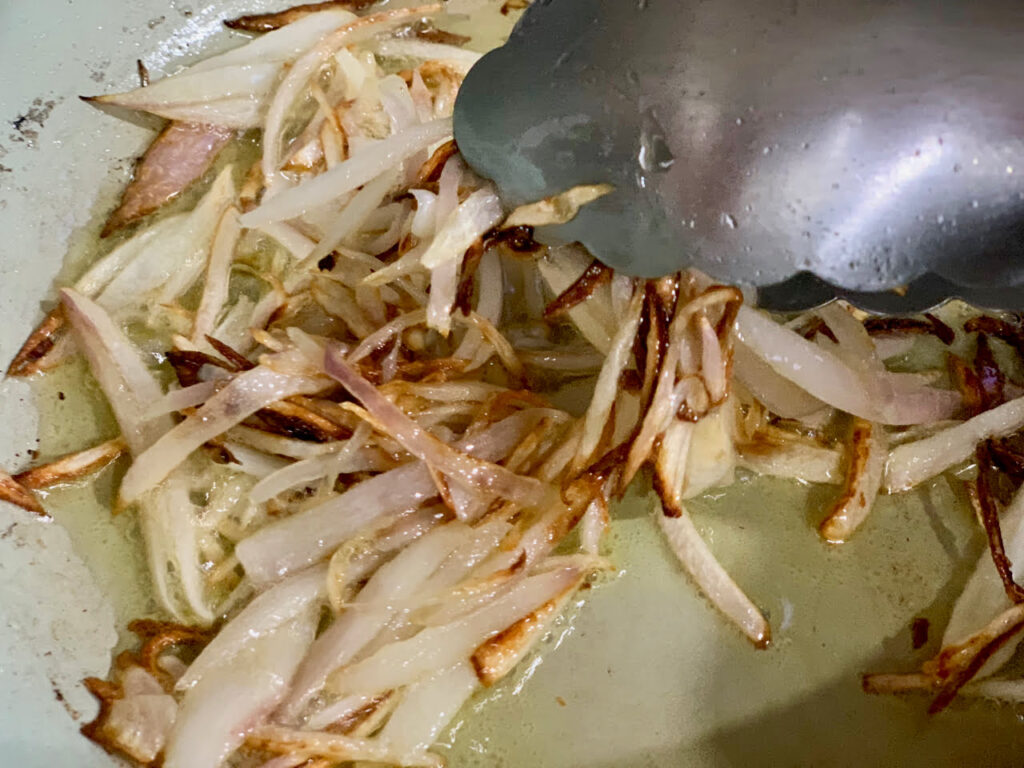 Grains
I am totally a grain kinda gal. I've got just about every grain imaginable in my pantry. But for this dish, since my friend said his dish is usually served with rice crackers or shrimp crackers, I decided to make crispy rice.
Ingredients Needed
Shrimp
Mango
Thai Basil
Spring onion
Celery
Cilantro
Lime
Rice vinegar
Garlic
Sugar
Chilies
Fish sauce
Olive oil
Shallots
Salt and pepper
Peanuts
Equipment Needed
Griddle
Cutting board
Chopping knife
Blender
Basting brush
Mixing bowl
Tongs
Sauce pan
Stovetop or burner
Mango and Squid Buddha Bowl
Course: Sauces u0026amp; Dressing, Seafood
Cuisine: Asian
This perfect balance of hot, sour and sweet sauce over mango, a bundle of fresh herbs and grilled squid, topped with the crunch of peanuts and fried shallots and served over crispy rice is the best Buddha bowl ever!

Ingredients
Squid – 1 lb, tubes and tentacles

Mango – 2 cups

Thai basil – 1/4 cup

Spring onions – 4 stalks

Celery – 3 stalks

Cilantro – 1 bundle

Limes – 2

Rice vinegar – 2 tablespoons

Sugar – 2 tablespoons

Garlic – 3 cloves

Chilis – 2

Fish sauce – 3 tablespoons

Olive oil – 2 tablespoons

Shallot – 1

Peanuts – 1/4 cup

Salt – to taste
Directions
Slice the squid tubes into rings. Separate the tentacles into 2. Place the squid in a bowl. Squeeze juice from 1 lime throughout the squid and 1 teaspoon of salt. Let sit while other ingredients are prepped.
Rough chop the cilantro, celery, basil and spring onions. Set aside.
Slice the mango pieces into same sizes as the squid rings. Set aside.
Finely slice the shallot and set aside.
Place the chilis, garlic cloves, fish sauce and 2 teaspoons of olive oil in a blender. In a small saucepan, simmer the vinegar and sugar just until the sugar melts. Add to the blender and puree the sauce. Transfer the sauce back into the saucepan and keep warm.
On a griddle, brush a little olive oil on the heated griddle and quick sear the squid until cooked, but still tender.
In a small frying pan on medium high, drizzle 1 tablespoon of olive oil and quickly fry the shallot slivers. Set aside.
In a large bowl, place the chopped greens, chopped mango, the cooked squid, drizzle the warm sauce on top and gently mix.
In each bowl, place the warm squid and mango mixture, top with fried shallots and peanuts and serve.