Sweet, sun ripened corn, freshly cut from the cob, pureed and simmered in a bit of sugar, milk and vanilla makes for the creamiest ice cream. Serve salt caramel popcorn over it and you'll think you're dining at a five star restaurant!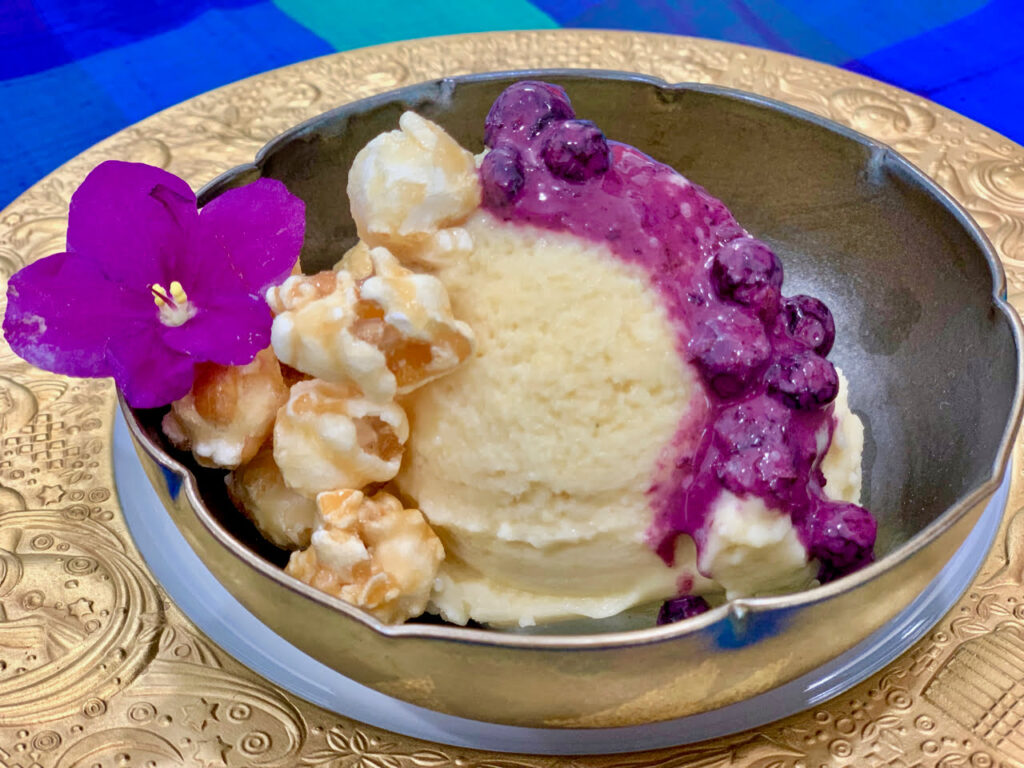 Farm Fresh Sweet Corn
During the summer months, it seems that roadside stands for Sweet Corn are in every town across America.
Having grown up in an area that grows lots of corn, I've created lots of recipes that have become family favorites:
Corn, though, is sweet. So why don't we have more recipes for desserts made with corn? Well, we do now!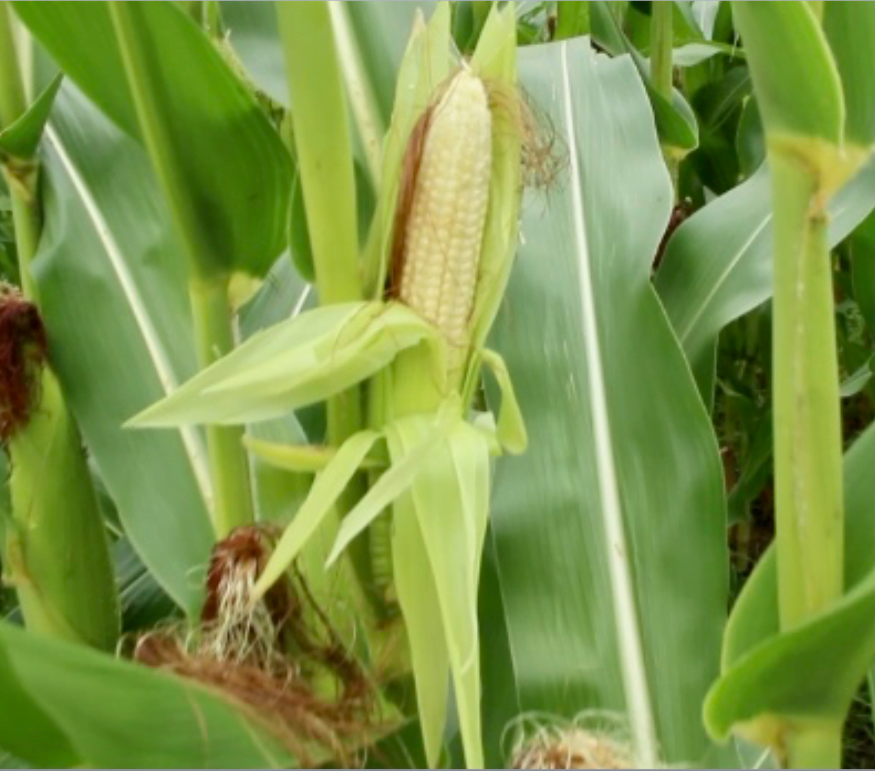 Corn Ice Cream
The corn ice cream recipe I have created has just the right amount of sweetness, with very few ingredients. It is rich in flavor, texture and appearance.
Using the milk of your choice is really just the side-show to this ice cream because the natural sugar and creamy milk that is squeezed out from each kernel is creamy and sweet all on its own.
Lactose-Free Corn Ice Cream
In my family I have a variety of dietary specific folks. Far be it from me to make anyone of my loved ones suffer with tummy troubles just to enjoy something scrumptious that I make. So, I always create a second recipe similar, but with specific TLC.
No one should miss out on corn ice cream, and won't! Full fat, coconut milk makes for a rich and delicious corn ice cream too, in fact, you might even prefer its added flavor to whole dairy milk.
Corn On The Cob
Honestly, I would not recommend making corn ice cream from canned corn or frozen corn. Much of the sweet juice and nutrients that squirt out from a freshly shucked and cut corn cob, are lost.
In fact, once I trim the corn from the cob, I also toss the cob into the simmering mix of milk and corn to extract every last morsel of flavor and nutrient. Then, of course, I remove the cob before straining and squeezing the milky mixture from the corn.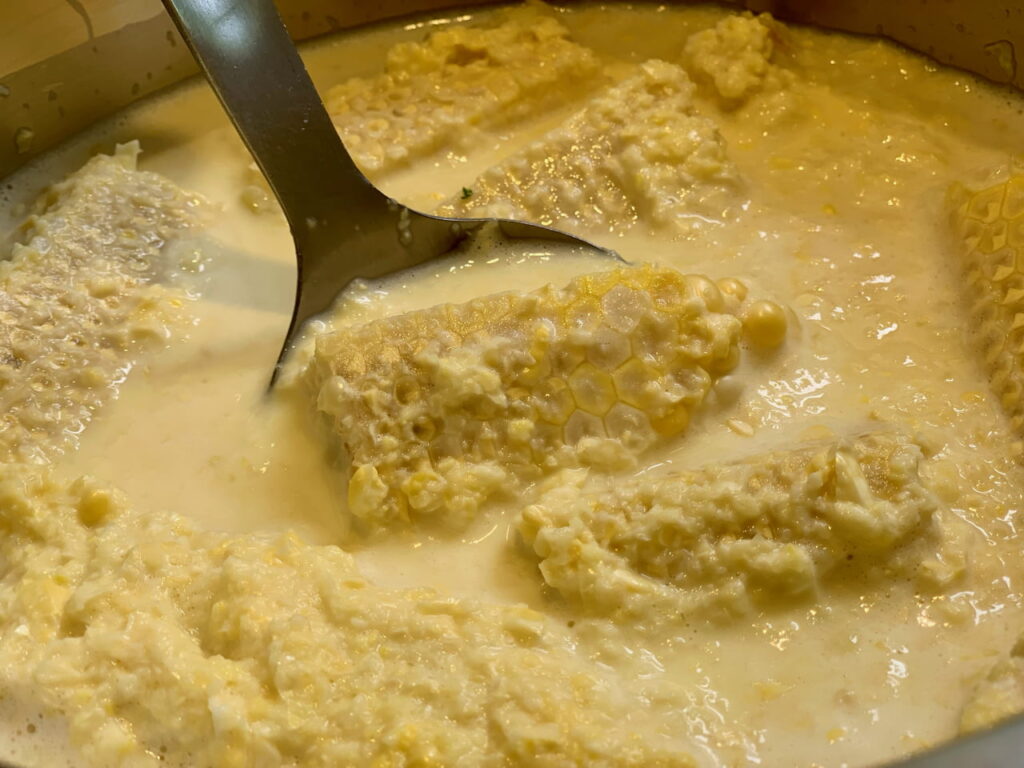 Corn Ice Cream Takes Time But Is Easy To Make
Unlike many homemade ice cream recipes, in which the ice cream mixture can be mixed quickly, chilled and ready for the ice cream maker, in order to extract the natural sugars and milky juice from the corn, it takes a little longer.
Simmering the extracted corn from the cob, along with a little sugar and milk, takes about 40 minutes. Then it needs to cool and remain in the fridge for a few hours, or overnight. An almost gelatinous substance forms from the corn juices which makes the ice cream really creamy and flavorful!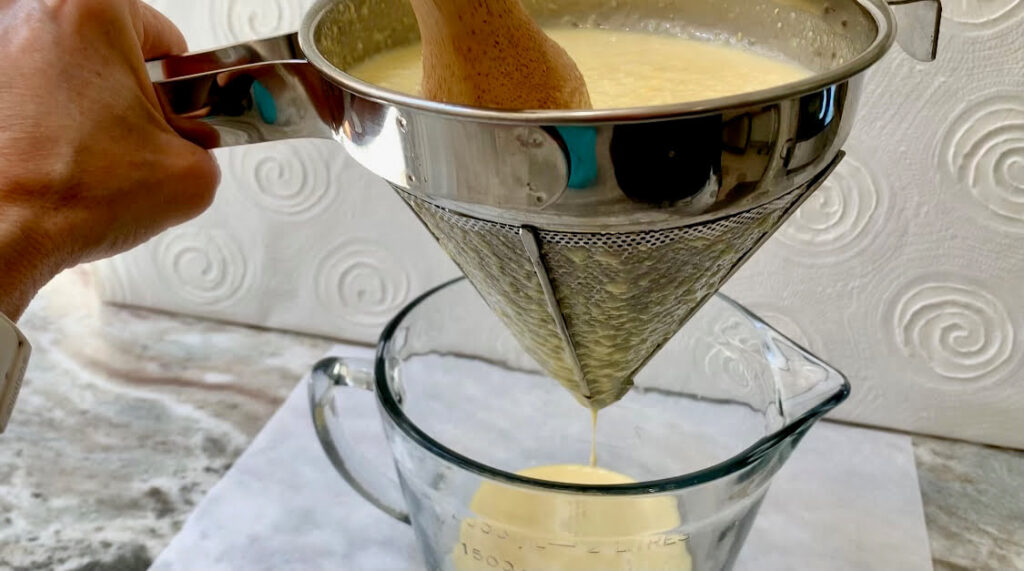 Ice Cream Makers
While just about any ice cream mixture can be frozen in a container overnight and scooped out once it's frozen, I am totally a fan of ice cream makers. The one I use simply requires to keep the insulated bowl in the freezer (which you will always find it in my freezer).
Then, in just about 20 minutes of it churning round and round with my luscious mixture inside, I have ice cream ready to serve. Like… right away! Totally worth the investment, which really isn't much.
Suggestions For Serving Corn Ice Cream
My son is a professional chef (like, the real deal, presenting thousands upon thousands of first-class culinary delights to special occasion events. ie… picky brides!), and he suggested a way he likes to serve corn ice cream is with a blueberry compote and caramel popcorn on top! I am so trying this!!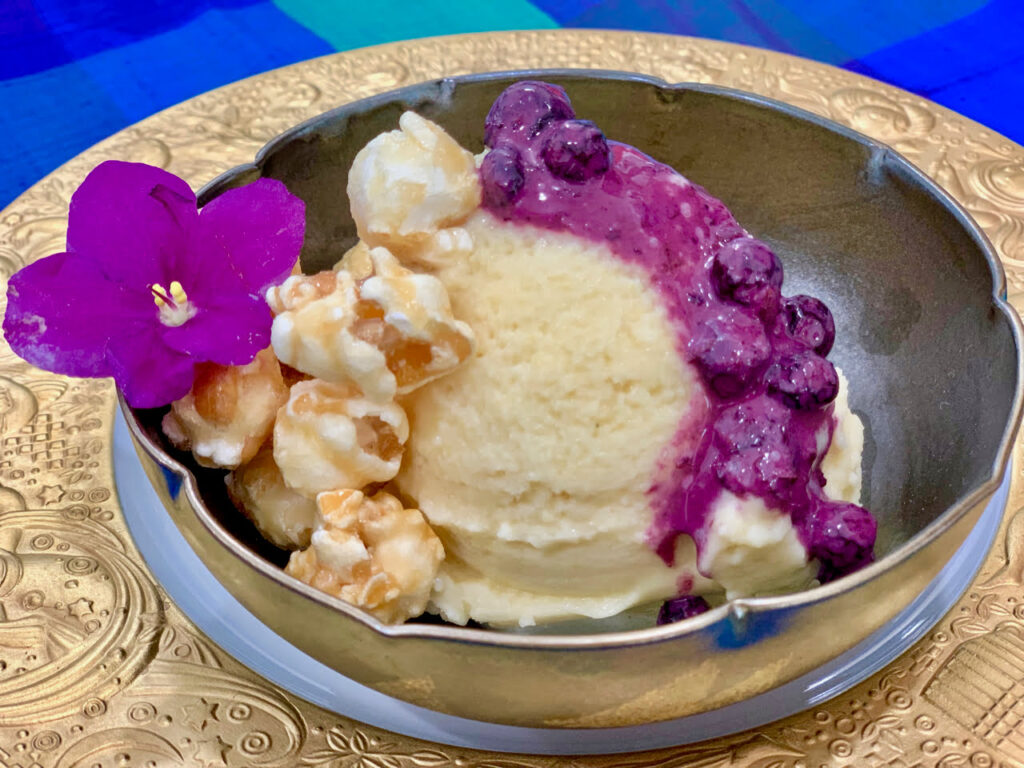 Ingredients Needed
Freshly Shucked Corn
Milk of your choice
Sugar
Vanilla extract
Equipment Needed
Ice Cream maker
Sauce pan
Strainer
Measuring cup
Measuring spoons
Wooden spoon
Corn Ice Cream Recipe
Course: Dessert
Cuisine: American
Sweet, sun ripened corn, freshly cut from the cob, pureed and simmered in a bit of sugar, milk and vanilla makes for the creamiest ice cream. 

Ingredients
Freshly shucked corn – 2 cups

Milk (of your choice) – 1 1/2 cups

Sugar – 1/2 cup

Vanilla extract – 1/2 teaspoon
Directions
With a sharp knife, cut the corn closely away from the cob and place in a sauce pan. Break the cob into pieces and add them to the sauce pan as well.
Add the milk and sugar and bring slowly to a boil, so as to keep the milk from scorching on the bottom. Lower, cover and simmer for 40 minutes.
Turn off, cool, remove the cob pieces, taking care to scrape off any of the good stuff. Add the vanilla and place covered in the fridge for 6 hours or over night. Make sure your ice cream maker bowl is in the freezer.
Transfer the cold corn mixture to the food processor and puree. With a sieve or cheese cloth, press all of the pureed corn milk from the corn kernels into a bowl, until the corn kernel bits look dry and the milk looks abundant.
Transfer the corn milk to your ice cream maker and follow manufactures instructions for making ice cream.
Recipe Video
Notes
A little booze can be added to the ingredients instead of vanilla extract of which I found Pernod, with it's fennel like flavor, wonderfully refreshing. 
Caramel Corn is a lovely addition to the ice cream for a little crunch.