My mom's orange blossom and date stuffed cookie dough of farina and Arab spices, shaped in a traditional wooden Ma'moul mold. This cookie, known as Kaak bel Ajweh, is the cookie recipe most loved from my childhood.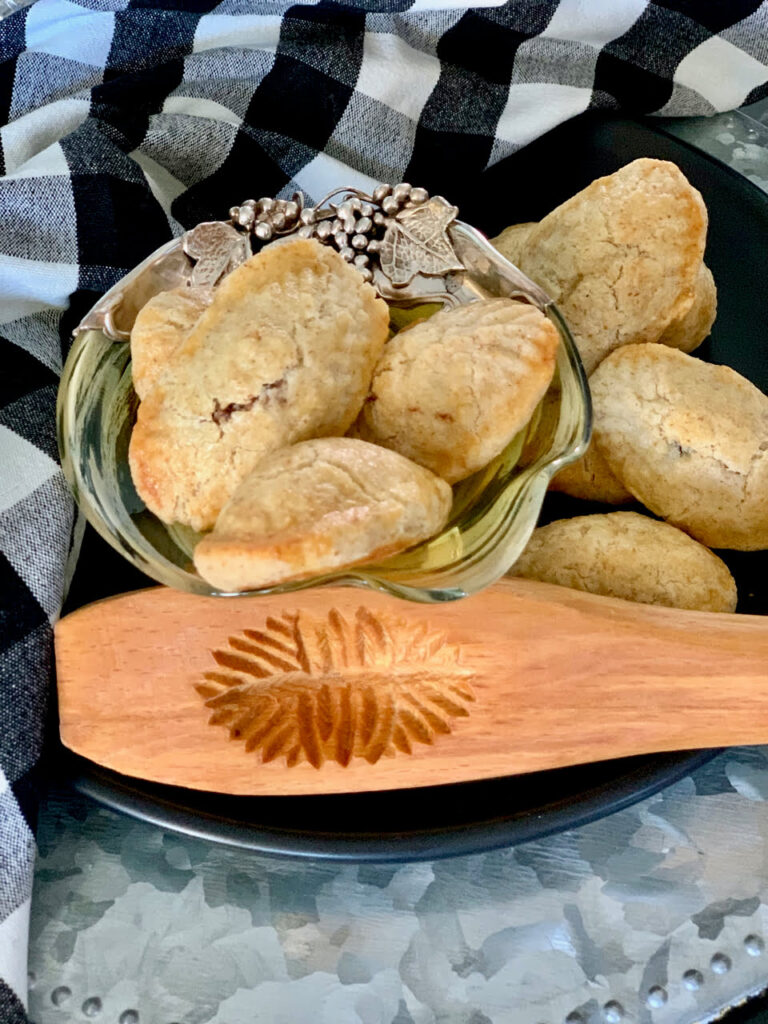 Traditional Arab Desserts
While many of us know and love the well known Baklawa, nuts stuffed inside of phyllo pastry and drizzled with honey; cookies in the Arab world are equally scrumptious, yet perhaps less known.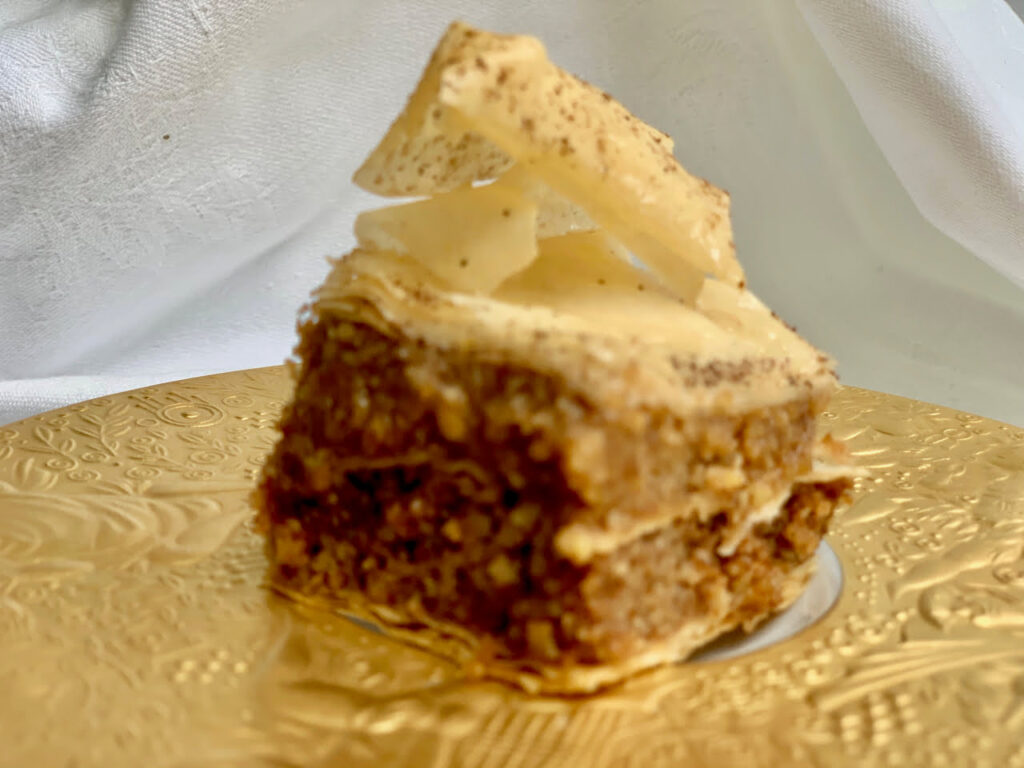 In a Middle Eastern home, cookies and pastries are regularly made and stored in the fridge for unexpected visitors.
My mom used to tell me of the tradition she learned from her father, 'when friends, family or a new comer stops in for a visit, never ask what you can offer them, simply lavish the table with pastries and coffee'.
This tradition was a way of making any guest feel welcome in the home, but also a way to show that the man or woman of the house were of refined up-bringing and proper etiquette.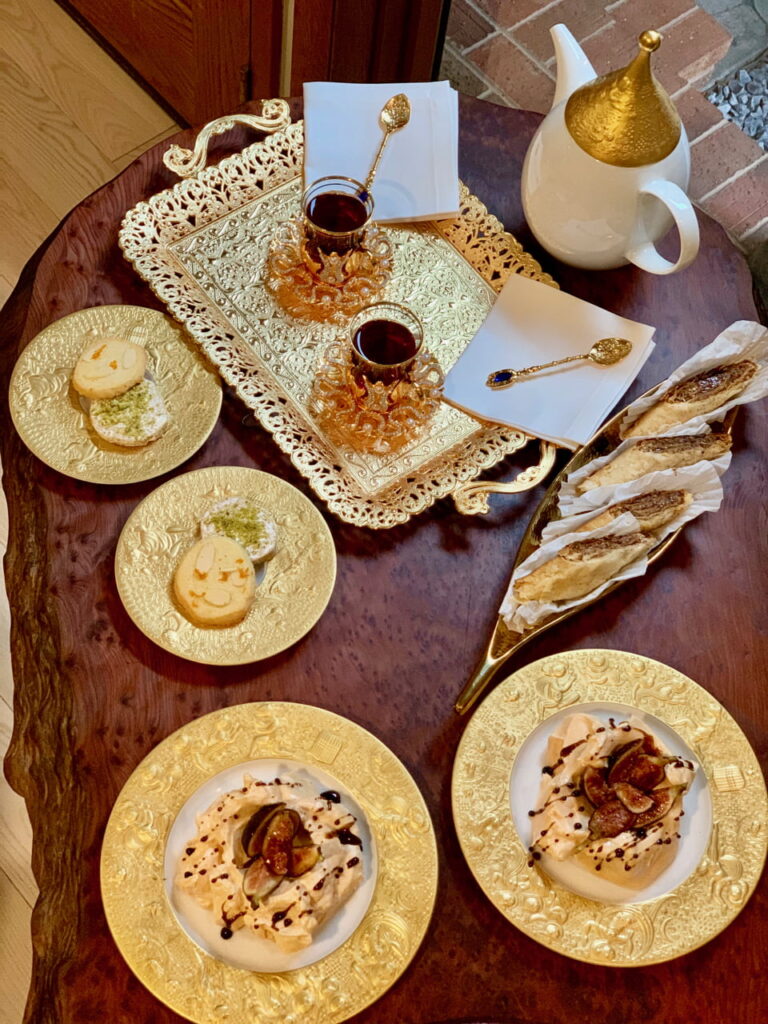 Arab Cookies
Cookies from the Middle East, are unlike most other cookies from around the world. Nuts, seeds, dried fruits and honey often are the base of the ingredients.
Nut flours, farina or semolina are often what make up the dough, while floral essence create flavors both gentle and almost 'pretty'!
Arab cookies are often stuffed with – dare I say – healthy ingredients, pressed into beautiful shapes, using a traditional wooden mold, or are simply molded in the palm of your hand.
My Mom's Cookies
While the bases of most cookies around the world are flour, butter and sugar, my mom's cookies seemed so much more elaborate and healthy.
Great care and time went into the making of the dough for her cookies, back when I was a kid. We did not have a blender, or food processor to grind, or chop nuts or dried fruits. They were done by hand.
Crushing nuts into the consistency of flour took time and patience, especially if the nuts were still in their shell.
Today, we have the help of a food processor, which grinds nuts into a beautiful flour in minutes, as it also purees dried fruits into a paste equally as fast.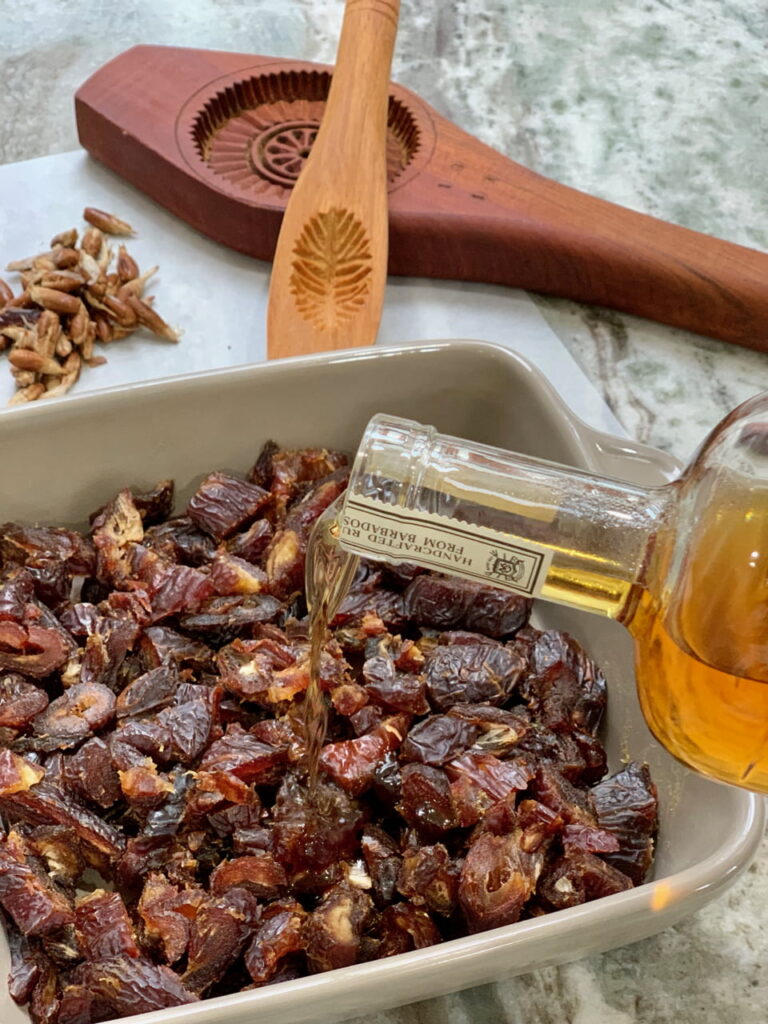 Date Stuffed Cookies
There is no cookie quite as elegant to look at or satisfying to eat as a cookie that crunches on the outside, yet has a soft, rich flavors on the inside.
Once the dates have been pitted and roughly chopped, I soak them in a little liquor and the essence of either orange blossom or rose water.
This step both balances the intense sweetness of the dates and makes them easy to puree into a paste without the addition of butter or oil.
Since dates are so sweet, much sweeter than processed sugar, very little sugar needs to be added to the cookie dough, making Arab cookies healthier than most other types of cookies.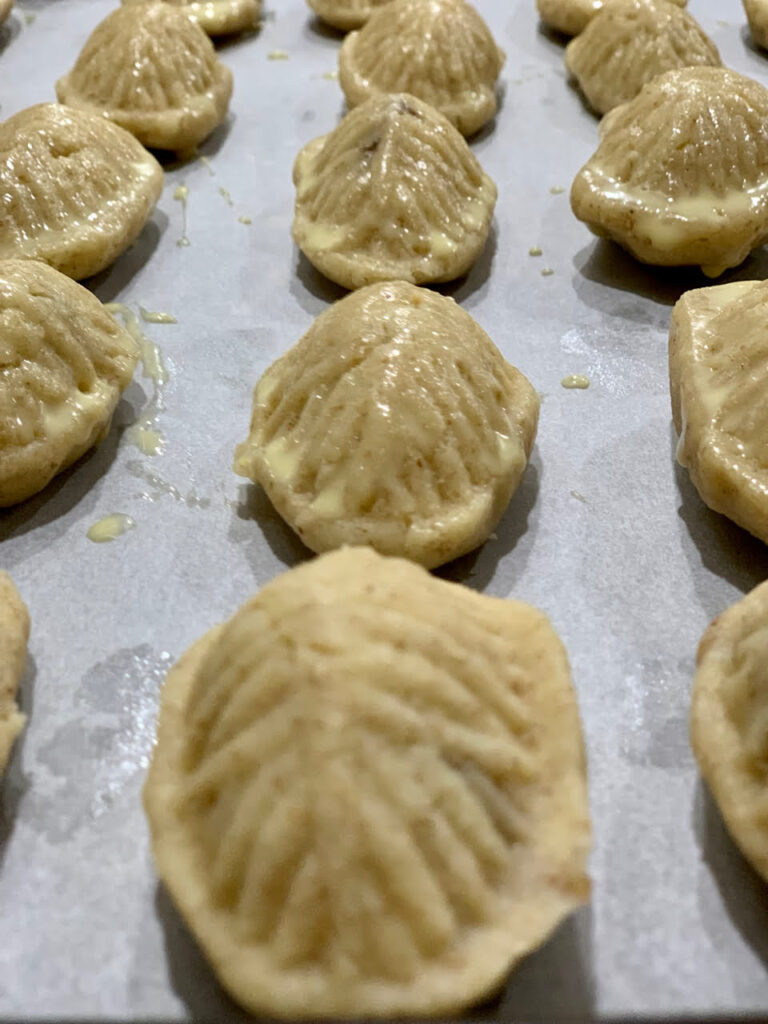 What Is Mahleb Orange Blossom Or Rose Water
Specific spices or essence, are what set one ethnic flavor apart from another. In Middle Eastern sweets, the flavors of delicate and often floral extracts are most common.
Mahleb is an aromatic spice made from the seeds of a type of cherry. The cherry stones are opened to extract the seed kernel. The seed kernel is then ground into a powder.
The flavor of Mahleb is of a gentle, warm nutty yet slightly fruity essence and is often added to breads or the dough of pastries.
Orange blossom water, or rose water are flavors added to the preparation of Middle Eastern desserts, much like vanilla is to other parts of the world. They can also be used in American baking to transform the flavors into something a little more exotic, like the Cranberry Orange Blossom Pie I make every Autumn when cranberries are in season.
The blossom water is produced through a water distillation of the floral blossom, creating the essence of the flower, highly prized in Middle Eastern cooking.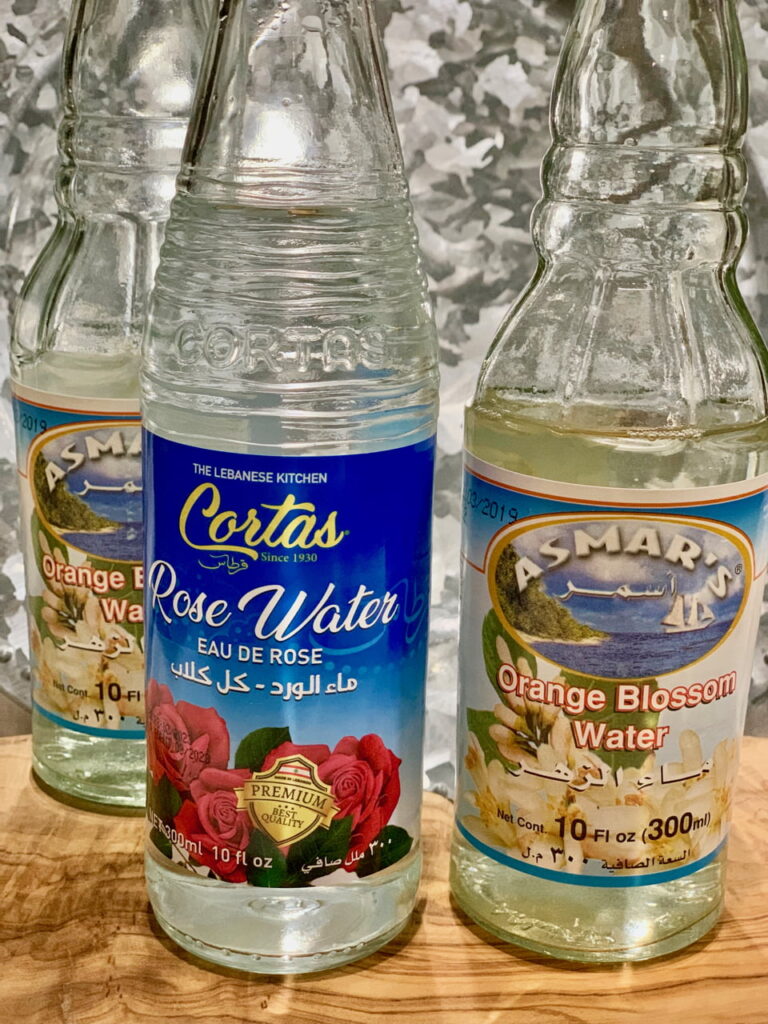 The Arab Tradition Of Meze
As I explained the tradition of how one greets an unexpected visitor in the home, with the sudden spread of pastries and coffee, the same tradition applies when a planned, invited guest is arriving, only on a grander scale!
Meze (likened to tapas), is my most favorite way to dine. Lots and lots of small plates, which you will find a lovely collection in my cookbook The World On My Plate. Meze is a variety of dishes, each carefully chosen to compliment the other and to impress the guests.
A dessert table, in a situation such as this, is grand; a variety of sweets, coffee, tea and liquors. It was often said by my mom, 'if the dessert table is grand, then you know much attention will have been taken for the savory dishes being served".
To this day, in my home, I will prepare a meze spread for occasions that call for long lingering hours of conversation and fellowship.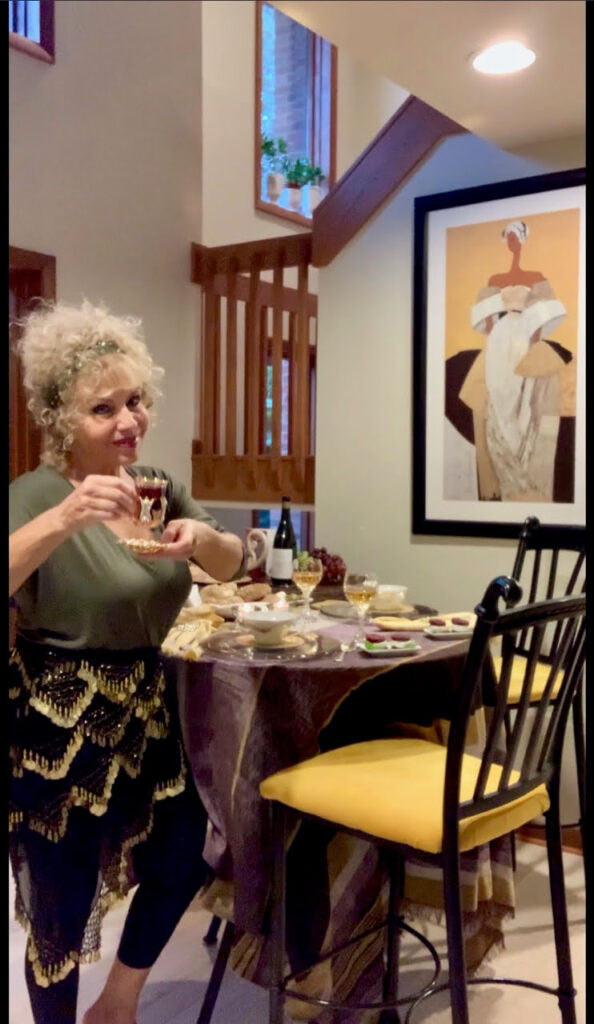 How To Make Date Stuffed Arab Cookies
Once the dough is mixed, which has a little yeast in it having been dissolved in the milk, it is set aside to rest for about an hour. While not everyone adds yeast to this cookie, I find it adds a little substance and stability to the dough.
While the dough is resting, the filling is made. Often a date paste is made by adding butter or oil to the chopped dates before it is pureed into a paste. I prefer to soak the dates in orange blossom and a little rum, therefore omitting the added fat not needed in the filling.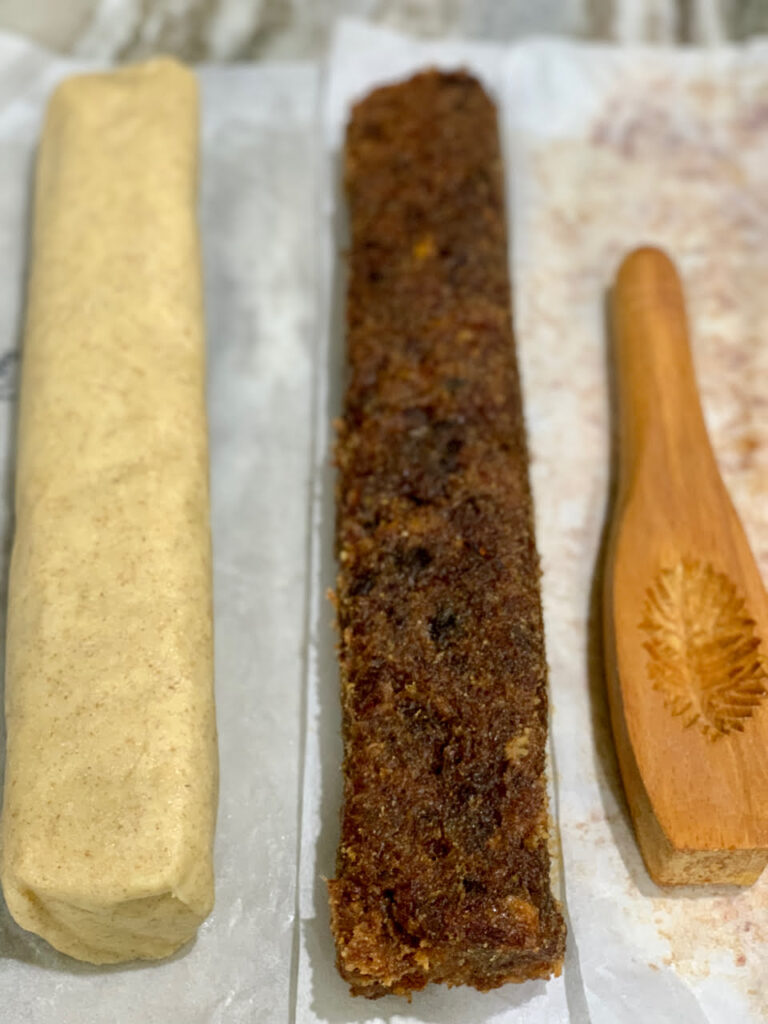 The dough is divided into equal size balls, as is the date paste into much smaller balls. The ball of dough is pressed into a flat round, setting the smaller date ball into the center and forming the dough completely around the ball.
This cookie is often shaped into a doughnut with the 'pencil shaped' date pasted pressed into the center before creating a doughnut shape. The finished cookie is often dusted with confection sugar for presentation.
I prefer the round ball shapes because they are easier and they can then be pressed in my wooden ma'moul mold, to give a beautiful finish without the need for dusting sugar. The cookie is naturally sweet enough from the dates without adding processed sugar for presentation.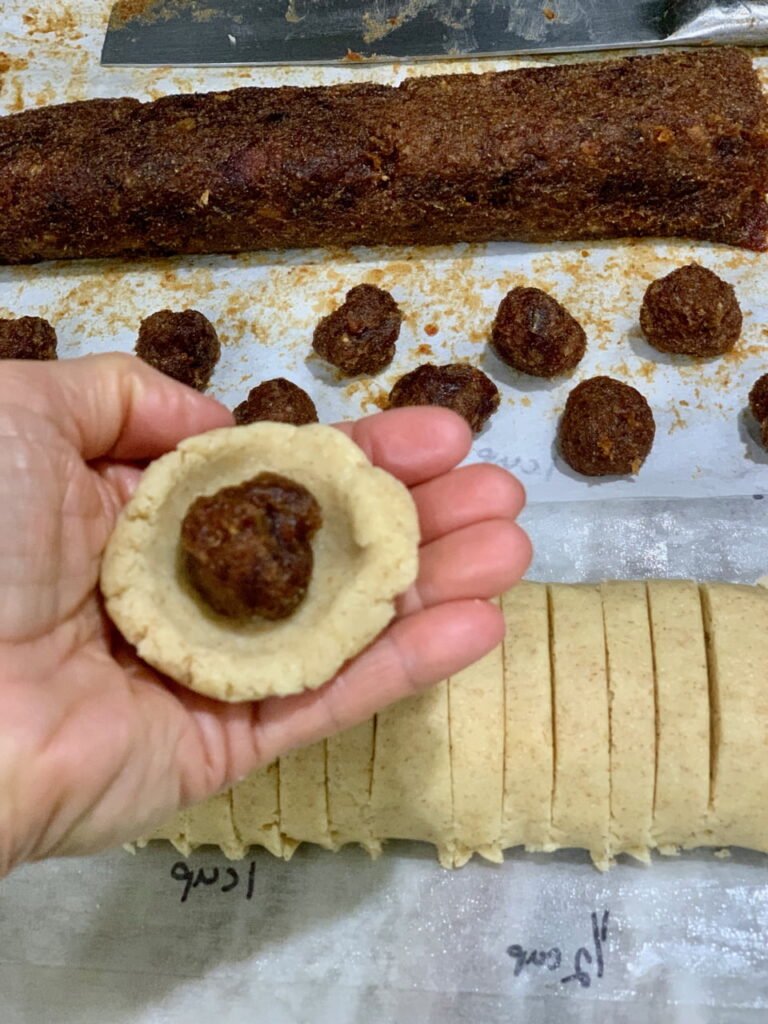 Ma'Moul Mold
I would like to close this story by sharing a beautiful social media story with you.
Ma'moul is another type of Arabic cookie filled with nuts, as apposed to dates. It is probably the most known cookie of the Arab world.
A beautifully carved wooden mold is used to press the cookie dough into the mold to create design on the cookie before it is baked.
The mold my mom once had, long ago disappeared as my sisters and I became more interested in American desserts, popular back in the 50's and 60's.
Now, as a mom and grandma, I wanted to pass on recipes to my family from their grandma and great grandma's traditions. I needed to find that wooden mold!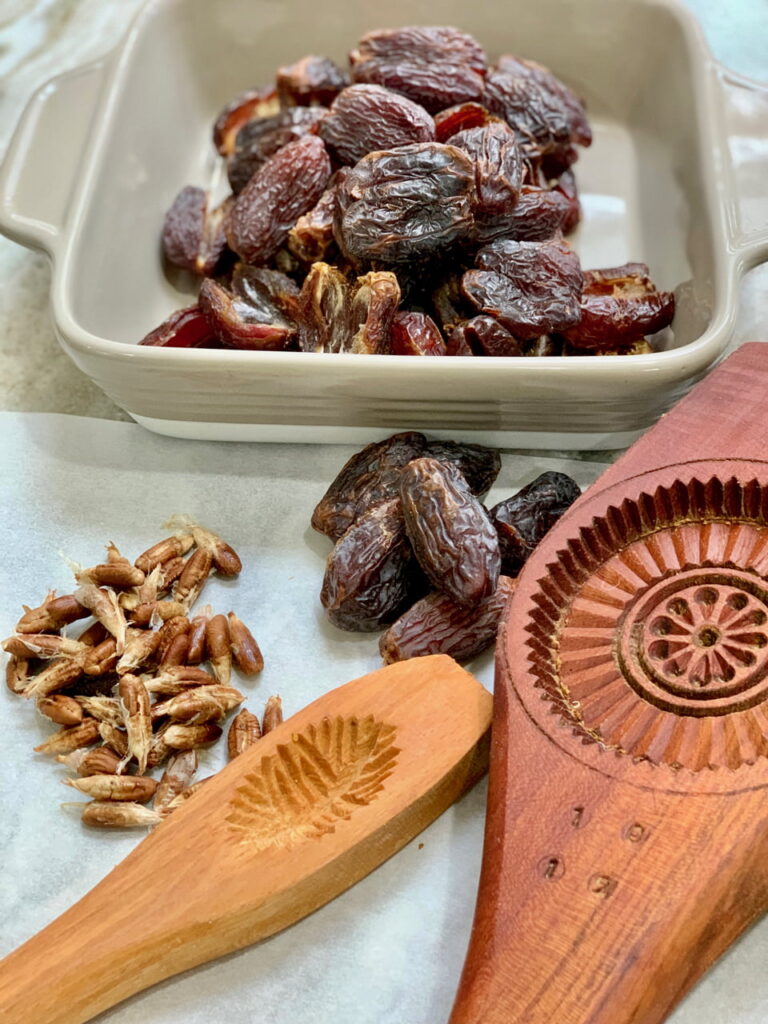 One day, while on Instagram, I made a new social media friend. I live in Maryland and she lives in South Dakota. She was born in Damascus, while I was born in America, trying to cling to my mother's heritage.
I asked her where I might find this ma'moul mold. She asked for my address and in less than a week, she had sent me two molds right from her kitchen. This, is what family would do and what new friends of the same roots, will do for each other.
Thank you Sanaa Abourezk, my new friend and ethnic sister. Oh!! Do you all want to know another common link that brought us together to become friends?
Sanaa whopped Bobby Flay on Beat Bobby Flay, while I, as well, walked away with the prize on Guys Grocery Games. One day Sanaa and I will cook something amazing together for you!
Ingredients Needed
Farina (Cream of Wheat)
Flour
Butter
Confection sugar
Milk
Maheb
Yeast
Salt
Pitted dates
Orange blossom
Rum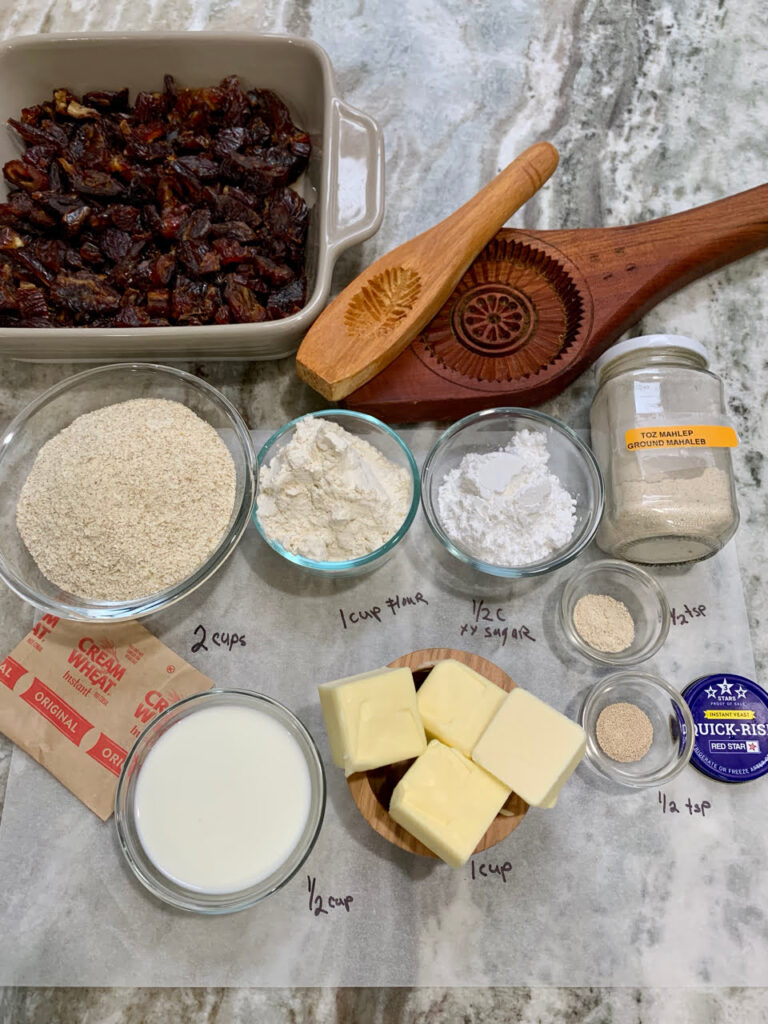 Equipment Needed
Mixing bowls
Food processor
Measuring cup
Measuring spoons
Chopping board
Chopping knife
Parchment paper
Ma'moul mold (optional)
Cookie sheet
Oven
Mom's Traditional Date Stuffed Arab Cookie
Course: Dessert, Mediterranean
Cuisine: Mediterranean
Kaak bel Ajweh an orange blossom and date stuffed cookie dough, of farina and Arab spices, shaped in a traditional wooden Ma'moul mold. 
Ingredients
Farina or Cream of Wheat – 2 cups

Flour – 1 cup, extra for shaping dough

Butter – 1 cup (2 sticks), softened

Confection sugar – 1/2 cup

Milk – 1/2 cup

Mahleb – 1/2 tsp (cardamom perhaps as a substitute)

Yeast – 1/2 teaspoon

Salt – 1/2 tsp

Date Paste (below)

Pitted Dates – 1lb

Orange blossom – 1/2 tsp

Rum or other liquor – 1/3 cup
Directions
In a large mixing bowl, place the milk and yeast and allow to sit for 5 minutes.
Into the milk, whisk the sugar, mahlab, salt, farina and flour. Work the soft butter into the mixture until a dough is formed. Shape the dough into a long log, wrap in parchment paper, cover and allow to sit out for an hour.
In the bowl of the food processor, place the rough chopped, pitted dates, orange blossom and rum. Allow to stand for 10 minutes. Puree into a paste. Form the paste into a long log, wrap in parchment paper and place in the fridge until ready to shape.
Slice the dough into 24 pieces. Shape into balls. Slice 24 pieces of the date paste into balls 1/3 the size of the dough balls. Flatten the dough ball, place the date ball in the center and form the dough completely around it. Do the same for the remaining balls.
Preheat oven 325. Place parchment paper onto a cookie sheet.
If you have the wooden mold, press each prepared dough ball into the mold, tap it against the counter to pop it out and place them on the cookie sheet. If you have no mold, simply place the cookie balls on the baking sheet.
Bake until the cookies are light gold and the dough feels dry. Cool and serve.
Notes
The cookies will keep in an airtight container for up to 2 weeks or can be frozen for about a month.