This Mediterranean influenced pie has a gluten-free almond and coconut crust, filled with a puree of fresh cranberries, sweetened only with dates and scented with orange blossom and zest.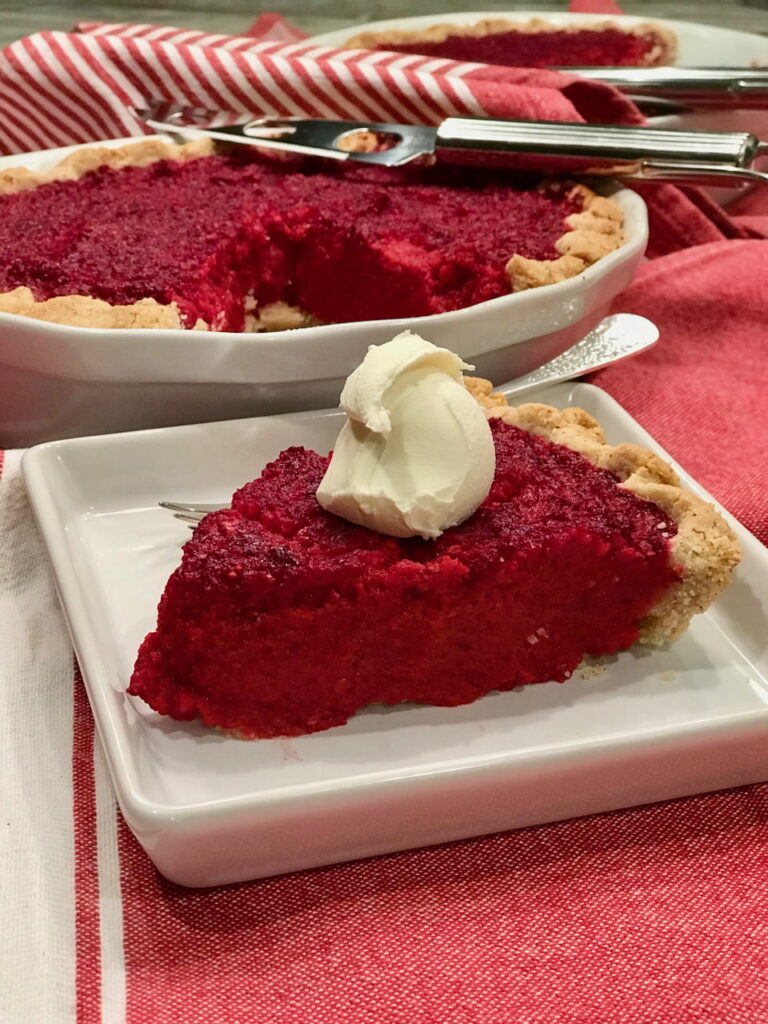 Mediterranean Flavors
Mediterranean flavors are at the core of all my cooking, simply because they are what I grew up with; Middle Eastern, European and North African cuisines.
Dried fruits, such as dates, apricots and figs are often used to add sweetness to foods rather than processed sugar, as is honey. Healthy Energy Bites, with dried fruits and nuts, are definitely 'old world' though relatively new here in America.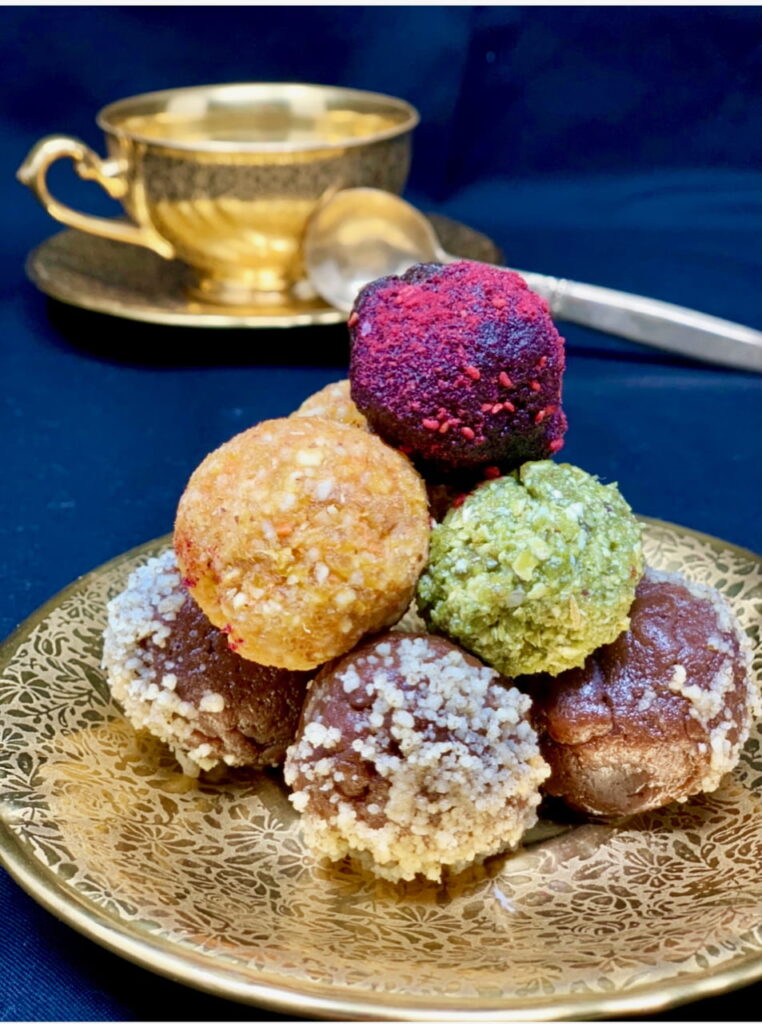 Flower waters, such as Rose Water and Orange Blossom water, from edible flowers, are just a few exotic extracts that are used to flavor Mediterranean recipes.
Orange Blossom
Orange blossom water is distilled from the bitter orange blossom. The scent is delicately floral but the flavor is one that really has no substitute. Gentle, floral, exotic and so unique.
Since I was a kid, I've been familiar with the scent and flavor of orange blossom water. My Syrian mom often drizzled it, instead of vanilla extract, in so many of the pastries, cakes and cookies she baked.
While creating this Mediterranean cranberry pie, even though cranberries are not Mediterranean, I wanted to bring the flavors of that region to this pie, therefore making it uniquely my own!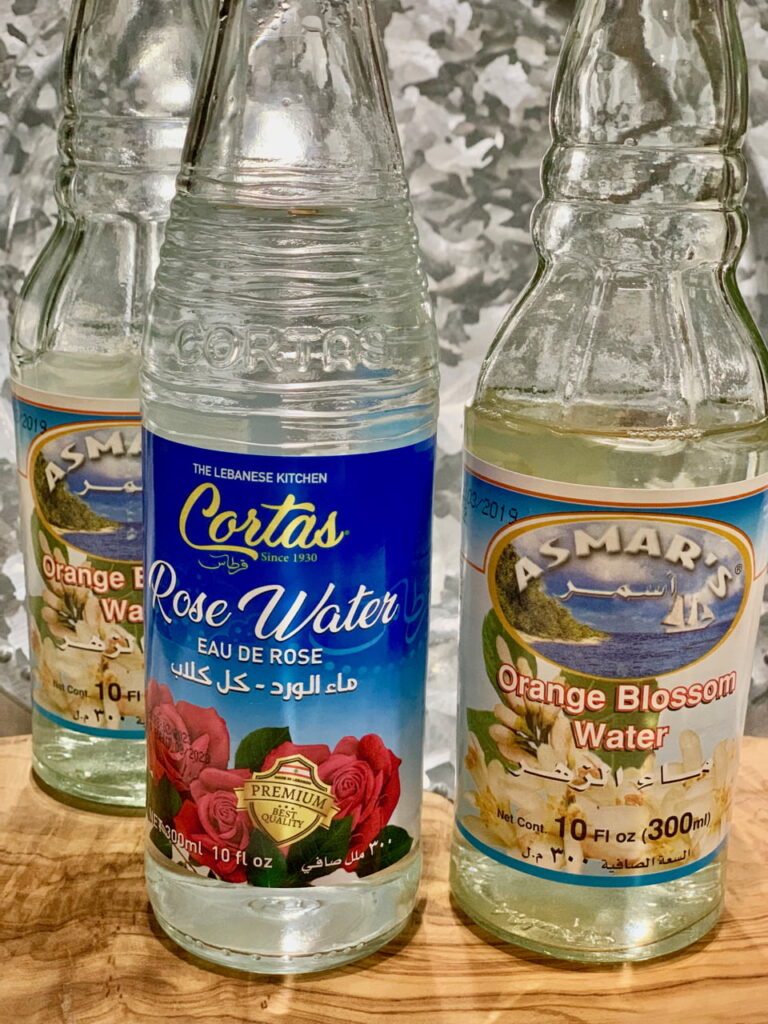 Cranberry Pie
It's funny how we often see pies with various berries but don't often see pies made with cranberries. Ever wonder why?
Cranberries are bitter and tart as all get out. You certainly can't eat them raw like you would blueberries, blackberries, raspberries or strawberries. It would be like sucking on a lemon. But… when cranberries, just like lemons, are treated with TLC, they are magnificent!
For starters, here's how you can enjoy the magnificent flavor of the bitter cranberry in a luscious sweet pie, yet not sweeten it with sugar! Intrigued?
Dates! Yes, dates are going to be pureed in the filling of this pie, along with the fresh cranberries and when it is baked and sliced you will never go back to eating an American, syrupy sweet cranberry pie again. Promise!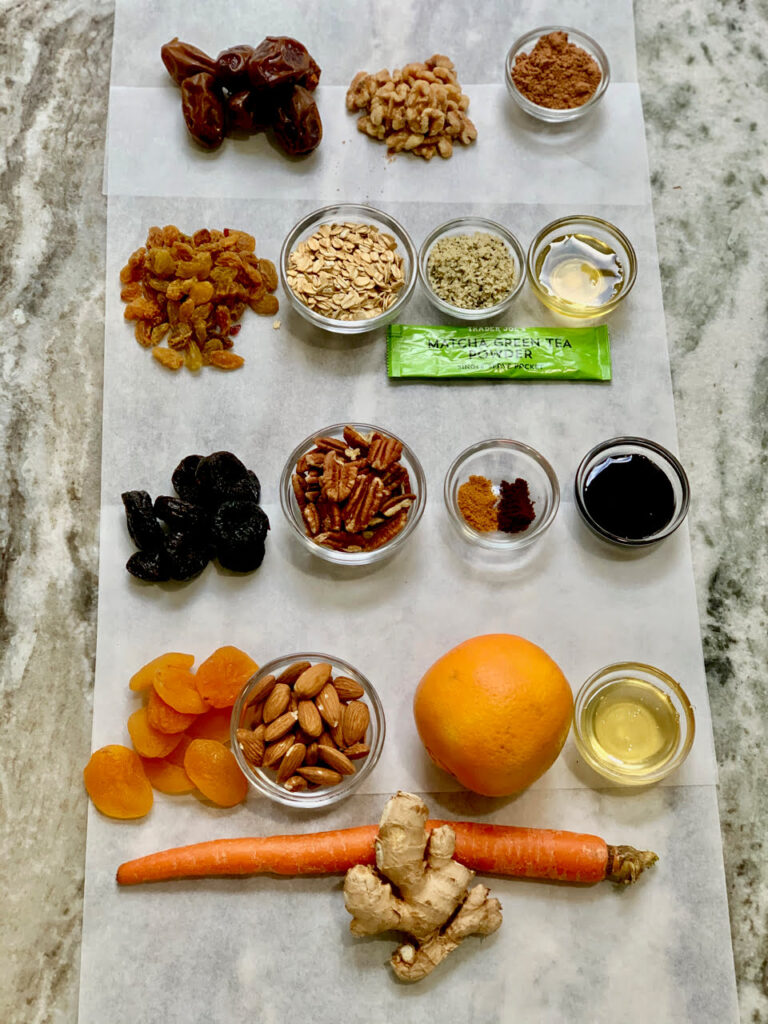 Cranberry and Orange
We all know that cranberries and oranges are a marriage made in the kitchen, as you will find in my Cranberry Orange Blossom Muffins. The sweet zest of an orange, along with sweet, fresh orange juice is nothing short of delicious. 
Let's take that cranberry and orange marriage on a honeymoon and add a little orange blossom water! Oh my, you won't believe how beautiful the flavor and scent will become.
Gluten-free Pie Crust
Now that I've got you totally hooked on the Mediterranean flavors of the cranberry orange pie, lets win you over totally by making this luscious (not to mention gorgeous color), pie, by making it gluten-free!
No. I'm not taking about using a gluten-free flour with ingredients in it I can't even pronounce. I'm talking about a pie crust that you would swear is a giant cookie when you bite in.
Almond meal, coconut flakes, coconut oil instead of butter, though you could use butter too, with fresh orange zest and an egg to hold it all together and you might just start making this crust for all your other pies.
Enough chatter. Let's make this pie!
Ingredients Needed
Coconut oil
Almond meal
Coconut flakes
Pitted Dates
Egg
Salt
Orange juice and Zest
Fresh Cranberries
Cornstarch
Orange blossom
Equipment Needed
Food Processor
Measuring cup
Measuring spoons
Pie Plate
Spatula
Oven
Mediterranean Cranberry Orange Blossom Pie
Course: Pies, Dessert
Cuisine: Mediterranean
Gluten-free almond and coconut crust, filled with a puree of fresh cranberries, sweetened only with dates and scented with orange blossom and zest. 

Ingredients
Coconut oil – ¾ cup

Almond meal – 1 cup, more if needed

Coconut flakes – ½ cup

Pitted Dates – 8, 2 for the crust, 6 for the filling

Egg – 1

Salt – ¼ teaspoon

Fresh Orange juice – 1/4 cup

Fresh Cranberries – 2- 12 oz bags

Eggs – 2

Cornstarch – ¼ cup

Orange blossom – 1 teaspoon

Orange zest – 1 tablespoon
Directions
Preheat oven to 350
Place the coconut oil, almond meal, coconut flakes, 2 pitted dates, egg and salt into a processor and pulse a few times.
Slowly pour in the orange juice while the machine is running until the dough comes together into a ball. Add a little more almond meal if the dough needs it. The dough will be sticky but will form a ball. No need to wash the processor bowl just yet.
Press the dough into a pie plate. There is no need to roll this dough. Set aside.
Place the cranberries and 6 dates into the processor and pulse enough to break the berries and dates into small pieces.
Add the eggs, cornstarch, orange blossom and orange zest. Turn the processor back on and puree the ingredients.
Transfer the batter into the prepared pie shell.
Bake for about 45 minutes or until the center of the pie is firm.
Notes
Delicious with a dollop of mascarpone or yogurt