Pumpkin is just squash, without the exotic spices that make 'all things pumpkin' Pumpkin; Cardamom, nutmeg, cloves, allspice, ginger, cinnamon and even white pepper. Homemade pumpkin spice blend, with many of the favorite spices already in you pantry, lets you emphasize those spices you like most!
If it weren't for the exotic aroma of Pumpkin Spice making it's annual debut every September, distracting my mind from the garden-fresh days of summer, I would probably cry my way through the winter!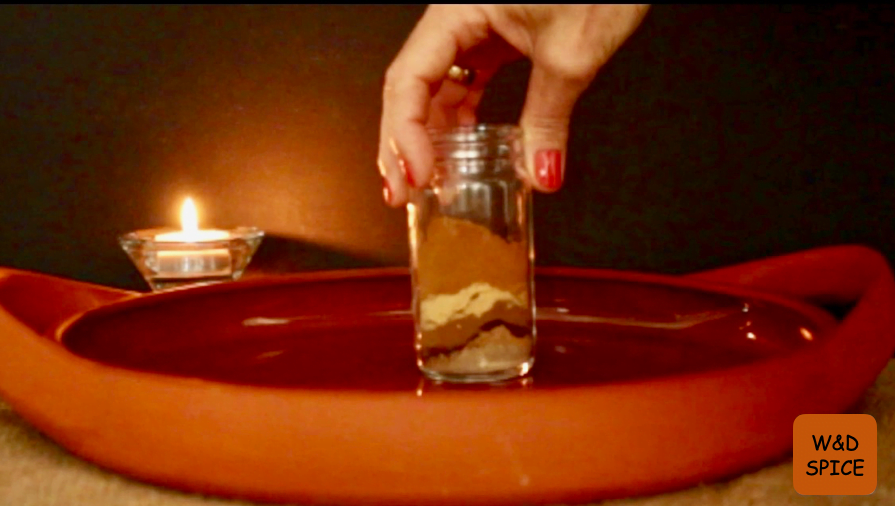 Pumpkin Everything!
From pies to candles, coffee to seltzers and the bright orange balls popping up everywhere, trying to get your mind off the sun that is soon to grow cold; I had to ask myself what is it exactly, that does it for me each September?
Oh sure, since the day I had my first child, to this day with several grandchildren, a trip to a local farm or farmer's market with the kids to pick their favorite 'orange ball', is not only a special occasion and totally a photo op, but the aromatherapy that wafts at every corner, luring me to sniff, helps ease the loss of my beloved summer. Even those Cinderella white pumpkins, which look like white-washed pumpkins, are catching my attention more and more simply because next to a mound of them, is often a pumpkin candle burning, tricking the memory of my senses.
Aromatherapy
The steam that rises in a Pumpkin Latte coffee. The way the house smells when a pumpkin pie is baking in the oven; not to ignore that same smell if there is pumpkin bread, pumpkin cookies, or pumpkin waffles.
Step away from the kitchen, in autumn, to your favorite spa or cosmetic counter; hmmmm that smell is there too, and nothing is cooking there, well at least let's hope not! And let's not forget that often folks step back into routines in the Autumn and have car maintenance, or people maintenance (nails, hair etc.), Boom! That smell is there too with air fresheners, oil diffusers or candles lit.
Pumpkin Scent?
What IS That Smell? Simple. It's Cardamom, Nutmeg, Cloves, Allspice, Ginger, CINNAMON and sometimes Orange Rinds. Mmmmmm. That scent has absolutely nothing to do with a pumpkin! Are you already beginning to forget your pool and patio, garden and heat? Yep! See? It's a trick, and thank goodness for it!
DIY Spice Mix
Why? First, and most important, just like making your own pumpkin pie, pumpkin cookies or pumpkin latte coffee, you know exactly what is in it. I like that! I like knowing exactly what is going in my body as well as on it AND I can control how much of this and that, or an extra pinch of something new I want to add to my own concoction of goodies.
The second reason to make your own is because it is way more cost affective. Surely you know about supply and demand? Well, the price of pumpkin spice in the grocery store goes up in September, then often the stuff disappears from the grocery store in April. I'd bet most of the ingredients that go into pumpkin spice are already in your pantry or spice rack. If you don't use them now, what are you saving them for?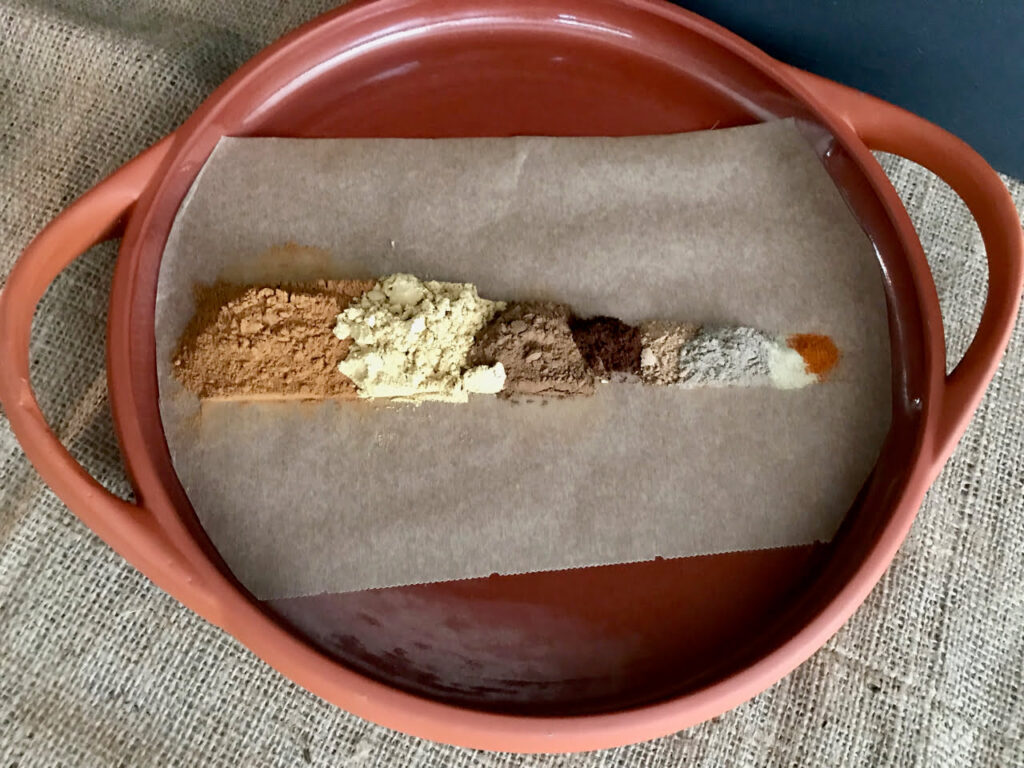 Preparing Whole Spices
Fresher Than Fresh. If you happen to be really nutty about 'make your own' stuff, like I am, you can take this a step further; really make your own! Grind your own nutmeg. Why not? Those little nutmeg nuts are just sitting on your rack year after year waiting for a little shave on top of your 'occasional' Creme Brûlée. Or those cinnamon sticks… did you simply buy them for Autumn and holiday crafting? Toss those sticks into a grinder and inhale! Cardamom pods; grind and sift them. Allspice berries; grind and sift them. White pepper, cloves you name it. Or, leave out any of the spices you like least and add more of the spices you love.
Oils With Scent And Flavor
Ginger and Orange Rinds. If you look on the ingredients of store bought pumpkin spice, you will often see ginger and orange rinds in the mix. Hmmmm. Last I looked, fresh orange rinds and ginger are wet. They are abundant in flavor and natural oils, which get lost when they are dried. So, why not save these ingredients to grate yourself when adding pumpkin spice to anything you are making. See? Another reason to make pumpkin spice yourself; you control what goes in.
Potpourri
Why not enjoy Pumpkin Spice everywhere! Go out and gather some dried colorful leaves, pinecones, end of season pods or dry some of the flowers in your yard that have reached the end of their season, say, like hydrangeas. Hang them upside down for about a week; forcing as much of their Autumn color to settle into the peddles. Cut small nosegays from the dried flowers, set them in a pretty bowl or basket and scent them. How? Sprinkle some of your pumpkin spice mix across the bowl or basket of collected items, toss in a few orange peels, a few sticks of cinnamon and there you have it; Potpourri!
Pumpkin Pie
From mid October until the end of December we are all baking or buying pumpkin pies. Can't get enough! Not to sound arrogant, but truly, My Pumpkin Pies are the best! Why? Several reasons. One, of course, I make them with my Homemade Pumpkin Pie Spice Mix. Two, I roast my own farm fresh pumpkins and make several mini pies with it, freeze what ever pumpkin remains for other pumpkin recipes. Three, and this is the best of all; when I roll out my Homemade Spiced Pie Crust, I save the scrapes and with a biscuit or cookie cutter, press shapes out, put on top the prepared pumpkin pie about to go into the oven and bake a crust on top, adding one more layer of flavor and texture to my pumpkin pie. You really must try them, they are spectacular!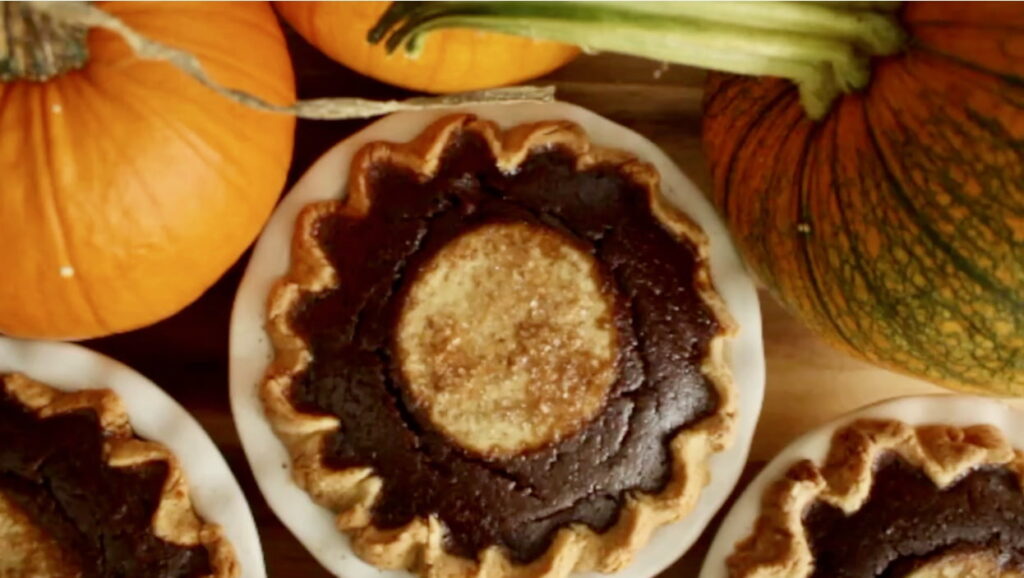 Have you forgotten summer yet? I have and I adore summer. Let's make something amazing together for Autumn and the holiday season that is just around the corner.
Ingredients Needed
Cinnamon
Ginger
Allspice
Cloves
Cardamom
White pepper
Cayenne pepper
Equipment Needed
Measuring spoons
Airtight Container or glass jar
Homemade Pumpkin Spice Blend
Course: Spices
Cuisine: American
Difficulty: Easy
DIY pumpkin spice blend with all the favorite spices already in your pantry.
Ingredients
Cinnamon – 2 teaspoons

Ginger – 2 teaspoons

Allspice – 1/2 teaspoon

Cloves – 1/4 teaspoon

Cardamom – 1/2 teaspoon

White Pepper – a pinch

Cayenne Pepper – a pinch (optional)
Directions
Measure the spices into an airtight jar. Shake it up and you have the perfect pumpkin spice mix.
Orange rinds are best left to zest fresh when using your homemade pumpkin spice mix, as is grated fresh ginger.