Showcasing asparagus, one of Spring's first vegetables, on this decadent pizza primavera.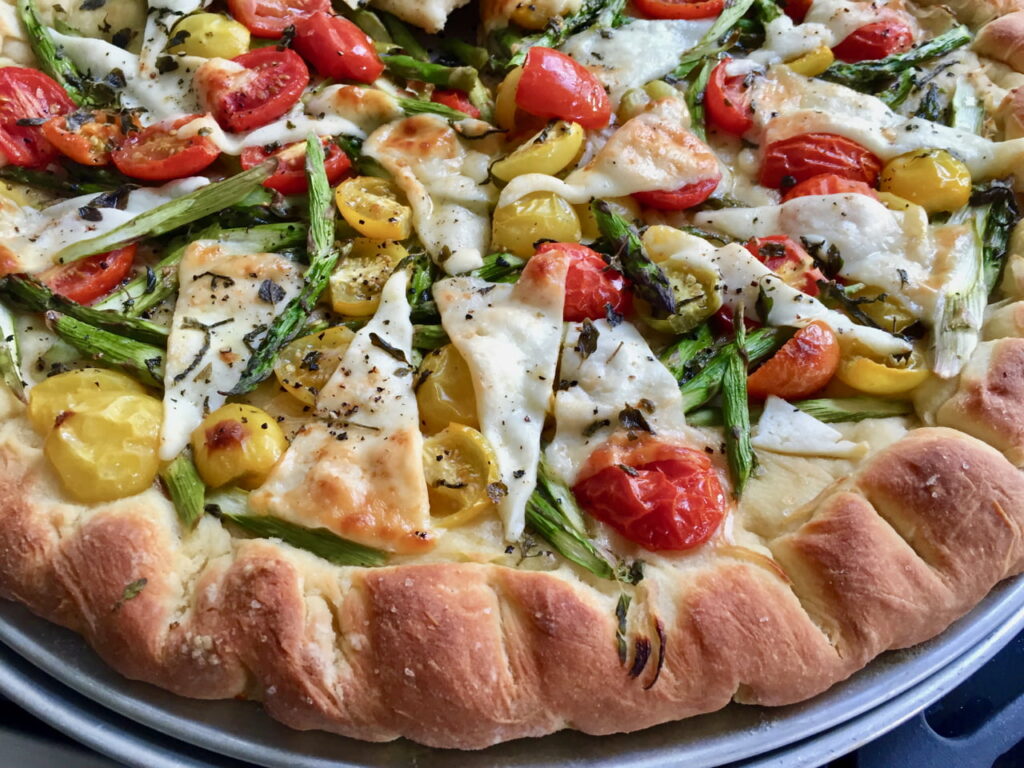 Primavera
I can't think of a more delicious way to enjoy spring veggies than on a pizza! Primavera, in Italian, simply means 'spring', and aside from the first flowers that pop up in the spring, asparagus is among the first veggies ready for harvest.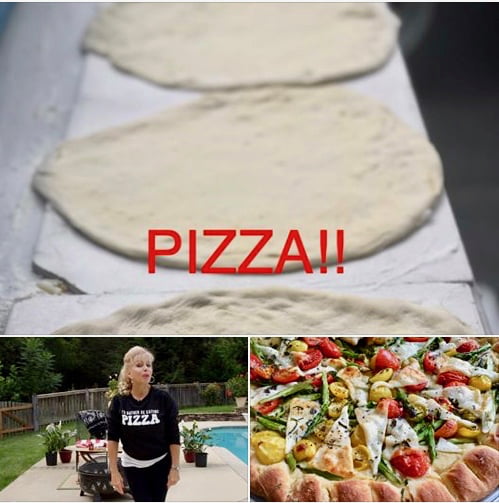 If you happened to keep a tall pot of cherry tomatoes inside during the winter, or planted them indoors in February, you may also have small tomatoes ready to pick.
If not, let's buy them and bring their sweet juice to our pizza primavera as well. Oh, and for sure you kept a window pot of herbs all winter? If not, pick up a few bundles of your favorite.
Oregano is planted in my yard and I am amazed that I can see their little green heads hiding under the brown leaves covering them, all winter. I used those in my pizza.
Pizza
Pizza is one of the best ways I know to make just about any ingredient come alive into a simple meal, loved by everyone! When you think of it, the sky's the limit as to what you can lather a beautiful pizza dough with. A few of my favorites, and trust me, these are only a few, are: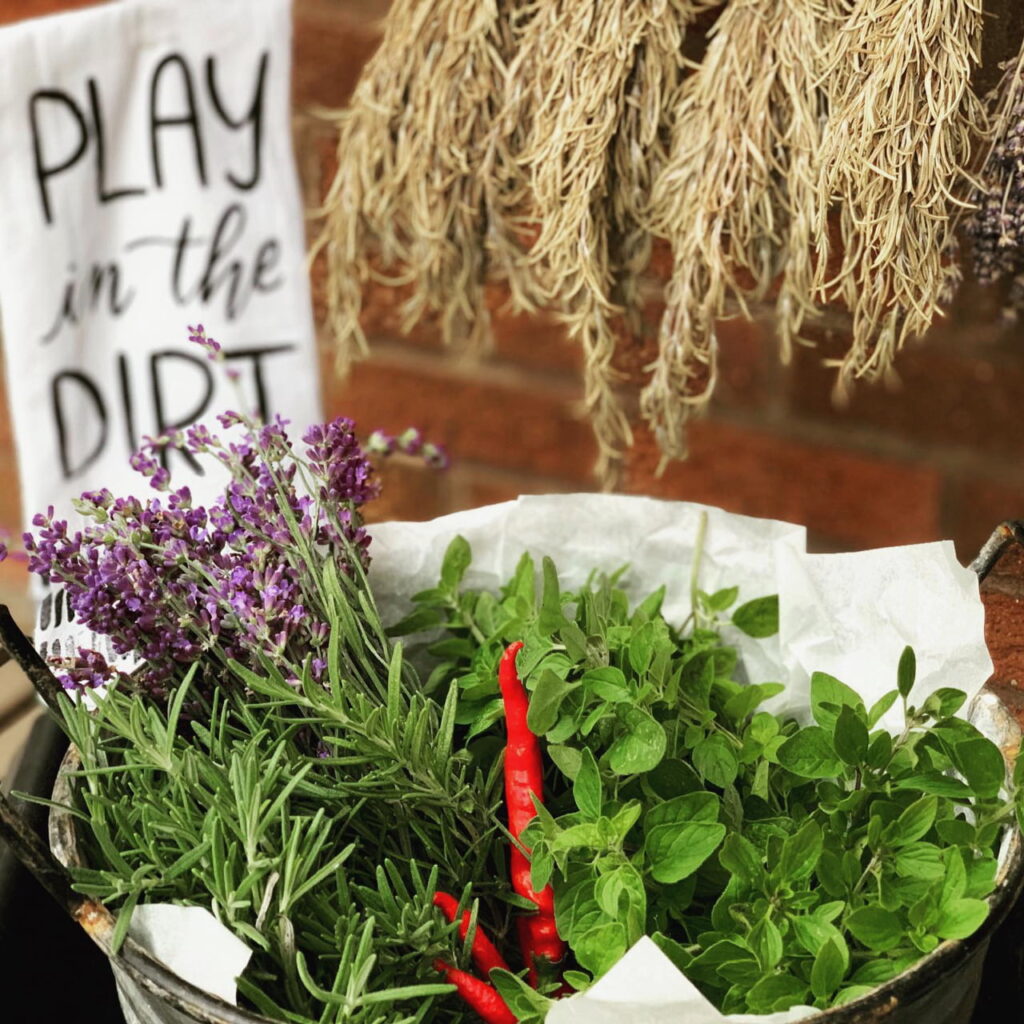 Homemade Pizza
There are two-steps to making this scrumptious pizza; First we make the dough and let is rise for an hour, then we will be preparing the toppings.
While you can buy a pizza dough in the grocery store, this dough is so easy to make and for sure tastes amazingly better. I sprinkle a little grated cheese into the dough so the flavor is spectacular!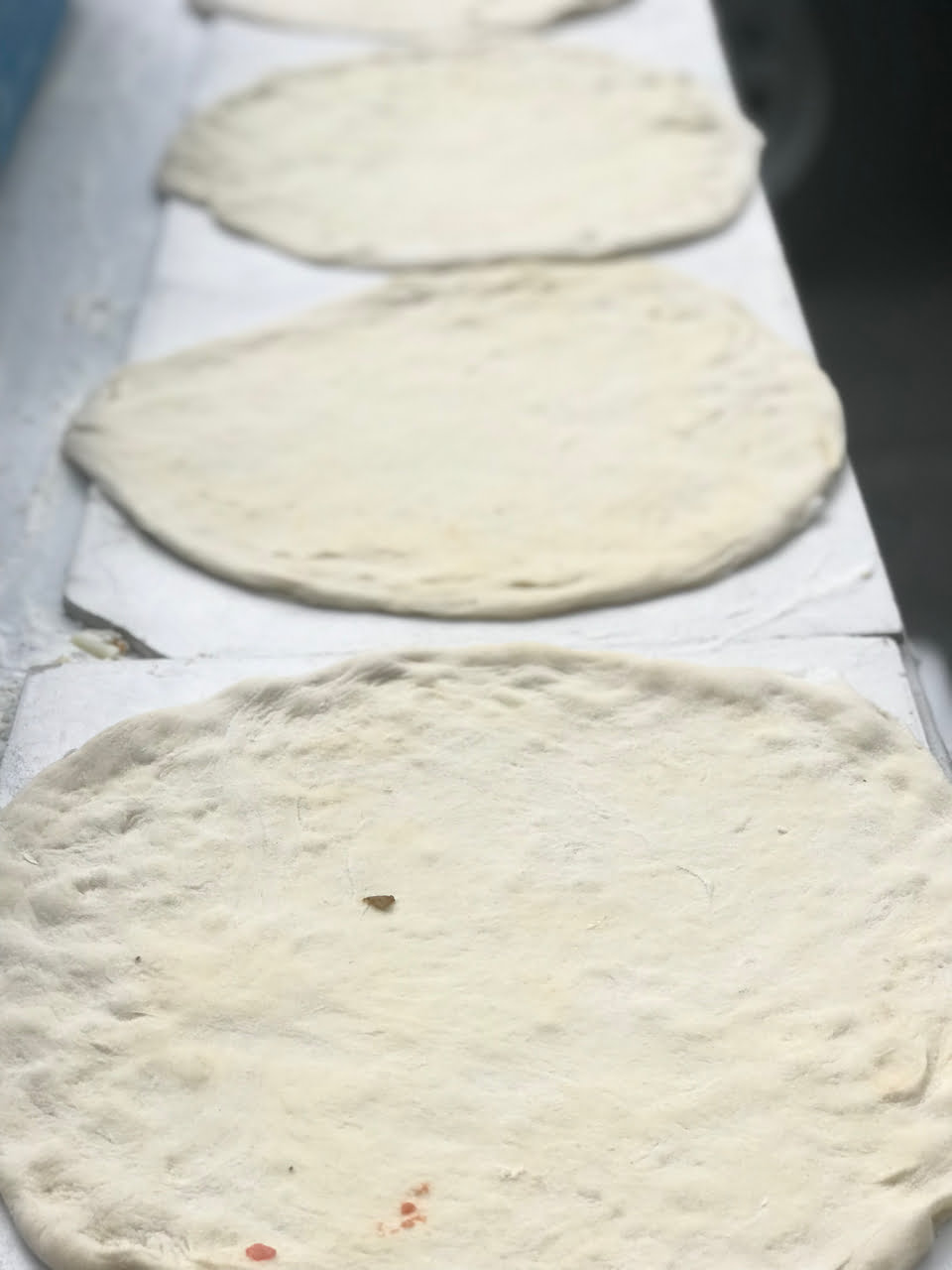 Once the dough is mixed and quietly sitting somewhere warm to double in size, you can go ahead and slice the onions and asparagus and have them marinating in the olive oil and garlic.
While not everyone peels their asparagus, if you do, you know it exposes the tender stalk of the asparagus, making the entire stalk tender.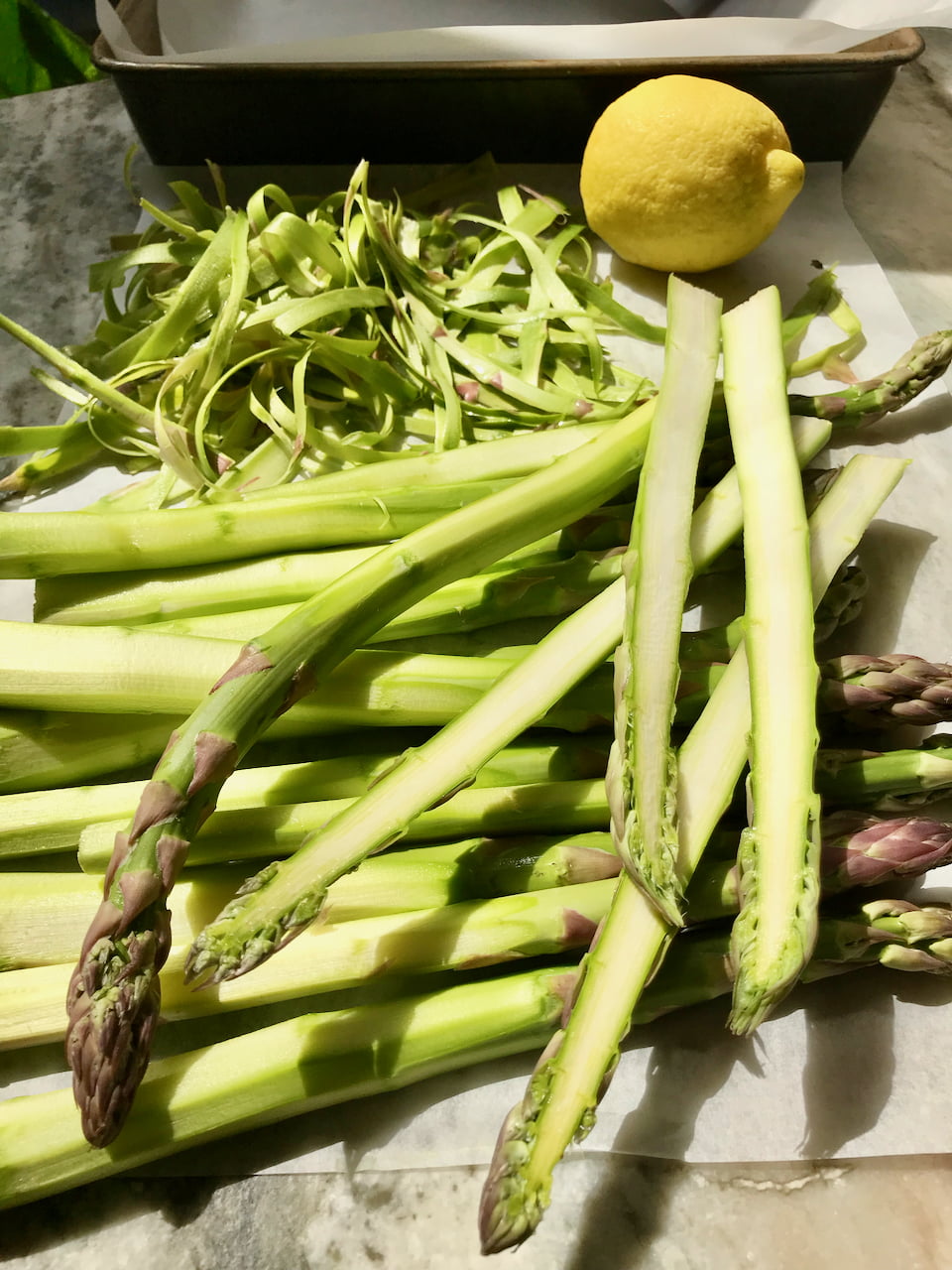 Another delicious option to this asparagus pizza is to keep it simple with just asparagus and thin slices of Prosciutto and the same olive oil and garlic drizzle.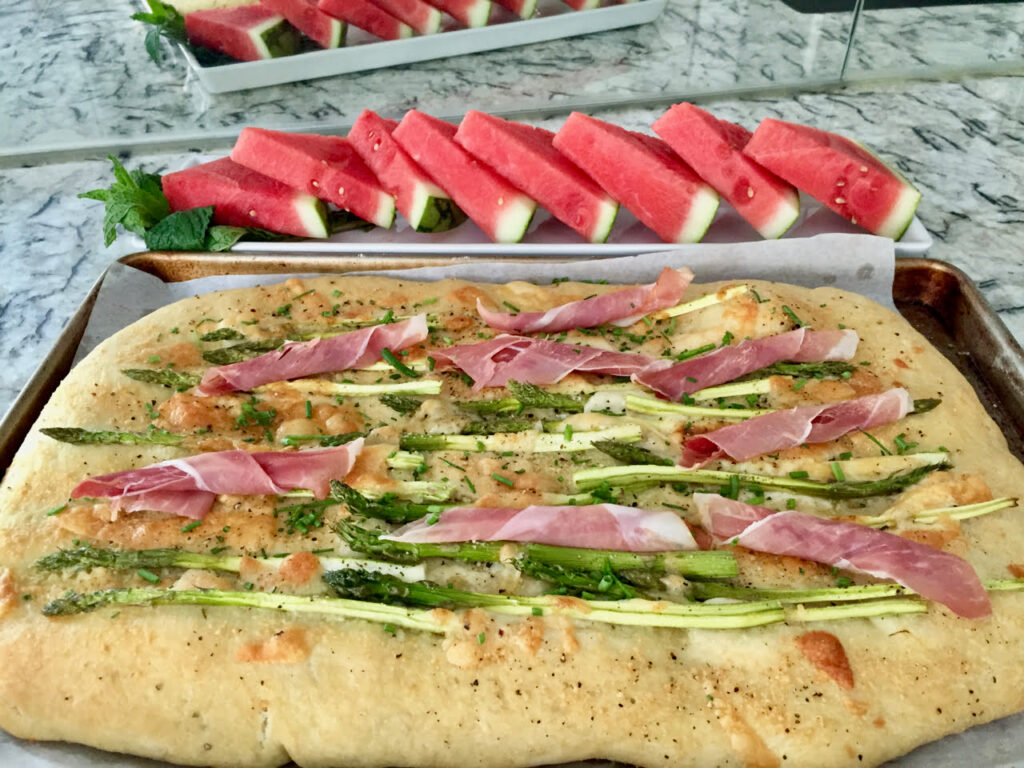 Cheeses On My Pizza
While most often, mozzarella is the cheese splattered across pizza, having way less flavor than I like on my pizza, you might find a surprisingly better flavor in the pizza cheese coming from a hard sheep milk cheese.
The hard cheeses maintain their form, melt and get toasty on top but they don't melt into a puddle covering all the other ingredients.
Ingredients Needed
Flour
Water
Yeast
Salt
Hard Cheese – preferably a sheep milk cheese
Asparagus
Cherry tomatoes
Onion
Garlic
Olives
Olive oil
Lemon juice
Fresh herbs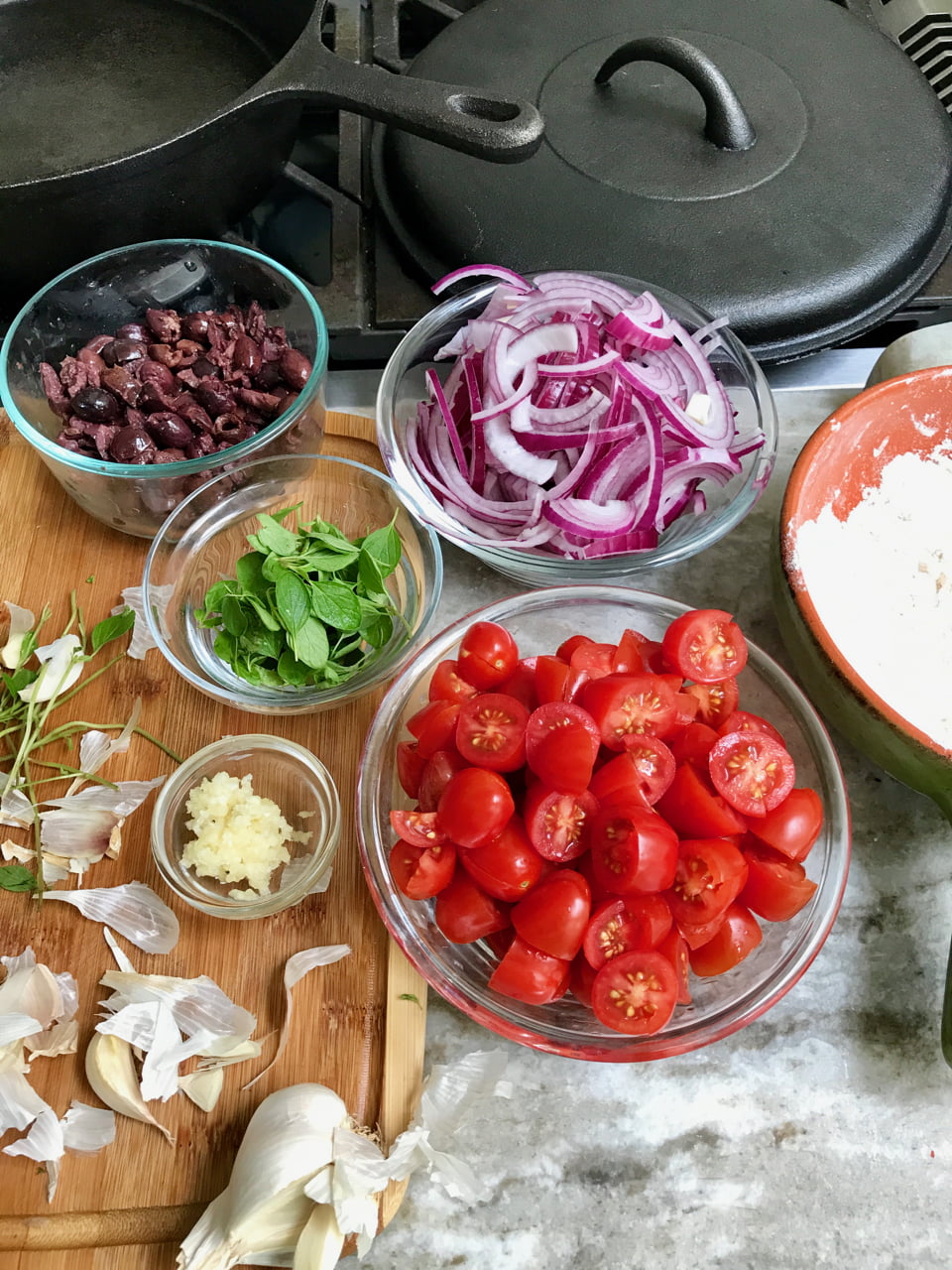 Equipment Needed
2 large mixing bowls
Slotted spoon
Plastic wrap or a dish towel – to cover the dough while rising
Wooden spoon
Rolling pin
Pizza pan or cookie sheet
Cutting board
Chopping knife
Garlic press
Citrus press
Oven
Homemade Pizza Primavera
Course: Pizza
Cuisine: Mediterranean
Showcasing asparagus, one of Spring's first vegetables, on this decadent pizza primavera.

Ingredients
Flour – 3 – 4 cups, plus extra for shaping

Water – 1 1/2 cup

Yeast – 2 tsp

Salt – 1 tbsp

Grated hard cheese – 1/4 cup

Asparagus – 1 bundle, peeled and sliced in half long-ways

Cherry tomatoes – 1 cup, sliced in half

Onion – 1/2 cup, sliced thin

Garlic – 2 cloves, smashed

Olives – 1/2 cup, sliced

Olive oil – 1/4 cup

Lemon juice – 1 tbsp

Fresh herbs – 1/2 cup, oregano, basil or rosemary

Hard cheese – 1/2 lb, preferably a Pecorino or similar, sliced or grated
Directions
Dough – Pour the water into a large mixing bowl. Sprinkle the yeast and sugar on top. Let it sit for 5-minutes to form a foam.
Sprinkle salt and a little flour in and stir. Slowly add flour and stir until it becomes more difficult to stir. With your hands begin to press newly sprinkled flour into the dough, turn it over, sprinkle more and continue like this until the dough is not longer sticky to the touch.
In a clean, lightly oiled bowl, place the dough, cover and set in a warm (not hot), place until it doubles in size, about an hour.
Preheat oven to 400.
Roll out the risen dough on a floured surface and fit onto the pizza pan, or cookie sheet. Allow it to rest while preparing the topping.
In a large bowl, mix the olive oil, lemon and crushed garlic. Toss the onions and asparagus in the olive oil.
Dip a basting brush into the oil at the bottom of the bowl and brush generously across the top of the pizza dough and crust.
Layer the onions and asparagus across the top of the pizza, along with the tomatoes, olives and rough chopped herbs. Lay the slices of cheese on top.
Bake until the edges of the crust are golden, about 18-20 minutes.