The herb rich boiling of a whole chicken for three ways to prepare favorite meals: Moroccan chicken roll, Greek chicken lettuce wrap and Italian chicken soup.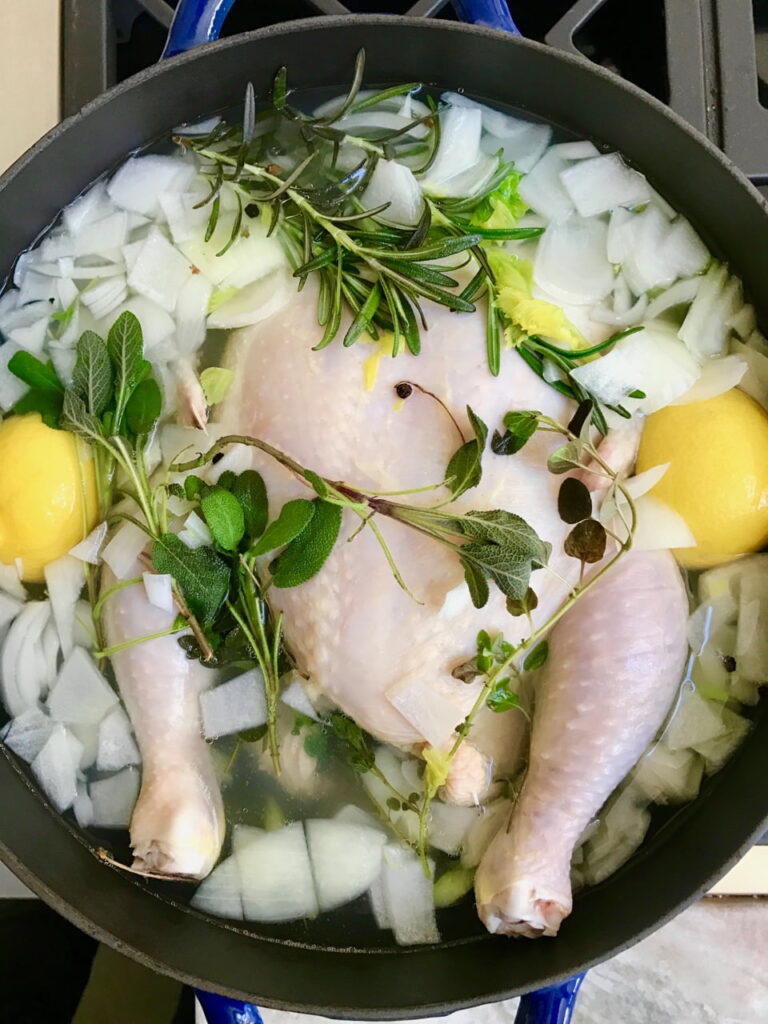 Meal Prep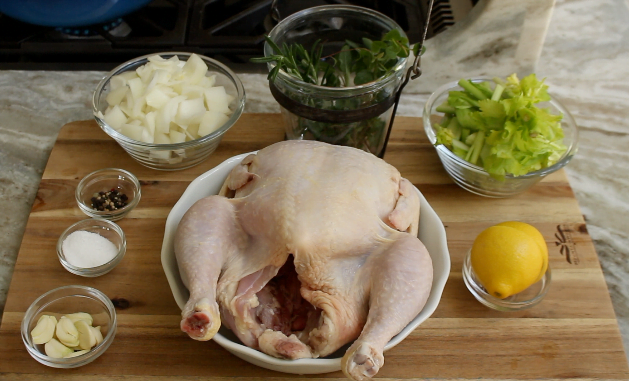 Early prep meal time is one of the most valuable usages of time. In my recipes for Chicken 3 Ways, we will infuse lots of flavor into a whole chicken, and then use all the meat to create three outstanding recipes.
Moroccan Chicken Roll – Steeped in tradition this Moroccan chicken pie known as Bastilla, with layers of chicken, eggs, almonds and spices, is made simply into a finger-food Tapas chicken roll.
Greek Chicken Salad Lettuce Wrap – Everyone's favorite Greek salad, with herb simmered chicken chunks, served in a lettuce wrap.
Hearty Italian Chicken Soup – Homemade chicken stock, large chunks of chicken and the favored flavors in Italian cuisine, simmered into a hearty soup with pasta.
Chicken
The key preparation in these three outstanding home cooked meals, during your busy week, is in cooking of the whole chicken. Once cooked and flavor infused with herbs and lemon, the chicken is portioned out for each of these dinners.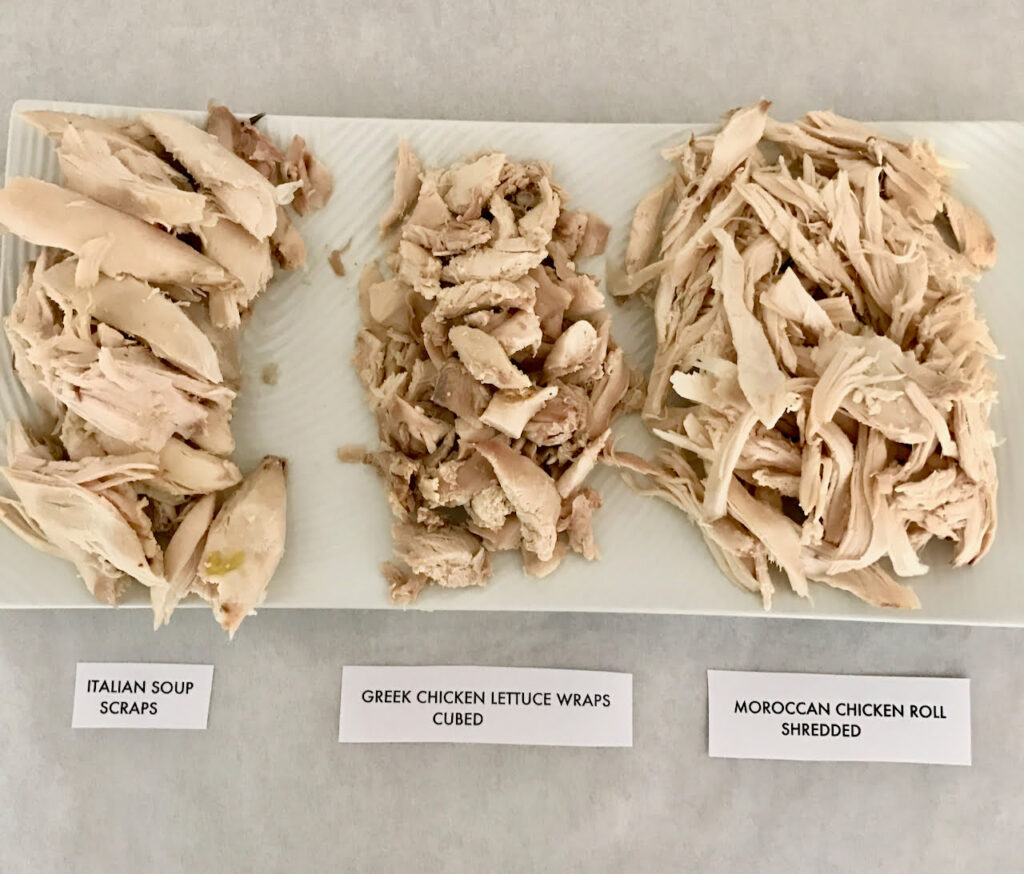 The recipe here is simple, and is infused with lots of fresh herbs and ingredients; but you can swap out any ingredient you would prefer, or add some of your own favorites.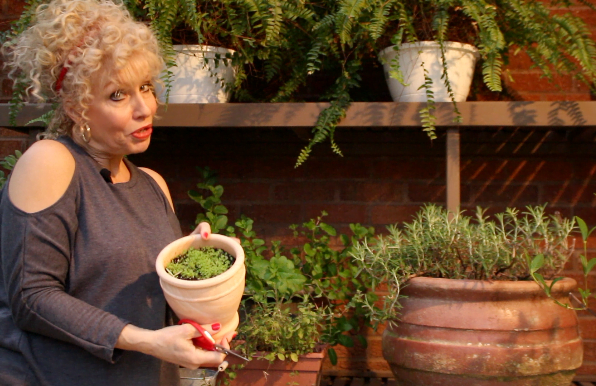 One Chicken Three Ways
Once the chicken is cooked and divided into 3 separate portions, particular for the individual dishes, the 3 meals come together easily for 3 spectacular dishes.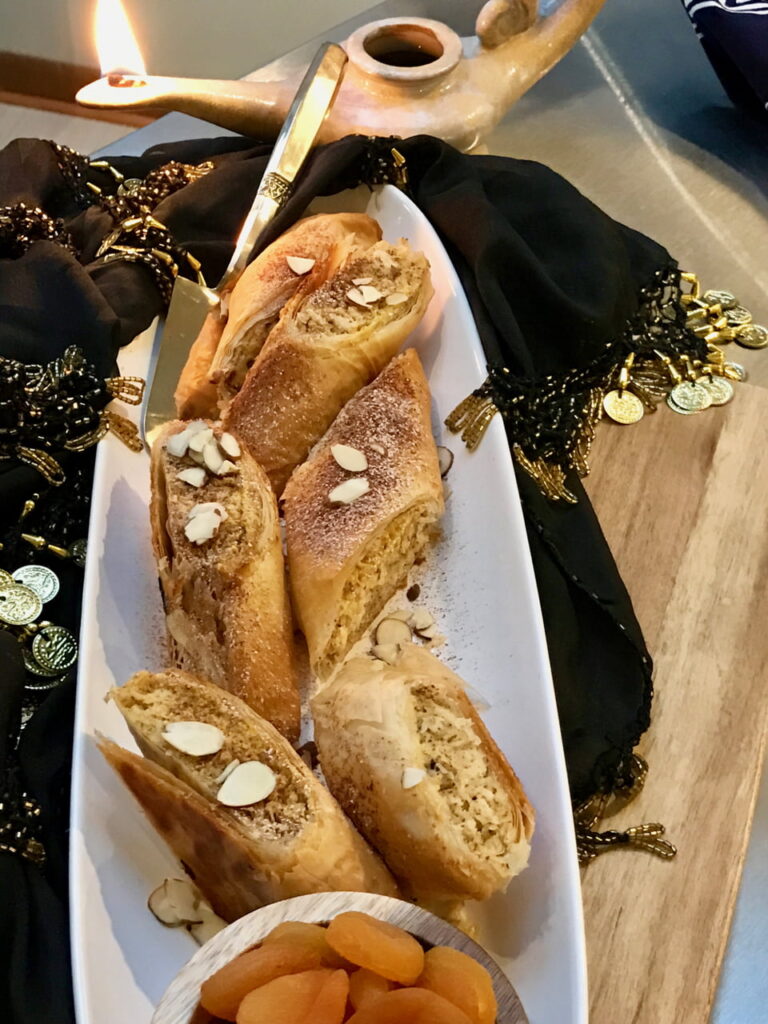 A little more than half of one breast and the meat from the wings get shredded into pieces that become easy to roll in the pastry of the Moroccan roll.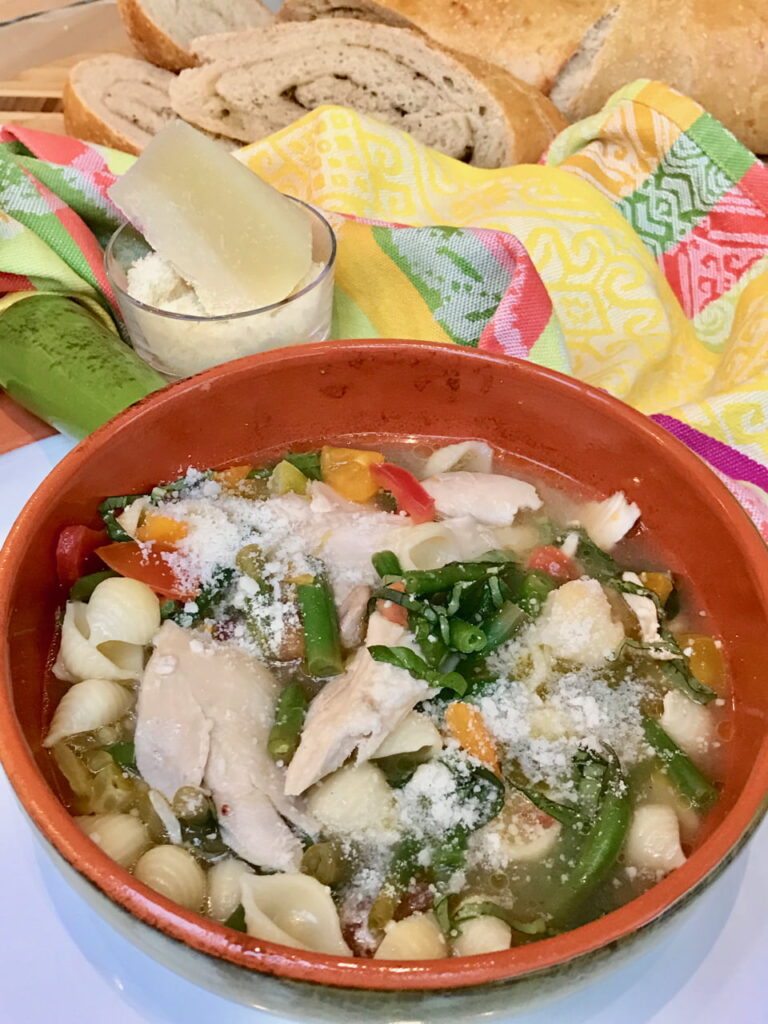 The other half breast and parts from the back are cut into bite size pieces, making for a hearty Italian soup with an equal sized pasta.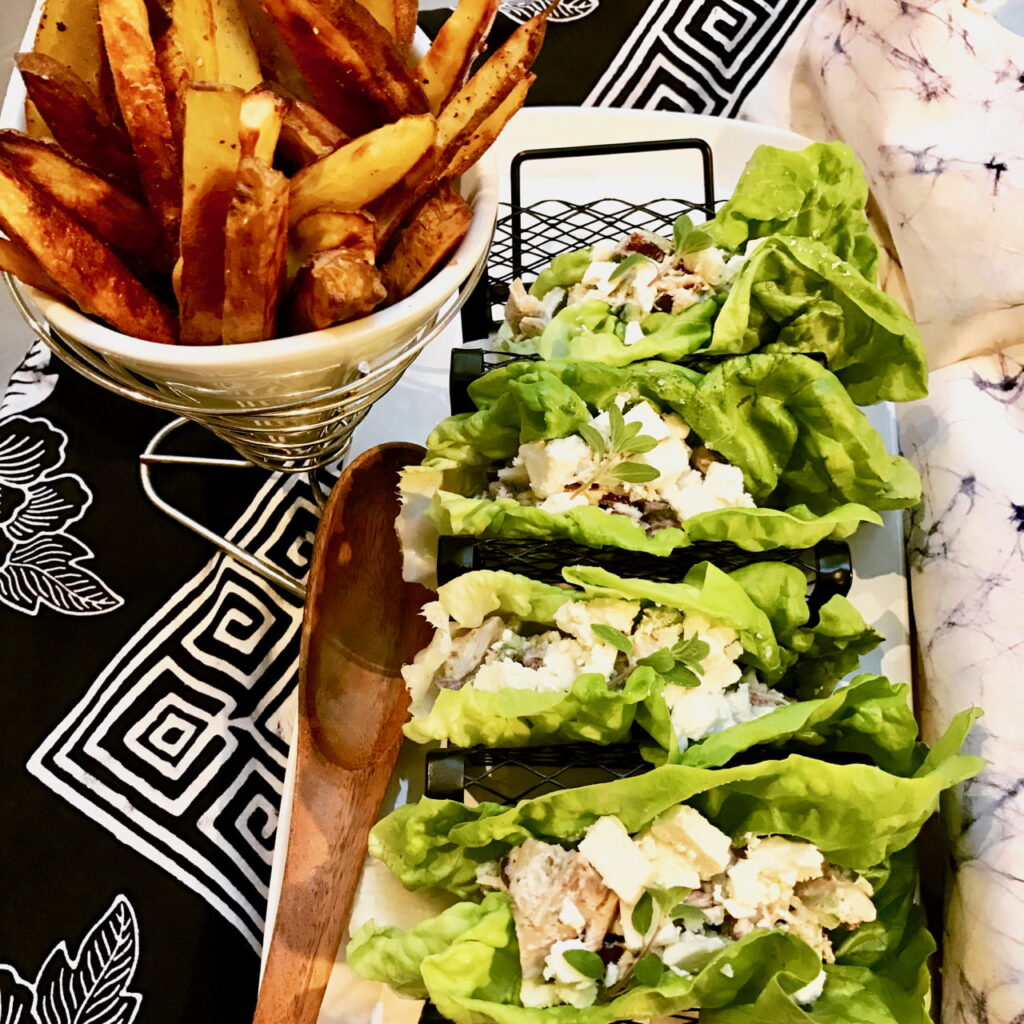 The thigh and the leg meat is cubed and set aside for the Greek lettuce wraps. Everyone knows the thigh and leg meat have more fat and so it pairs beautifully with the lighter flavors that go into the lettuce wrap. 
I love a flavor rich broth, so of course, it becomes the broth for the Italian soup, with some leftover for another soup, gravy or sauce. Practical, isn't it!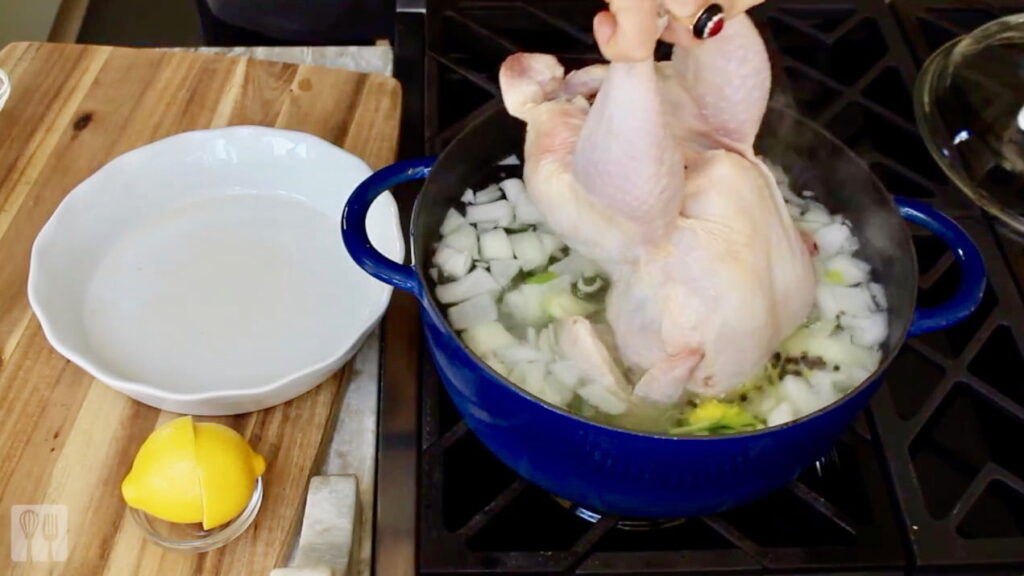 Ingredients Needed
Whole chicken
Onion
Celery
Garlic
Lemon
Salt
Peppercorns
Fresh Herbs
Water
Equipment Needed
Large stock pot
Cutting board
Chopping knife
Cooking twine
Measuring spoons
Slotted spoon
Stovetop or burner
Meal Prep Chicken 3 Ways – Moroccan Greek Italian
Course: Appetizers u0026amp; Tapas, Meat, Salads and Veggies, Soups u0026amp; Stews
Cuisine: Greek, Italian, Moroccan
The herb rich boiling of a whole chicken for 3 ways to prepare favorite meals: Moroccan chicken roll, Greek chicken lettuce wrap and Italian chicken soup.

Ingredients
Whole Chicken – 1 whole chicken

 Onion – 1 large onion cut into cubes

 Celery – several stalks, leaves included

 Garlic – 2 cloves, sliced

 Lemon – 1 whole lemon, juice and rind

 Salt – 2 tablespoons

Peppercorns – 1 teaspoon

 Herbs – Oregano, Rosemary and Sage, tied in a bundle

A large pot of boiling water
Directions
Once the water has begun to boil (only fill the pot half way), add all the ingredients, taking care to lower the chicken without the water rising over the edges. Cover. Bring to a slow boil, and lower to a simmer. Simmer for one hour. Cool completely.
Once the chicken has cooled, remove it from the broth. It is easiest to separate the chicken parts when the meat is room temperature, rather than hot, or cold from the fridge.
Remove all other ingredients from the broth and save the broth for the Italian Chicken Soup.
Separate the chicken into three piles 1 ½ breast meat shredded for Moroccan Chicken Roll, both thighs and legs, cubed for Greek Chicken Salad Wrap, ½ breast and any remaining scraps for Italian Chicken Soup.

Your chicken for three separate meals is now ready to assemble. Be sure to try each of our chicken recipes. Something for everyone!

Notes
All herbs have their own oils within them which carry, not only health properties, but also the greatest amount of flavor. Freshly picked is best, even if you can manage a small windowsill herb pot in the winter, a summer garden (ground planted or deck pots) or herbs from the market still in hydro-roots or dirt.