These oven roasted potato fries, dusted with rosemary, olive oil and coarse salt, will satisfy that potato craving for sure!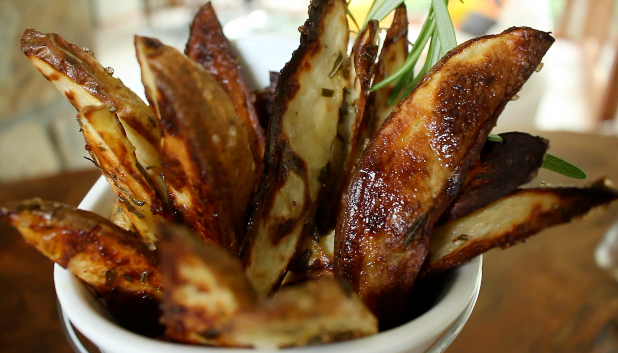 Potato Fries
As a kid, when walking the boardwalk at Ocean City Maryland, what I remember most, is the big fat fries we would get, not the ocean!
They were salty, had a crunch and were probably swimming in oil, before scooped into the big ole cup we each got to have, while walking seaside.
Then I grew up, became health conscience and stopped buying greasy fried potatoes. I still missed those potatoes though.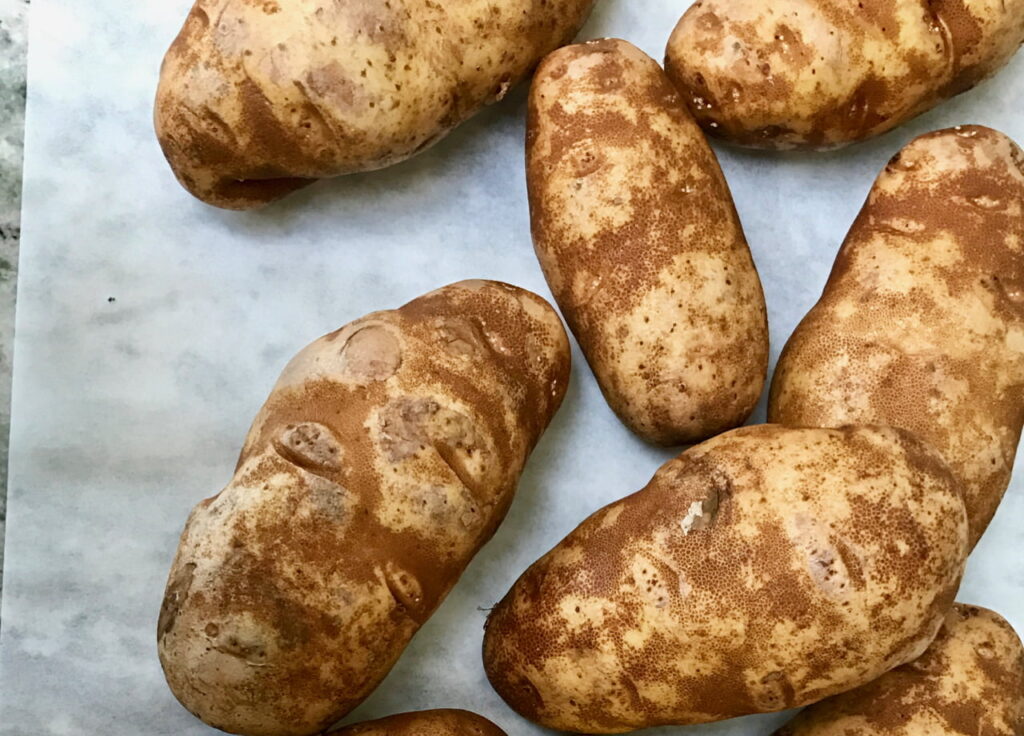 Oven Roasted
Man oh man, the health options we free ourselves to indulge in, when we take the time to cook at home!
While I have been cooking since I was a teen, I never thought to roast a potato in the oven, except as a baked, whole potato.
Sure, I saw freezer fries at the market, tried them once and threw them away; soggy, not crisp and not even sure they were potatoes.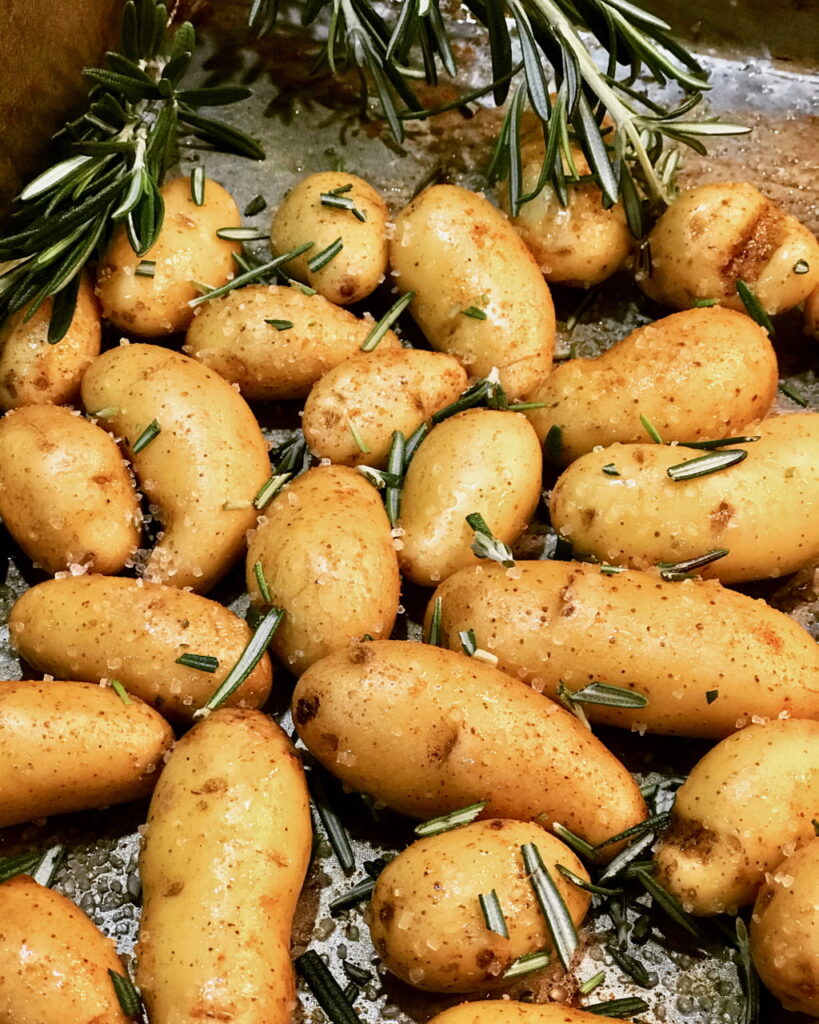 Which Potatoes Make The Best Fries?
Then I tried experimenting. Fingerling potatoes, which I often tossed in olive oil, rosemary and coarse salt, were so delicious in flavor and texture, but still not 'fries'.
I sliced big ole russet potatoes into the size fries I once remembered. Tossed those in olive oil, rosemary and coarse salt and roasted them on high. Oh My Goodness.
Russet potatoes are definitely the potato to use when making oven roasted fries. They are meaty, for sure, but low in moisture, which is what makes them crisp when roasted rather than soggy.
Better than the boardwalk fries I remembered as a kid! Crisp, flavorful and not greasy.
Why Rosemary For Fries?
Sure the potatoes probably taste good with just salt on them, and no, I do not plan to put ketchup on my fries.
I wanted to add just a hint of the taste of an herb to the potatoes. An herb that could withstand the high temps of the oven without burning to a crisp.
Rosemary is the perfect herb to withstand roasting, simply because it is dense and has plenty of natural oil in it. Unlike many gentle leaf herbs.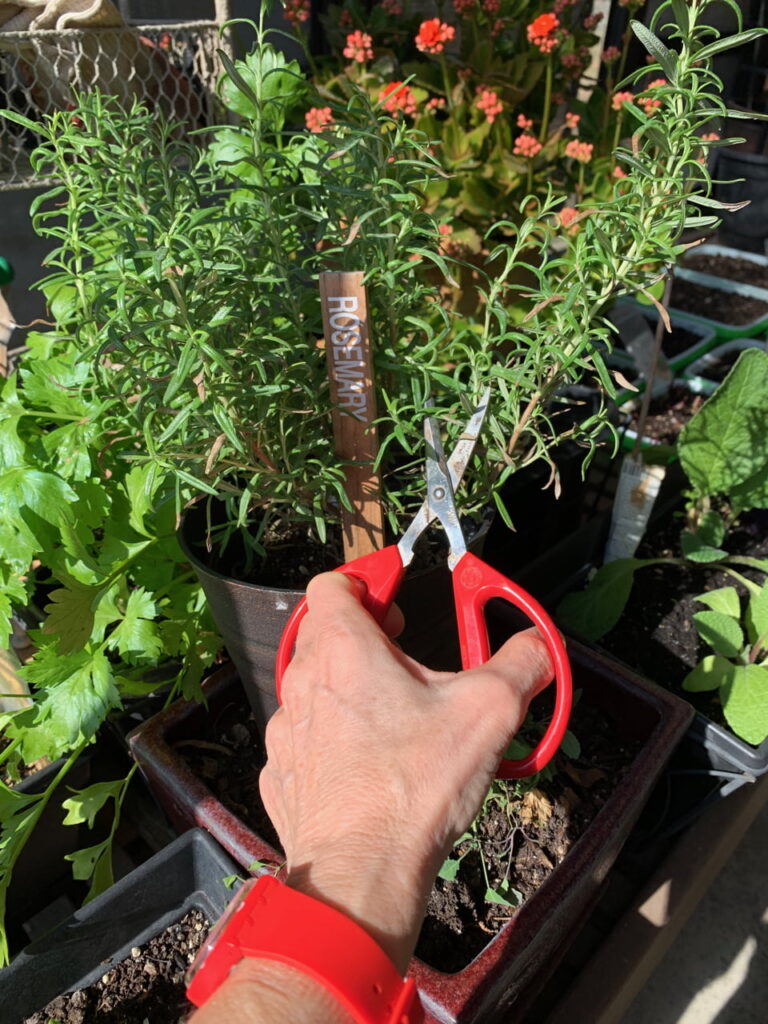 It is the most aromatic of the herbs and to me, has an almost exotic flavor and smell, not just a light scented green herb. When it is roasting, you know it's there.
I'm not quite sure why, but when I smell rosemary, it takes me back to the days as a kid, when I stepped into the Orthodox church, which always smelled of incense. Rosemary gives me a kind of peaceful feeling when I smell it, but for sure, it tastes fabulous too.
What To Serve With Rosemary Potato Fries
Anything! Or nothing! These are fabulous in the summer with grilled foods, or perfect fireside in the dead of winter.
I made these fries to serve with Homemade Burgers and Buns for an At Home Valentines Dinner. Easy, always delicious and a perfect reminder, in the dead of winter, what summer dining looks and smells like, and is just around the corner!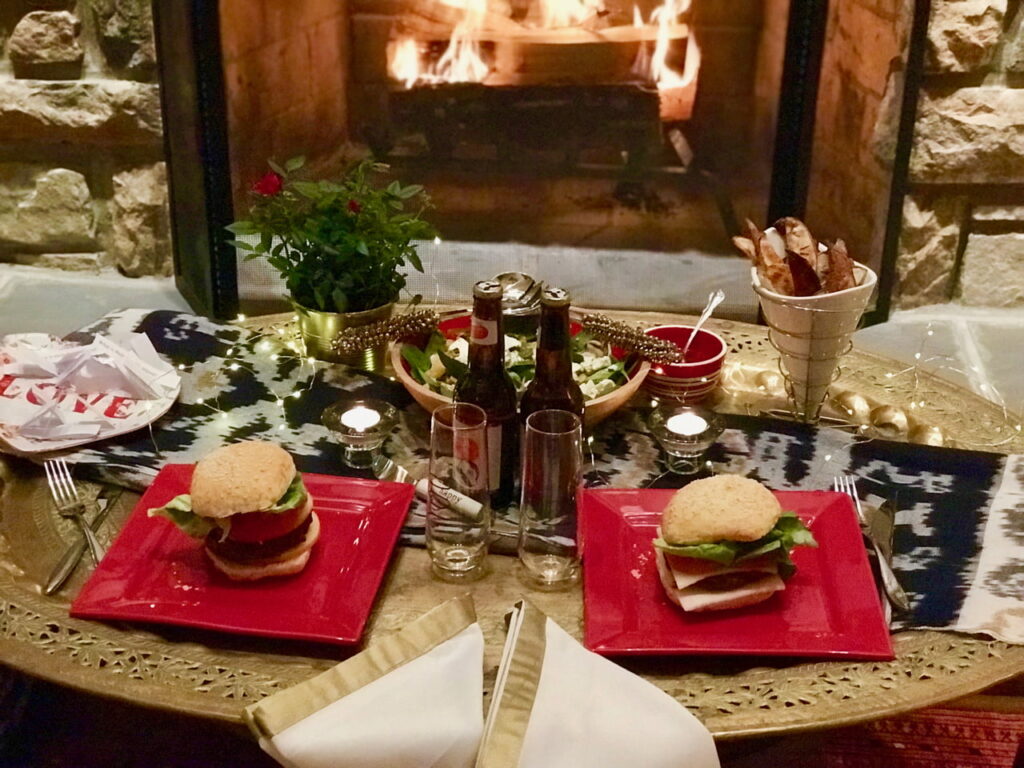 Ingredients Needed
Russet potatoes
Olive oil
Fresh rosemary
Coarse salt
Non-stick cooking spray
Equipment Needed
Cutting board
Chopping knife
Mixing bowl
Cookie sheet
Oven
Oven Roasted Potato Fries
Course: Salads and Veggies
Cuisine: Mediterranean
Difficulty: Easy
Crunchy, rosemary and olive oil oven roasted potato fries, with coarse sea salt. 

Ingredients
Crunchy, rosemary and olive oil oven roasted potato fries, with coarse sea salt.
Directions
Preheat oven to 425
Lightly oil a baking sheet, (don't want those fries to stick!).
Toss potato wedges in a bowl with oil, rosemary, and salt.
Arrange on the pan so that they are not piled on top of each other.
Roast for about 20 minutes. Turn oven to Broil, and broil for 3-5 minutes, but watch closely so they don't burn.
Recipe Video