Beet Avocado Egg Salad is a huge splash of color and nutrients, whipping the beet and avocado filling with lemon infused tahini and yogurt.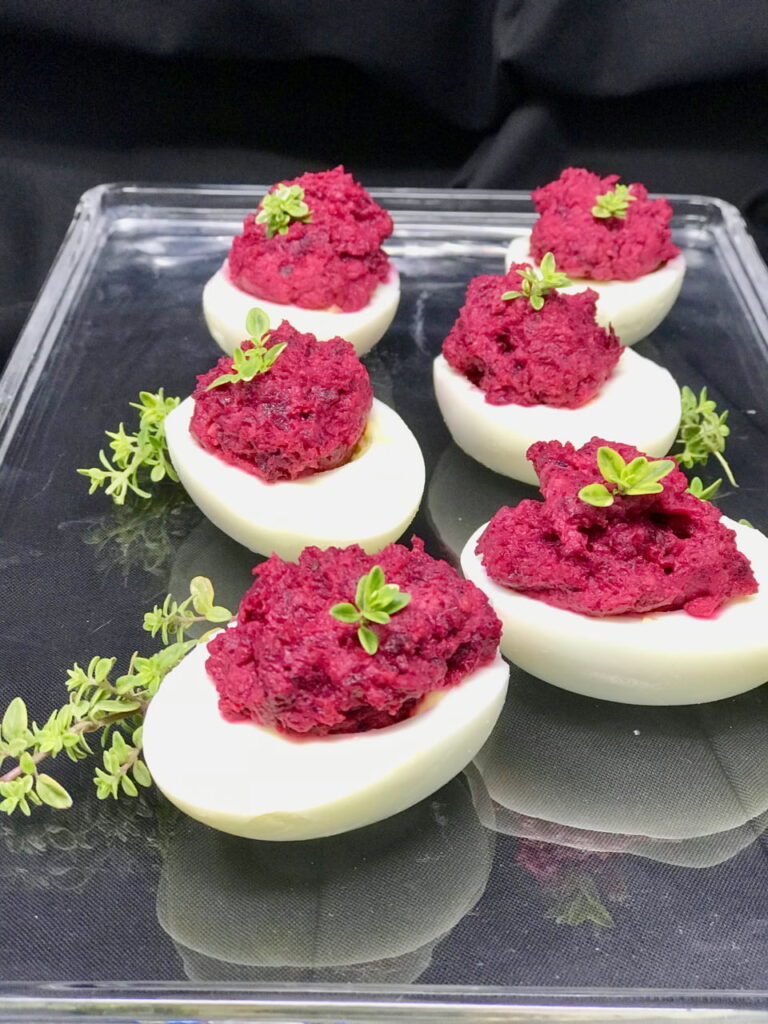 Party Egg Salad
It used to be, when I was growing up, that deviled eggs could be found at every picnic, spring luncheon or Easter spread.
Some people even got creative and added chopped peppers or olives to the yolk mixture that was stuffed back into the egg white.
How limited our culinary creativity was back then! Eggs already bring attention to themselves when served to guests, so why not knock their socks off!
Give them something so colorful they won't be able to resist tasting.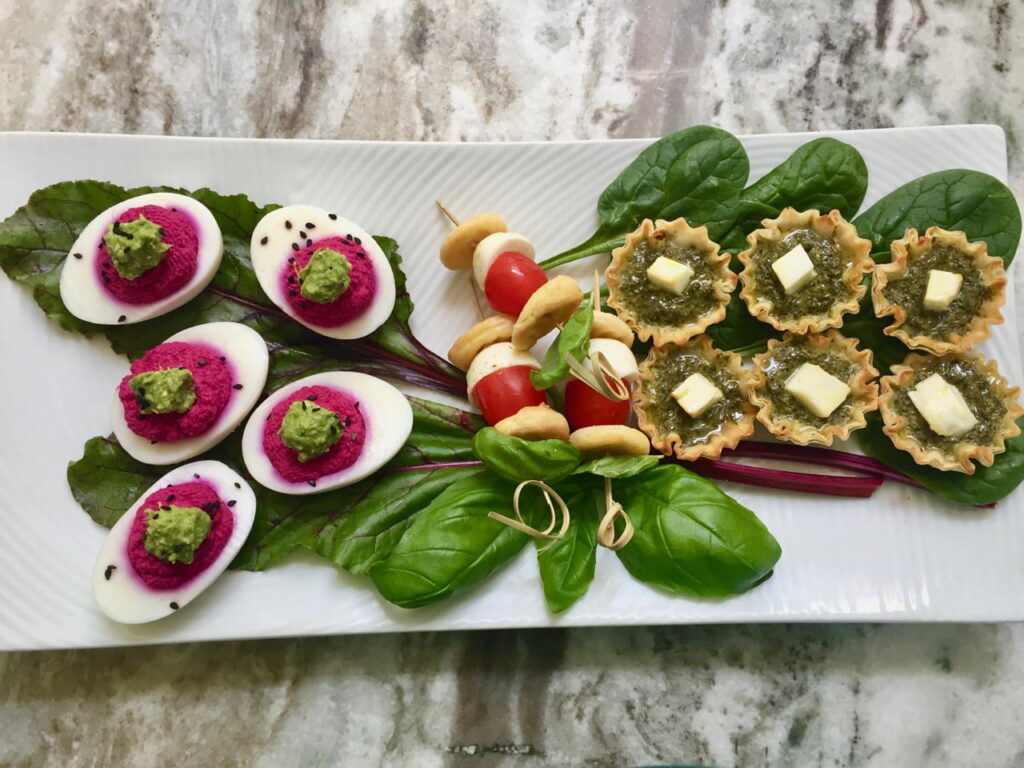 Avocado Salad And Much More
Oh how the avocado has taken centerstage in many culinary delights! Move over avocado toast, the egg salad avocado is about to replace you!
Back in the 80's, avocado salsa was pretty much the only way I ate avocado. Then I moved to Brazil in mid 2000, they turned their nose up to the idea of peppers, salt and lime on their avocado.
Yep, they did! Instead, they pour sweetened condensed milk on their avocado dishes. Not a fan, but eventually realized I could make delicious desserts using this concept.
Deviled Eggs Are Really Just Prettier Egg Salad
One day, while boiling some eggs to create something different for a luncheon, I scooped out the boiled yolk and decided to try some new flavors.
I smashed the yolks with avocado, added a little tahini and spooned this mixture back into the boiled egg white and wow… scrumptious!
Reconstructed Egg Salad
What is egg salad, actually? Boiled eggs with a variety of added ingredients sliced and mixed into chopped boiled eggs.
But what if you took those ingredients you might add to your egg salad, mix them with just the boiled yolk, and stuff that mixture back inside the boiled egg white?
The cooked egg white lend to firmly hold so many colorful fillings. I couldn't help but to take that idea and run with it. This is, without a doubt, the best dang egg salad you will ever eat and it's beautiful too!
More Salads Like These?
You bet! How would you like an Avocado Crab Tower with Mango Salsa? Another beautiful tapas or luncheon salad with the favorite flavors of summertime.
How about an Autumn Beet and Endive Salad with Fig Dressing, using the flavors harvested during the end of summer months. This beautiful, seasonal salad, I made on The Great American Recipe on PBS, in the finale and it was a hit!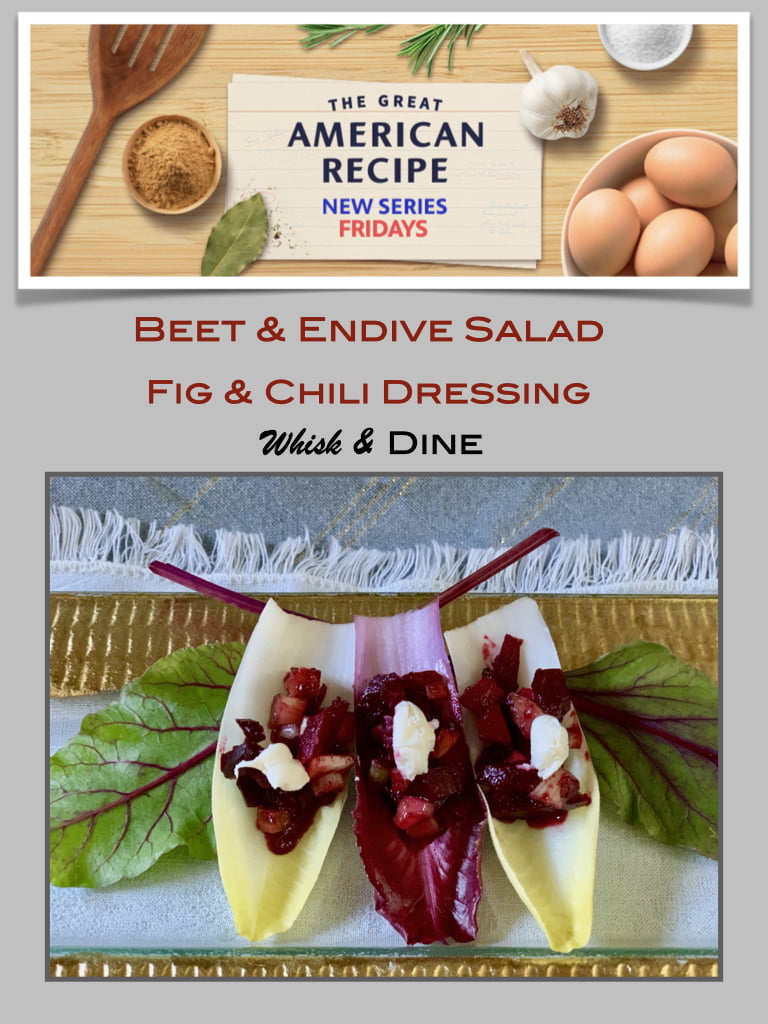 Easter Egg Avocado Beet Salad
Do you boil eggs for Easter? Dye, paint or decorate the hard boiled eggs to place in a pretty basket display for an Easter table?
What will you do with all those boiled eggs the next day… week?
Get yourself some avocados, and boil some beets and you will certainly transform all those hard boiled eggs into something way more interesting than a week of egg sandwiches! 
And when you've made these colorful beet avocado egg salad for your Easter luncheon, you are sure to love beets another way in a gorgeous Sugar Beet Cake!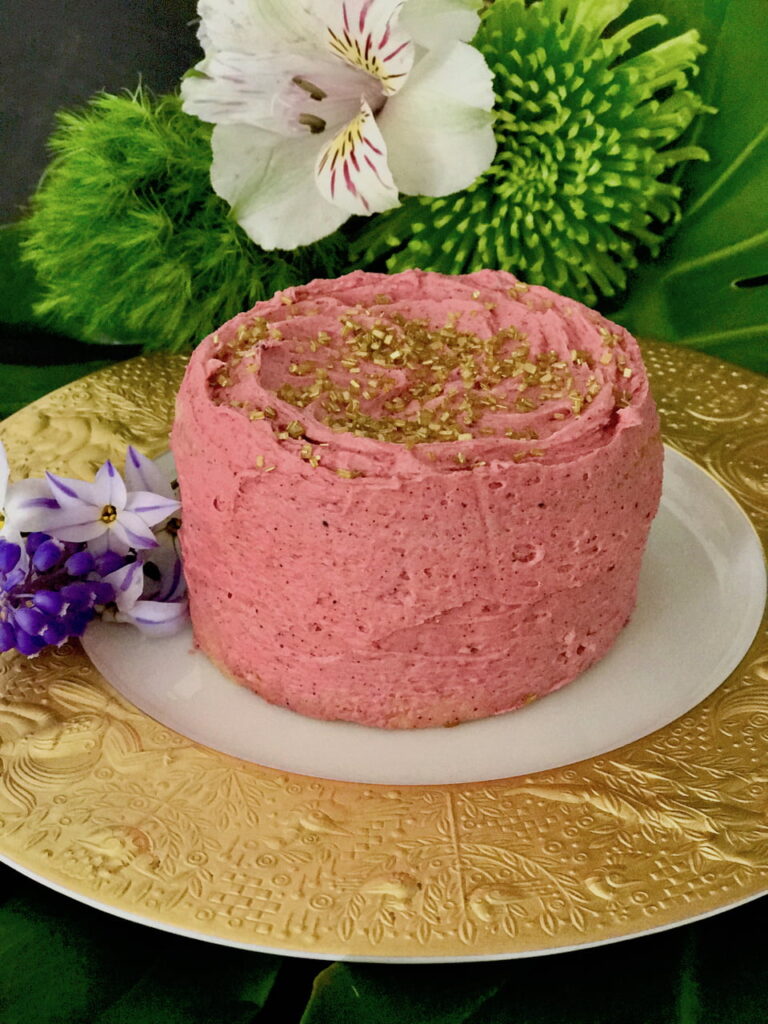 How To Make Beet Avocado Egg Salad
Once eggs have been boiled and peeled, simply pop out the yolk to use in preparation with an avocado salad or a beet salad mix. In the avocado salad mix, rather than use mayo, I use a little dollop of tahini. So much healthier anyway. To that, a little lemon and garlic. Mix it well and scoop it back into the boiled egg white.
The same is done with cooked beets. Puree the beets, removing the lumps, add a dollop of thick Greek yogurt with will not only enhance the texture but intensify the color of the beets as well, smash in the cooked egg yolks, flavor and the beautiful magenta colored beet salad is ready to scoop back into the boiled egg white. So, so pretty!
Ingredients Needed
Eggs
Beets
Avocado
Tahini
Yogurt
Garlic
Lemon
Olive oil
Salt
Black sesame seeds – optional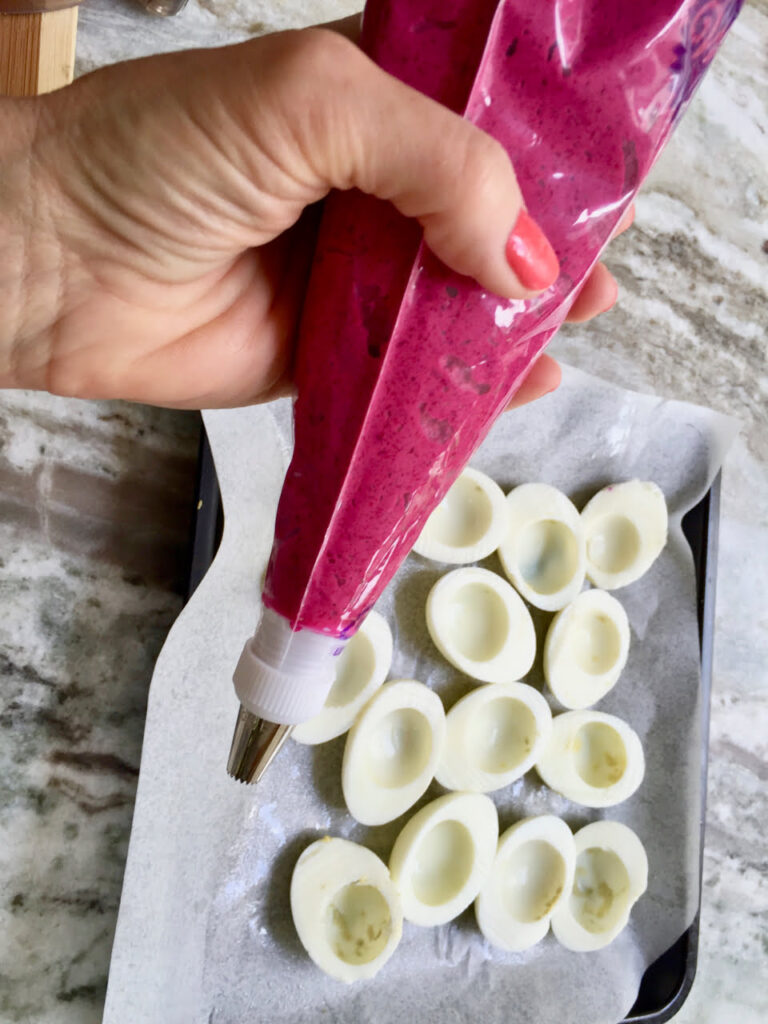 Equipment Needed
Boiling pot
Cutting board
Chopping knife
2 Mixing Bowls
Pastry bag with fitted tip
Measuring cup
Measuring spoons
Garlic press
Citrus press
Stovetop or burner
BEET AVOCADO EGG SALAD
Course: Eggs, Salads and Veggies
Egg salad avocado is a hard boiled egg, stuffed with flavor infused avocado or herb pureed beets. 

Ingredients
Eggs – 6, boiled, cooled, peeled

Beets – 1 cup, peeled, cooked, mashed

Avocado – 1 very ripe avocado

Tahini – 1 tablespoon

Yogurt – 2 tablespoons, Greek or non-dairy

Garlic – 2 cloves

Lemon juice – 1 tablespoon

Olive oil – 1 tablespoon

Salt to taste

Pastry bag or small zip bag – 2, one for avocado, one for beets
Directions
Cut the boiled, peeled eggs in half, lengthwise. Pop out the yolks. Place 3 yolks in one medium size bowl and mash with a fork, and 3 yolks in a second medium size bowl and mash.
In one bowl, add the mashed beets, yogurt, 1 crushed garlic clove, 1 tablespoon olive oil and salt to taste. Mash well with a fork or hand mixer. Transfer this mixture to a pastry bag with a tip or in a small zip bag with a 1/4 inch hole cut on one corner.
In the second bowl, add the soft avocado to the mashed egg yolks, add tahini, 1 tablespoon lemon juice and salt to taste. Mash well with a fork or hand mixer. Transfer to a pastry bag with a tip or a small zip bag with a 1/4 inch hole cut in one corner.
Arrange halved boiled egg whites on a tray. Pipe the beet filling into 6 boiled egg whites, and avocado filling into the other 6 boiled egg whites. You can also had a little dollop on top each of the opposite color.
Notes
The beet filling will begin to stain the egg whites if left to sit longer than an hour, so do serve right away. 
I sprinkled black sesame seeds across the top for an added dimension of color contrast. Course black pepper will work just fine too.