Ground beef, lamb or turkey, mixed with minced onions, garlic and a medley of fresh herbs, cooked stovetop or grilled. Serving these sliders as appetizers or fully dressed dinner size burgers, makes this burger recipe one to enjoy for backyard parties or an elegant butler-served appetizer.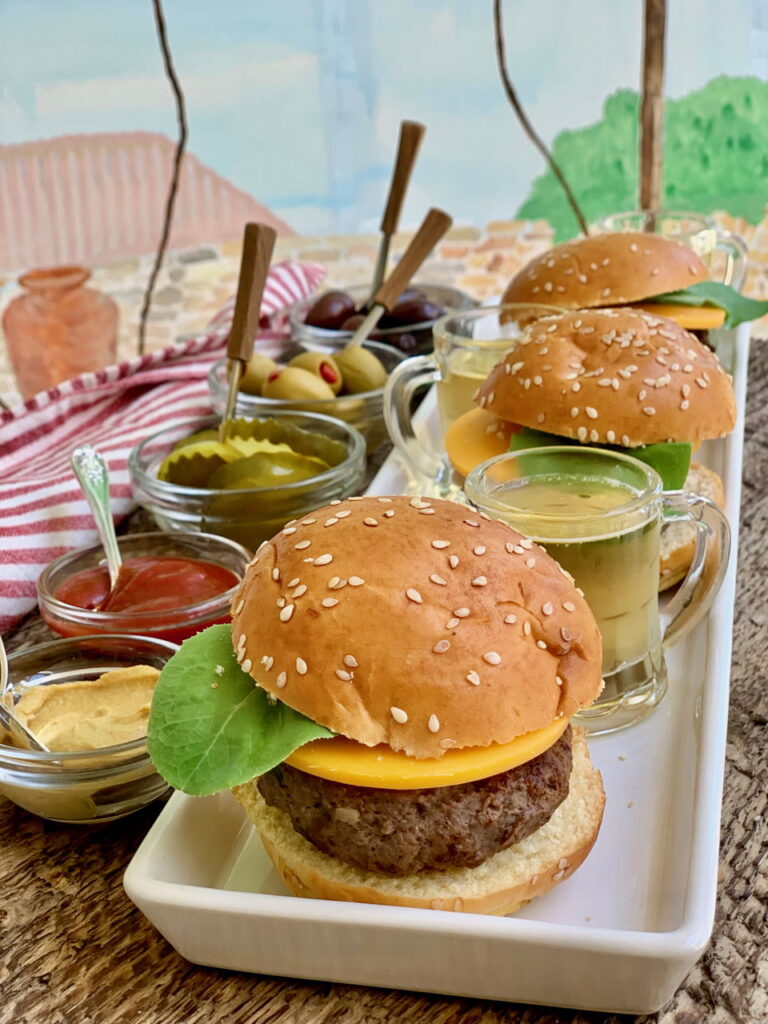 Party Slider Appetizers
The ceremony has taken place. The crowd is hungry. Before your guests indulge in celebration drinking, it might be a good idea to butler-serve something substantial before dinner is served. These mini-burgers, made into bite-size sliders, passed around on trays accompanied by mini mugs of iced cold beer are both whimsical and delicious!
Using a small round biscuit cutter, the same size as the slider bun, makes it easy to pack the burger meat into tight, little, perfectly shaped burgers that hold together when cooked and fit the bun precisely.
Cooking Meat Burgers
A variety of meats make for great burgers but truth be told, we all have our favorite meat we like to eat. When your favorite meat is properly seasoned, shaped and packed tightly, using a ring mold or biscuit cutter, it really packs the meat tight. Any meat you choose to use will be delicious and hold together. This recipe will make four big burgers, eight mini burgers or a dozen appetizer size burgers.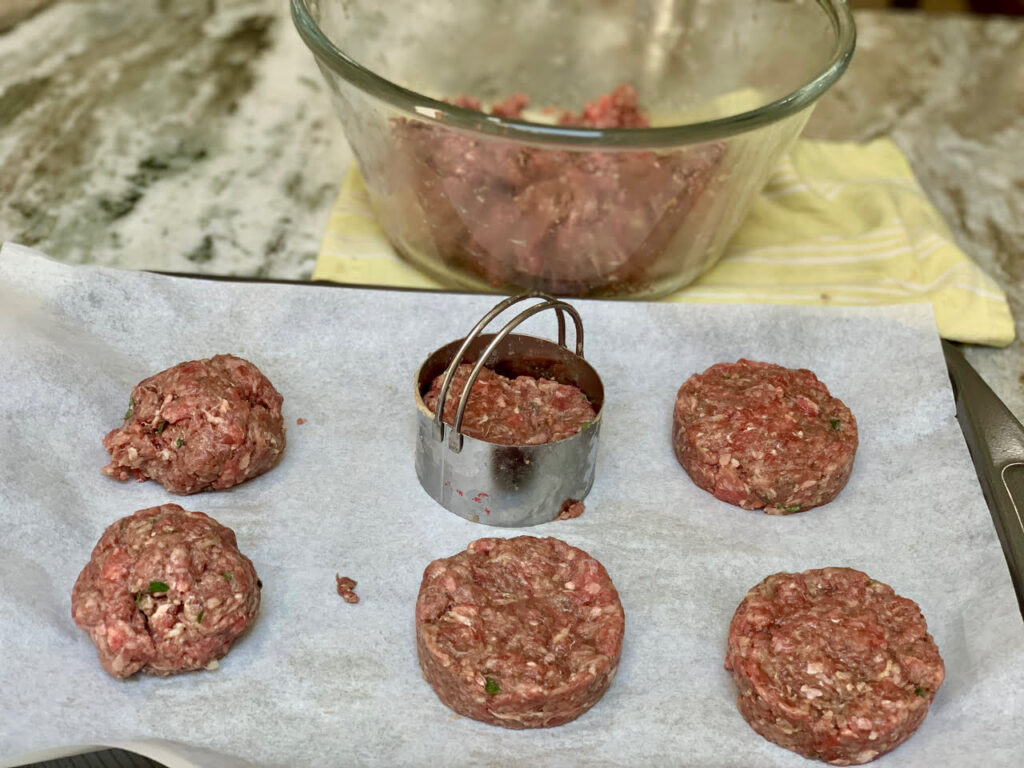 Eggs, breadcrumbs and other fillers are not necessary in holding burgers together while cooking, if the meat has been kneaded (a Middle Eastern technique in preparing ground lamb for a variety of dishes or eaten as tartar) in the preparation. Kneading the meat, with the pureed onion and salt, breaks down the minced/ground meat and aids in tenderizing the meat. Enzymes in onions, make for a great tenderizer without draining the natural juices in the meat. This technique keeps the ground meat from breaking loose from the burger patty when cooking, therefore filler is not needed to hold it together.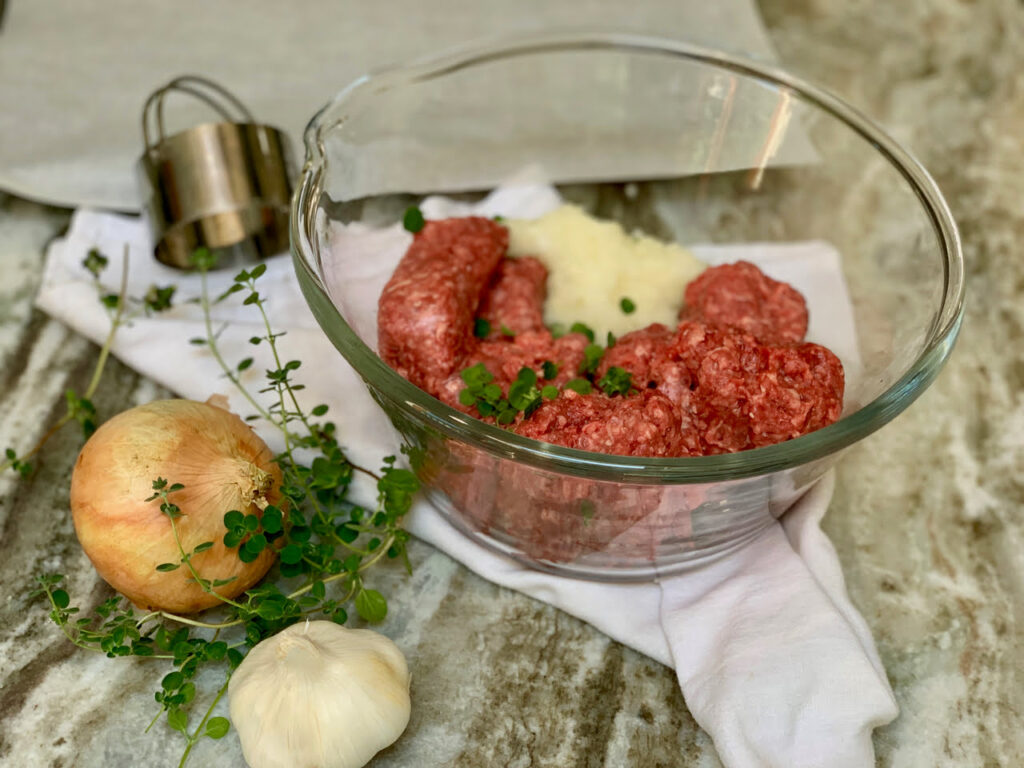 Stovetop cooking on a sizzling hot cast iron pan or popping these burgers on the grill, are two great ways to cook the burgers. Placing meat on a piping hot piece of metal sears and seals the outside quickly therefore keeping all the juices inside of the burger.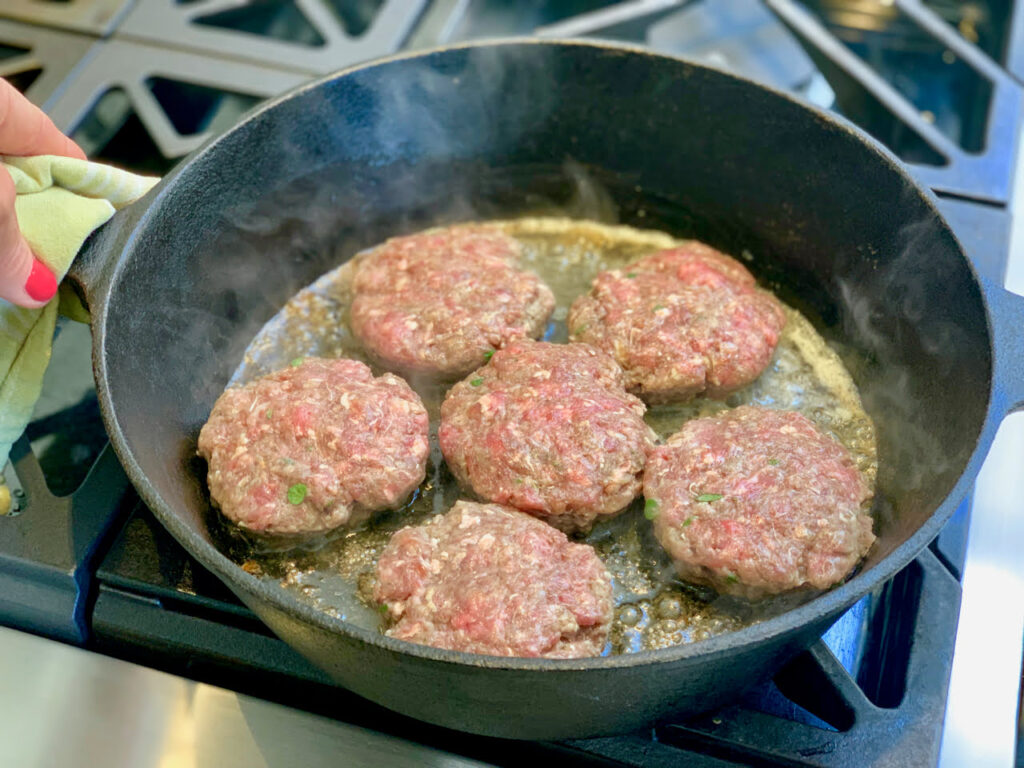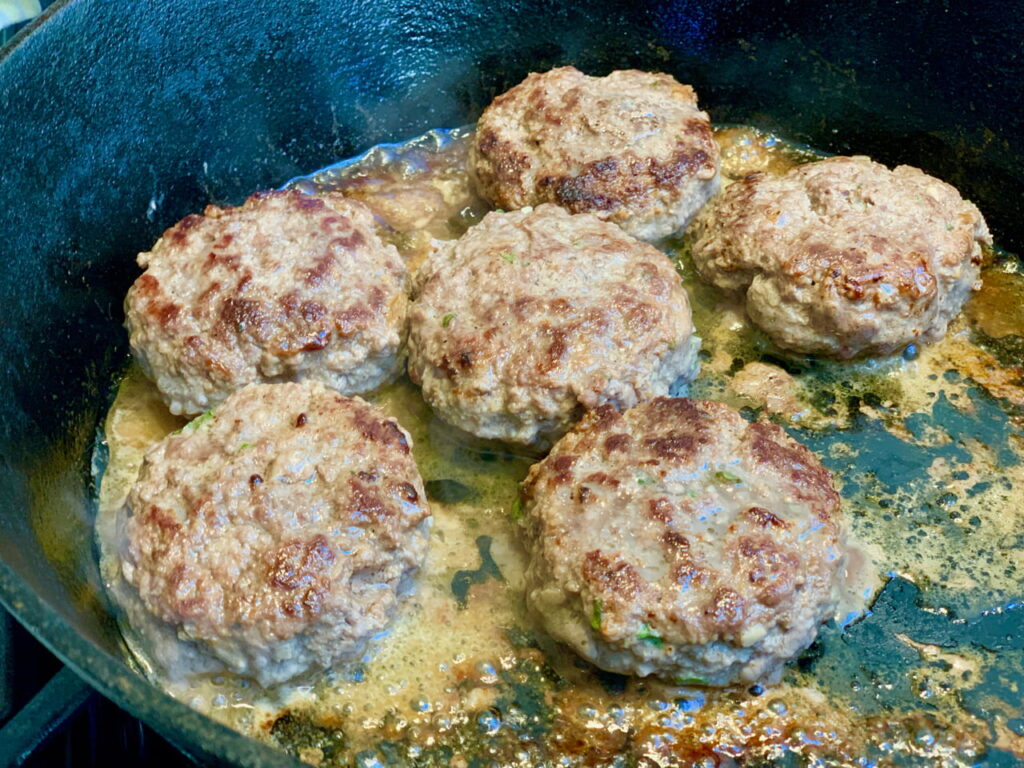 Burger Buns
While there are a variety of burger buns sold in the grocery stores, often sold in slider sizes now too, make certain to choose a bun that doesn't get soggy when the burger is added. A good brioche type of bun holds together well. Another bun I like to use is called a pretzel bun. The dough in both of these is a little denser and compliments a hot burger nicely.
Homemade Burger Buns are, of course, the best way to go simply because you know exactly what ingredients go into the dough and they hold together beautifully. I make these often throughout the summer months and love to add grated cheese, even olives to the dough, making these buns stiff competition for the burger!
Another trick my professional chef son told me to do, when I competed on a Food Network show, was to be certain to grill the inside of the bun should I make something that required a bun. I did. I made crab cakes and the judges raved over the bun!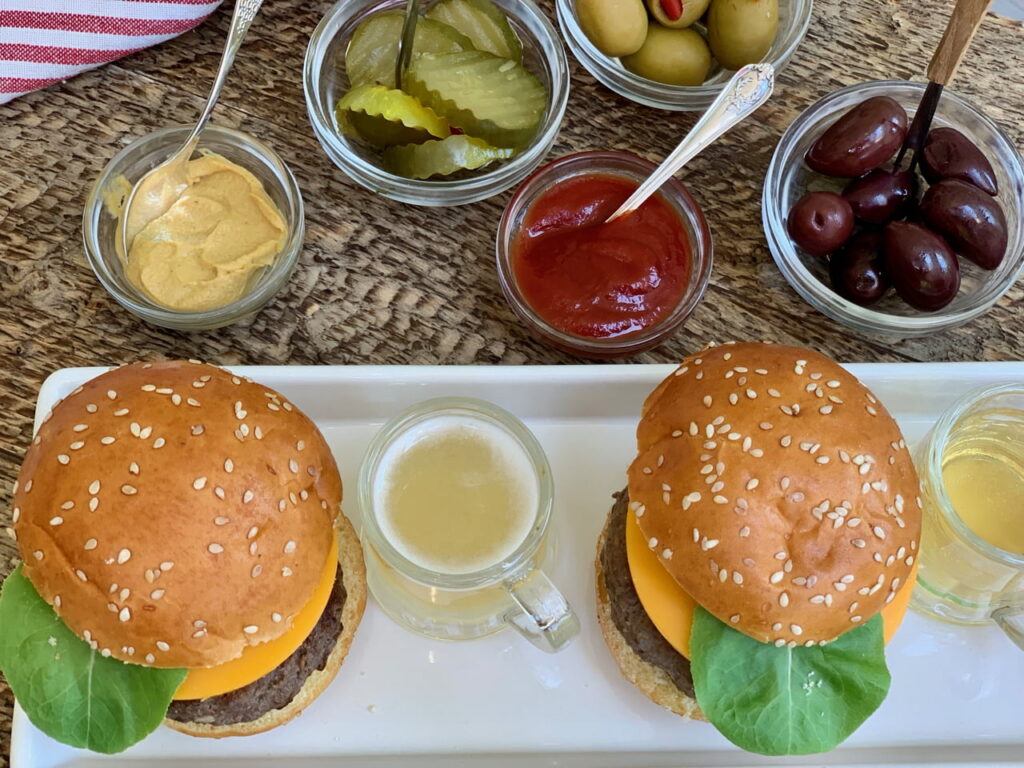 Ingredients Needed
Ground meat of your choice
Onion
Garlic
Fresh herbs
Coarse salt
Olive oil
Butter
Equipment Needed
Mixing bowl
Blender
Mixing spoon
Cast iron pan or frying pan
Metal spatula
Knife
Biscuit cutter or round cookie
Stovetop or burner
Oven – if making your own buns
Party Burger Or Slider Recipe
Course: Appetizers u0026amp; Tapas, Meat
Cuisine: American
Ground beef, lamb or turkey, mixed with minced onions, garlic and a medley of fresh herbs, cooked stovetop or grilled.
Ingredients
Ground meat – 1 pound

Onion – 1 small, pureed in a blender or processor

Garlic – 2 cloves, pureed with the onion

Fresh Herbs – 1 tablespoon, Marjoram, Thyme or Oregano, finely chopped

Coarse salt – 1/2 teaspoon

Olive oil – 1 teaspoon

Butter – 1 tablespoon

Burger buns – 8, mini homemade
Directions
Place the pureed onion and garlic in a large bowl
Add the ground meat, herbs and salt.
Knead the mixture over and over again, as you would dough until almost paste-like.
Using a biscuit cutter the same size as the bun you will serve them on, pack the ring tight with the meat mixture then transfer each to a tray.
Heat the pan you will cook on. Add oil and butter and quickly place the burgers in the pan. About 5 minutes on each side, depending on how thick you formed them, and the burgers are ready.
If using a grill, melt the butter and add to the olive oil. Use this to brush across the grill grates.