Oyster stew with Maryland's own Old Bay seasoning, white wine, cream and mushroom, is winter's best gift from the bay.
Having grown up along the Chesapeake Bay of Maryland, we all know that every month with an 'R' is an oyster month, while those without belong to crabs!
My brother in law is a 4th generation waterman, working around the waters of the Chesapeake Bay. He keeps our family spoiled with the biggest and best oysters and years of stories that go with them.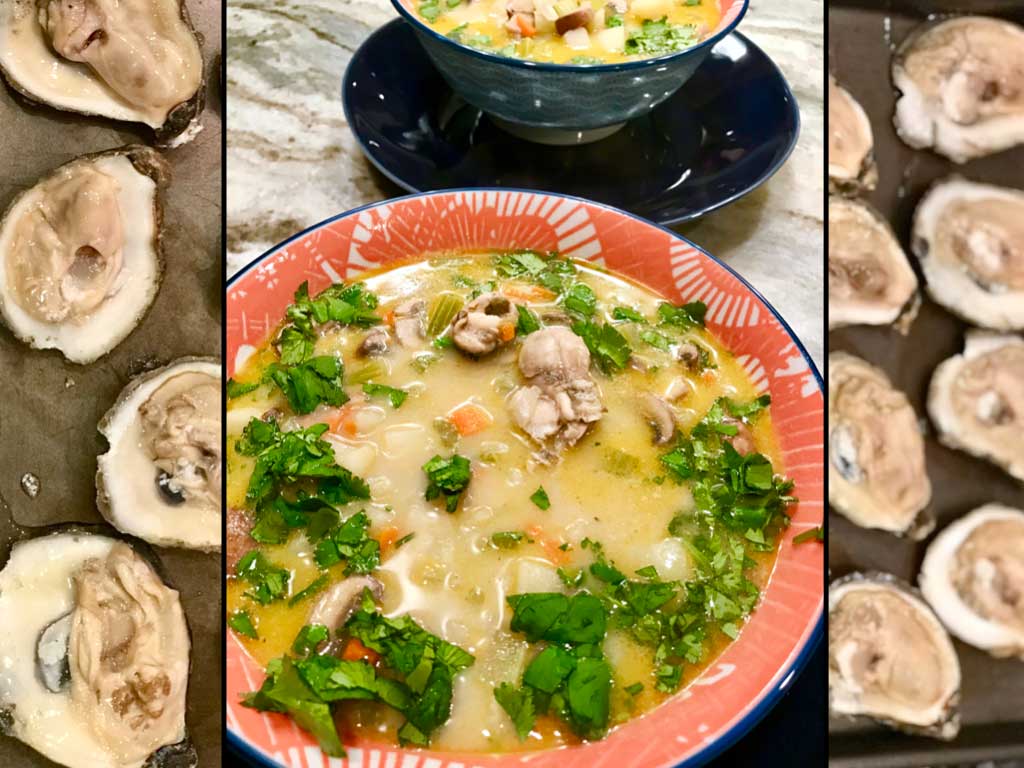 Dredging Maryland Oysters
Dredging oysters is not like fishing for other delicacies from the sea. They are imbedded in the mud at the base of the bay or oyster reefs that look like rocks.
There are many debates in the search for Maryland oysters as to how best extract them without removing too many that are not yet mature or ripping open the oyster reefs, so don't complain about the cost you must pay for your delicious oysters.
Getting them for you is not an easy task, and since they are only dredged in the colder months, it can be difficult conditions with which they are gathered for us Oyster lovers.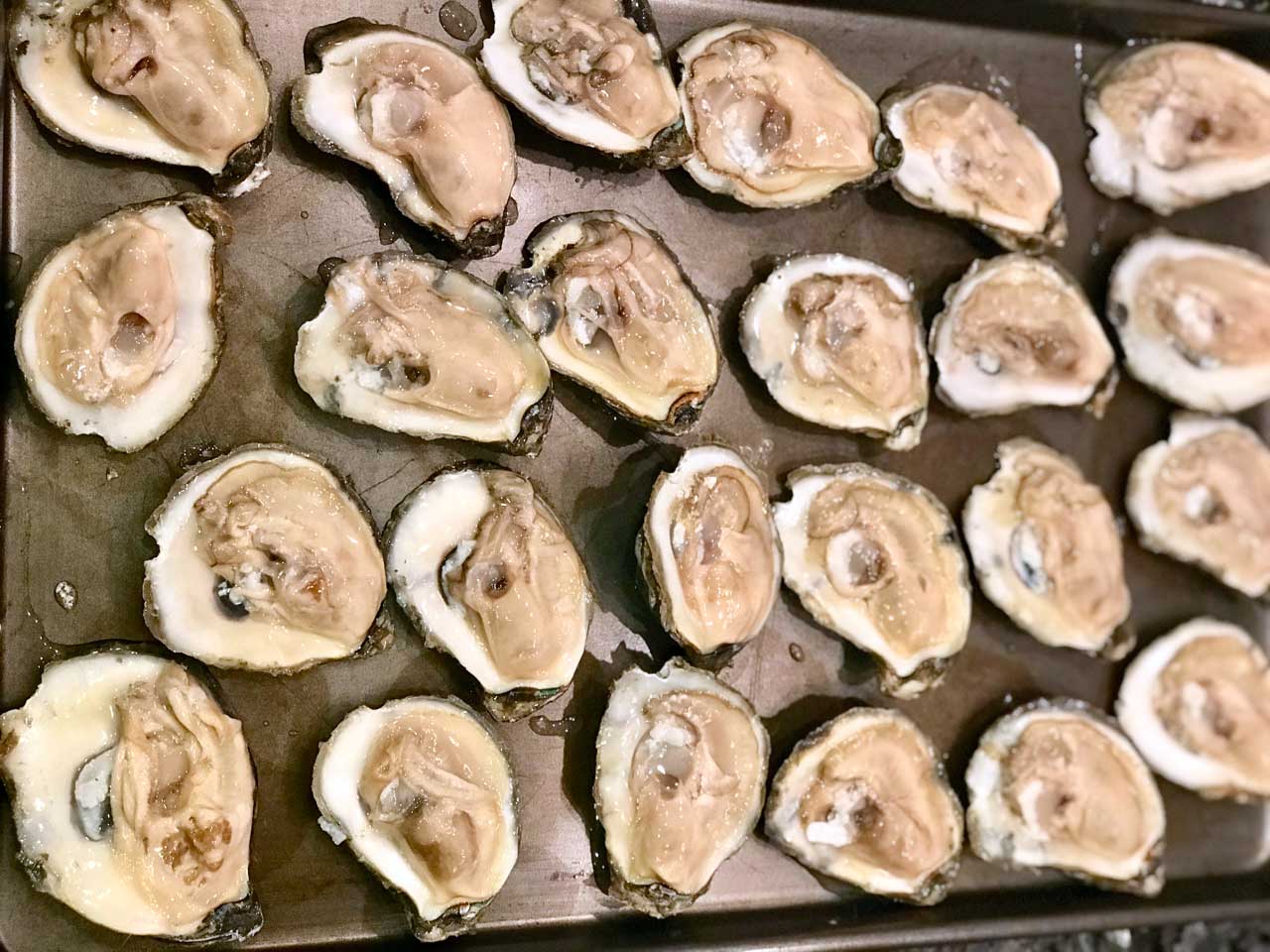 My Maryland Oyster Stew is an easy and delicious way to enjoy oysters but many still like to eat them raw, right out of the bay. Hah! Have you ever tried to shuck an oyster?
Without a terry towel, some rubber gloves and a Chesapeake stabber, a device with a thin, flexible blade, ain't no way to get those rocky, lumpy oyster shells open! This means you either learn how, or purchase the Maryland oysters already shucked.
I will admit, when having a large gathering, I buy them shucked. I keep a box of scrubbed oyster shells around to serve them in. Looks authentic to me!
How To Make Maryland Oyster Stew
If the best oysters in the world come from Maryland, and trust me they do, then we Marylanders know a thing or two about making Maryland Oyster Stew!
The briny liquid of the oysters, the secret blend of spices, lots of luscious cream and a splash of dry white wine for the best Maryland Oyster Stew!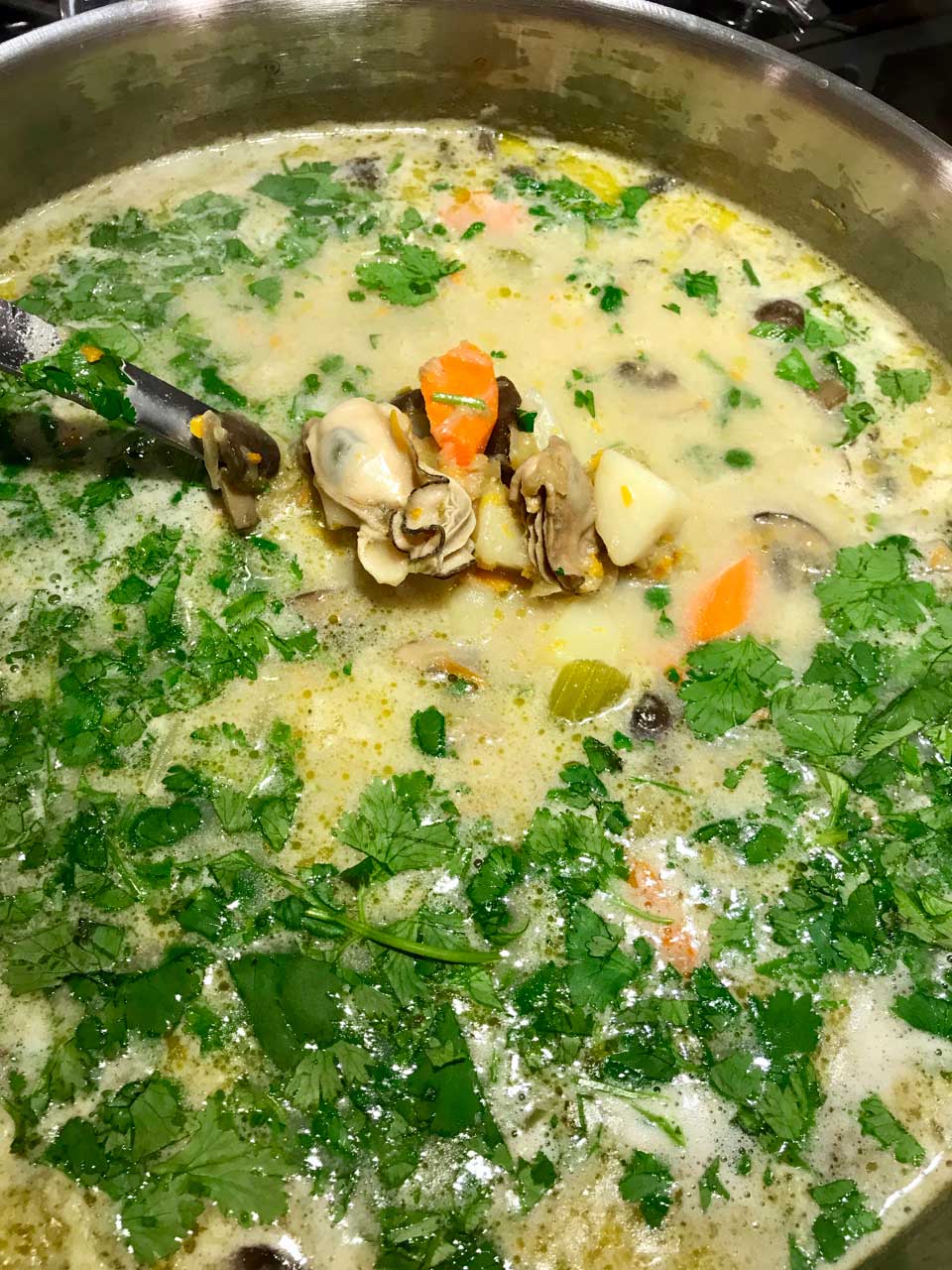 Marylanders, like any other state proud of something they produce, have as many variations of a great recipe as there are kitchens that make it.
Why is my oyster stew the best? Well, I have lived in Maryland, along the waters and tributaries of the Chesapeake Bay, since I was a little girl (and I ain't young)!
Many friends of my parents have lived here for several generations and have passed down the recipes they each knew and loved. I became aware that some of the same ingredients were found in the best of the best recipes I tasted. From there, I devised my own recipe.
I add mushrooms to my recipe simply because they add a similar texture as the oyster. It will make you think there are more oysters in the stew.
However, I also found the duo flavors of earth (mushrooms), and sea (oysters), brought a beautiful balance in flavor, if only psychologically.
While oyster mushrooms would be fantastic in the oyster stew, any mushroom will taste great.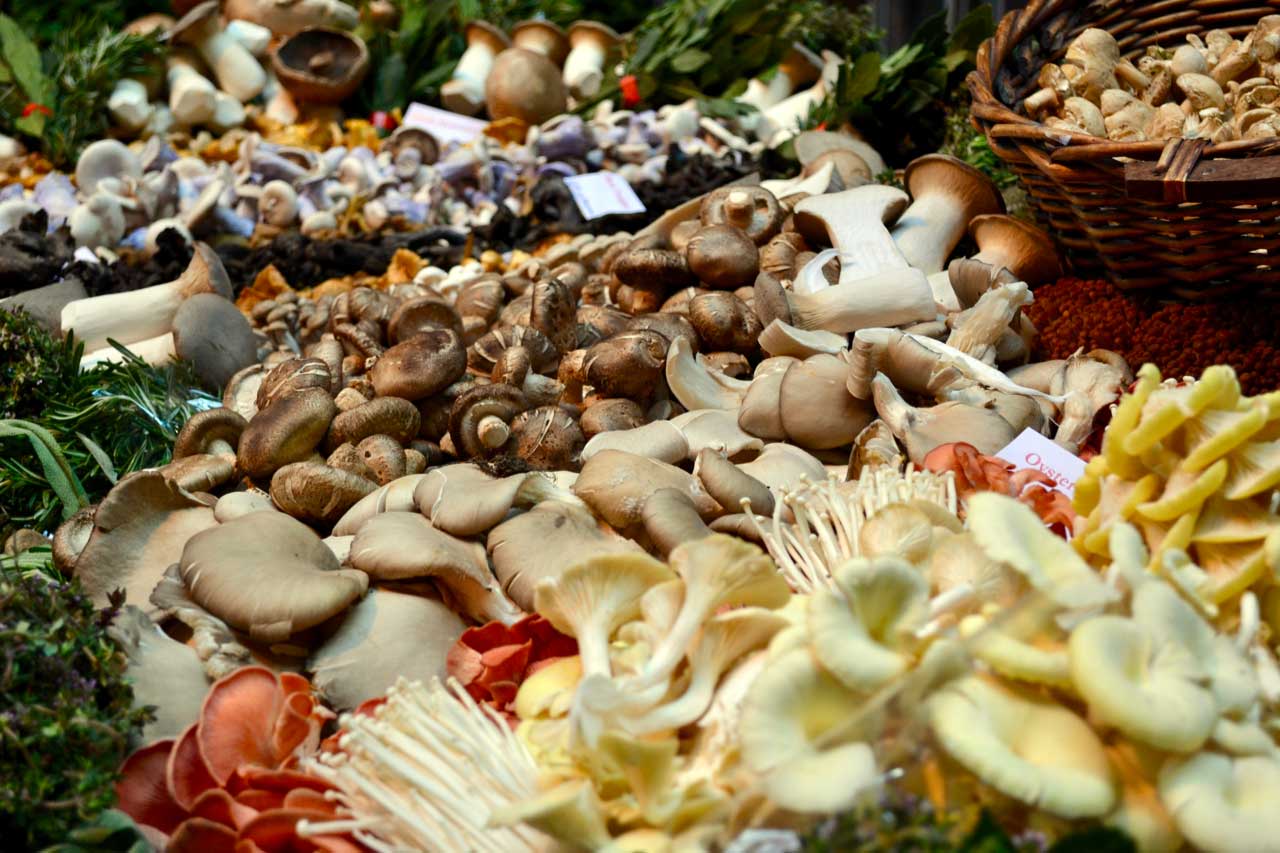 An important tip to remember when cooking oysters in a stew; don't over-cook them. They are delicious eaten raw, so they don't need but about five-minutes cook time. Add the oysters last, just before you plan to serve the stew.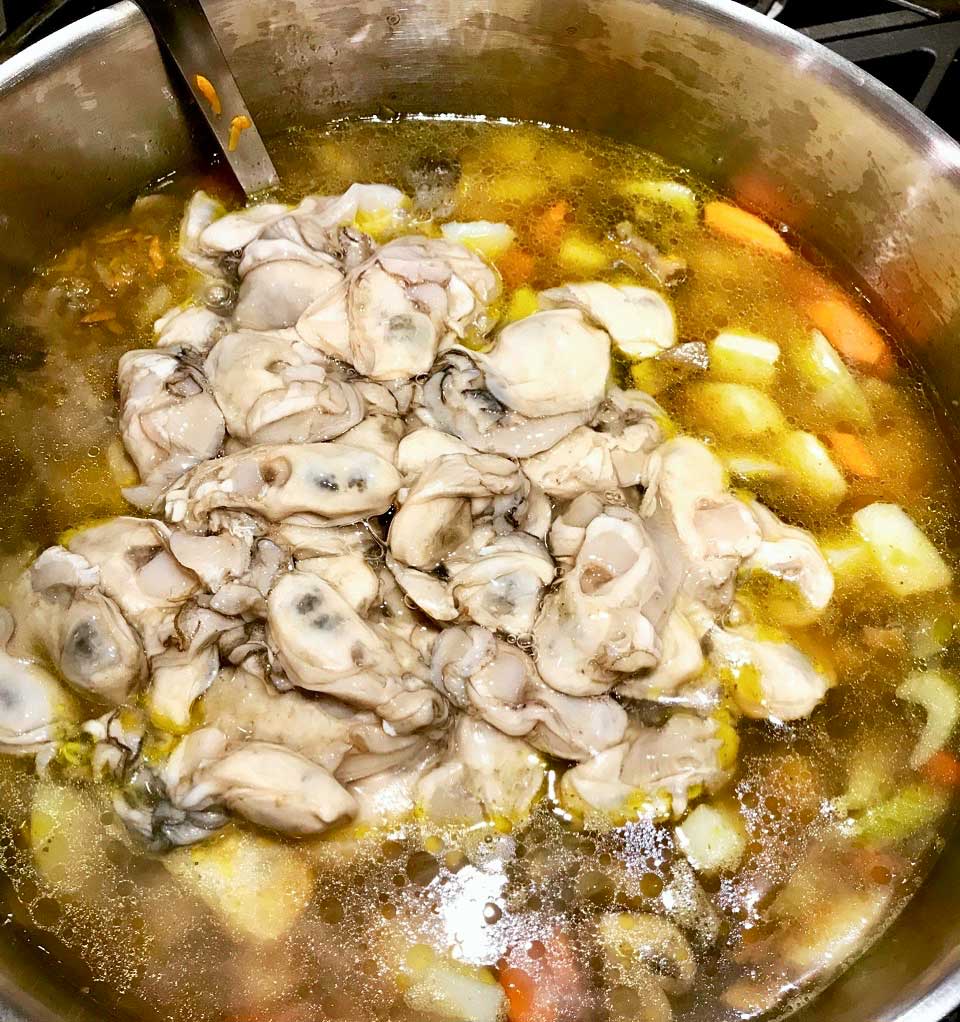 Ingredients Needed
Oysters and oyster liquid
Water
Salt
Celery
Onions
Potatoes
Carrots
Butter
Garlic
Worcestershire sauce
Heavy cream
Half and half
Bacon
Jalapeno
Cilantro
Old Bay Seasoning
White wine
Equipment Needed
Large pot with lid
Cutting board
Chopping knife
Measuring cup
Measuring spoons
Vegetable peeler
Cooking spoon
Stovetop or burner
A classic oyster stew from Maryland's Chesapeake Bay, of white wine, Old Bay seasoning, mushrooms and veggies.
Ingredients
Oysters – 1 to 2 pints oysters with liquid

Oyster liquid – 1 cup or bottled clam juice

Butter – 4 tablespoons

Shallots – 1/4 cup, finely chopped

Garlic – 2 cloves, finely chopped

Celery – 1/2 cup, chopped

Old Bay seasoning or J.O. crab seasoning – 1 tablespoon

Parsley – 1/4 cup, finely chopped for serving

Salt – to taste

Worcestershire sauce – 2 teaspoons

Black pepper – freshly ground

Dry white wine – 1/4 cup

Half-and-half – 2 cups

Heavy cream – 1 cup

Carrots – 3, chopped

Potatoes – 2 large, peeled, cut into cubes

Mushrooms – 1 cup, Oyster mushrooms would be grand
Directions
Saute the shallots, celery, garlic and carrots in butter, just long enough to see them start to change color, a minute or two.
Add the Old Bay seasoning, Oyster liquid or clam juice, Worcestershire sauce and wine, stir, then add the potatoes and carrots. Simmer on medium for a minute or two, then slowly pour in the half-and-half and cream. Bring to a low boil, not a rapid boil, add mushrooms, cover and simmer just until the potatoes test tender, about 5 minutes.
Slowly pour in the oysters, stir gently and cook for another 5 minutes or until oysters perk-up and form tight little balls. Never over-cook oysters, remember they can be eaten raw and don't need much cook time.
Sprinkle chopped parsley on top when serving for both garnish and a bright herbal flavor and scent.
Notes
Rich, full fat coconut milk is delicious as a substitute for dairy cream used in this recipe.