Gluten-free jalapeño cornbread in a rich batter of cornmeal and luscious thick yogurt, elevates an old southern recipe to the next level!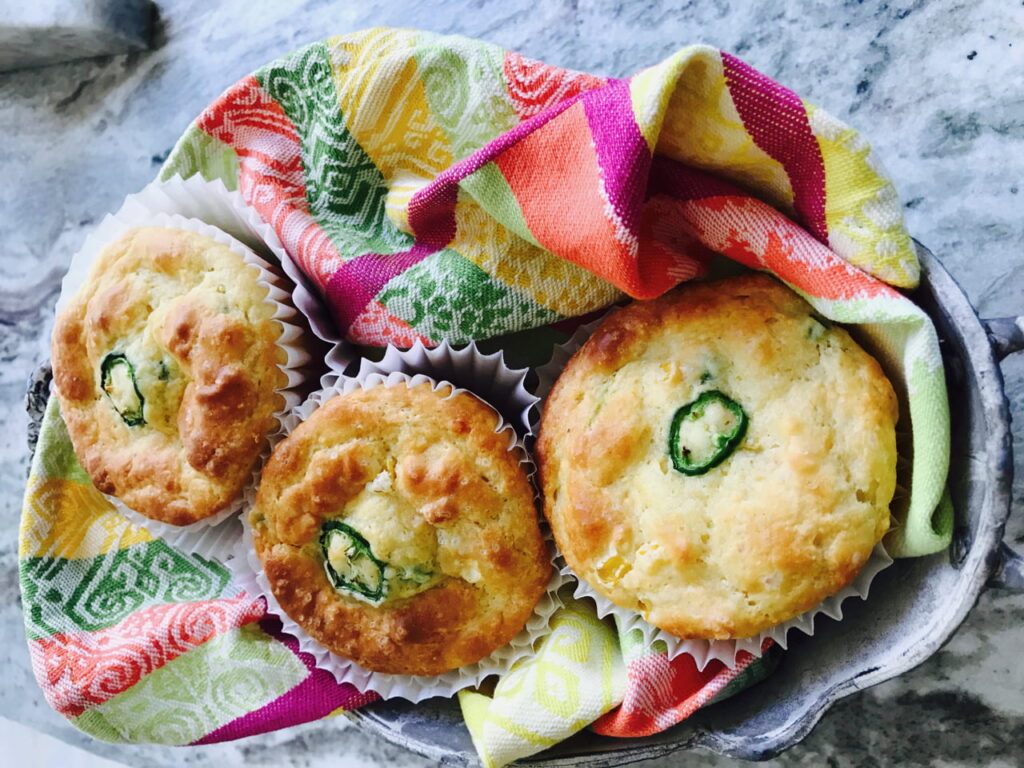 Cars Coffee And Cornbread
I won't lie… I love CARS! Sports cars, vintage cars, race cars, 'used-to-be' artsy cars!
While playing in my kitchen, a few years ago, with my bestie and favorite food blogger, we made my cornbread recipe to take to a home that invited us to view their massive collection of vintage cars.
While I was elated to take her to see the cars, I was really being quite 'nervie' because she is a true southern gal, and probably has made cornbread in a cast iron skillet since she was 'knee-high to a grass hopper'!
Me? I'm a Mediterranean raised gal that likes to put 'my twist' or roots on everything I cook. None the less, we had a blast and the cornbread what fabulous (as you can see in the video I shot, yeah I shoot film while in it too. Crazy me!)
Corn Season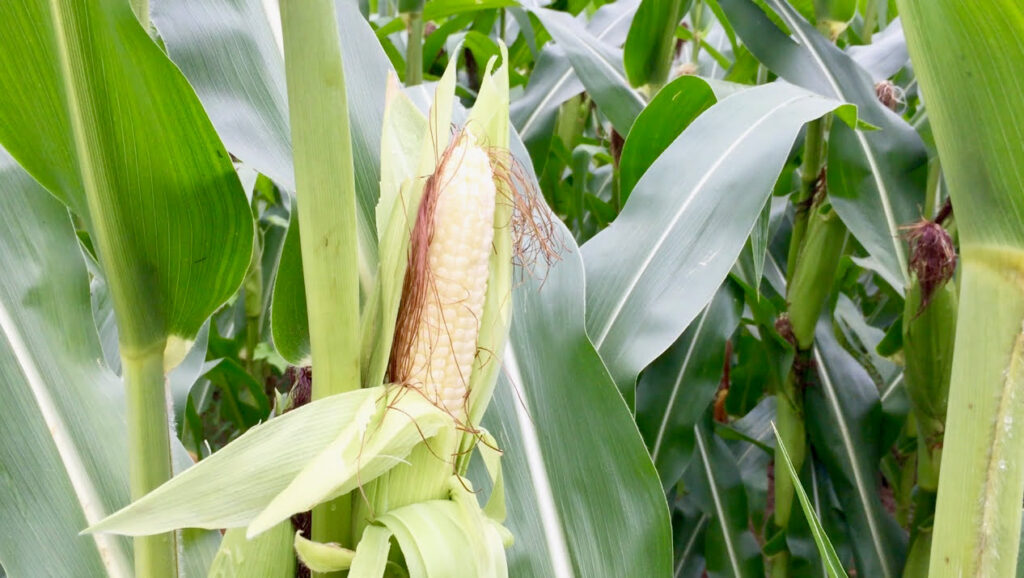 Living near an area where the seasons are marked, by what the local farmers are growing, often inspires the recipes I create, or re-create.
Having observed the pristine orderly rows and rows of four inch stalks of corn, a few months ago, that would soon be taller than me and lush with corn, inspired this new twist on an old cornbread recipe I have used for years.
I will also challenge you to experiment with an ice cream, yes ice cream, that is rich, creamy and made from freshly picked sweet corn! Corn Ice Cream.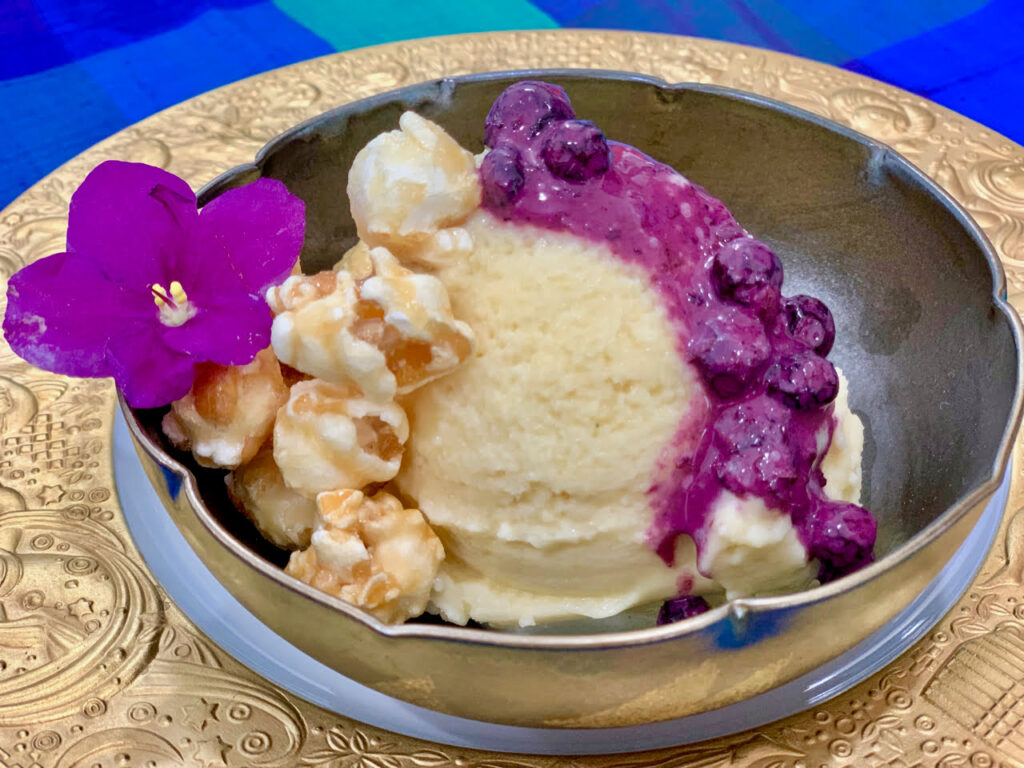 Cornbread
While cornbread, being a quick bread, is most often associated with the southern part of the United States or Native Americans, neither of which I am, it rarely has corn in it! Corn meal or corn flour, yes, but not corn. Why not put some in!
While corn meal or corn flour are not a gluten flour and often used in many recipes for gluten-free folks, nearly every recipe I had ever used (over the years), had wheat flour in it. Kind of a bummer for those that don't want, or can't eat gluten flour.
I recreated a new recipe that satisfied all the quirks I didn't like about most cornbread recipes, and no… I do not use lard or Crisco either! Yuk!!
Growing Jalapeños
By the time the corn fields are ripe for the picking of juicy sweet corn, so are the multitudes of various peppers I have grown in my garden. Sweet cornbread is nice, especially for breakfast, but why not a spicy hot, Latin flavored cornbread!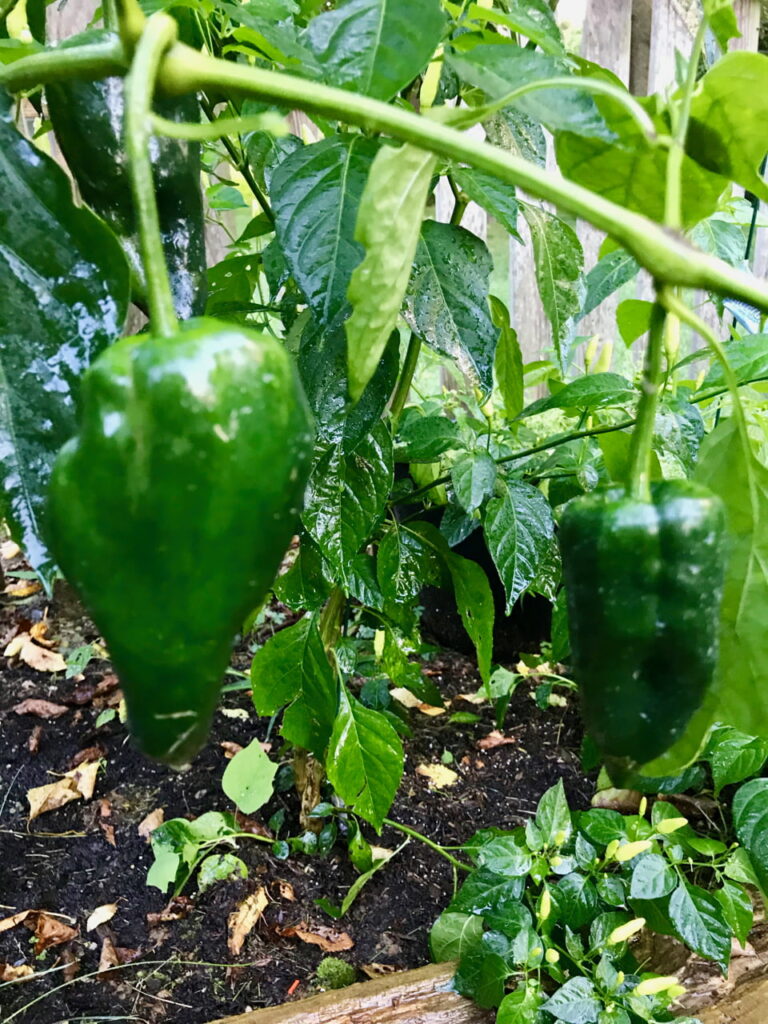 I love this recipe with chopped jalapeños throughout the batter and a 'warning' slice right on top! I found peppers to be one of the easiest things I grow in my yard.
The only finicky aspect of them, is waiting for them! They are often drought tolerant, and don't take up much room but planting a seed in April and not being able to pick until
August can make you wonder why you bothered… until their color pops up all over and the flavors are amazing freshly picked, or frozen for later in the year.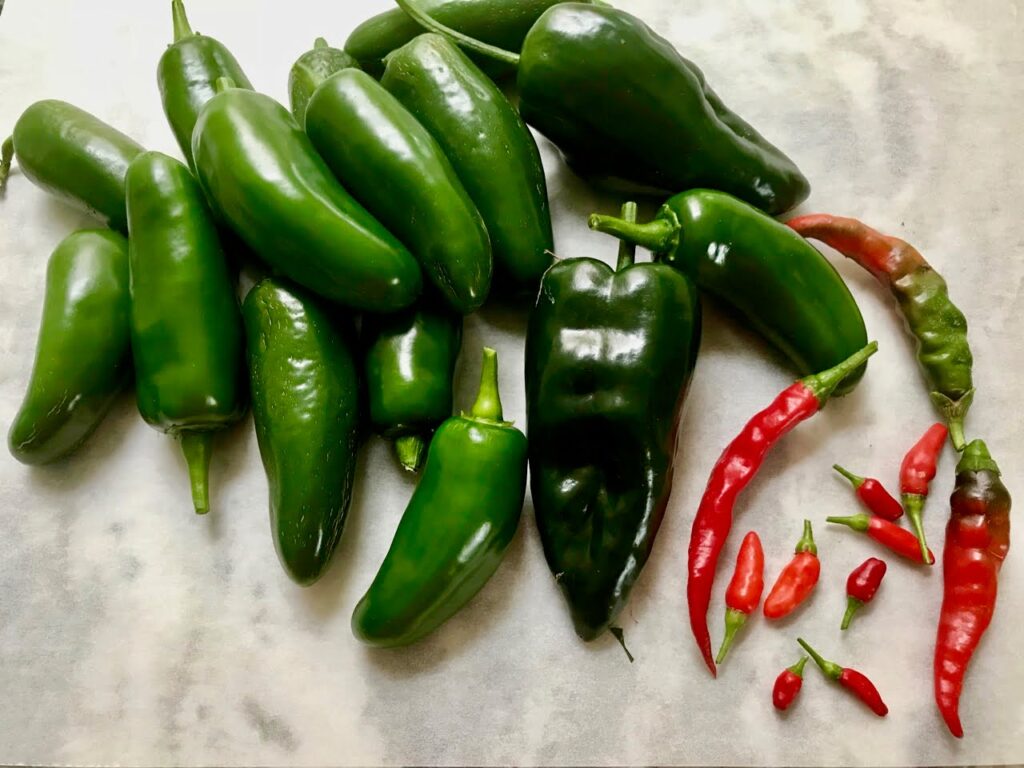 Gluten-free Quick-Bread
Gluten, particularly in wheat breads, have become very controversial these days. And while it has been determined that gluten is not harmful to most people, unless you have a celiac disease, some folks just would rather not eat it, or at least in moderation.
Gluten, however, is the one tried and true aspect of knowing that breads, cakes and pie crusts will bind together easily and beautifully most every time.
Replacing gluten flour in recipes requires using some type of starch that can do the 'binding' job. I have had the most luck with potato starch but if you are a die hard gluten-free cook, I'm sure I could learn much from you.
For this reason, in this recipe I have used one of the tried and true brands of gluten-free flour.
How To Make Cornbread
Making cornbread is as easy as mixing the batter for your favorite cake or muffins; wet ingredients, dry ingredients and something to make them rise, usually baking soda and baking powder. But these are 'Corn Bread', so I am giving them a little extra TLC!
For the wet aspect, I am using buttermilk and the luscious creaminess of thick plain yogurt. Plain yogurt has the zing of sour cream, the richness of cream cheese and is… let's face it, healthier!
The fresh corn (or frozen if it's all you have), and peppers will get folded in just before baking. Be sure to place one thin slice of jalapeño on the top of the batter before baking. I use this as a 'warning' sign that this cornbread has extra pizzazz!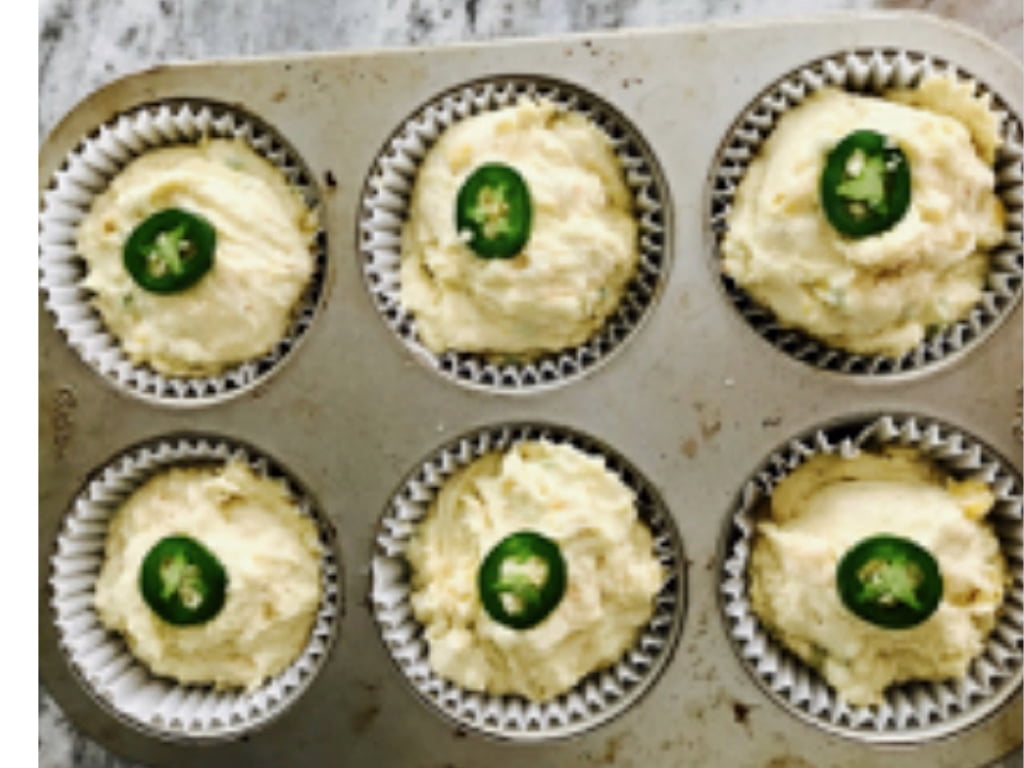 While cornbread, traditionally, was made in a cast iron pan, a loaf pan or muffin tins work nicely, especially when you go to serve the cornbread.
For a really fun treat, around Halloween, I have devised a fabulous cornbread recipe with pepper and bacon, using skull molds which really compliment the vibe of a spicy hot cornbread treat.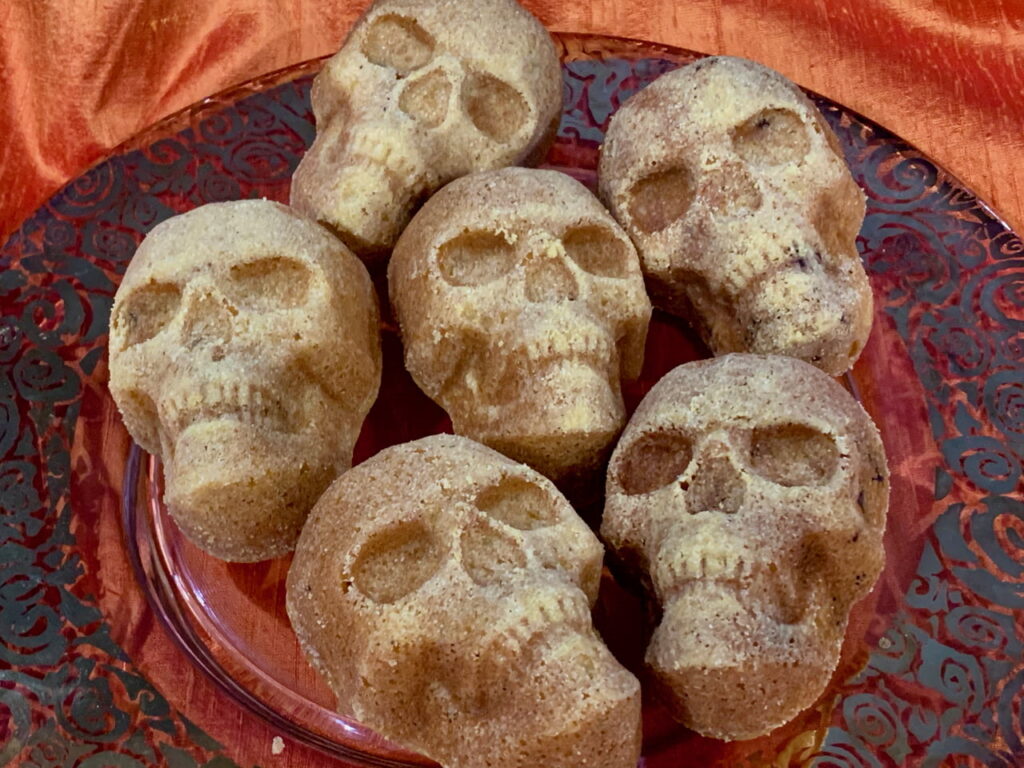 Halloween Pepper Bacon Cornbread
Ingredients Needed
Gluten-free flour
Corn meal
Sugar
Baking powder
Baking soda
Salt
Plain yogurt
Eggs
Buttermilk
Olive oil
Corn
Jalepenos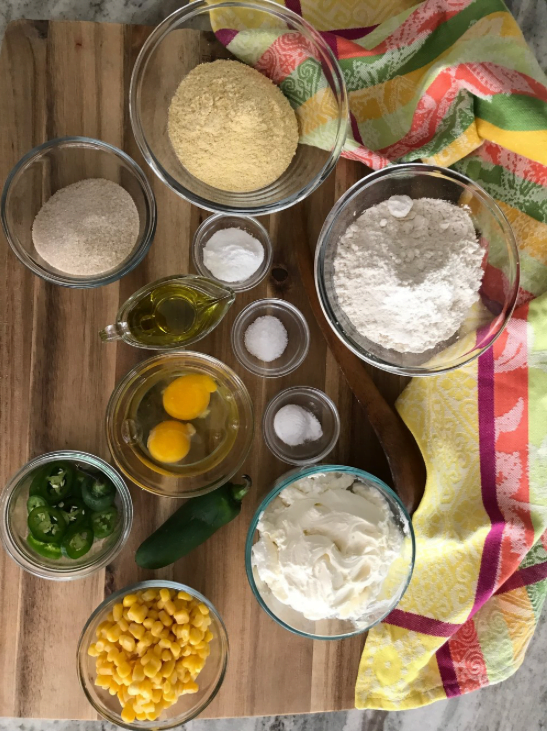 Equipment Needed
Mixing bowl
Measuring cup
Measuring spoons
Wooden spoon
Whisk
Muffin tin
Baking paper cups
Cutting board
Chopping knife
Oven
Gluten-free Jalapeño Cornbread
Course: Bread Muffins u0026amp; Crackers
Cuisine: American
Fresh corn and jalapeño in a rich quick-bread batter of gluten-free flour, cornmeal and luscious thick yogurt.
Ingredients
Gluten-free flour – 1 1/2 cups

Corn meal – 3/4 cup

Sugar – 1/4 cup

Baking powder – 1 tablespoon

Salt – 1/2 teaspoon

Thick Plain Yogurt- 1 cup

Baking soda – 1/2 teaspoon

Eggs – 2

Buttermilk – 3/4 cup (see notes)

Olive oil – 1/3 cup

Corn – 1 cup

Jalapeños – 1, finely chopped, plus more for garnish
Directions
Mix the flour, corn meal, sugar and baking powder in a bowl and set aside.
In a separate bowl, mix the yogurt and baking soda. Stir and let it set for 5 minutes.
Add the eggs, oil and milk. Whisk to incorporate.
Fold in the dry ingredients, add corn and finely chopped jalapeño. Add a little extra milk if needed to made a smooth batter (not runny nor dry).
Place batter into prepared muffin tins (non-stick spray, or cupcake papers), or a loaf pan. Arrange very thin slices of jalapeño across the top and a sprinkle of coarse salt.
Bake in a 350 degree oven until tester (toothpick), comes out clean.
Cornbread will last up to a week in the fridge or freezes well.
Notes
Buttermilk can easily be substituted with regular milk and a 1/4 teaspoon of lemon juice or vinegar.