Red lentil soup was not a soup I grew up eating, but when the new year rolled around with all the new promises to eat healthy, I decided it was time I created the most perfect healthy and delicious soup of ginger, carrots, red lentils and an amazing profile of spices to kick off the new year.
The Perfect Lentil Soup
When I first made red lentil soup, with vegetable stock and lots of spices, I felt there was one small element missing to deepen the flavor and give it a bit more earthiness, since vegetable soup can often taste light, and sometimes a bit too 'Yin' for my liking, if you know what I mean. It was then that I decided to add black tea and ginger to the red lentil vegetable broth to give it that 'Yang' flavor I was looking for. Poof! Just like that, the mild red lentil soup came alive with flavor and would satisfy the picky requirements of both vegan and meat eater!
The Ginger Carrot Red Lentil Soup Army
Sometimes, we just want to eat clean, light and healthy. This is often true after we have over indulged in great food, drink and celebration after the long holiday season. A hot bowl of this ginger carrot red lentil soup is the perfect solution for times such as this, particularly during cold and flu season and now while we are all in want of strong immune supporters to combat the ugly new virus.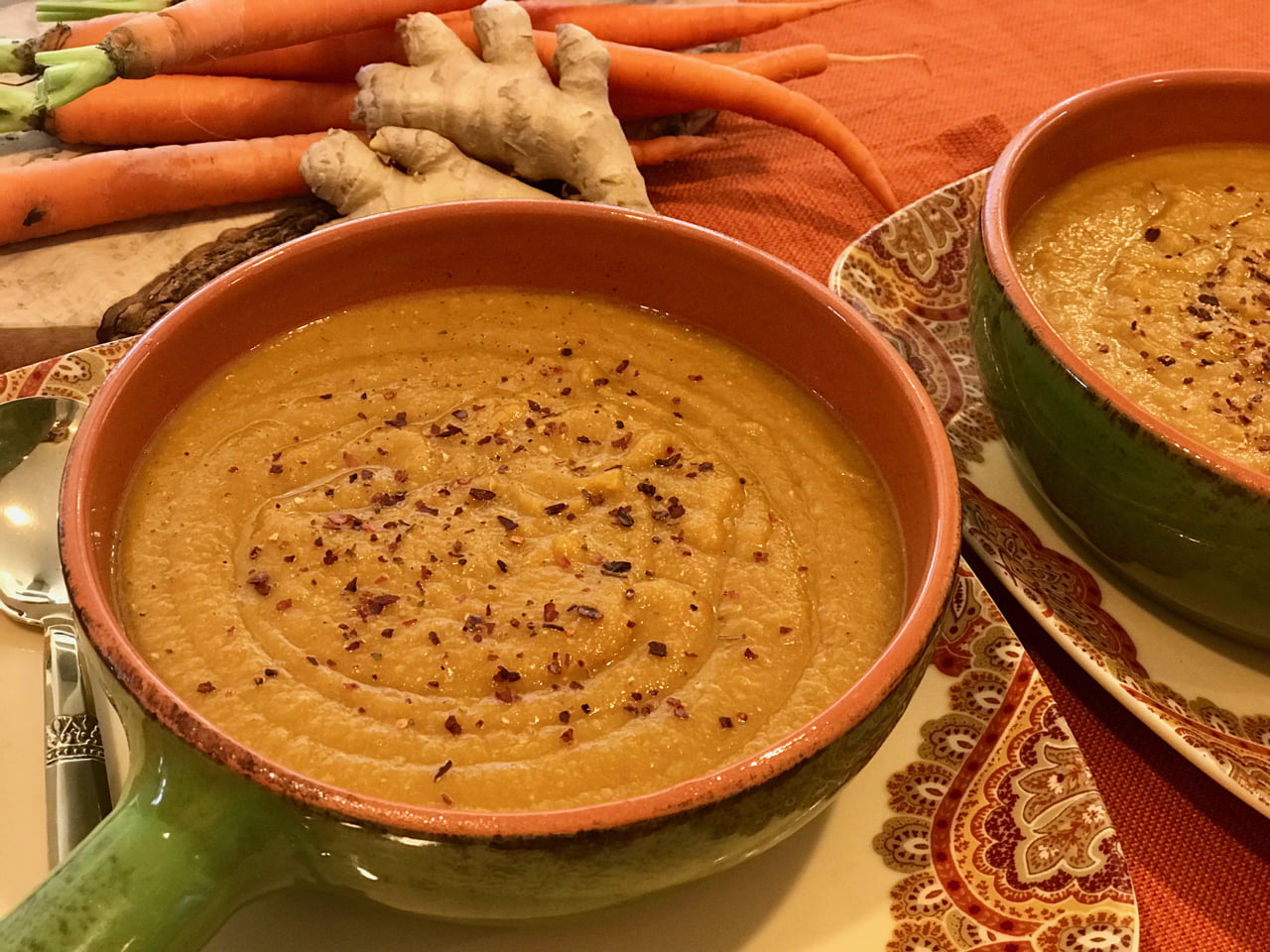 Orange Is Not The New Black
It seems that every year, when January rolls around, which where I live is cold, dark, and surrounded by naked trees, I am in need of sunshine and all things bright and cheery. Orange, for me, is the happiest of all colors. Why? Because for me, it makes me think of the sun, warmth, energy and life. When I created this red lentil soup recipe I was looking to load up on some delicious Beta Carotene, in the form of carrots, turmeric and red lentils, and have a heaping help of fresh ginger for all those tummy bugs that love to invade us in the winter. Orange! The red lentil soup quickly took on the appearance of sun, warmth, energy and life! Call me kookie, but this girl eats with her eyes!!
Lentils vs. Black-Eyed Peas For The New Year
Rewriting history, or just starting a new tradition, I always say! Somewhere in my growing up years, I remember my mom started making black-eyed peas for New Years Day. My mom remarried a southern gentleman after my parents were divorced and it was then that those peas came into the family.
As my own foodie world evolved and I began questioning food and tradtions, their origin and history, I started eliminating numerous things out and creating new recipes for a variety of reasons.
Black-eye peas came with a history that made me feel sad, and so I stopped the tradition in my own family. Black-eyes peas were thought to bring good luck dimply because during the Civil War, black-eyed peas and discarded portions of the pig, were left behind for those enslaved to eat, because these food items were thought of as animal food. Good grief! While I am sure folks were happy to have something to eat during difficult times, I decided I didn't want to carry on a tradition that was rooted in ignorant and selfish behavior. So, I created a new, happy and healthier one of my own. My red lentil soup, brightly loaded with carrots, ginger, spices, health and love, became the new 'good luck' soup our family started off the New Year with.
How To Make Red Lentil Soup
This soup is fast and easy to make, just under an hour from start to finish. Red lentils, unlike most dried beans or peas, cook quickly in broth, rather than needing to be soaked over night, simmered for hours and then added to the recipe.
Once all the ingredients are chopped and spices measured out, everything gets tossed into a pot to simmer for 45-minutes. This red lentil soup is also a perfect meal to prepare, portion out and freeze for those days when there is no time to cook, so by all means, double this recipe and save yourself plenty time in the months ahead.
The Perfect Ginger Carrot Red Lentil Soup
Ingredients
Carrots – 3 – 4 cups, chopped

Onion – 1 large, chopped

Olive oil – 2 tablespoons

Red lentils – 1 cup dried lentils

Ginger – 2 heaping tablespoons, freshly grated

Turmeric – 1 tablespoon, freshly grated

Lemon juice – 1 whole lemon juiced and a little zest

Coriander – 1 teaspoon

Cumin – 1 tablespoon

Cinnamon – 1 teaspoon

Vegetable broth – 8 cups, homemade or store bought without tomatoes

Black tea – 1 tea bag

Salt and pepper to tast

Honey – 1 heaping tablespoon

Optional toppings – smoked pepper flakes, toasted nuts or for your 'need-to-eat-meat' folks, a handful of cooked bacon
Directions
Warm olive oil in a soup pot. Add onions and saute for a few minutes. Layer in all the ingredients, adding broth last. Cover, bring to a boil, lower, and simmer for 45 minutes. 
Uncover, remove tea bag, add honey, stir and cool enough to puree in batches or with a hand mixture.
If serving right away, warm the soup back to desired temperature. Otherwise transfer to small portion containers and keep in the fridge. Last well in fridge for several days, or freeze small batches. 
Notes
Ginger and Turmeric are always best used freshly grated. It is where the most nutritional value and flavor will be found. When you see these roots in the store, buy several, peel, chop and freeze so they are ready when you want them.