With or without rum this strawberry daiquiri with lime, is the most refreshing icy drink you will sip all summer long!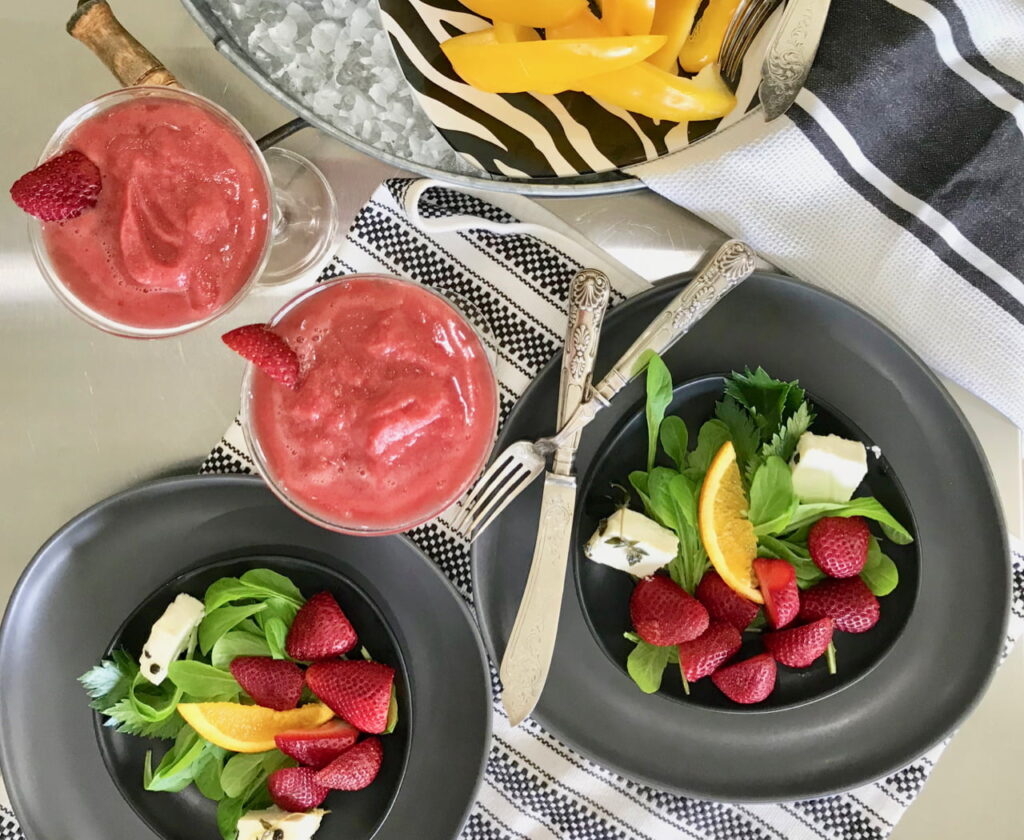 Frozen Strawberry Cocktail
It all started on a hot May afternoon when I visited a local 'Pick Your Own' strawberry patch and loaded up on baskets of juicy strawberries. While sorting out my treasures for lots of delicious recipes I chopped a handful of sweet strawberries and put them in the freezer thinking a smoothie later would be nice. 
By end of day, I had forgotten my strawberries were in the freezer until cocktail hour. The experiment occurred then.
While I know many cocktails are made with simple syrup I wanted mine with less calories. A few drops of stevia liquid, lots of lime, a splash of white rum, and my frozen strawberries and this drink has become my new favorite summer sip!
Strawberry Daiquiri
Most often a daiquiri is made with rum. After having spent much time in the Dominican Republic where the rum is absolutely the best, and then living in Brazil for several years where the Cachaca is also made from sugar cane and will whoop your butt, I knew a frozen strawberry daiquiri, done Brazilian style, using stevia instead of more sugar had to be fantastic. Yep! It is!!
A word about stevia. Real stevia is not a chemical mix of unrecognizable ingredients. It's a plant. I never knew you could grow stevia, but you can and it grows fast, tall and hearty!
The leaves are sooooooo sweet. All that is needed is to make an extract from the leaves by crushing a bundle of them, let them soak in alcohol (vodka, since it has little flavor), then just strain the sweet extract of stevia to use in cocktails or cooking.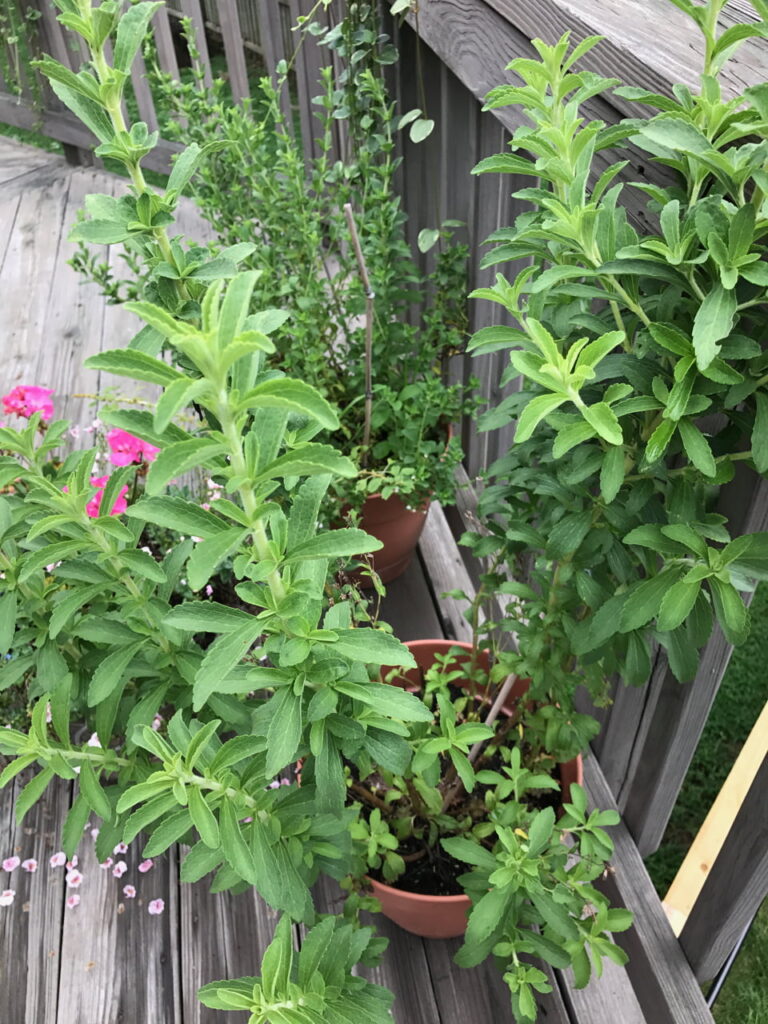 Frozen Cocktails
Ever had a slushy? Yummy! All a frozen cocktail is, is a slushy with booze! Lots of ice and liquid, a favorite flavor and booze and you've got a frozen cocktail. But, try tossing in a handful of frozen fruit, like berries, pineapple, mango or any favorite fruit that is soft enough to freeze and puree and you've got a great frozen cocktail!
Frozen Strawberry Mocktail
A frozen mocktail is definitely the way to go if you'll be drinking all afternoon poolside or boating. Also a delicious and healthy drink for the kids. A frozen strawberry mocktail is everything that would go in a frozen daiquiri, except the booze!
How To Make Frozen Strawberry Daiquiri
Purchasing frozen strawberries in the store and keeping a stash on hand in your freezer is of course a smart idea. Also a good idea is chopping a bunch of fresh strawberries during strawberry season and freeze small bundles for all the frozen drinks you want.
Into a blender goes the frozen strawberries, ice, lime juice and the booze of your choice. Whirl and whirl until it crushes into a slushy, pour into any desirable glass you want and put a slice of strawberry on the rim. A fabulous drink to go along with my favorite Strawberry Salads!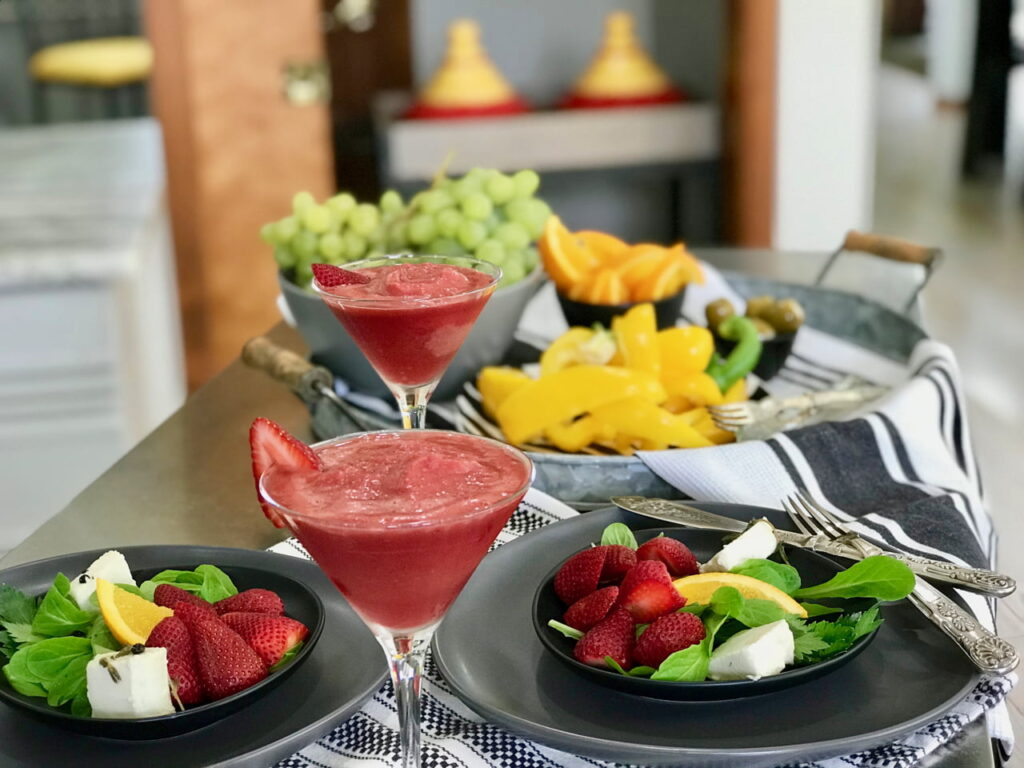 While May is usually when strawberry picking season is most popular across America, strawberries are available much of the year.
Make a special gathering for family and friends to celebrate some wonderful ways to enjoy strawberries, sweet or savory. An easy Strawberry Salad with fresh spinach, feta cheese and either bacon or smoked salmon with a Homemade Bread of your choice (from my huge selection) is all this special meal needs!
Ingredients Needed
Strawberries
Rum
Lime
Stevia, sugar or other sweetener
Ice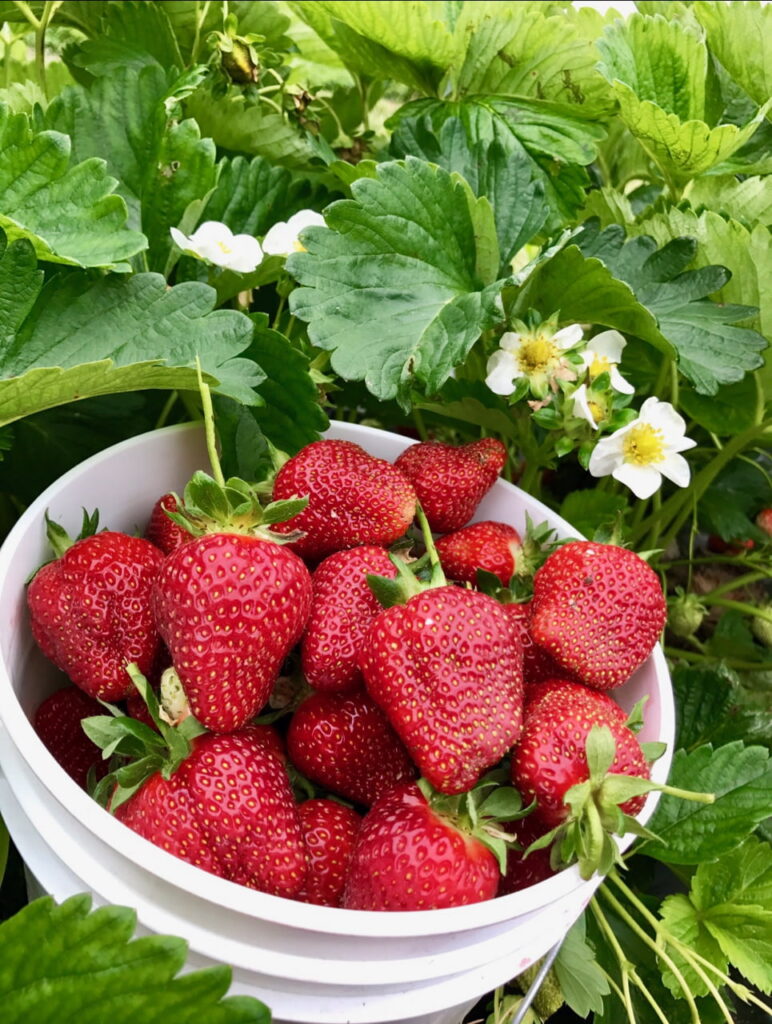 Equipment Needed
Blender
Cutting board
Chopping knife
Serving glasses
Frozen Strawberry Daiquiri Recipe
Course: Cocktails, Drinks
Ingredients
Frozen strawberries – 1 cup (a few extra for garnish)

Rum – 4 oz (more if you like)

Lime juice – 1 oz

Liquid Stevia – 6 drops (or 2 oz of simple syrup)

Ice – 1 1/2 cups
Directions
Place all ingredients into the blender and whirl until it turns to slush. Pour into 2 glasses and place a slice of strawberry on the rim of the glass.
Notes
If rum is not your thing, try vodka in this drink for even more of a strawberry flavor.