The Detox green smoothie recipe is a flavor packed superfood pureed with pineapple, mint and kale.
There are green smoothies (sweet, yummy and much like a shake), and then there is Healthy Green Smoothies that will detox your body from too many holiday sweets, way too many bottles (think about all the booze we've been consuming in 2020), and put back healthy nutrients in the body. THIS recipe is about as healthy as they gets!
As you can see by the ingredients, I went into my greenhouse to gather much of what goes in this luscious green smoothie recipe, but you will find everything in your grocery store, unless… you were like me and my kids, this past year, and decided to try your hand at playing in the dirt, set up a few window or deck pots, or perhaps planted a huge garden, then froze your treasures for the cold winter months.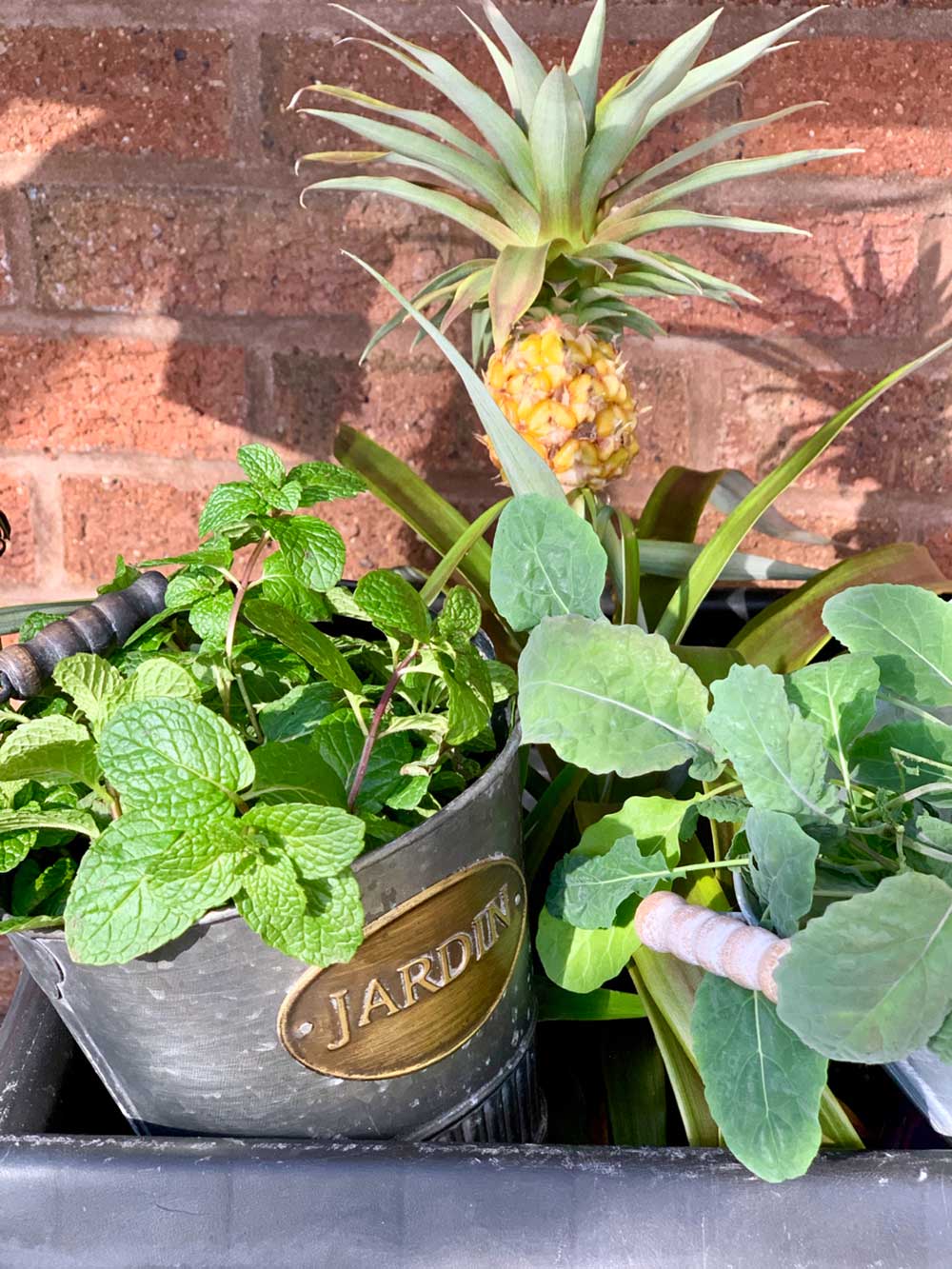 This green smoothie recipe was inspired by the three years I lived in Brazil, a country that is so far ahead of America when it comes to 'food as medicine'. On nearly every corner, in every city throughout Brazil are these amazing kiosks piled high with tropical fruits and vegetables, added protein and nutrient shots, all tossed into a blender for the most amazing health smoothies I've ever had. It was the first time I ever consumed raw beets and other raw veggies I never thought to eat uncooked, cause those were thrown in the blender too!
Abacaxi Com Hortela – Pineapple With Mint become my most favorite juice base for these fabulous smoothies. This powerful detox and immune boost combination fast became my go-to drink for what ever ailed me. Too much of everything the night before? Caught a cold? Felt run down? Tummy troubles? Body Aches? This was my cure all!
Pineapple In A Detox Green Smoothie
It seems as though our 'gut' is the root of most ailments we deal with, later causing inflammation in our body parts. I know of no other single food ingredient that has the powerful enzyme aids for digestion or simply to flush out the intestines than pineapple. Not only is it loaded with nutrients and disease-fighting antioxidants, but it has something in it that I have found aids in inflammation of both intestines and periodic achy joints.
For those of us that get Botox injections (you bet your sweet tahootie I do!), drinking pineapple juice for the week before the injections aids in preventing swelling or bruising. It works for me!
Mint In A Detox Green Smoothie
While mint helps to cut the sweetness of the pineapple in this green smoothie by adding a burst of cool flavor, it also adds a dose of vitamins and antioxidants. Greeks, for ages, have used mint tea as a remedy for tummy troubles. Brits use mint jelly along side their lamb dishes not only to brighten the gamey flavor of lamb but since lamb is a very fatty meat, it aids in digesting the meat. Having grown up with a Syrian mother, who made food in our home to taste different than all my American girlfriend's homes, she always added mint to our salads which seemed to bring out the flavors of all the other ingredients. So… in my detox green smoothie, I knew I wanted mint, AND it grows like a weed in my yard, even in the dead of winter!
Kale In A Detox Green Smoothie
Kale? Absolutely! Spinach has a definite flavor and so I didn't want it to combat with the pineapple, while kale has a sweet and mild flavor (when eaten raw), and was the perfect flavor companion for my healthy green smoothie.
Kale is considered a 'superfood' because it is powerfully packed with so many nutritious, immune supporting, antioxidant properties that I now have it growing in pots year-round! I toss it (freshly cut), in my soups, my omelettes but adding it raw to my green smoothie takes this healthy drink to a new level of 'healthy'! Loaded with vitamins A, C and K (a vitamin that plays an important role in bone health), I knew adding kale to this Superfood, Healthy, Detox Green Smoothie was exactly how I wanted to start off my New Year!
Making A Detox Green Smoothie
All you will need to make this healthy green smoothie is a strong blender. Everything gets tossed into the blender and whirled into a nutritious health aid you should try to drink at least once a week. Maybe consider making this you 'every Monday' drink to start of the week cleansing yourself from weekend shenanigans, just as I am planning to do, to start off this New Year.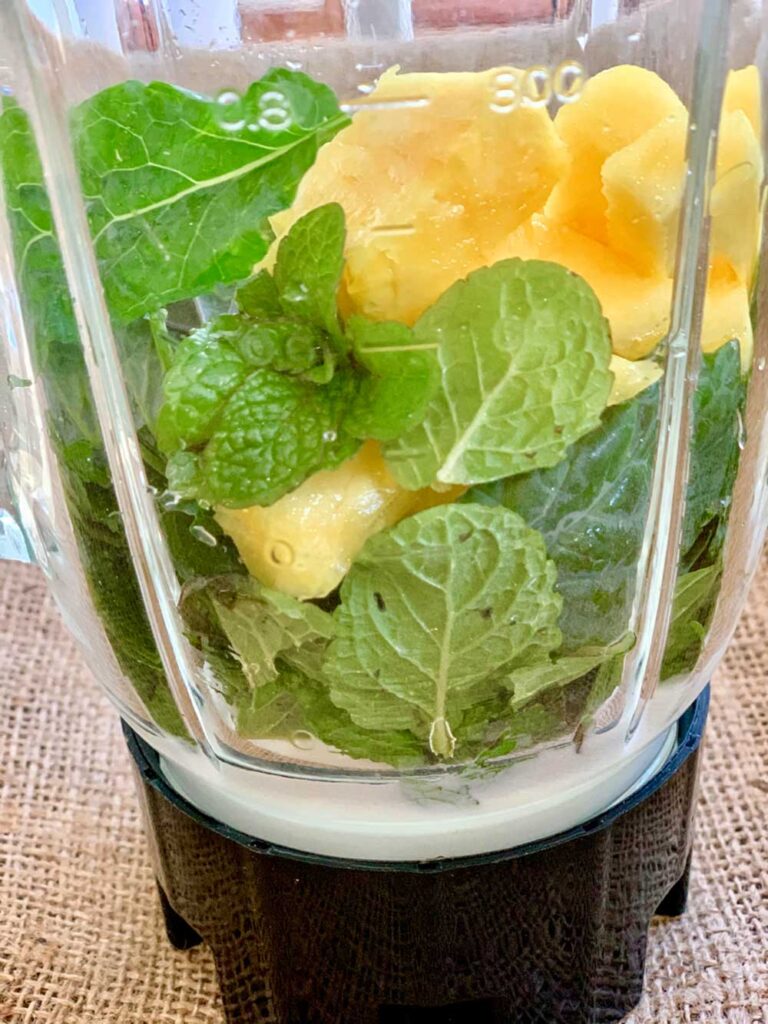 Liquid in this smoothie is an option. I added Kefir to this recipe simply because I was looking for an added dose of probiotics to round off this perfect superfood drink, but you can use a nut milk instead, or if your pineapple chunks are frozen, you won't need the extra liquid to puree this drink into a perfectly smooth, green smoothie.
The Detox green smoothie recipe is a flavor packed superfood pureed with pineapple, mint and kale.
Ingredients
Pineapple – 1 cup, chopped, fresh of frozen

Raw Baby Kale – 1 cup

Fresh Mint – 1/2 cup

Kefir or Almond Milk – 1/2 cup
Directions
Place the kefir or almond milk in the blender first. This helps everything to puree easily.
Layer the pineapple, kale and mint on top.
Puree for about 1 minute until all the lumps and bumps are smoothie. Enjoy!