Fig Jam – Hot or Sweet, with chilies and garlic or bourbon and sweet fresh figs makes a rich dressing, sauce or jam.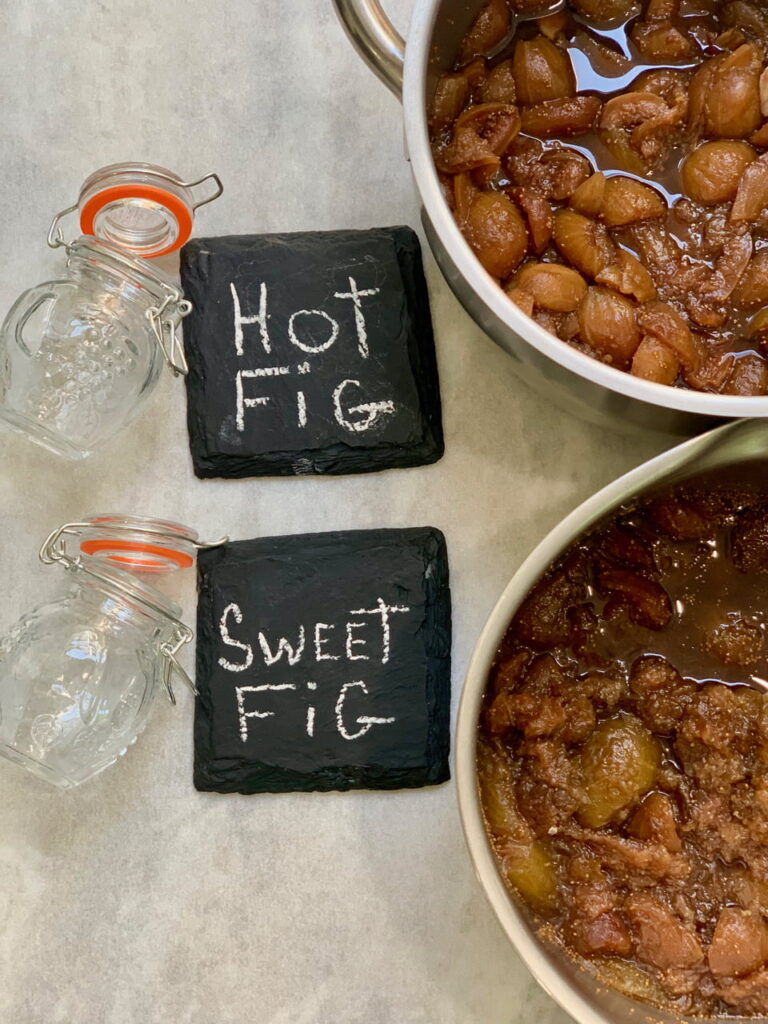 Fresh Figs
I love planting a fig tree, but it requires patience since it doesn't harvest a crop of fruit for nearly three years.
Do I think it's worth the wait? I absolutely think its worth the wait. Fresh figs can be used in so many different recipes.
My favorites can be found here, though I am continuing to create new recipes every year with my fig harvest.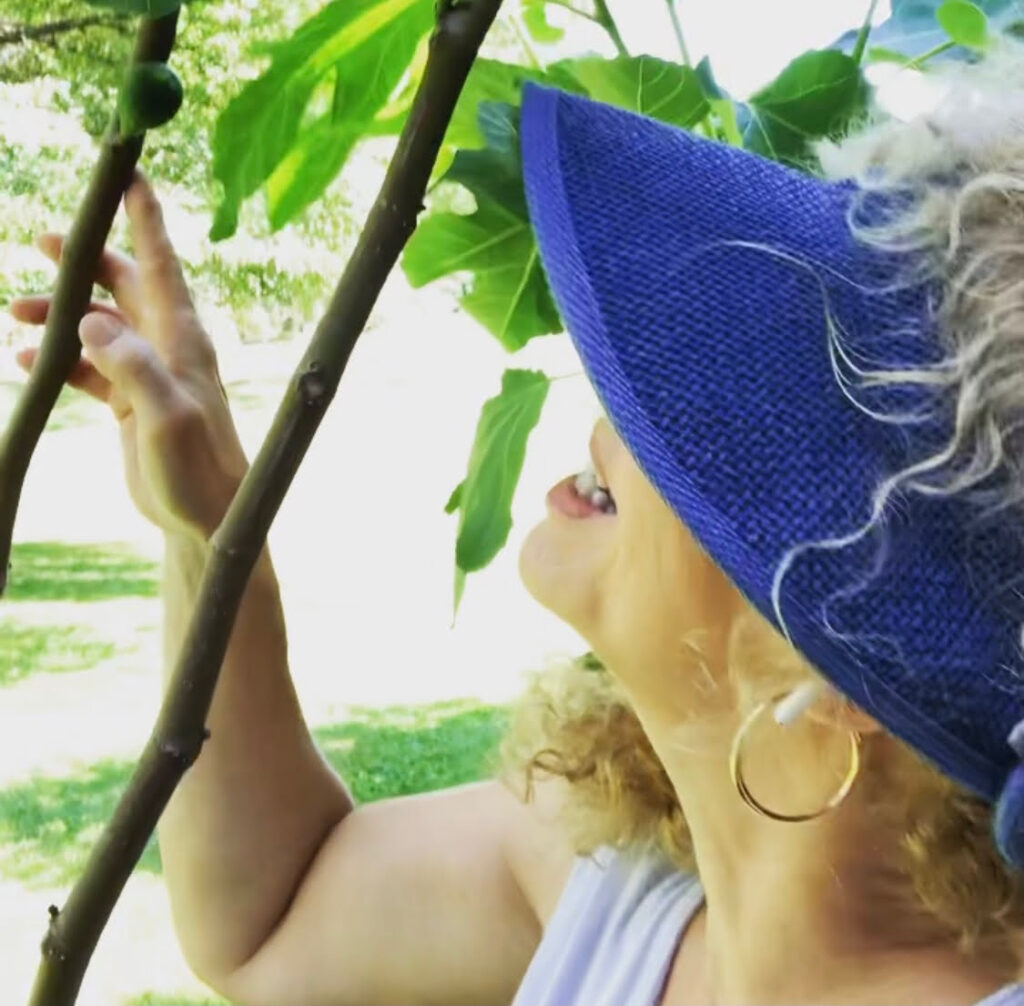 Fig Finale For Television
Surely you saw my Fig Finale in the summertime of 2022. This exciting opportunity on The Great American Recipe on PBS, gave me the opportunity to showcase so many of my favorite recipes on television.
I made it to the finale and for that, I knew I wanted to feature figs in as many ways as possible, if I was to cook in the finale.
What a fabulous finale it was! My favorite fig recipes (some of the above), were prepared by my son Tomio Daumit and myself.
The producers kept it a surprise, bringing a family member in the kitchen to cook for the finale with us. We all had a blast and cooked our very best, as though at home!
You may have missed the series during the busy summer months, but it can be seen through the PBS website or app.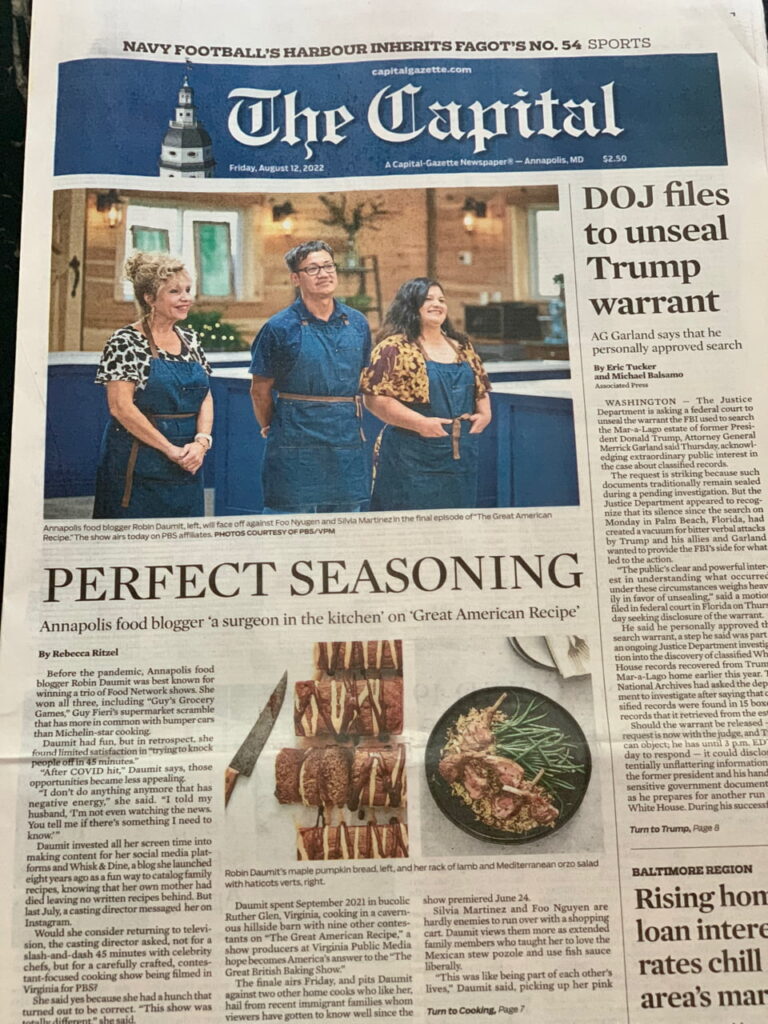 Spicy Hot Fig Jam
My spicy hot fig jam is what I prepared for the PBS special Fig Finale and with the salmon, it was fantastic!
Surely duck, pork, lamb and even chicken are ingredients you will find pair perfectly with the spicy hot fig jam as a sauce.
Though undoubedly a Mediterranean tapas spread, with goat cheese or brie and homemade bread or homemade crackers with fig jam will get your attention if meat is not your thing!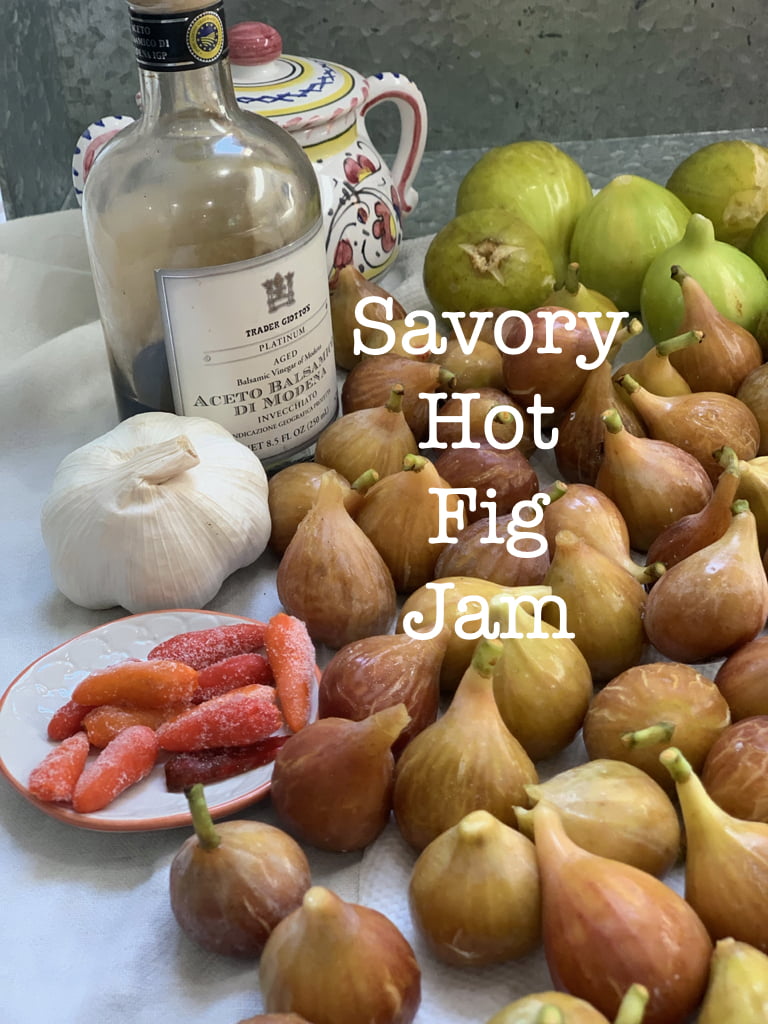 Bourbon Sweet Fig Jam
My morning toast, loves a schmear of fig jam to start the day in the lazy days of August and September. Come evening's dessert, simply drizzle a little sweet fig jam over vanilla ice cream!
Do you make Homemade bread? It would be delicious with sweet fig jam spread across the bread dough and rolled to bake with the jam inside.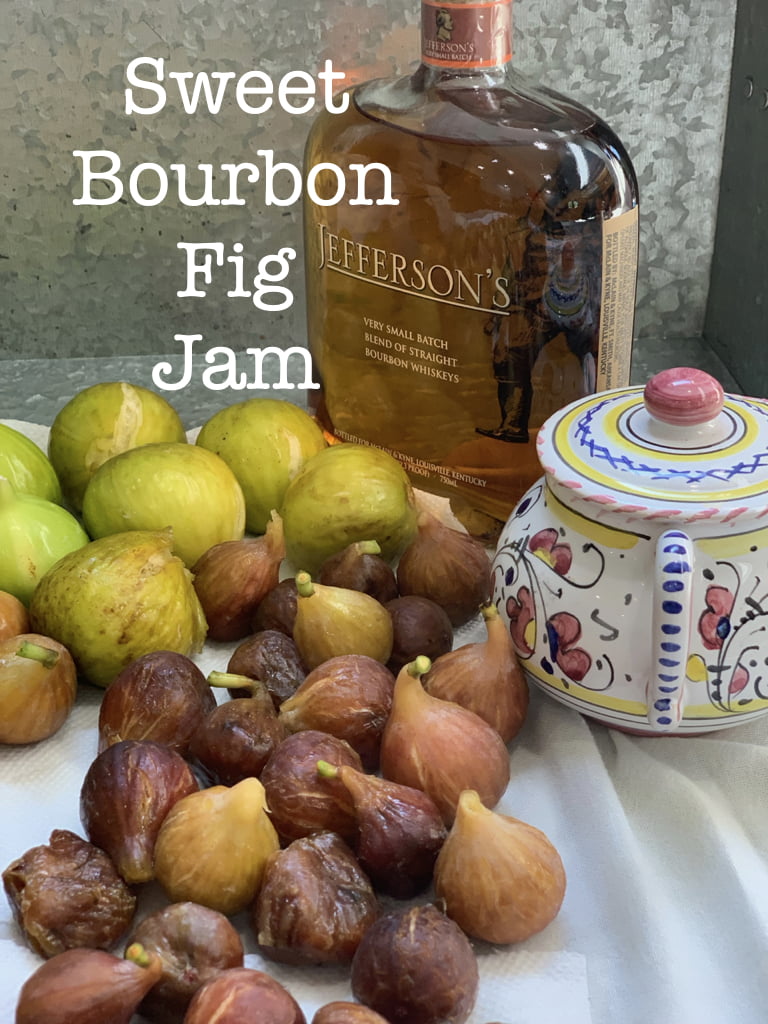 How To Make Fig Jam – Hot or Sweet
I find it such an easy jam to make and you will too. Farmer's markets, grocery stores, maybe even your neighbors are all heavy ladened with fresh figs by the end of August.
First, wash the figs and cut the stems off. Pat the figs dry.
Secondly, simply rough chop the figs and place in a medium size saucepan. Add the ingredients for either the sweet or hot jam, simmer about 20-minutes and cool.
Lastly, puree and transfer into airtight containers to either keep in the fridge for about a week, or in the freezer to use all winter.
Fig jam – hot or sweet, freezes beautifully to use for off-season cooking of many fig recipes.
Equipment Needed
Cutting board
Chopping knife
Saucepan
Food processor or blender
Measuring cup
Measuring spoons
Airtight containers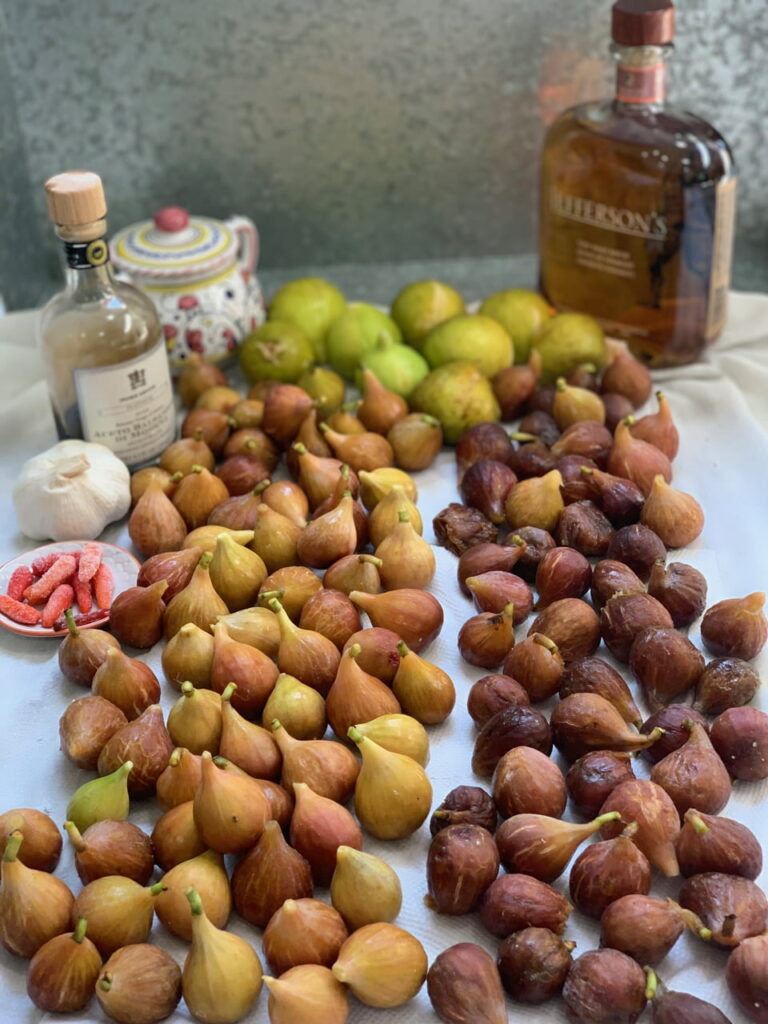 Ingredients Needed
Fresh figs
Bourbon
Balsamic vinegar
Sugar
Chili peppers
Salt
Garlic
Fig Jam – Hot or Sweet
Course: Sauces u0026amp; Dressing
Cuisine: Mediterranean
Difficulty: Easy
Sweet Bourbon fresh fig jam or Chili pepper hot fig jam for a variety of uses.
Ingredients
Sweet Jam

Fresh Figs – 2 cups

Sugar – 1/4 cup

Bourbon – 1/4 cup

Hot Jam

Garlic – 3 cloves

Chili peppers – 4 small

Balsamic vinegar – 2 tbsp

Salt – 1/2 tsp
Directions
For the Sweet jam only, place the figs, sugar and bourbon in a saucepan and simmer on low for 20 minutes. Cool and puree.
For the Hot jam add the figs, sugar and bourbon to the saucepan along with the garlic, chili peppers, balsamic vinegar and salt. Simmer on low for 20 minutes. Cool and puree.
Recipe Video
Notes
Store in closed containers in the fridge for a week or in zip bags in the freezer for several months.