No fish recipe of Morocco would be complete without the marinade of herbs, spices, garlic and lemon in this easy Moroccan salsa.
Home Cooking
Home Cooking can seem a challenging, daily task until we have collected numerous and diverse flavors to add to whatever it is we are cooking. Nowhere in the world offers such an array of spices, oils, herbs and flavors for cooking, like Moroccan Food!
Some of the oldest recipes in the world were first documented in this part of the world. Just google how many food related words come out of the Old Testament and the Quran; food stories that were first created in, what is now, Morocco, Andalusia and other parts of the Arab world.
While both of these historic scripts speak frequently about foods that are forbidden, prohibited or simply not recommended for the body, one area of food that is elevated and widely embraced in these ancient writings, are the many ways to flavor food. Spices, herbs, vegetables, grain, nuts and seeds are as old as… well, dirt!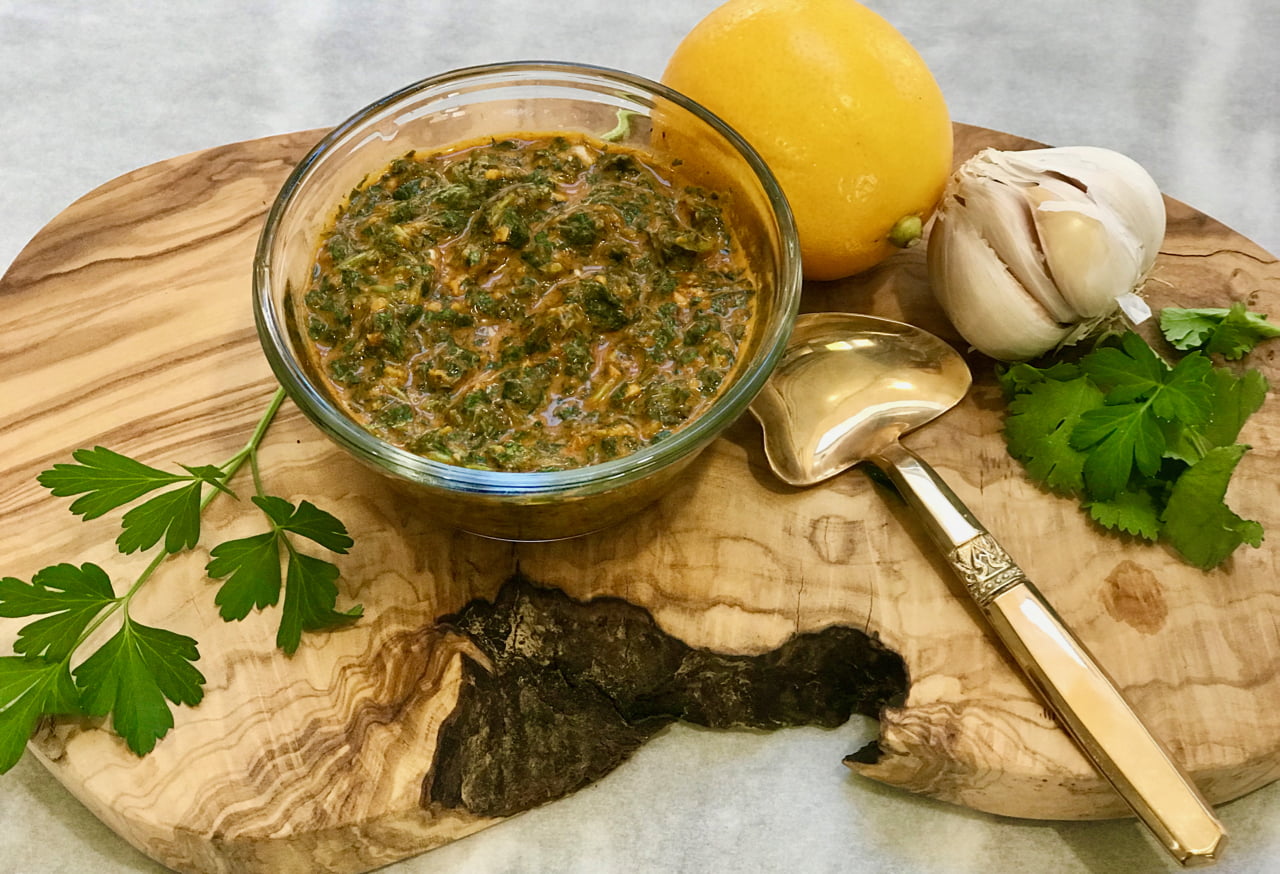 Sauces and Flavor Enhancers
Where would a goat, lamb, pigeon or fish get its exotic flavor, had it not been for the ancient cooking practices we enthusiastically embrace to this day? Today I would enjoy to share with you a favorite flavor enhancer; Chermoula. What is Chermoula, you ask? Moroccan food prides itself on the exotic and diverse flavors found in Moroccan recipes. Chermoula recipes vary a little depending on the fresh herbs that can be acquired, but Chermoula is made weekly in large batches and used throughout the week in numerous Moroccan recipes.
Marinade
What comes to mind when we think of 'marinade'? For me, it use to be something acidic, like wine, vinegar or citrus, and an oil. But with much travel and passion for other cultures and their flavors, I have come to embrace a marinade as something packed full of ingredients we combine, to impart great flavor into food. This, Chermoula, is now a regular in my kitchen and hope it will be in yours as well. While it is widely used in Morocco for fish dishes, I love it with meat and vegetarian dishes!
Salsa
Chermoula is to Moroccan Food, what Salsa Verde is to Italian and Spanish, and Chimichurri is to the Argentines; an uncooked sauce. Fast and easy to assemble and loaded with flavor.
Herbs
Herbs are an important element of cooking, especially in the cooking of Moroccan food. When I was growing up in America I only saw herbs used as a garnish in restaurants, but in my home with my Syrian mom, herbs were always used in salads and sauces. It is most common now to see American cooks gathering bunches of herbs tied together and used to flavor the cooking in liquids, such as sauces, stews and soups, but they retain so much more of their flavor when chopped fine and left uncooked. That is one of the refreshing aspects of this Chermoula recipe; it is loaded with freshly chopped cilantro and parsley.
Spices
Spices are something we Americans have only widely embraced in the last few decades. I believe we have television cooking programs to thank for that! Julia Childs, Graham Kerr, James Beard, Gordon Ramsay, Madhur Jaffrey, Martha Stewart and Nigella Lawson all contributed to my personal education in the cooking world and a broader understanding of spices I now use in my own cooking.
Smoked Paprika
Smoked Paprika, used often in Moroccan food, has a unique flavor that sets it apart from regular paprika; it's smoked! Anything smoked adds a deeper level of flavor to something we may already like. While I have found great joy in growing a large variety of peppers, I have yet to try smoking them; something I hope to try soon. In fact, I only just learned how to make my own smoked paprika.
Wash, dry and gently smoke a variety of peppers. Smoke, not grill.
Wrap in parchment paper and place in the oven on the lowest temperature setting
Leave in the oven for several hours until all the fleshy pulp of the peppers have dried out, really dried
Cool and then whirl in a processor into a powder
So, you see how easy it can be to make your own smoked paprika and since a large variety can be purchased year-round this can be done anytime. I am expecting a large harvest of peppers this year and so I will try this technique for the first time in September.
Red Pepper Flakes
Red Pepper Flakes, particularly Aleppo Pepper Flakes from Syria are widely used in Moroccan recipes, such as their Tagines (kind of like our crock-pot cooking), are hotter than the sweeter flavor of paprika. They are made the same way you would dry and make any other pepper, only use chili peppers, tabasco peppers, jalapeño or any other hot pepper variety. Using the method above (omitting the smoking part, unless you want a smokey and hot dried pepper) dry the peppers, seeds and all, in the oven until dry enough to grind into a powder.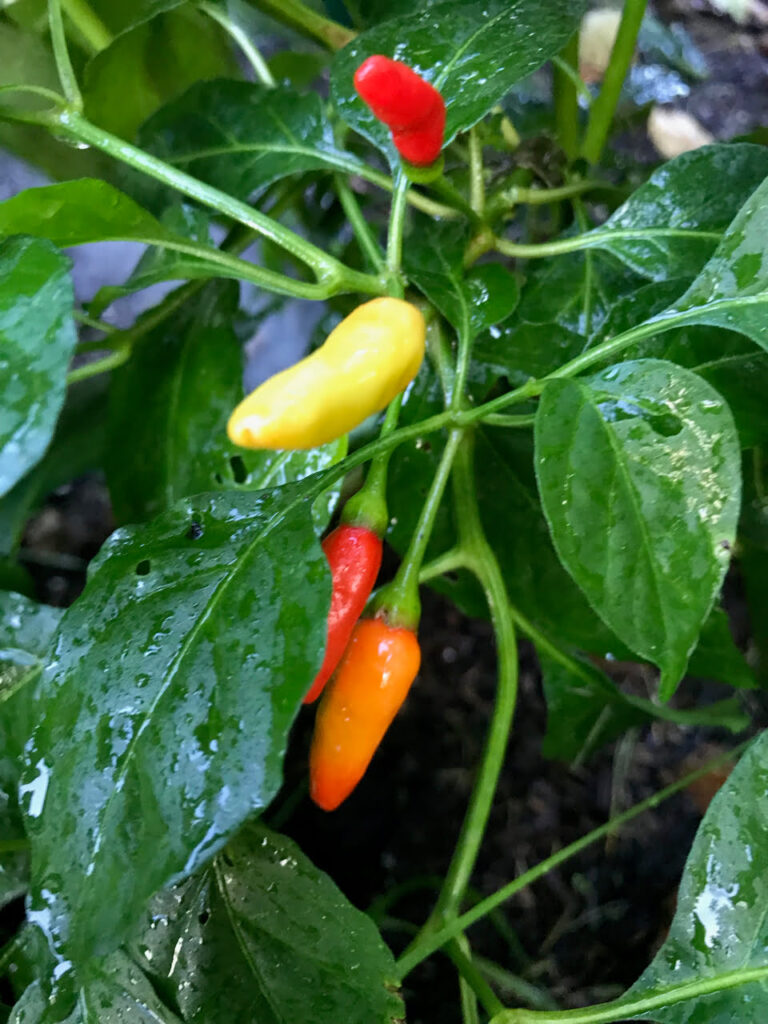 Lemon
Lemon is the acidity most often used in Moroccan food as apposed to vinegar. Lime would be more common in, and around the Caribbean countries and parts of South America. Lemon has a distinctly different taste than lime. In Chermoula we use both the zest, which has its own natural oils and the juice. This acidity, also known as a type of citric acid, will help preserve the spice mixture for several days in the fridge.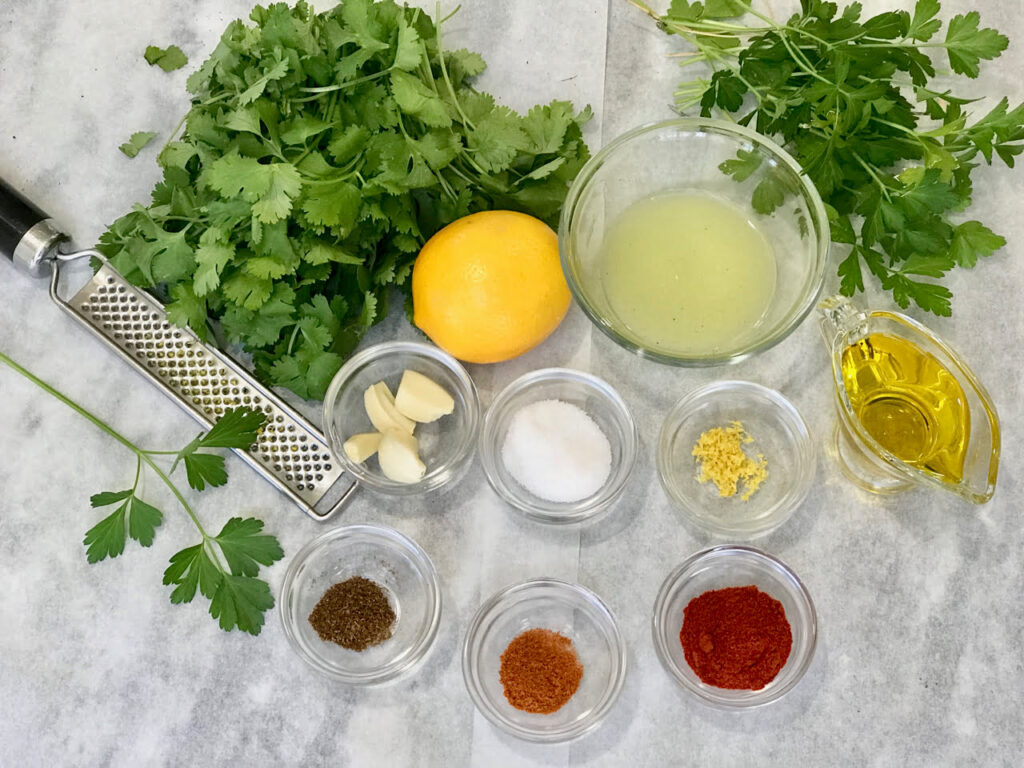 Olive Oil
Olive Oil is something I could talk about for days and days, like wine, but until you have done your own Olive Oil tasting, my words won't make sense. Morocco has been producing high quality olive oil for centuries. It is grown, extracted and bottled with the greatest of care, distributed throughout Morocco and prized in Moroccan food, whether by professional chefs, or home cooks. Moroccan oil is so delicious it almost seems a shame to add anything to it, to detract from its flavor. Having visited an olive grove in Paso Robles California and experienced my first Olive Oil tasting at Kiler Ridge Olive Farm, my appreciation for olive oil has become refined. In Chermoula, as in all cooking, use the best quality you can obtain, and you will produce the most amazing food from simple ingredients.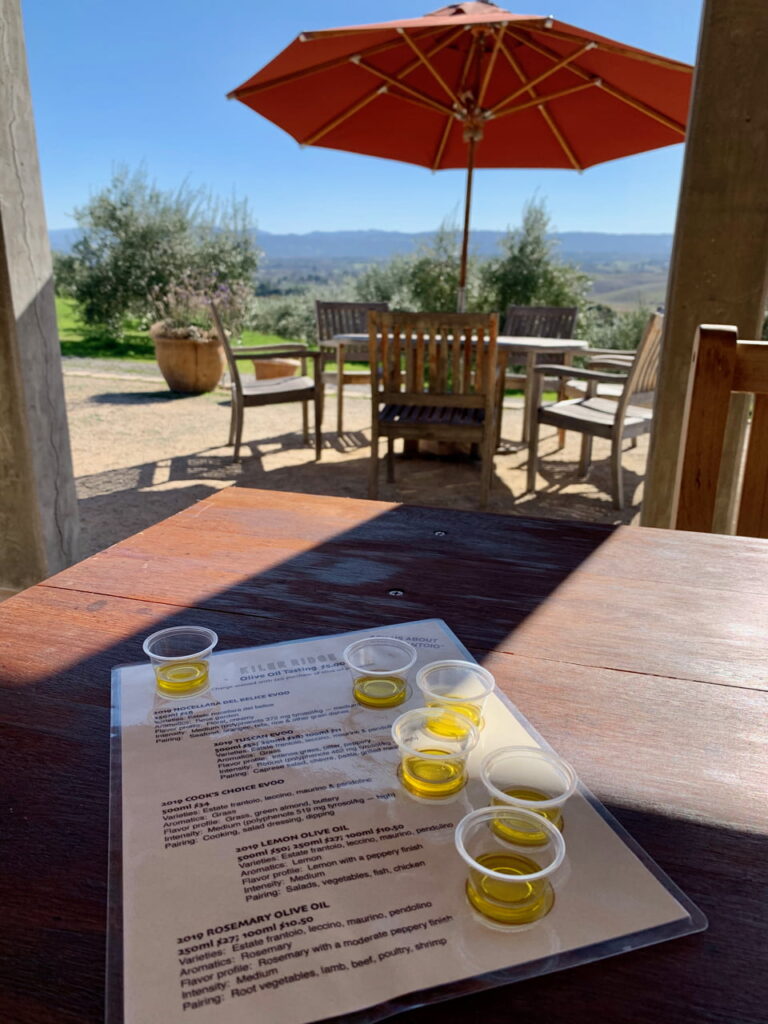 Flavor
Flavor. One last story about Flavor. I grew up in a home with a Syrian mom and a Swedish/German dad. My Swedish grandmother couldn't cook food that tasted like anything other than salt and pepper. I don't think she ever used garlic either. The food was bland, the vegetables were over cooked and nothing she made was memorable except perhaps some desserts. My mother on the other hand, I think it was probably why my dad married her, prepared food that was abundant with flavor, fresh vegetables that still maintained a little crunch, spices and fresh herbs that made your mouth sing!
Memorable
Make your food something people will always remember, want recipes from, and share for several generations to come. It all starts with the fresh herbs and spices you make into sauces, marinades, relishes and condiments. Start right here by making your very first batch of Chermoula and let your friends and family sing your praises on the amazing and flavorful food you prepare for them. Who knows… as it is said, "The quickest way to the heart, is through the stomach" might become your story as well!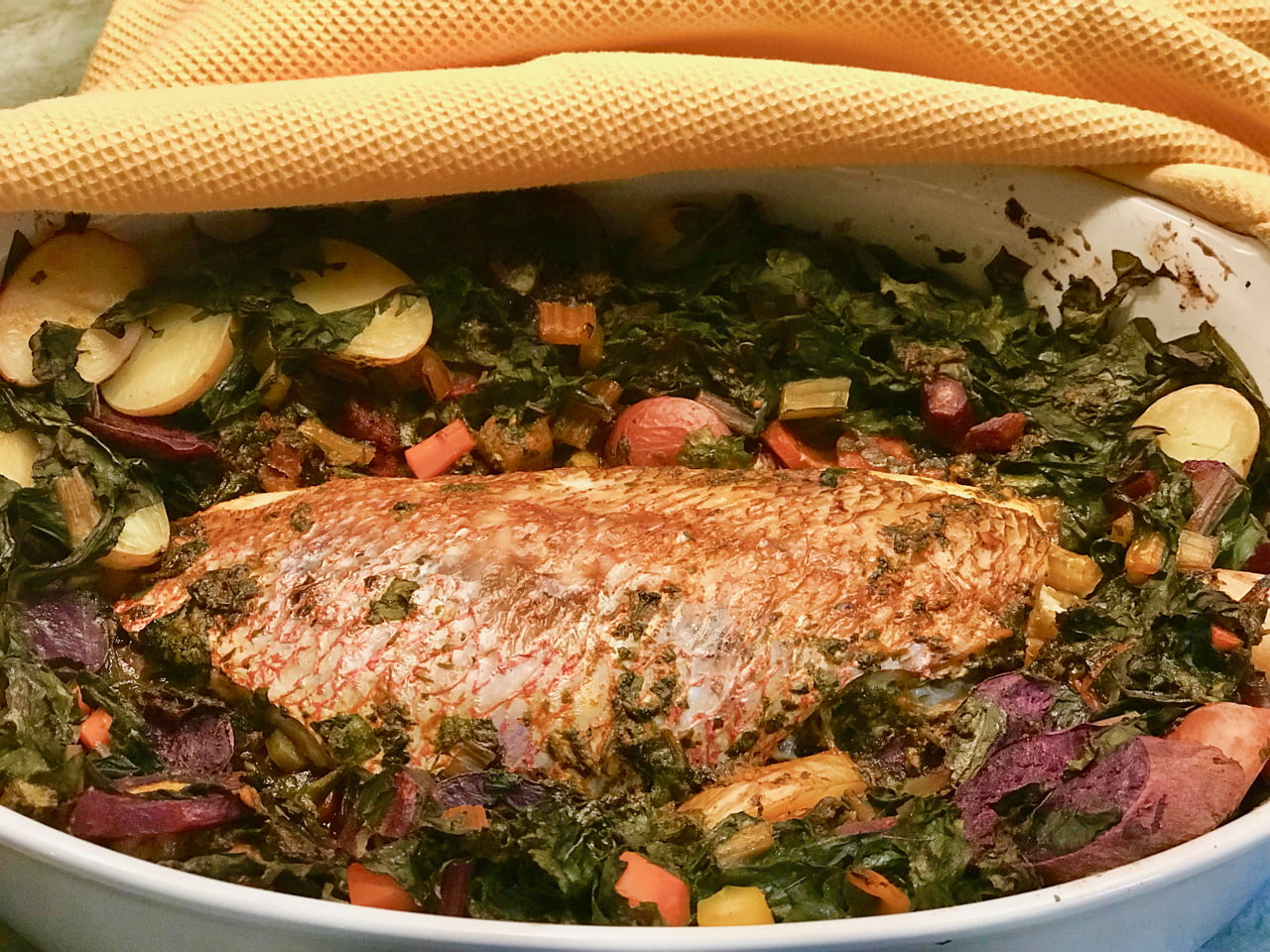 Ingredients Needed
Cilantro
Parsley
Garlic
Olive oil
Lemon juice and zest
Smoked paprika
Cumin
Coriander
red pepper flakes
Salt
Equipment Needed
Food Processor
Cutting board
Chopping knife
Measuring cup
Measuring spoons
Citrus press
Citrus zester
Airtight container
Chermoula – Middle Eastern Salsa
Course: Sauces u0026amp; Dressing
Cuisine: Mediterranean
Fresh herbs, spices, garlic and lemon Moroccan salsa.
Ingredients
Cilantro – 1 bunch, stems and all, about 1 cup

Parsley – 1 bunch with stems, about 1 cup

Garlic – 3 cloves

Olive oil – 1/2 cup

Lemon juice – 1/4 cup

Lemon zest – 1/4 teaspoon

Smoked paprika – 1 teaspoon

Cumin – 1/2 teaspoon

Coriander – 1 teaspoon

Red pepper flakes – pinch

Salt – 3/4 teaspoon
Directions
Place all ingredients into a processor or blender and blend, leaving a slightly rough texture to the sauce. This easy recipe can be prepared in advance and stored in the fridge for up to 3 days, or frozen in small packets.