Oranges, cinnamon, dates, nuts and rum! The smell of the holidays starts right here in the kitchen! Can't you just taste the love!
Spiced Nut Bread
When family is home for the holidays, or I am simply all by myself in the Autumn months, I love the smell of warming spices baked in breads, hot out of the oven.
Cinnamon, cloves and orange zest, when warmed, smell like every holiday film I've ever seen. Comfort. Cozy. Home. These spices just smell like this when they are baking inside of bread.
This spiced date bread, made with yeast, is easy to make by hand and so worth the hour wait time for it to rise. Warm it at breakfast and smell the memories!
Dates – The Natural Sweetener
Having grown up in a Mediterranean home, dates, figs and apricots are the primary fruits, both fresh and dried, our family cooked with, whether sweet or savory.
In desserts or sweet breads, dates bring an almost caramel flavor to the pastries or desserts. Add them to savory dishes, like my favorite Persian Rice with Dried fruits and the dish becomes both sweet and savory without the addition of processed sugar.
Speaking of sugar… not all sugar is highly processed, not if you live on a tropical island!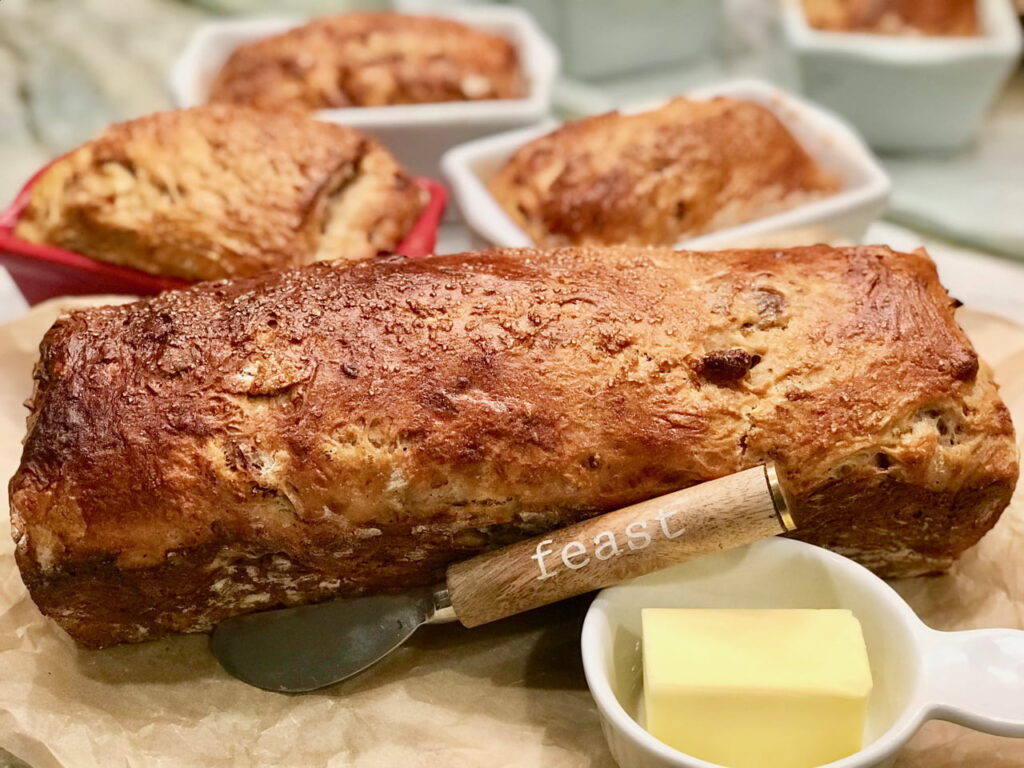 What Makes This Bread Tropical?
Rum! Rum and raw sugar from Barbados is what makes this bread tropical!
The hub was visiting family members in Barbados. Being British, of course Ancestry tests the family took, found their roots back in Barbados. So, one day all of his family (never having met before), met up in Barbados!
The rum and raw sugar he brought me back is what inspired this tropical tasting, date and nut bread, though the yogurt in the recipe still keeps it grounded as my very own Mediterranean recipe creation!
Ingredients Needed
Yeast
Sugar
Water
Fresh Orange juice and zest
Plain yogurt
Dates
Nuts – your choice
Cinnamon
Cloves Salt
Flour
Egg
Coarse or raw sugar
Rum
Powdered sugar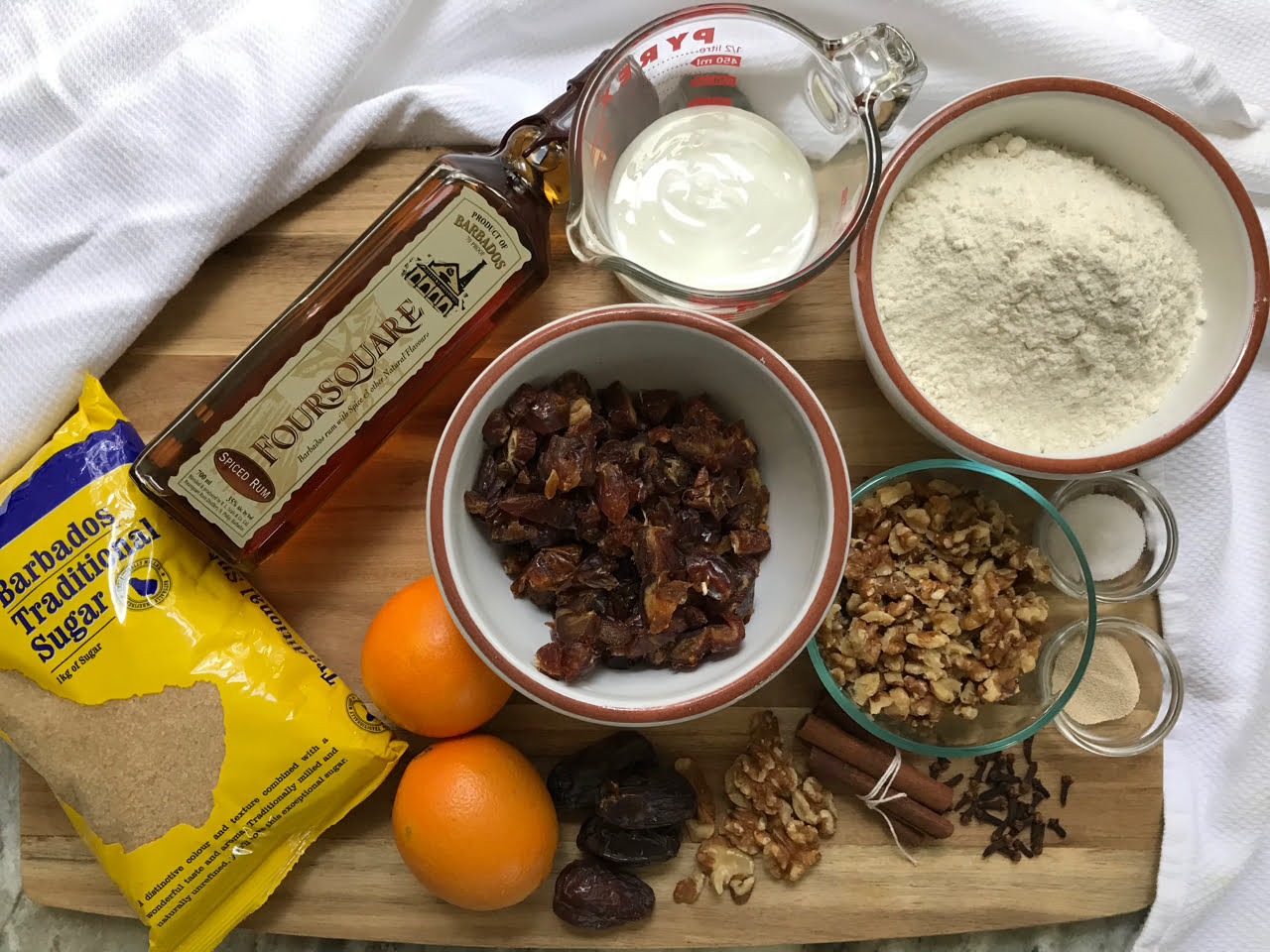 Equipment Needed
Large mixing bowl
Wooden spoon
Measuring cup
Measuring spoons
Cutting board
Chopping knife
Citrus press and zester
Loaf pans
Basting brush
Oven
DATE NUT BREAD
Course: Uncategorized
Yeast bread of dates, nuts, oranges, warm spices and a glaze of sugared rum.
Ingredients
Yeast – 2 tsp

Sugar – 1/2 cup

Water – 3/4 cup

Fresh Orange juice – ½ cup (2 oranges)

Orange zest – 1 tbsp

Plain Yogurt – ¾ cup

Dates – 1 cup, pitted and chopped

Nuts – ½ cup, chopped

Cinnamon – 1 tbsp

Cloves – ¼ tsp

Salt – 1 tsp

Flour – 3 to 4 cups

Egg wash – 1 egg and 1 tsp water, mixed

Coarse sugar – 1 tbsp (optional)

Glaze – (optional)

Rum – 1 tablespoon

Powdered sugar – 1 tablespoon

Orange zest – ½ teaspoon
Directions
Preheat oven to 375
In a large bowl mix the yeast, 1/2 cup of sugar and water. Allow to sit 5-minutes to proof.
Once the yeast proofs (foams), mix in all remaining ingredients except the flour. Mix well.
Slowly add 1 cup of flour at a time until dough is no longer sticky. Place in an oiled bowl, cover, and set in a warm place for about an hour until the dough doubles in size.
Punch down. Place in one large bread pan or two medium size.
Brush egg wash across top. Sprinkle with coarse sugar.
Place in oven and bake until the top is golden and firm to the touch, about 20 – 30 minutes.
Mix and brush glaze over hot bread, if desired