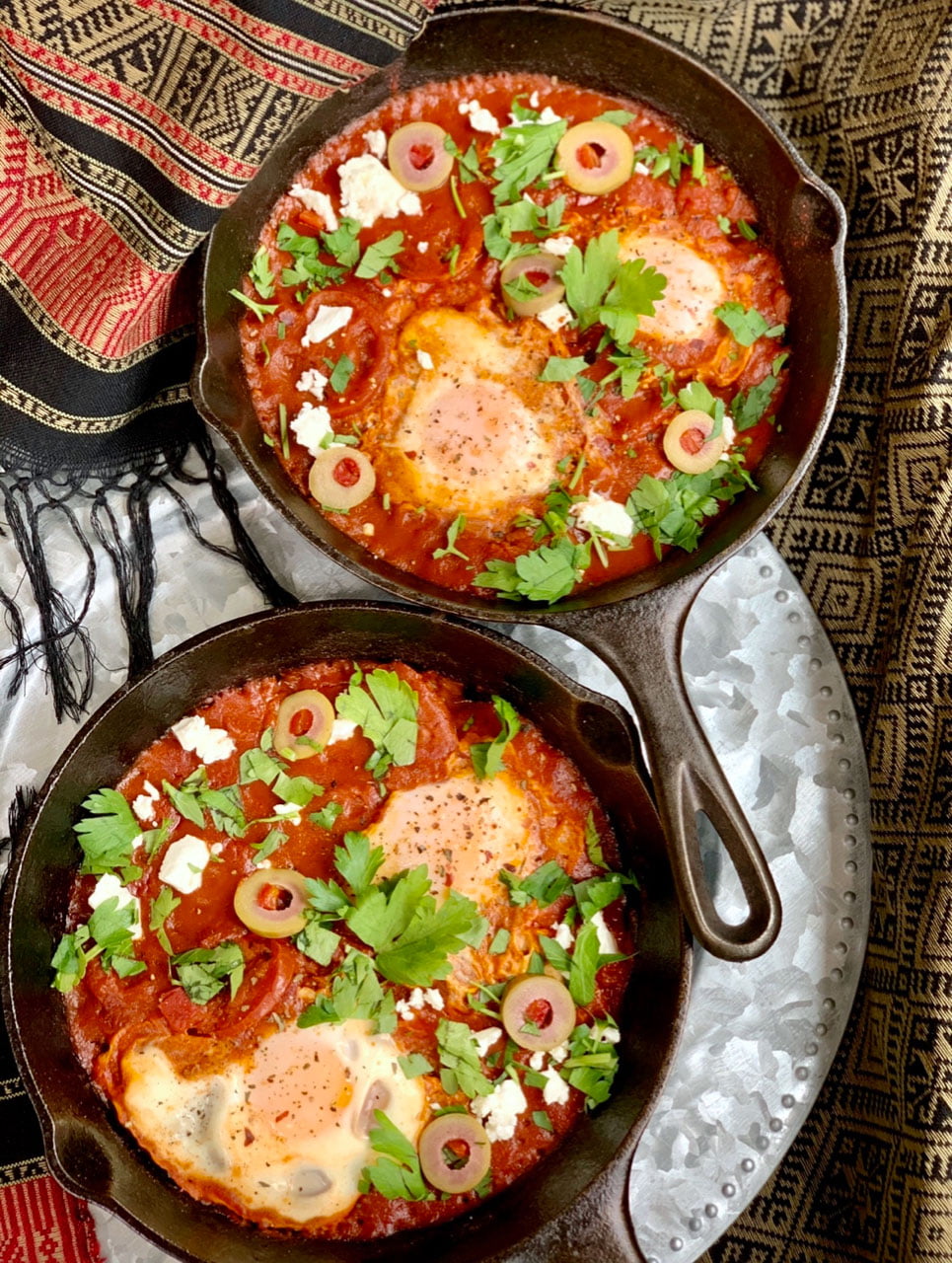 An easy egg Shakshuka recipe that will look like a chef made it!
What Is Shakshuka?
Shakshuka is a health and flavor rich dish that is an easy one-skillet recipe. Gently poached eggs in a spicy mixture of tomatoes, hot or sweet peppers and fresh herbs and cheese.
For my Shakshuka, I like Feta or Manchego sprinkled across the top. Olives are always a fabulous addition!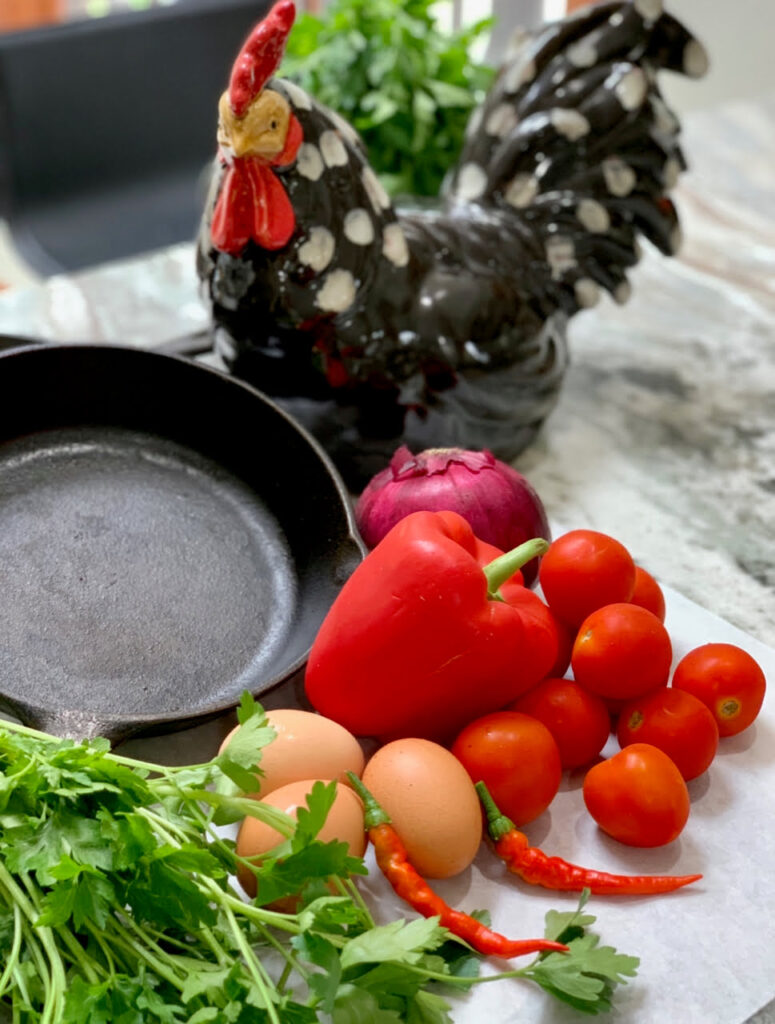 What Meal Is Shakshuka Served For?
While this dish is often a made for breakfast or brunch, it is perfect for a light summertime dinner with flat bread.
Having grown up in a home Mediterranean influenced home, the ingredients were often a staple in the home.
Long day at work, or unexpected visitors; no problem. This dish can be prepared in under 30-minutes.
Who Doesn't Love Eggs!
Since there are always more than one dozen eggs in my fridge at any given day, this recipe is a quick meal for me to make when I haven't planned dinner.
The eggs poach beautifully right on top of the tomato and pepper mixture and are soft enough to want a good bread to dip in them.
I don't know about you but I could probably eat eggs most evenings for a light meal, in fact I've got some great Egg recipes you are sure to love in my Egg Obsession collection.
For The Health Conscience
Loaded with lots of vitamin C from the tomatoes and peppers, easy to digest protein from eggs and lots of medicinal qualities from fresh herbs all simmered in a one-skillet pan.
Peppers In Shakshuka
Peppers, as we know, are low in calories, loaded with A and C and add incredible flavor to food. Which peppers you want you use depends entirely on which you prefer.
Sweet bell peppers in shakshuka add a delicious accompaniment to the tomatoes. Roasted peppers are also another added layer of flavor.
If you really want to kick your shakshuka up a notch, you'll toss in some spicy hot peppers or a little harissa paste along with the tomatoes.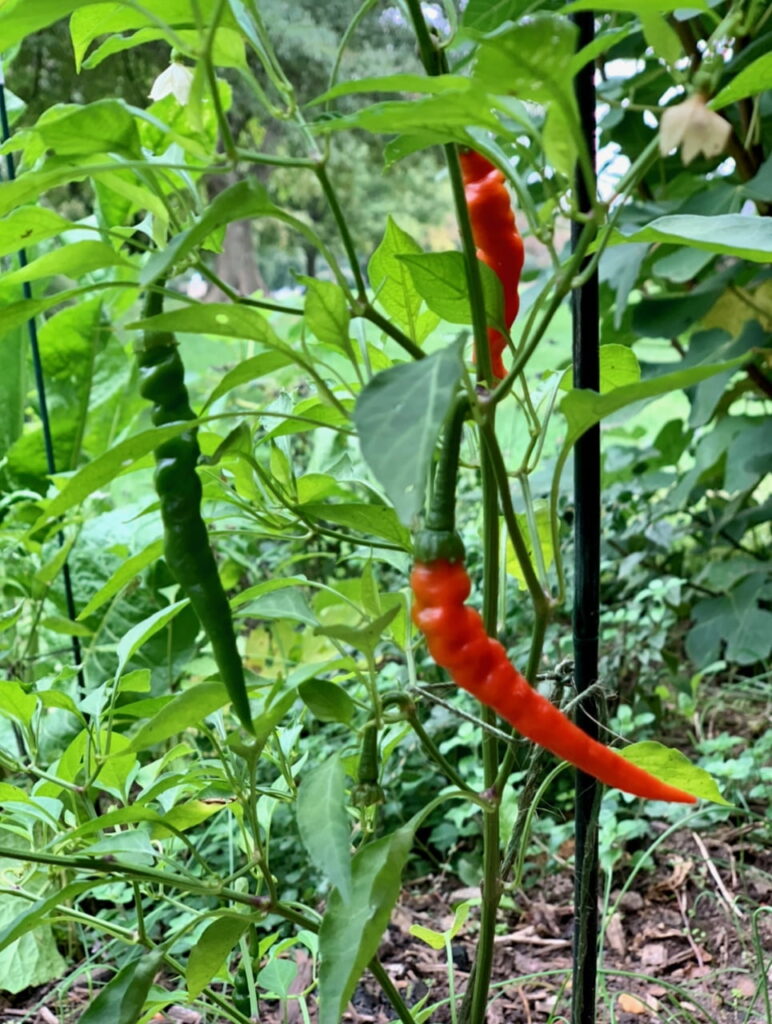 Easy Food Prep Shakshuka
Busy lives call for do-ahead food prepping on a weekend so that busy work weekdays can still enjoy fast easy and healthy meals.
Shakshuka is easily prepped ahead by caramelizing some onions, tossing in a variety of chopped peppers and tomatoes, chill and save for a weekday meal.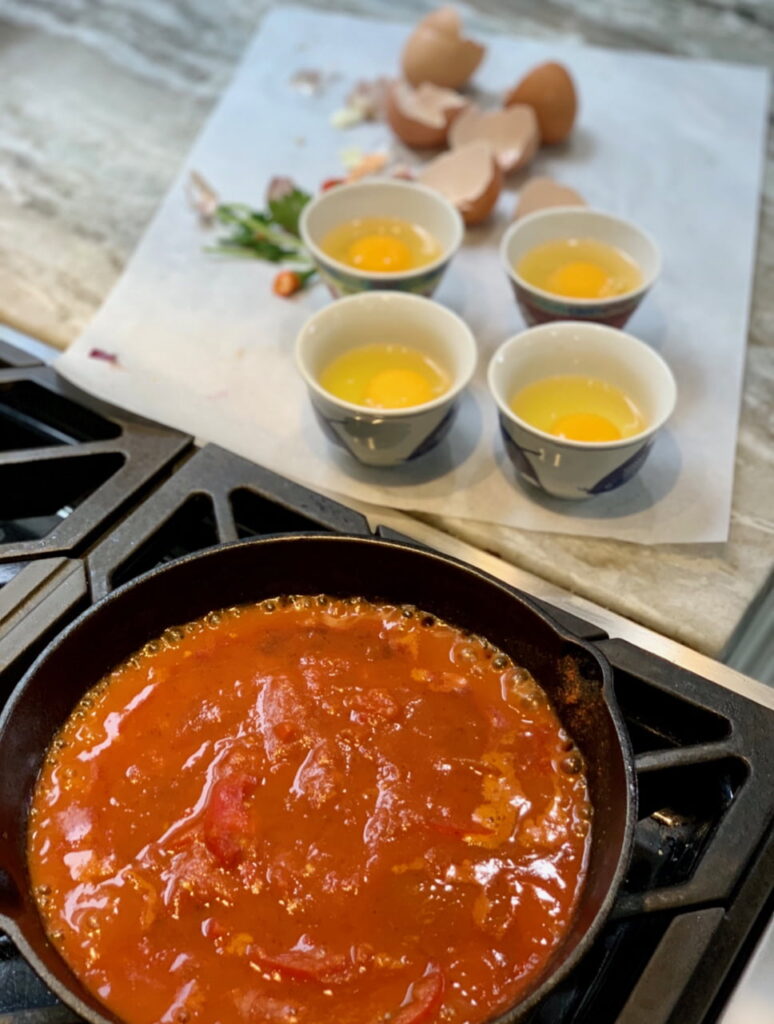 When it's mealtime, toss the already cooked tomatoes into a cast iron pan or baking dish, pop those beautiful raw eggs in and cook in a hot oven until eggs are poached. Easy peasy!
Perfect For A Brunch Party
Often when we think of a brunch party we think of lots of carbs; pastries, breads, waffles and the such, but this is the perfect brunch dish most appreciate for it healthy and delicious ingredients!
I made an investment in lots of little, single serve cast iron pans at about six bucks a pop but boy do I use them for so many things! Serving an individual Shakshuka to each guest will be so impressive and crazy easy for you.
What To Serve With Shakshuka
When making this dish for a brunch or luncheon, I often make a homemade bread, such as a Pumpkin Pita bread since peppers are being harvested around the same time as pumpkins.
Add-on's can be served on the table; cheese, olives maybe even already cooked bacon or sausage.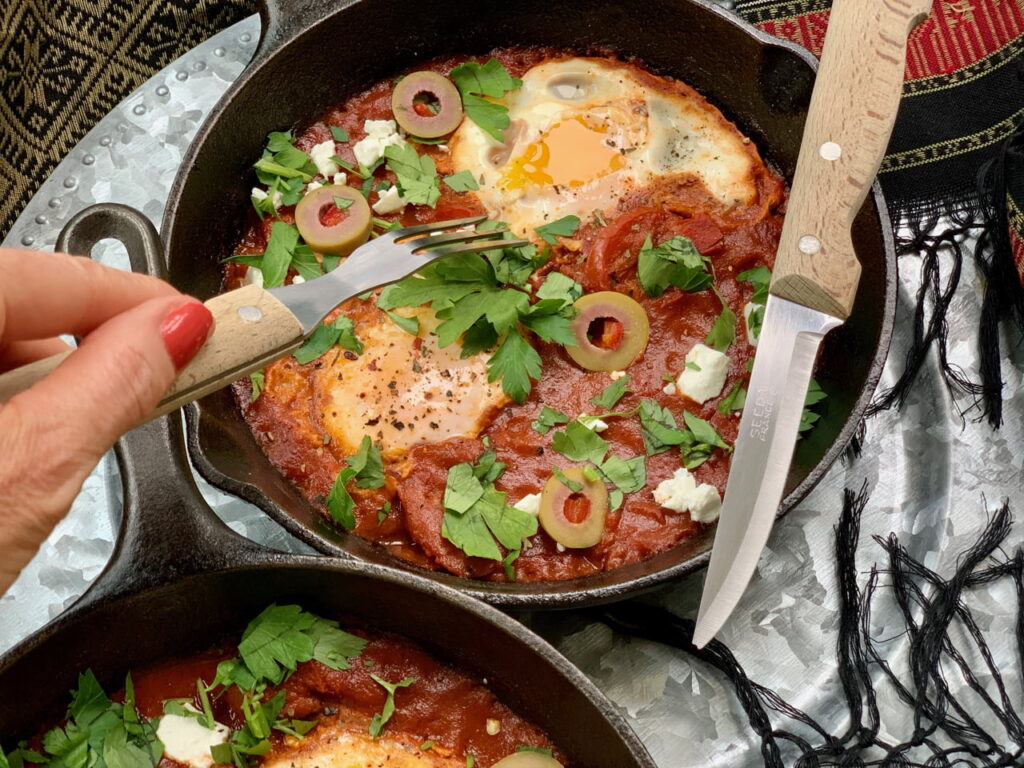 Ingredients Needed
Olive oil
Red onion
Red pepper
Chili pepper
Tomatoes
Garlic
Smoked paprika
Salt
Eggs
Equipment Needed
Cutting board
Chopping knife
1 large cast iron pan with a lid or two individual size to serve in
Measuring spoons
Spatula
Stovetop or burner
The Best Breakfast Shakshuka
Course: Breakfast/Brunch
Cuisine: Mediterranean
Fresh peppers, smoked paprika with perfectly poached eggs on top.
Ingredients
Olive oil – 2 tablespoons

Red Onion – 1 small, sliced into long strips
Red Pepper – 1 medium, sliced into long strips

Chili Pepper – 1 small hot pepper, diced into tiny bits

Tomatoes – 15 oz can of peeled tomatoes, mashed or Tomato sauce

Fresh Tomatoes – 1/2 cup roughly chopped fresh tomatoes

Garlic clove – 2, crushed

Smoked Paprika – 1 tablespoon

Salt – 1/2 teaspoon or to taste

Eggs – 4, It helps to open each egg separately in a little cup if you're not confident about breaking the yolk

Fresh Parsley – 1/2 cup, roughly chopped Extra Toppings – a few crumbles of feta cheese or Pecorino, thinly sliced olives, thinly sliced chili peppers if you really like it hot. These are all optional.

Mini Cast Iron or non-stick frying pans – 2
Directions
Drizzle olive oil into each pan, over a medium hot flame. Toss in onions, garlic and peppers (both), and cook until they begin to caramelize and get nice brown bits on the edges of the onions. Here is where fabulous flavor comes from.
Add spices, tomato sauce or mashed canned tomatoes and freshly chopped tomatoes into each pan and let them simmer for about 7 minutes or until the sauce begins to thicken.
Once the sauce has thickened, move around the sauce to make 2 little holes and slowly pour the eggs into the holes, cover and simmer for about 5 minutes. Check to see that a film has begun to cook over the eggs but make sure the yolk is still a little giggly.
Remove from the heat, sprinkle chopped parsley and any other toppings you might like and your easy Shakshuka is ready to serve!