Tahini custard pie is the most luscious, creamy, sweet, sesame custard pie with a sesame seed cookie-like pie crust. A decadent treat Aladdin himself would approve of.
Tahini Custard Pie
A fusion of the Middle East and France. But then… that is my heritage, so it would only stand to reason that I woke one day dreaming of this pie.
My family's roots are from Syria, yet my last name is French. France took control of Damascus back in 1920 and so I presume I've got a French great, grandpa somewhere!
Tahini Custard Pie is not a recipe you will find anywhere other than here, because I created it. Furthermore, I had the opportunity to prepare this spectacular tahini custard pie on national television; Episode 3 of The Great American Recipe on PBS!
While the judges first made the comment that it's appearance was fifty shades of beige, the first bite sent them off on a magic carpet ride!
Tahini Custard
While apparently the British invented custard (imagine that), it was the French that first created the creme brûlée and it was this type of a custard I was after in my tahini pie.
Something sweet, creamy, and yet nutty without being made with nuts; delicate. And so… it was on my birthday in December 2016 that I first created this luscious recipe, now one of my favorite pies. Both a full size pie or smart tart size tart can be made from this recipe.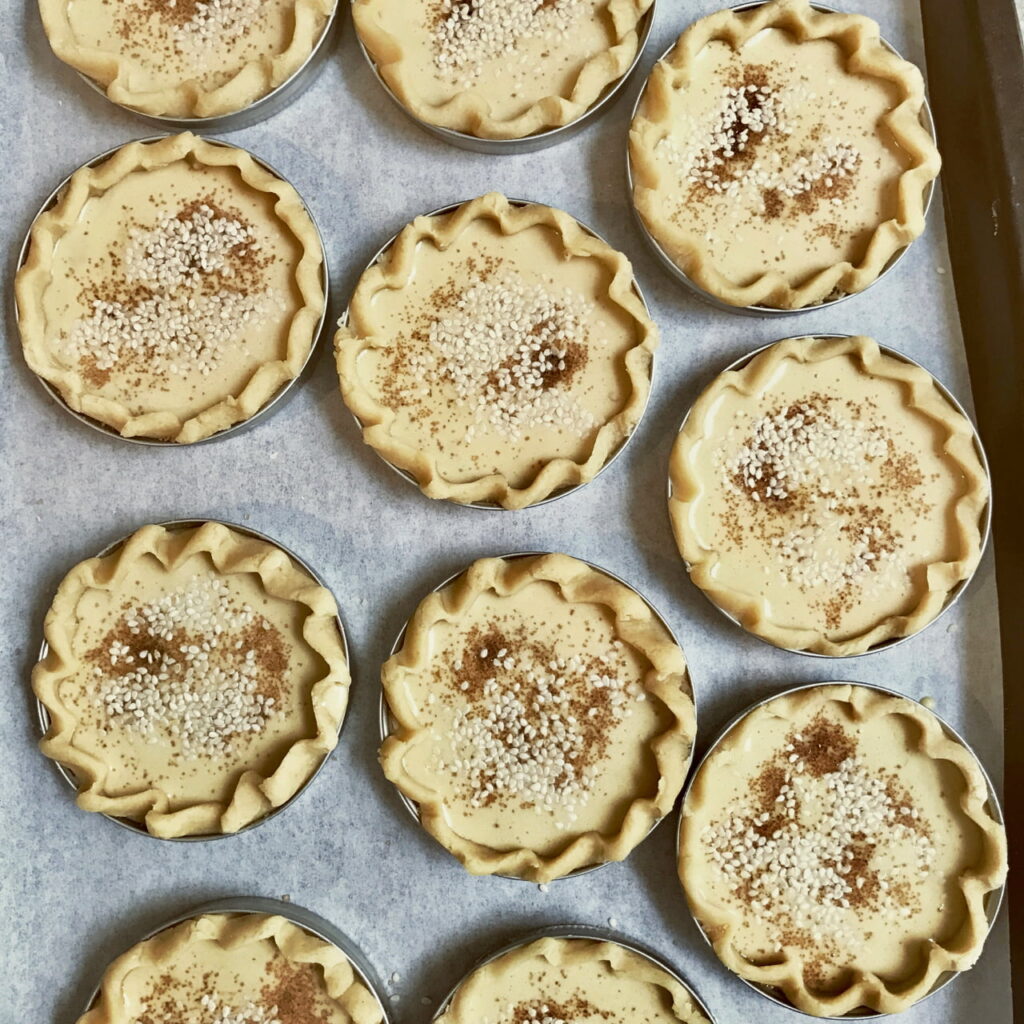 Tahini Custard Pie
Tahini is most widely used in Middle Eastern cooking, and it is said that the best sesame seeds come from Ethiopia, a very Arabic country tucked away inside of Africa.
As a kid, one of my favorite desserts was Halvah, a delicious confection made from tahini and nuts, usually pistachio.
I wanted to make a pie that would remind me of both a sesame cookie and a creamy version of halvah.
With a beautiful blend of cream, eggs and tahini, this tahini custard pie comes together quickly. Either cardamom or cinnamon would be a most traditional flavor to use in this pie, the choice is up to you.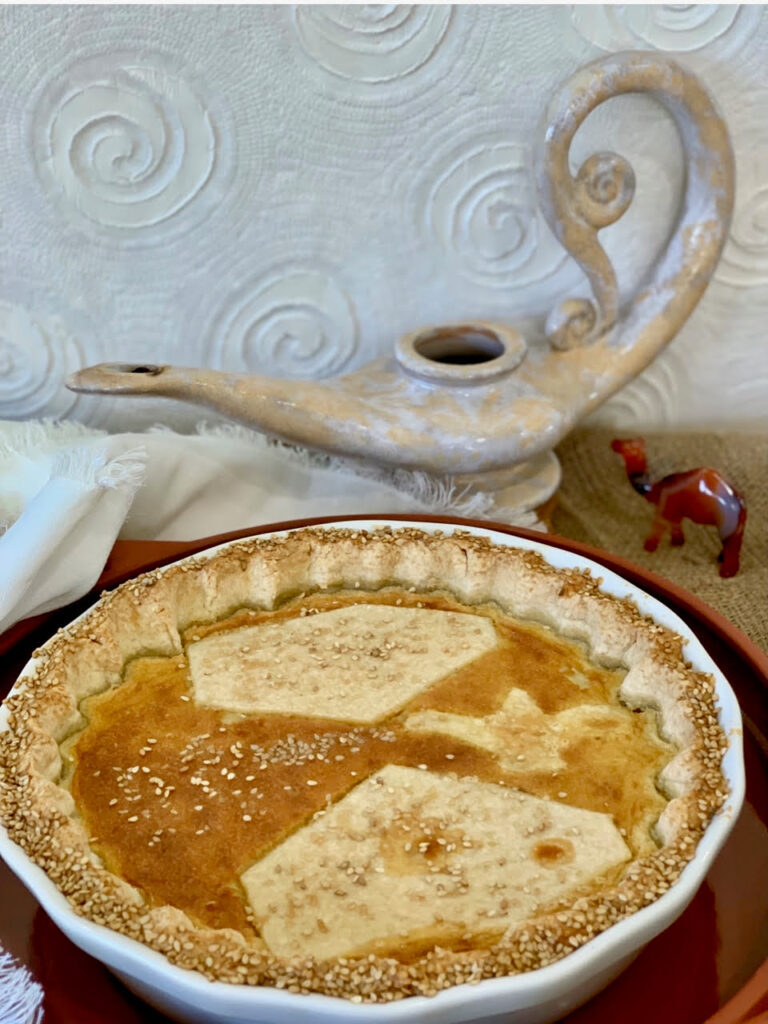 Tahini
I'm sure you have only, always had tahini in a savory dish, like Hummus. But just think, for a moment, that tahini is just pureed sesame seeds. Therefore they are also fabulous in a sweet dish as well.
I'd also bet that you haven't had hummus, made with tahini, in as many ways as I make it!
I have purchased a variety of different brands of tahini over the years. I have yet to find one that was better than another. I found them all to be good.
Homemade Tahini
Then, I tried making my own tahini. Oh my… It was a simple process of soaking sesame seeds, draining and pureeing them with a mild flavored oil and just like that, I had homemade tahini.
The taste was a little nuttier simply because it was made fresh, very creamy and easy to use in a variety of recipes.
Ingredients Needed
Butter
Flour
Sesame flour or oat flour
Sugar
Salt
Egg whites
Milk
Sesame seeds
Eggs
Half and half
Farina
Vanilla
Cinnamon or cardamom
Raw coarse sugar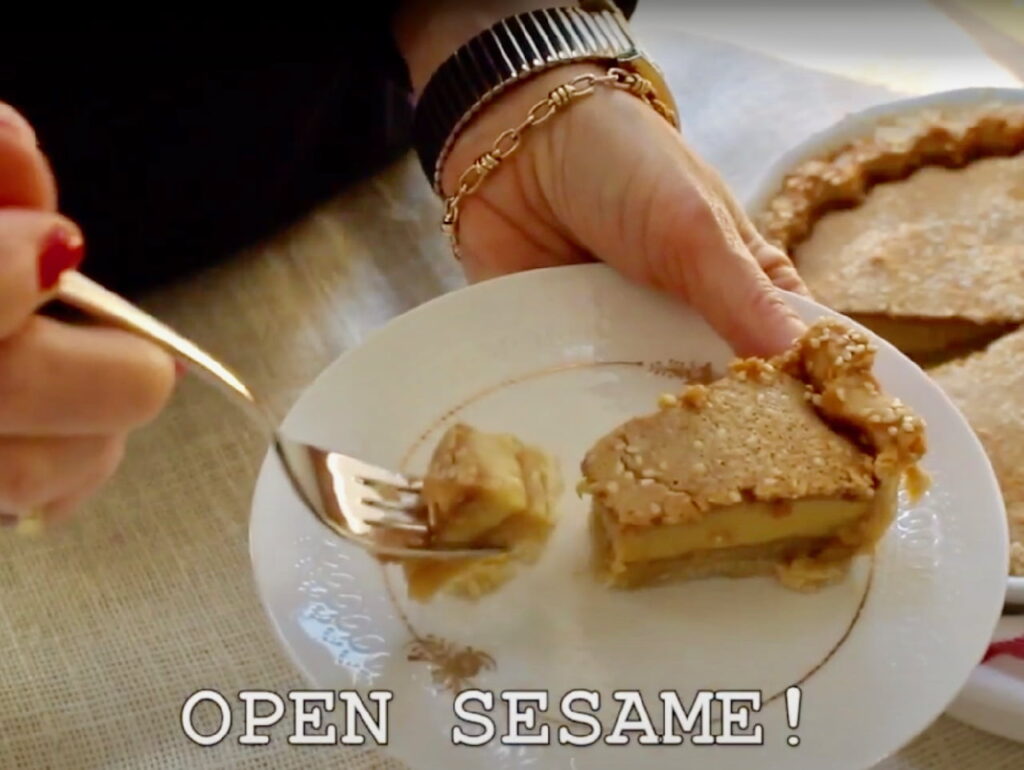 Equipment Needed
Food processor or mixer
Measuring cup
Measuring spoons
Wooden spoon
Rolling pin
Baking dish or pie plate
Spatula
Oven
Tahini Custard Pie
Course: Pies
Cuisine: Mediterranean
Ingredients
Pie Crust

Butter – 1 stick (8 tablespoons), cold

Flour – 1 1/2 cups

Sesame flour – 1/4 cup (or ground sesame seeds or substitute with oat flour)

Sugar – 1/4 cup

Salt – 1/2 teaspoon

Egg white – 1 egg (save the yolk for the custard)

Milk – 1/4 cup, cold

Sesame seeds – 1 tablespoon, to sprinkle on the crust before baking.

Custard

Eggs – 2 whole eggs plus 2 egg yolks

Sugar – 3/4 cup

Tahini – 1/4 cup

Half and half – 1 cup

Farina – 1/3 cup (also known as cream of wheat)

Vanilla – 1 teaspoon

Cinnamon or Cardamom – 1/2 teaspoon

Salt – 1/2 teaspoon

Raw coarse sugar – 1 tablespoon, to sprinkle across the top
Directions
Pie Crust
In a food processor, place the dry ingredients with butter and pulse until it crumbles together.
Mix the milk and egg white together. While the machine is running, pour in the wet mixture. It should come together into a ball quickly. If wet, add a sprinkle more flour. If dry, add a drizzle more milk.
On a floured surface, roll the dough out and place in the pie dish or cut to fit several tart pans. Crimp. Brush the edges of the pie crust with a little water or milk and sprinkle the sesame seeds around the edges.
Custard
Preheat oven to 400. The pie will bake for 10 minutes then reduce the oven to 325
Place all the custard ingredients in a bowl and whisk until light and frothy. Pour into the pie crust. Sprinkle the top with coarse sugar and a few remaining sesame seeds.
Bake for 10 minutes on 400. Lower to 325 and bake until the custard is firm and the crust is golden, about 40 minutes.
Notes
Dairy-free option – coconut oil can be used in place of butter for a dairy free pie crust and full cream coconut milk can be used in place of milk in the custard.