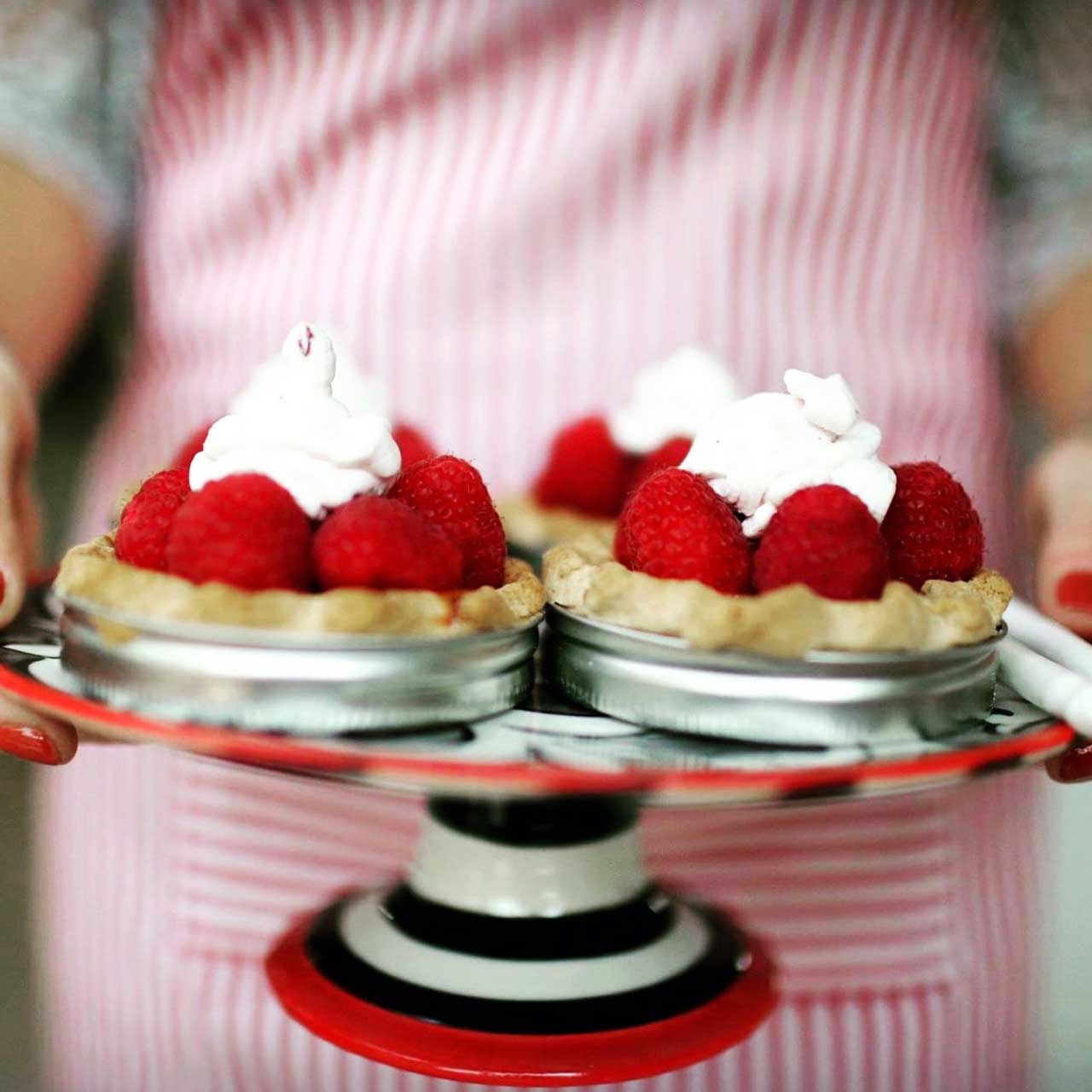 Raspberry Tarts
A quick sweetened condensed milk custard tart, topped with fresh raspberries in a simple crust, makes for a luscious multi-seasonal dessert. With a cookie-like crust, sweet milk custard and luscious fresh raspberries, this quick custard fresh raspberry tart makes for a perfect summer dessert, or a gorgeous Valentine Ruby Red Tartlet!
Make into tartlets, using a Mason Jar lid ( savvy and cost effective), as the removable bottom tart pan, so you can make dozens of these, freeze them as custard tarts and add the fresh raspberries just before serving.
There's nothing I love more, no matter the season, than a beautiful fresh fruit tart with a creamy custard to showcase the fruit. Raspberries are often my fruit of choice for a fresh fruit tart, simply because they are easy to use just as they are, where as other fruits need to be cut, and risk turning in color once exposed to the air. Blueberries are also an easy fresh fruit to use on top of a quick custard tart.
Simply bake the custard inside of the tart crust, cool and top with ruby red fresh raspberries, and maybe a dollop of whipped cream on top!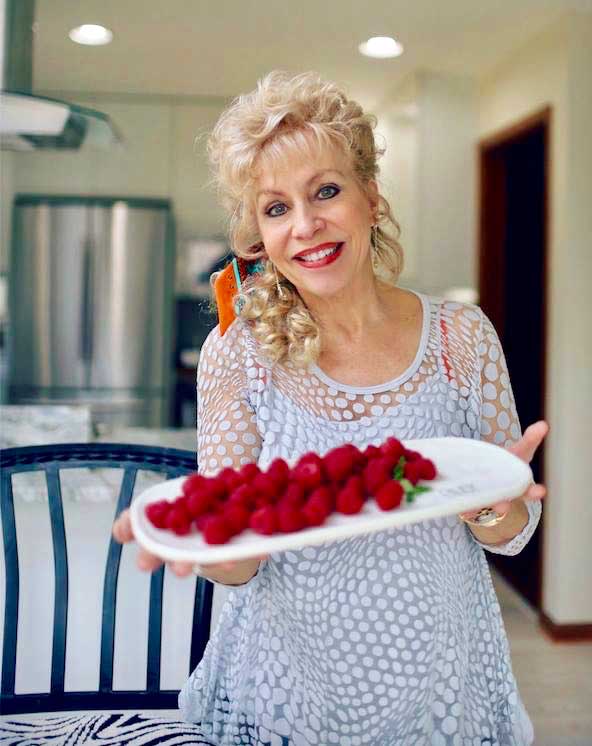 Quick Custard
The traditional way to make a custard often takes extra time and effort to slowly cook egg yolks, sugar and cream together, taking care the eggs don't begin to scramble when cooking.
The quick custard for this fresh raspberry tart is too easy not to use every single time you want a custard. A few eggs, a can of sweetened condensed milk, already thick, sweet and creamy, whisk the two ingredients together and your custard is ready to pour into a tart shell and bake.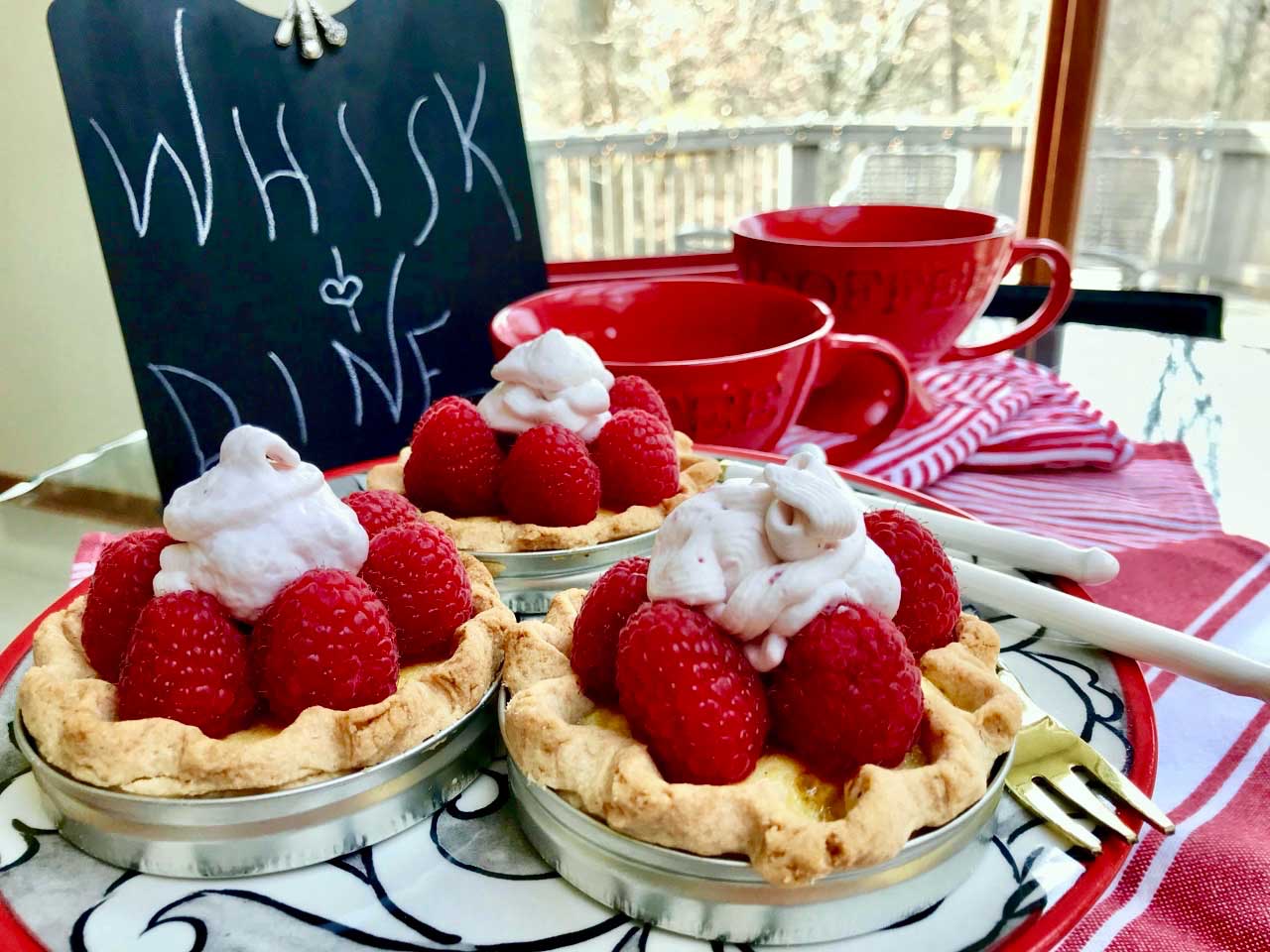 Easy Tart Crust
While the easiest tart crust would be to buy one, roll it out and either place it in the tart pan or mini-tartlet tins, a few home ingredients whirled in a food processor, and you can have a delicious homemade tart crust with real butter and wholesome ingredients.
I prefer to make a pie or tart crust taste much like a cookie; butter, flour, sugar and maybe an egg to hold it together. If butter is not your thing, then coconut oil is a good substitute for this tart crust.
Tart Pans
A removable bottom is most advised for making tarts. A pan with a removable bottom can often be quite expensive. If you are like me and prefer to makes lots of mini tarts to serve a large crowd, freeze extra for another tart or simply portion control (tartlets are individual size servings), what you yourself like to eat, those mini tart tins can really be quite expensive.
Solution? Mason Jar Lids! Yep. You can easily use the ones you may already have on jars, but I found it easier and really cheap to buy a box of wide mouth Mason Jar Lids, which sell for about six bucks for a box of twelve, wash and reuse them over and over just for tarts! You simply invert the lid so the metal side is facing up, fit your crust into the lids and you have a dozen tart crusts ready in no time. Easy to freeze for future use too.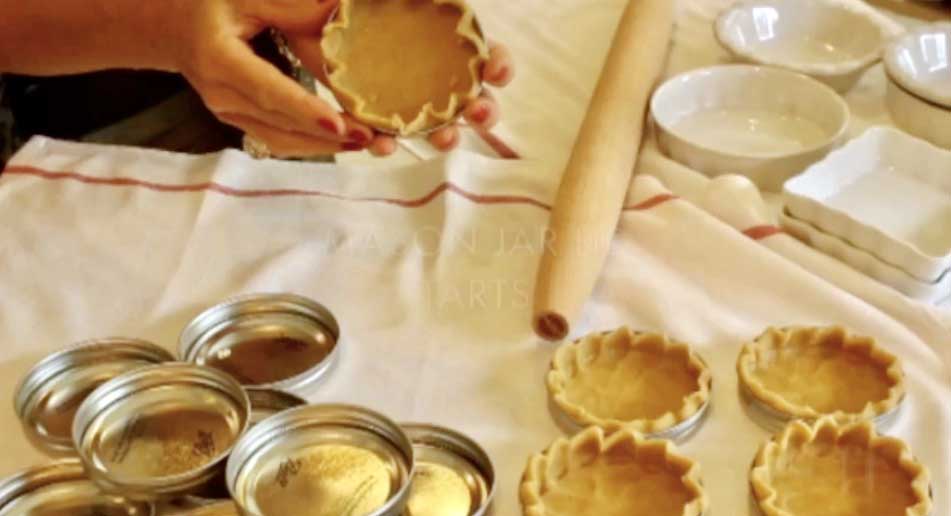 Glaze Or Cream
While many fresh fruit tarts are glazed with an apricot jam and water mixture, a dollop of whipped cream with 2 tablespoons of pureed fresh raspberries mixed in gives color and continuity to the raspberry flavor. A raspberry liquor mixed in with the whipped cream would be nice too! (wink)
Ingredients Needed
Butter
Flour
Sugar
Salt
Eggs
Cold liquid, water or milk
Sweetened condensed milk
Extract – vanilla or your favorite
Whipping cream
Confection sugar
Raspberries
Equipment Needed
Tart pans or mason jar lids
Measuring cup
Measuring spoons
Mixing bowl
Mixer
Food processor
Rolling pin
Baking sheet
Oven
Quick Custard Fresh Raspberry Tarts
Course: Dessert, Pies
A sweetened condensed custard, baked inside a delicate crust and topped with fresh raspberries.
Ingredients
Butter – 8 tablespoons, cold

Flour – 1 3/4 cup, more for rolling

Sugar – 2 tablespoons

Salt – 1/2 teaspoon

Egg – 1 slightly shipped

Cold liquid – 1/4 cup, water or milk

Custard – Sweetened Condensed milk – 1 cup

Powdered Sugar – 1 tablespoons

Liquor – 1 tablespoon (optional

Fresh Raspberries – 2 cups

Egg – 1
Directions
Crust – In a food processor, place dry ingredients with the butter and pulse until it crumbles together. While machine is running, add egg and slowly pour in cold liquid (more or less), until the pastry comes together to form something of a ball. If making by hand, simply work the dough with a fork until it is pliable and can be rolled out for pressing.
On a floured surface, roll the dough out, cut appropriate size rounds to fit tart pans, or pan. Place in tart tins. Crimp the edges. Put in the fridge until ready to bake.
Custard – Whisk the sweetened condensed milk and an egg together. Add liquor if using, whisk. Divide evenly into prepared tart shells, 3/4 the way up.
Preheat oven to 350. Bake the tarts just until the crust has color and custard is firm, about 15 minutes.
Once the custard is cool, layer fresh fruit across the tops. Sprinkle powdered sugar across the tops and serve. Whipped cream can also be served on top.
Recipe Video
Notes
When using fresh berries, be sure to wash gently, and lay out on a towel to dry before using. Raspberries are very delicate to take care not to let them soak in water of fuss with them too much. 
If using Mason Jar lids as tart pans, a 4 1/2 inch in diameter circle is what is needed to fit the lid perfectly when cutting the dough. Using a cup or small bowl that measures 4 1/2 inches which will make pressing and cutting the dough go quickly!