Steeped in tradition this Moroccan chicken pie known as Bastilla, with layers of chicken, eggs, almonds and spices, is made simply into a finger-food Tapas chicken roll.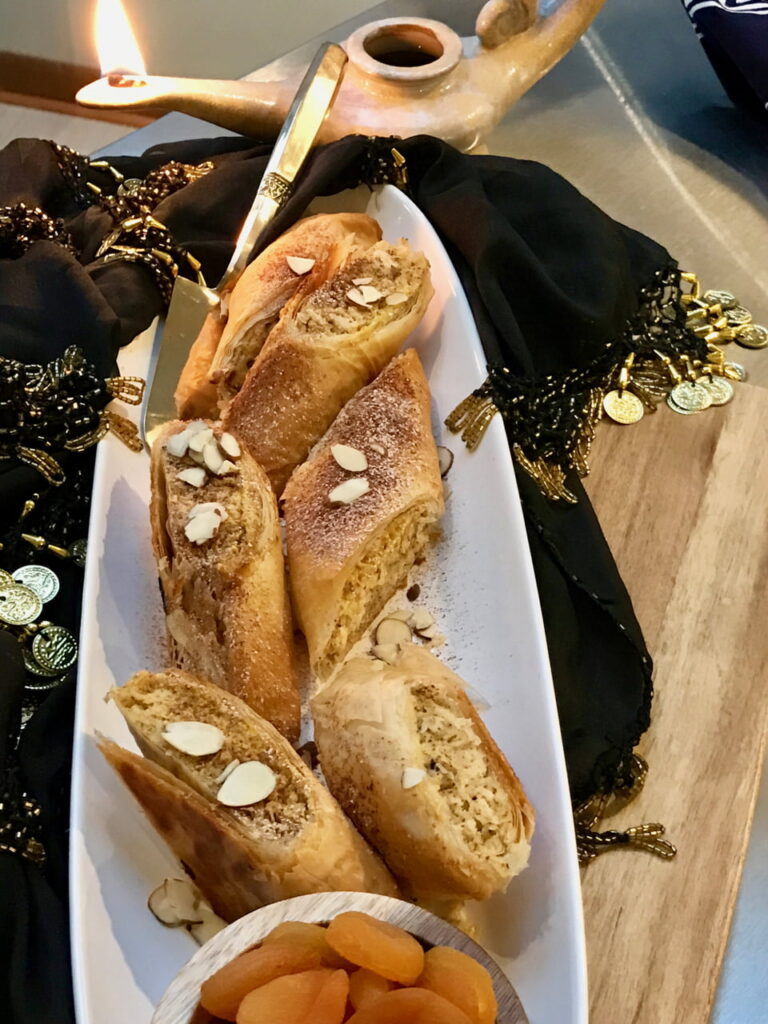 Chicken Rolls
Sometimes, chicken just needs to get all dressed up and look fancy! This Moroccan Chicken Roll recipe takes the underrated chicken, and elevates it to a whole new level.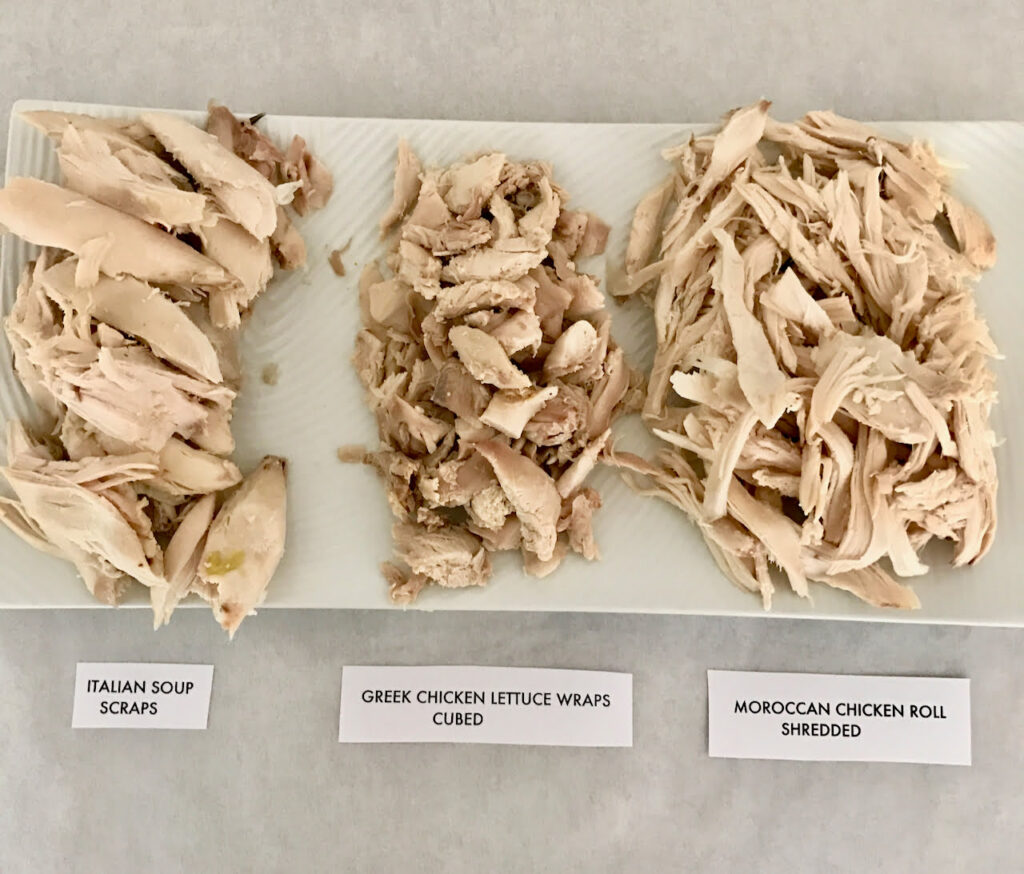 Using the breast meat from a cooked chicken, as seen in our Chicken 3 Ways recipe, leftover chicken breast or simply purchase breast of chicken, boil it and shred it, an elegant appetizer, tapas or side dish will soon be ready.
Moroccan Chicken Dish
Bastilla, a Moroccan, sometimes thought to be Egyptian dish, is a magnificent and very traditional entrée dish.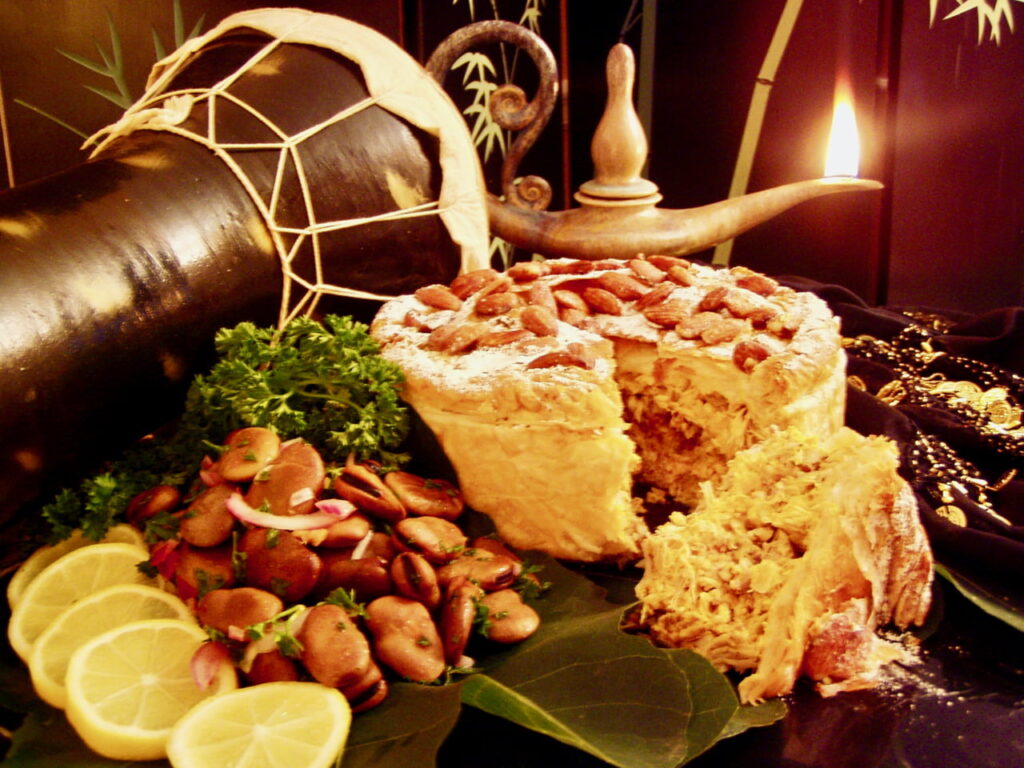 I created a simpler version of the elegant Bastilla for these Moroccan rolls, that are perfect to make in advance and pop in the oven minutes before serving a tapas spread or appetizer.
Tapas
Tapas style dining is my most favorite way to eat. Lots of small plates with a huge variety of delicious dishes to eat. I love this style of dining so much that I created a cookbook – The World On My Plate – dedicated just for small plate dining.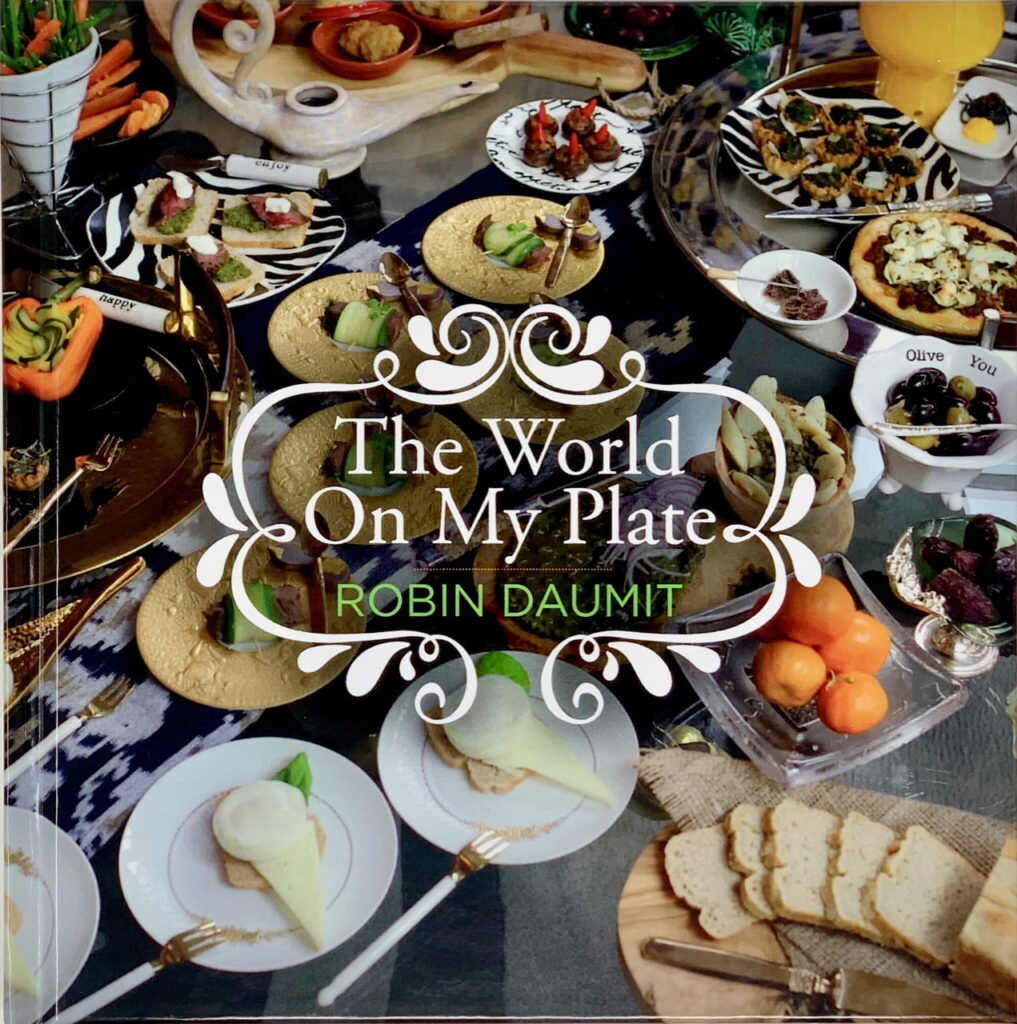 Preparing Moroccan Chicken Rolls
Once the chicken has been cooked and shredded, the remaining ingredients are mixed together.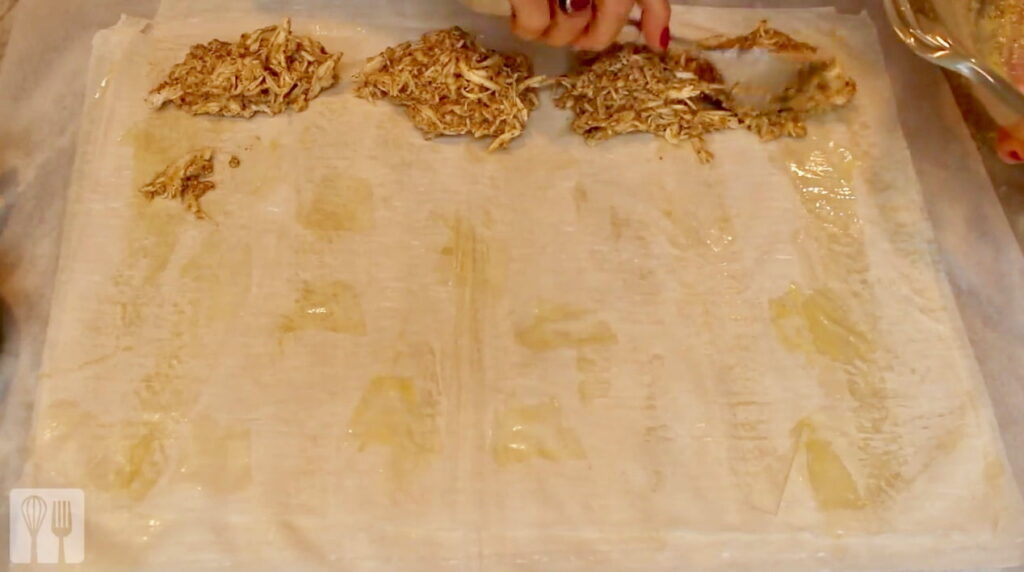 The chicken filling is then placed in phyllo dough, rolled, baked, and ready to serve. This easy dish will be sure to wow any dinner guests, or simply feel as though you have treated yourself to a very sophisticated dinner.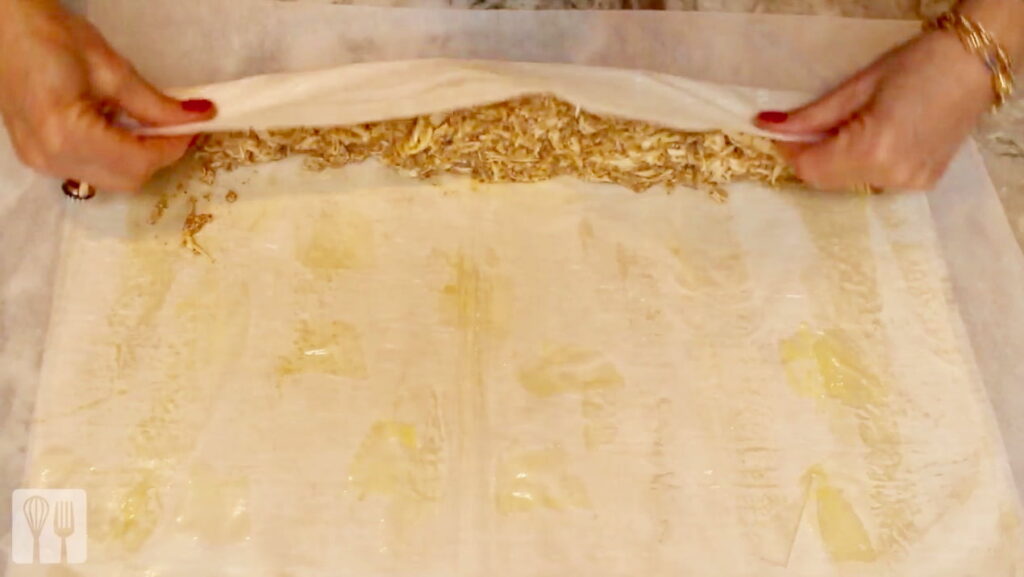 Don't be intimidated to work with phyllo dough, it is quite forgiving. The filling can even be rolled into the phyllo dough, brushed with a little melted butter, frozen or placed in the fridge, and baked at another time.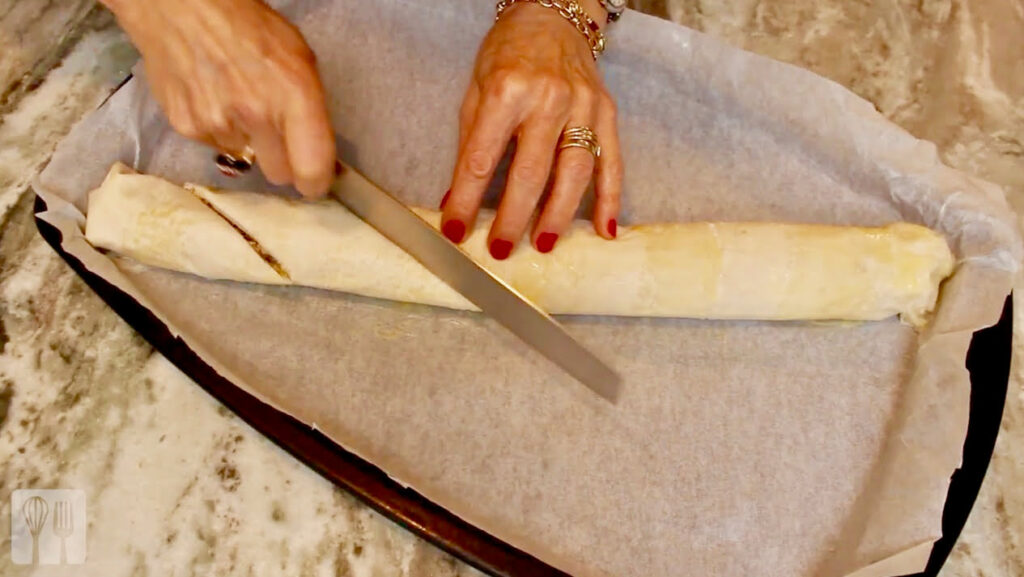 Ingredients Needed
Cooked Chicken
Eggs
Lemon juice
Almond meal
Olive oil
Cinnamon
Salt
Garlic
Cayenne pepper
Powdered sugar
Cinnamon
Slivered almonds
Phyllo dough
Butter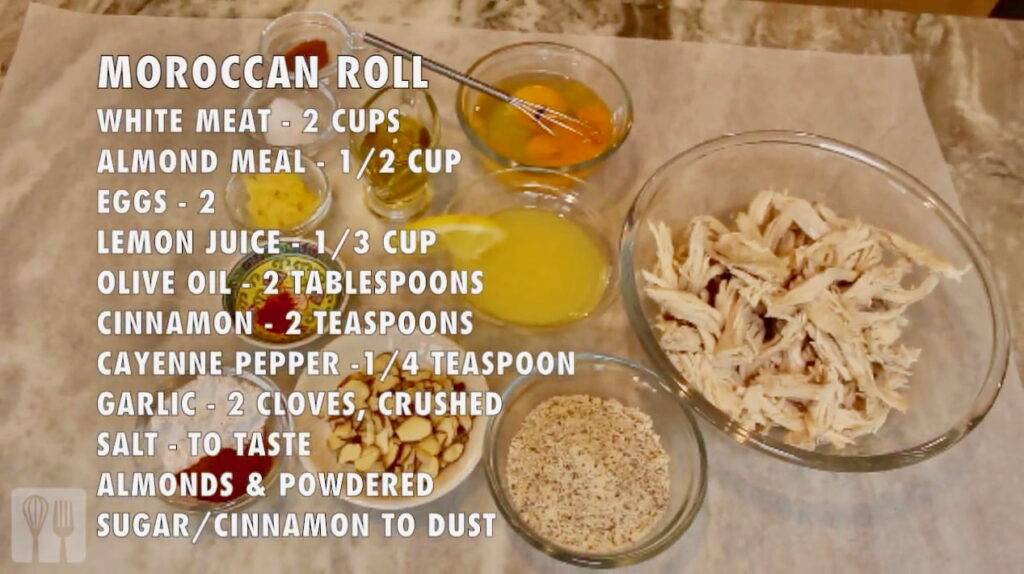 Equipment Needed
Cookie sheet
Parchment paper
Basting brush
Knife
Citrus press
Mixing bowl
Small sauce pan (for melting butter)
Small mixing cup
Oven
Moroccan Chicken Rolls – Tapas
Course: Appetizers u0026amp; Tapas
Cuisine: Moroccan
Moroccan chicken pie known as Bastilla, with layers of chicken, eggs, almonds and spices, is made simply into a finger-food Tapas chicken roll. 

Ingredients
Cooked Chicken breast – 1 ½ breast, shredded

Eggs – 3

Lemon juice – ½ cup

Almond meal – 1 cup

Olive oil – 1/8 cup

Cinnamon – 1 tbsp

Salt – 2 tsp

Garlic – 2 cloves, crushed

Cayenne pepper – a pinch or to taste

Powdered sugar and cinnamon – 1 tsp of each, mixed to dust on top of baked rolls

Slivered almonds – 2 tbsp to sprinkle on top of finished rolls

Phyllo sheets – 6 sheets

Butter – 3 tbsp, melted to brush onto phyllo dough
Directions
In a bowl mix eggs, lemon juice, olive oil, and garlic. Add chicken, spices, and almond meal. Blend until all ingredients are moist.
Brush a little melted butter onto phyllo dough, one sheet at a time until you have stacked 3 layers. Place half of the filling at one end (long end) of the phyllo sheets, gently roll and brush a little butter as you roll. Place sealed closing down onto parchment paper lined cookie sheet. Do the same with the second roll.
At a diagonal, cut 1/3 way through the roll before baking. Brush any remaining butter across the top. (cutting before baking makes it easier to cut through the crunchy pastry after it is cooked)
Bake 350 for about 35-40 minutes, or until the pastry is golden.
While rolls are still hot, dust the cinnamon/sugar mixture across the tops, sprinkle the slivered almonds, and cut all the way through the rolls.