A contradictory Mediterranean twist on an old Irish stew; goat meat, the healthier red meat, lots of roots, eggplant, mushrooms, spices and wine. Once you know what a real Mulligan stew is, you will understand why this recipe is a contradictory!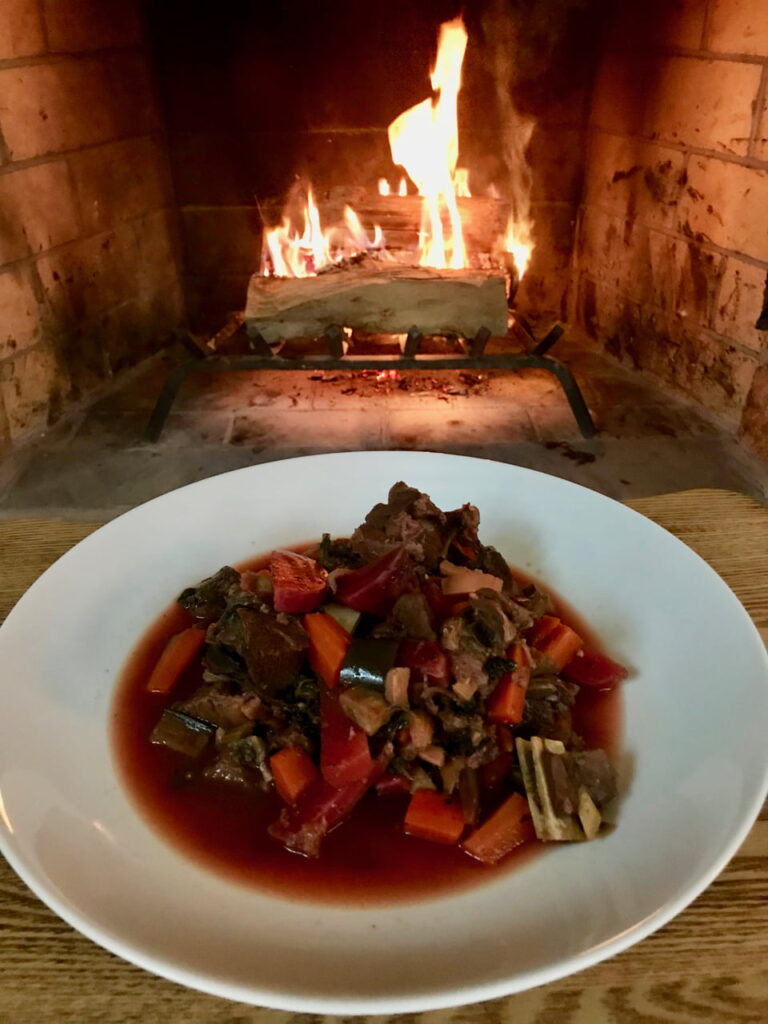 Mulligan Stew
Once called 'Hobo Stew' it reminded me of the story of 'Stone Soup'. The community in a village started with a stone and an empty pot, brought a little of this or that, or what ever they had for food to contribute to a town pot of soup. When it was done, there was plenty of delicious soup to feed everyone.
The Beauty Of A Stew
How often does one actually shop for the ingredients to make a stew? I know for me, a stew often comes together with a little of this or that or what I have in the fridge, pantry or sometimes freezer.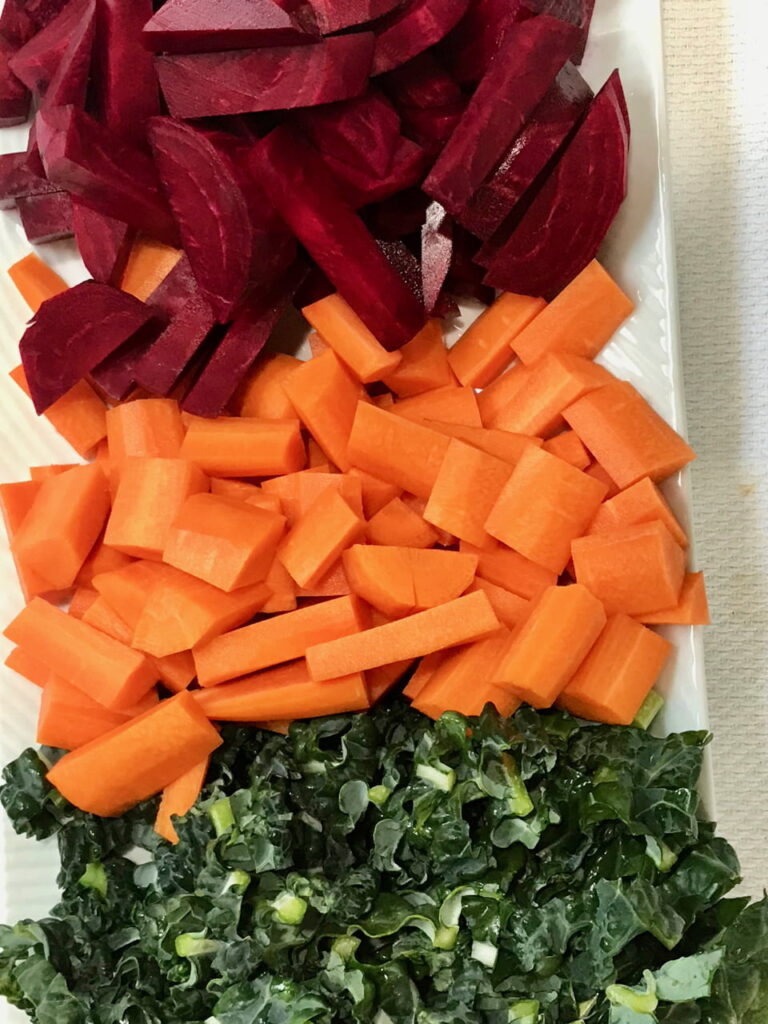 But for this stew, my contradictory stew (of sorts), I shopped for some of the ingredients. In fact, I wanted to try making a stew with goat meat, so first I had to purchase the goat meat.
The rest of the stew came together with the Mediterranean ingredients I most often shop for or have in my fridge. The goat stew is delicious on its own but a Mediterranean Rice with Dried Fruit would go beautifully with it.
Goat Meat
Did you know that goat meat is superior nutritionally to beef? Yep! It is higher in iron and lower in saturated fats and calories.
Goat meat is often likened to lamb in taste, though I think it is a cross between lamb and beef.
While goat meat may not be at your local grocery store, it can easily be found through health food markets, or what is known as Halal market (Halal meats and their process are handled different than most other meats we buy and perhaps more desirable), and definitely worth scouting out since it is an exceptional meat.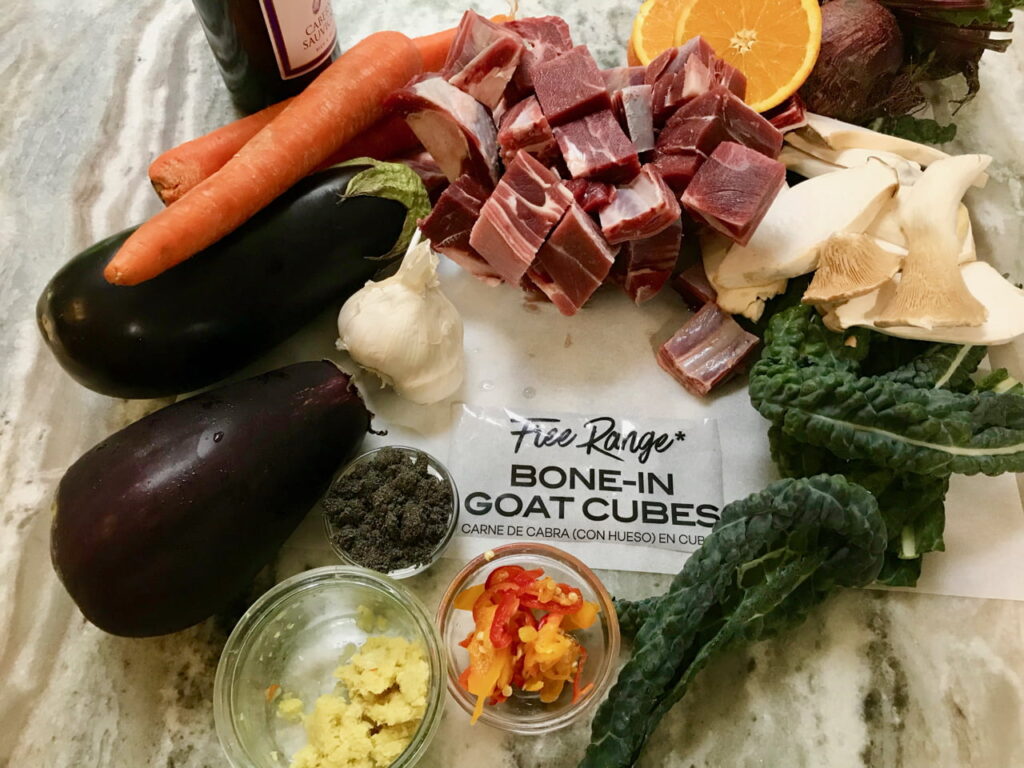 Crock Pot Instant Pot or Dutch Oven Stews
Call me old fashion but whenever I think of a stew I often envision a big ole cast iron pot hanging over an open fire and simmering away a delicious selection of meats, roots and herbs.
When I make a stew, I want the best form of slow cooking I can use because often a stew uses less expensive, often tough cuts of meat and slow cooking breaks down the tough aspects.
I have enjoyed experimenting with various forms of stew cooking and have found something I prefer in each, so I suppose it just depends on what you are most confident with using or able to spend for.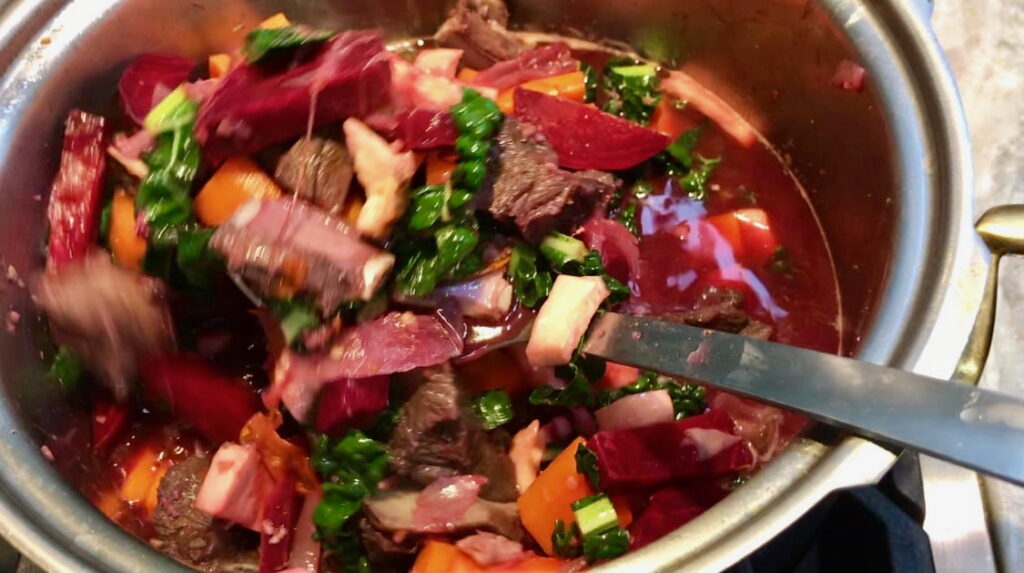 Cooking With Wine
Goat stew, like many other stews and chowders I make, gets a healthy splash of wine. Why? My experience has often been that wine helps pull out exciting aromas and flavors in a pot of something simmering away.
Too much wine in a sauce or stew can dominate the flavor and for sure you will want the sauce to be one that can cook for awhile to allow the wine to lend a more complex flavor and the alcohol cook off.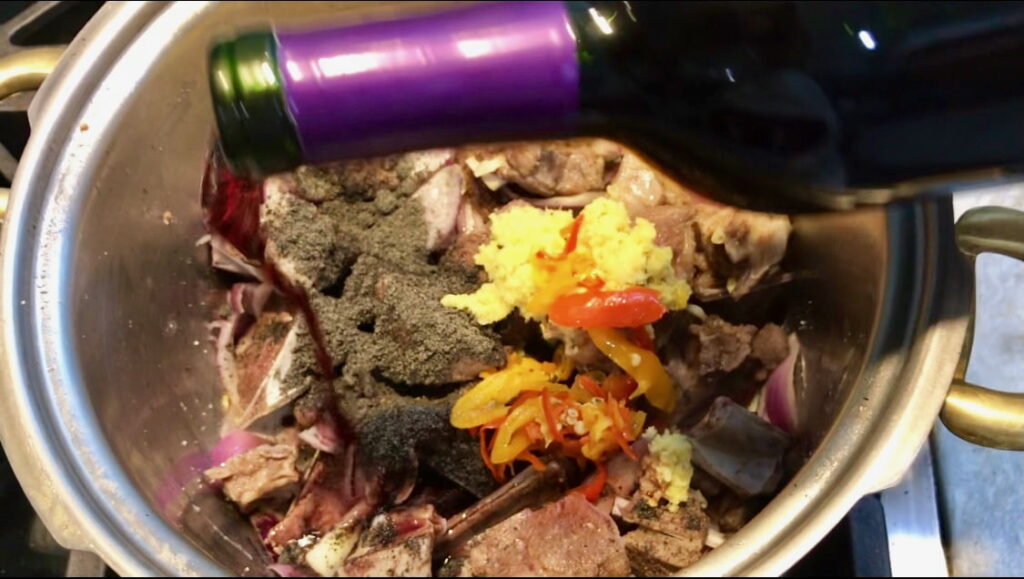 In my goat stew I have chosen to use a red wine, mostly because I will also be using beet roots, so staying with red just seems smart. When I am simmering or roasting a Rabbit (another favorite meat of mine), with mustard, I instead use a dry white wine.
Cooking with the best wine to compliment the dish being cooked, helps to elevate the flavor of what is being cooked. Follow a trusted recipe or experiment on your own.
Don't forget to use a sweet dessert wine when slow simmering a fruit compote, such as a luscious Cranberry Compote to serve alongside holiday meats, on top of cheese on charcuterie boards or simply to drizzle on top ice cream for a fast and decadent dessert.
Ingredients Needed
Cubed Goat meat
Onion
Olive oil
Red wine
Salt
Cumin
Ginger
Garlic
Chili pepper
Carrots
Red beets
Kale
Eggplant
Mushrooms
Orange
Equipment Needed
Stew pot with a lid
Cutting board
Chopping knife
Measuring cup
Measuring spoons
Garlic press
Citrus press
Cooking spoon
Ladle
Stovetop or burner
Mediterranean Goat 'Mulligan' Stew
Course: Soups u0026amp; Stews
Cuisine: Mediterranean
A contradictory Mediterranean twist on an old Irish stew; goat meat, the healthier red meat, lots of roots, eggplant, mushrooms, spices and wine. 
Ingredients
Bone-in Goat Cubes – 2 pounds. Usually found in the freezer section or a good Halal market

Onion – 1 large, chopped

Olive oil – 2 tablespoons

Red wine – half bottle

Salt – 1 tablespoon

Cumin – 1 tablespoon, preferably black cumin

Ginger – 1 tablespoon, preferably fresh, or 1 teaspoon of dried

Garlic – 4 cloves, crushed

Chili pepper – 1/8 cup freshly chopped

Carrots – 4, chopped

Red beets – 3 small, chopped

Kale – 1 cup, chopped

Eggplant – 2 small, or 1 medium, chopped

Mushrooms – 1 cup, chopped

Orange – juice and zest from 1 orange
Directions
Sauté chopped onion in olive oil in a heavy pot on top the stove. Add meat, spices, and wine, and let come to a simmer.
Add vegetables, juice and zest from the orange and enough boiling water to come an inch below the items in the pot, leaving room for the juices from the vegetables to extract and add to the broth.
Bring to a simmer with a lid half on, half off and let it cook, stirring occasionally, for about an hour.
Notes
Can be served over rice, though I find it plenty filling all by itself.