A cookie-like pie crust of crushed nuts, oats, butter and an egg white, that simply gets pressed into the baking dish in minutes.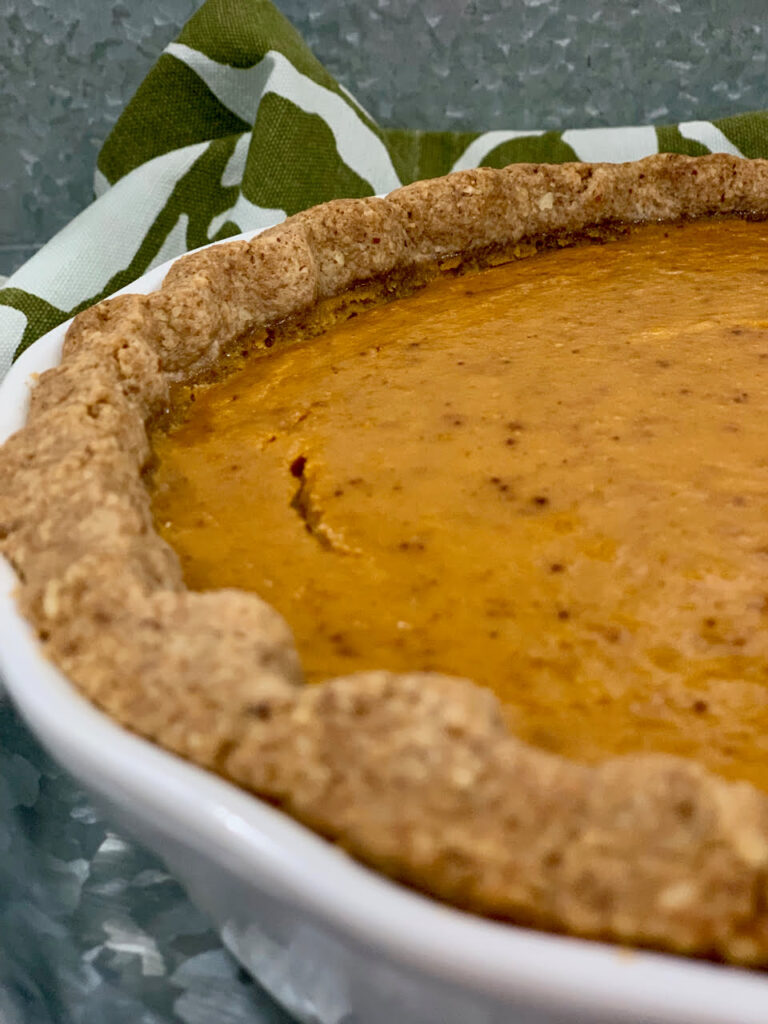 Ordinary Pie Crusts
Most often an ordinary pie crust is made of all-purpose flour and butter or some other type of fat and a drizzle of this or that to bind it together.
That type of pie crust needs to be rolled out on a flat surface with more flour, so as not to stick to the rolling pin or surface. Then, the trick is to get the dough into the pie pan.
Experience teaches us the importance of working quickly with ordinary pie crust in that you must work quickly with a cold dough.
With experience and hopefully not a hot summer day, this type of pie crust can be mastered and can be elegant.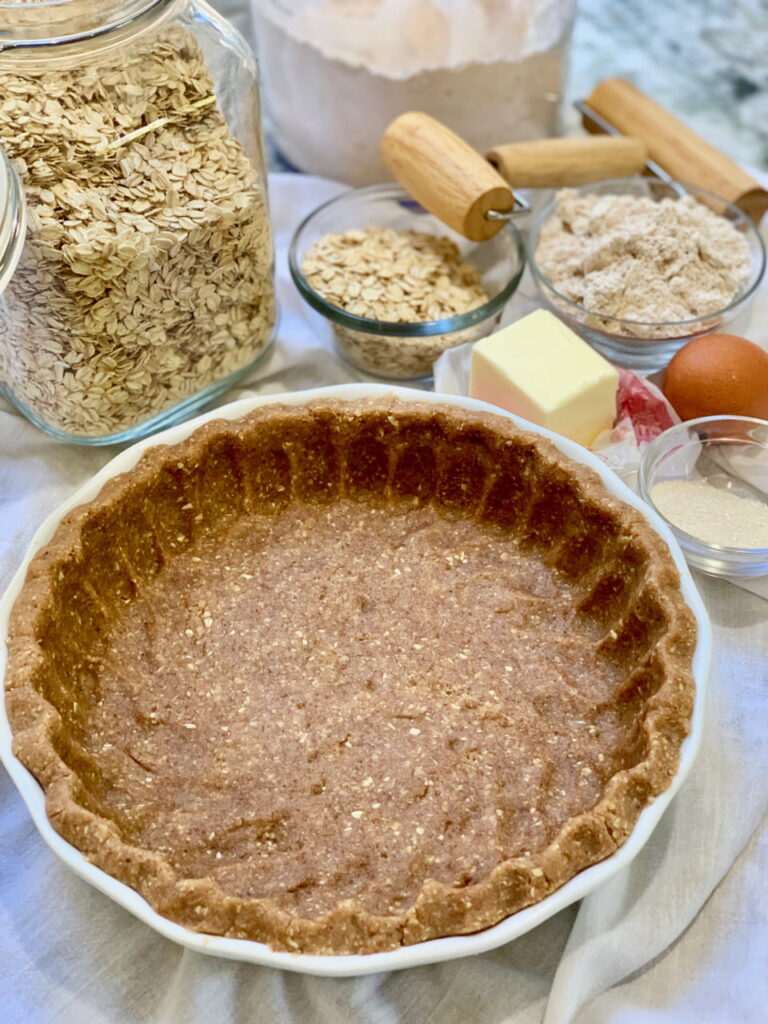 No-Roll Pie Crust
While I have been baking most of my life and am confident in working with an ordinary pie crust, not all of my loved ones or friends are. Therefore, they stray away from baking pies.
I created this no-roll pie crust with ingredients that would make a successful pie crust each and every time.
Once the pecans (or other nuts of choice), and oats are crushed in a food processor, turning them into a grain and protein rich flour, I add a little spelt flour to finish the balance of flours needed. Never using the sticky gluten of all-purpose flour.
Butter is then added, though coconut oil works well too, very little sugar, pinch of spice and an egg white to bind the crust together when baking; making for a rustic yet cookie-like crust.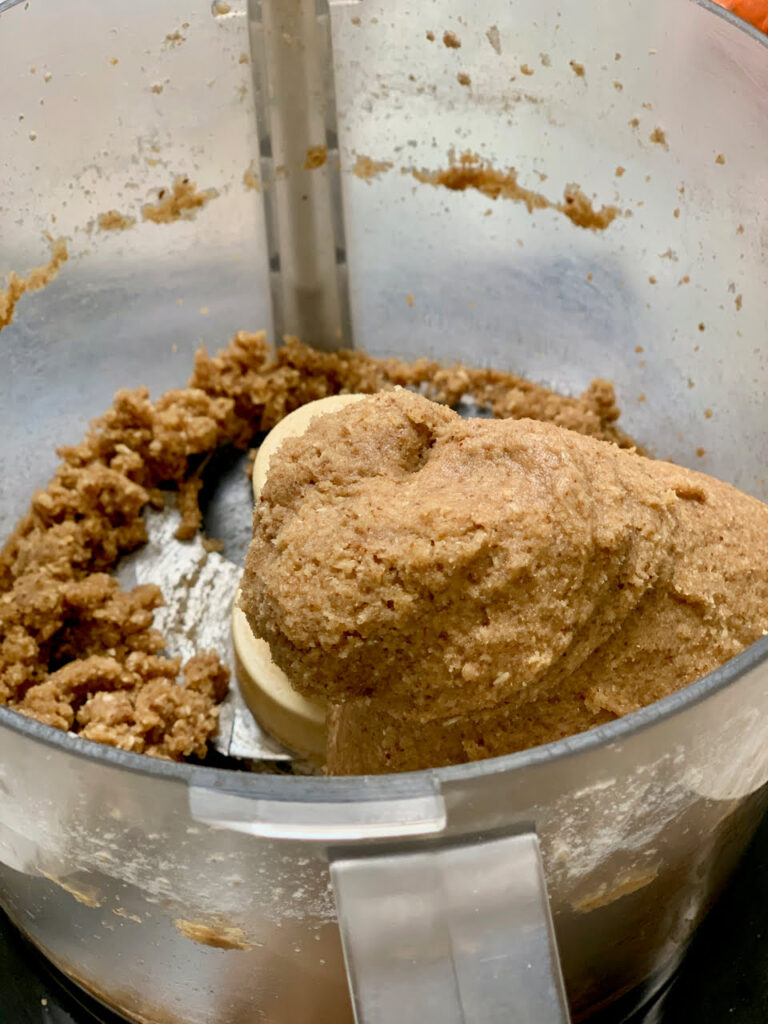 Easy Pie Crust Preparation
Once the pie crust comes together in the food processor, forming a ball, that lovely ball gets pressed into the pie pan. That's about it!
The dough spreads easily around the pan. You need only to wiggle it up the sides with your fingers and crimp the edges just as you would any pie crust.
I found a fun tool I use often that looks like a child's toy, something they might use to shape clay or play doh, but it's really just a wooden wheel that works dough into tiny corners.
I am big on kitchen toys and while this kitchen toy smooths the bottom of the pie crust it isn't necessary. Using a fork to press the bottom and sides works just fine. After all, a pie filling is going into this lovely crust so no one will see the bottom except you. I'm just quirky like that!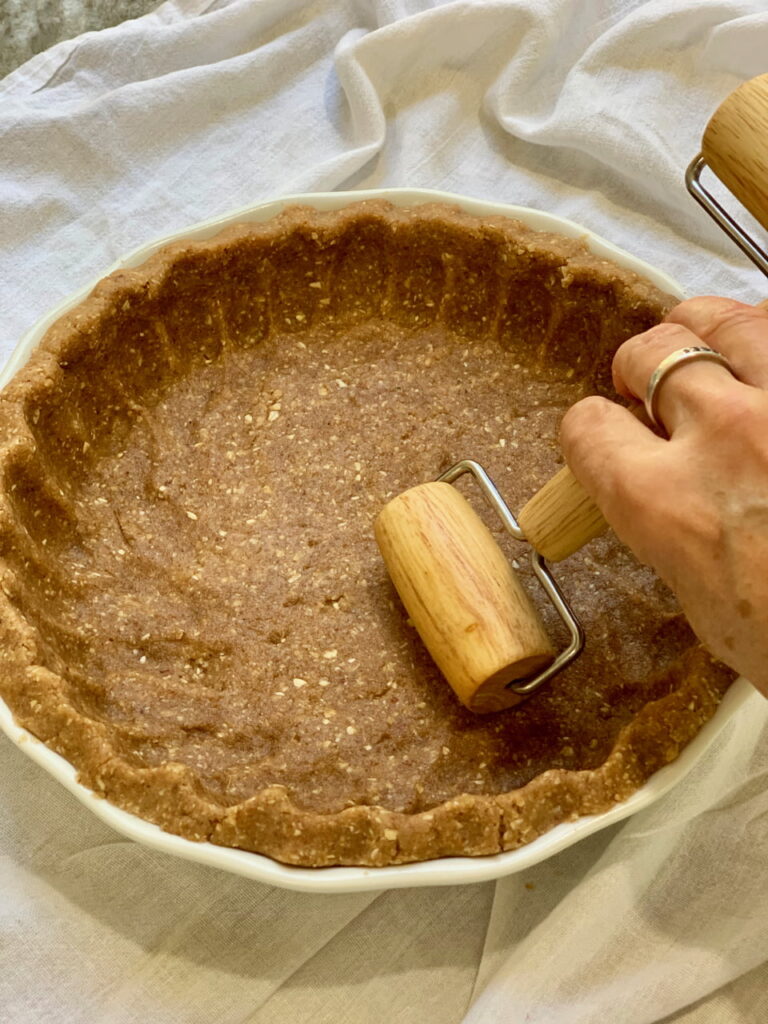 Nut Flour
When I was growing up, nut flours were never to be found in the grocery store. If we wanted nuts to be used in a crumble or as a flour, we had to smash the heck out of the nuts, wrapped in a dish towel, with a mallet or hammer. Messy!
With a food processor, blender or spice grinder it's easy to grind nuts into a powdery flour that makes a scrumptious, cookie-like, rustic pie crust.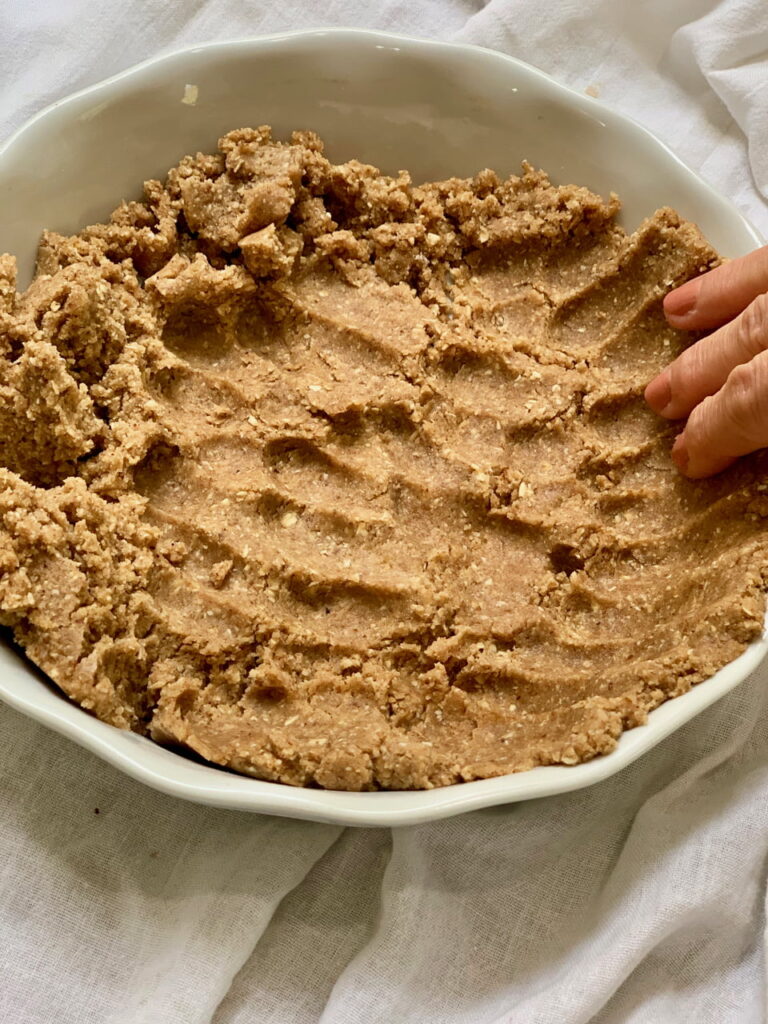 Baking A No-Roll Pie Crust
There is no need to pre-bake /blind-bake this pie crust. Simply fill and bake until the pie filling is cooked to your specifications.
You can, however, bake this pie crust if planning to use it for a pie filling that is not in need of baking; such as a pudding, or precooked custard or even an ice cream pie.
Should you want this pie crust pre-baked, simply blind-bake as you would any other pie crust; line the inside of the crust with parchment paper, pour dried beans in to hold it down, and bake until crisp and firm.
Ingredients
Nuts
Oats
Spelt flour
Butter
Sugar
Cardamom or desired spice
Salt
Egg White
Equipment
Food processor
Pie baking dish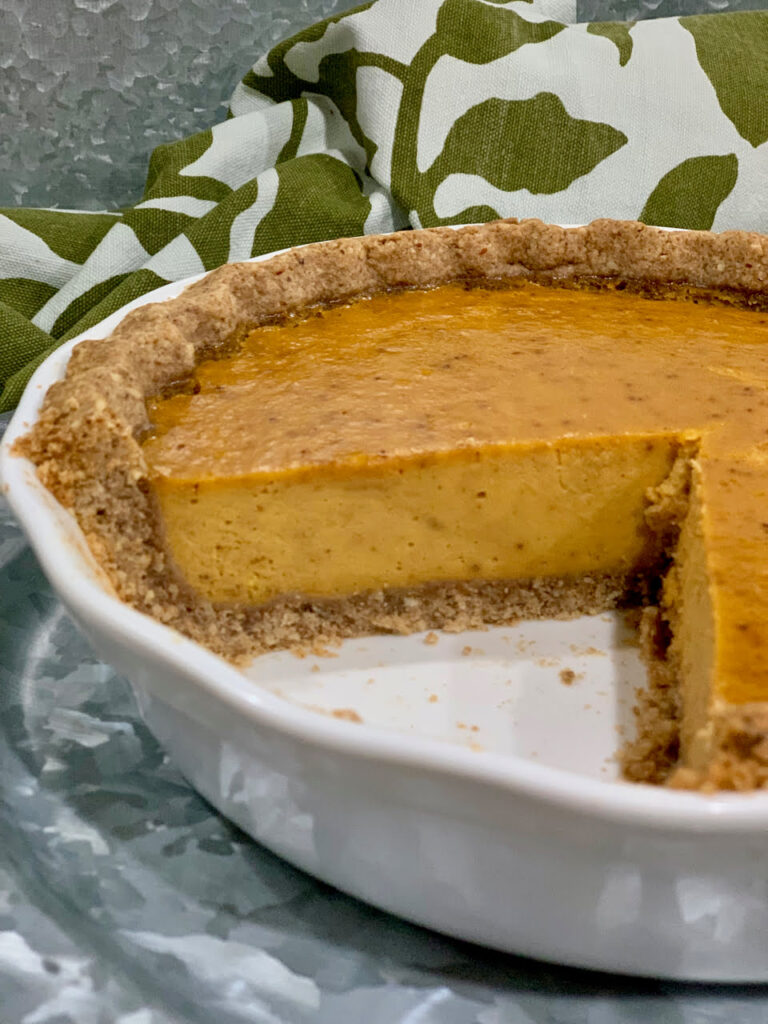 Easy No-Roll Pie Crust
Course: Dessert, Pies
Cuisine: Dessert
Difficulty: Easy
A cookie-like pie crust of crushed pecans, oats, butter and an egg white, that simply gets pressed into the baking dish in minutes. 

Ingredients
Pecans – 1 cup, or other nuts

Oats – 1 cup

Spelt flour – 3/4 cup

Butter – 6 tablespoons

Sugar – 1/4 cup

Cardamom – 1/4 teaspoon, or other spices

Salt – 1/2 teaspoon

Egg white – 1
Directions
In a food processor, crush the pecans and oats.
Add the spelt flour, sugar and salt and pulse.
Add the butter, cut into small pieces first and the egg that has been slightly whisked.
Run the processor until the mixture forms a ball. If sticky, add more spelt flour, if dry, drizzle a few drops of water.
Press the dough into the pie dish, working the dough up the edges and flat on the bottom. Crimp the edges as you would any pie crust.
The crust is ready to fill and bake as your filling recipe call for.