Valentine Dinner at Home made easy, delicious and special. See how to rearrange a nook or space in your home into a special dining evening. Try these easy homemade recipes and let the evening linger!
Valentine Dinner At Home
Valentine Dinner. An easy meal? Candles, fire, and some fun prompted conversation? How does that sound to you!
Part two, of my four-part series using your home as a fun place to recreate ambience for a memorable Valentine evening, whether for friends, for two, or a special night just for you.
Easy Delicious Recipes And Fun Are The Key
Burger Buns – Any burger of your choice, meat, salmon, vegan
Roasted Potato Fries – Oven roasted to a crispy perfection, rosemary and salt
Mediterranean Lemon Dressing – Drizzled over a refreshing winter salad
Strawberry Layer Cake – Strawberries sandwiched between quick shortcakes
The Love Plate – Conversation starters to make the evening interesting
Set The Stage – Some quick rearranging of furniture to create the mood
Homemade Burger Buns
Burgers for Valentines Day? Where I live, it's freezing on Valentines Day. I am in want of a taste of spring or summer, not snow and stews.
For the burgers, they can be store bought, vegan, lamb, beef, turkey, or whatever you like as your burger. But make sure it doesn't take more that 10 minutes to have them ready.
To make the burgers feel special, I made these big, fat, cheesy, Homemade Burger Buns, a day earlier. The recipe and preparation couldn't be easier.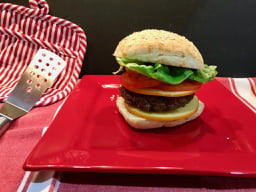 Rosemary Potato Fries
Crunchy, rosemary and olive oil oven roasted potato fries, with coarse sea salt. What's not to love! Rosemary Potato Fries are fast, easy, and oven baked until crunchy.
Check out the easy recipe, which potatoes make the best oven fried potatoes, and why this method is the best, both for taste and for health.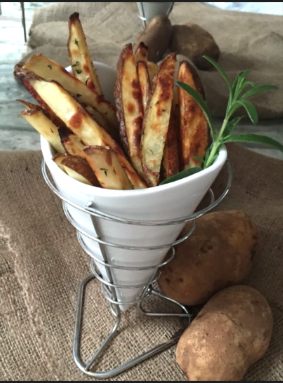 Healthy Winter Salad
Who doesn't want a healthy salad in the dead of winter! It whispers 'spring is not far off'. Alongside the Valentine Dinner prepared here, an easy salad with the best ever Mediterranean Lemon Salad Dressing could cause the salad to steal the show away from the burger.
The salad I prepared was simply spinach, mandarin oranges, blue cheese, and spicy hot Thai cashews with a lemon and olive oil dressing.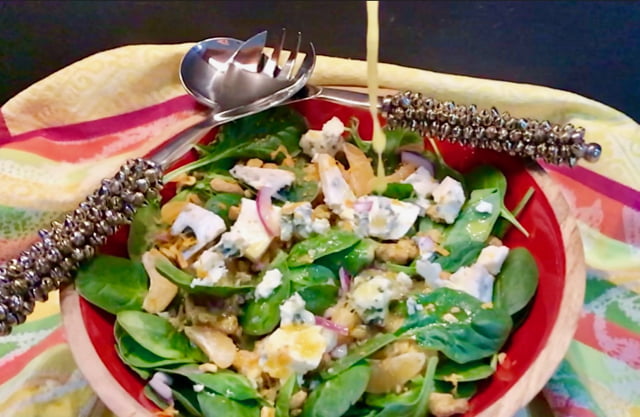 Strawberry Shortcake
The first fruit that pops out, from the dead of winter's sleep, is the strawberry. I almost always make a strawberry dessert for Valentines Day.
The fabulous Strawberry Layer Cake is also a fast and easy do-ahead the day before. Pureed strawberries were added to the whipping cream for both color and taste! Recipe is linked above also.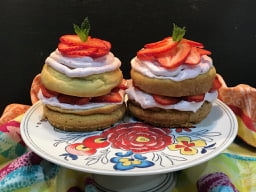 At Home Games
Let's face it, unless your Valentine Dinner date is with a new friend, conversation sometimes can get a little boring with that ole timer you've been hanging with all these years.
For this reason, I created The Love Plate! Conversation starters about new, funny, serious, interesting things. Topics you might not otherwise chat about.
For your Love Plate. I simply went onto Pinterest and looked for fun conversation starters. Print them, cut, fold, and place on a cute dish, bowl, or basket to get the evening started.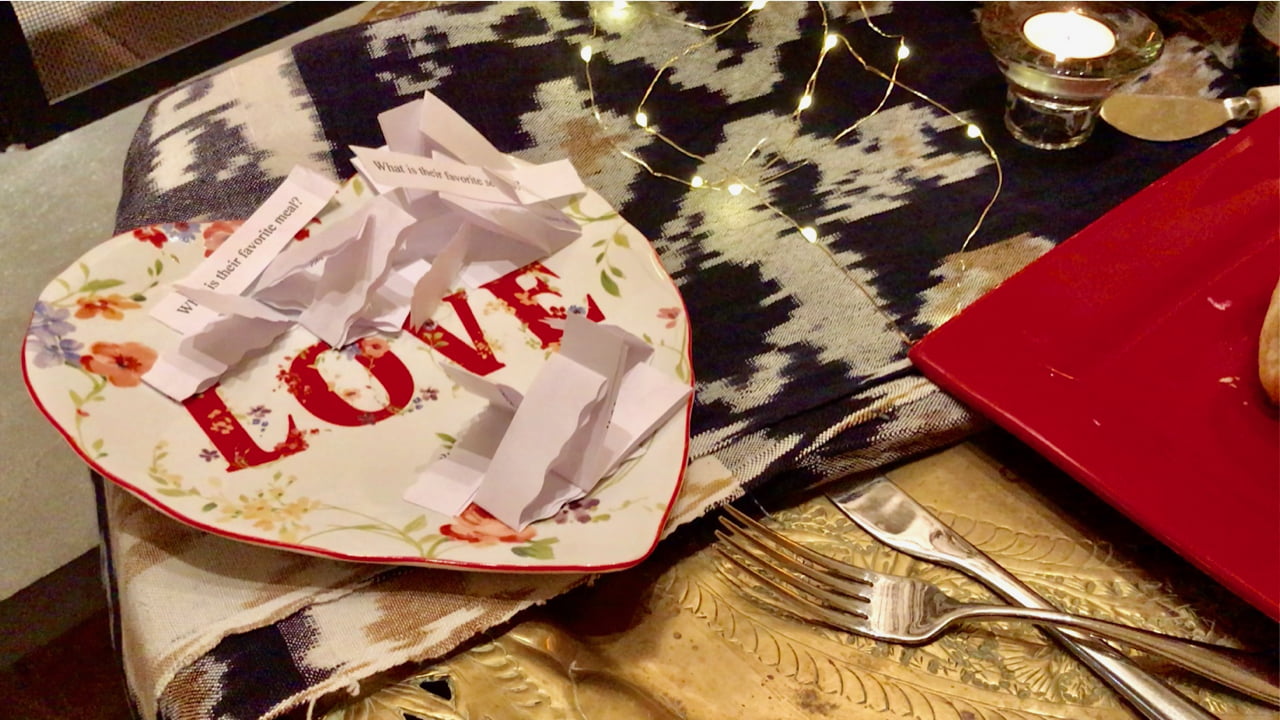 Set The Stage!
At home dining? Same ole dining room, sofa or deck? Nope! I am here to challenge you to 'set the stage' right there in your own home. Try a new spot, move a few pieces of furniture, break a few old habits.
The video above will inspire a little recreation in your home to set a new ambience for this Valentine Date Night as Home!