Deconstructed ratatouille pizza is made from the classic ratatouille ingredients; eggplant, zucchini and peppers. Sliced thin, these veggies are roasted in herbs and layered in strips across a homemade pizza dough with a schmear of pesto and a sprinkle of Manchego cheese. 
What Is Ratatouille?
Ratatouille is a rustic, French countryside dish. When you grow lots of tomatoes, zucchini and eggplant during the summer months, you often end up with more than you can eat.
Ratatouille is the resolve for such an overgrown garden. The veggies are simmered and reduced, like a stew with many of the Herbs de Provence; thyme, basil, marjoram, oregano and of course a little wine.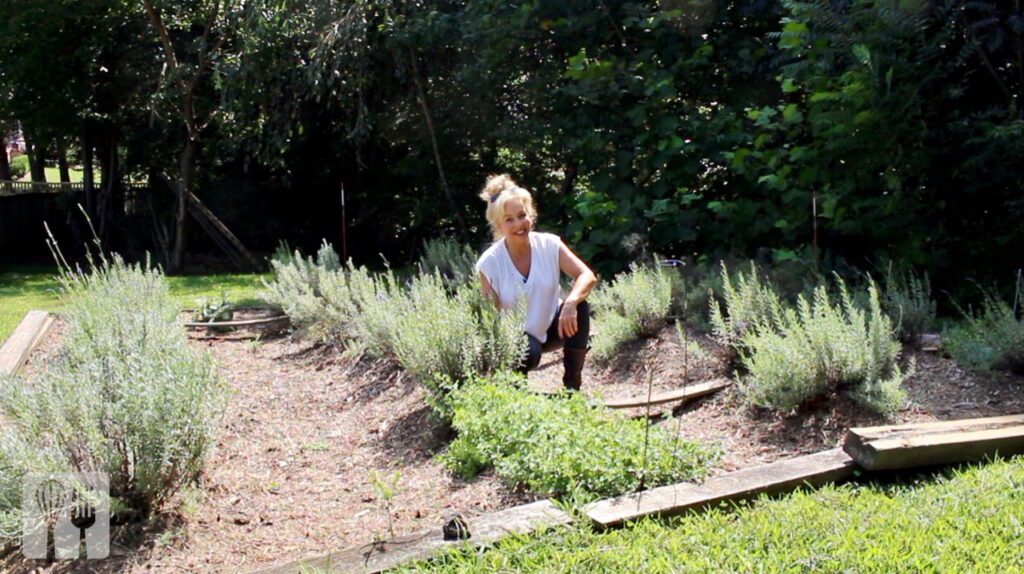 It condenses a large mass of veggies and serves beautifully with crusty bread, over pasta or freeze small batches for the winter months and enjoy your summer garden all over again.
Deconstructed? Or Constructed
If the rustic French version of a summer garden is condensed veggies into a lovely spread, let's construct those same lovely summer garden vegetables, while they still look plump and colorful, into the most beautiful topping for a pizza!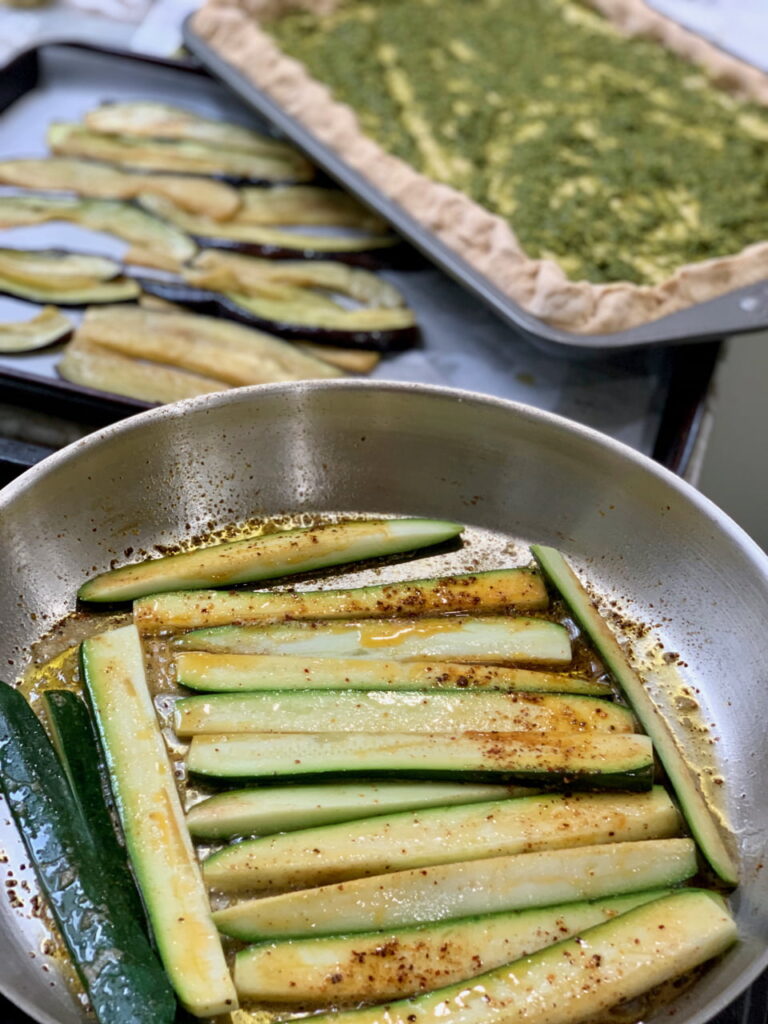 After all, a Mediterranean Ratatouille Crostini is the reduction of summer's vegetables on top of a crostini, why not roast the same vegetables in visibly large cuts and serve them constructed over a homemade pizza dough.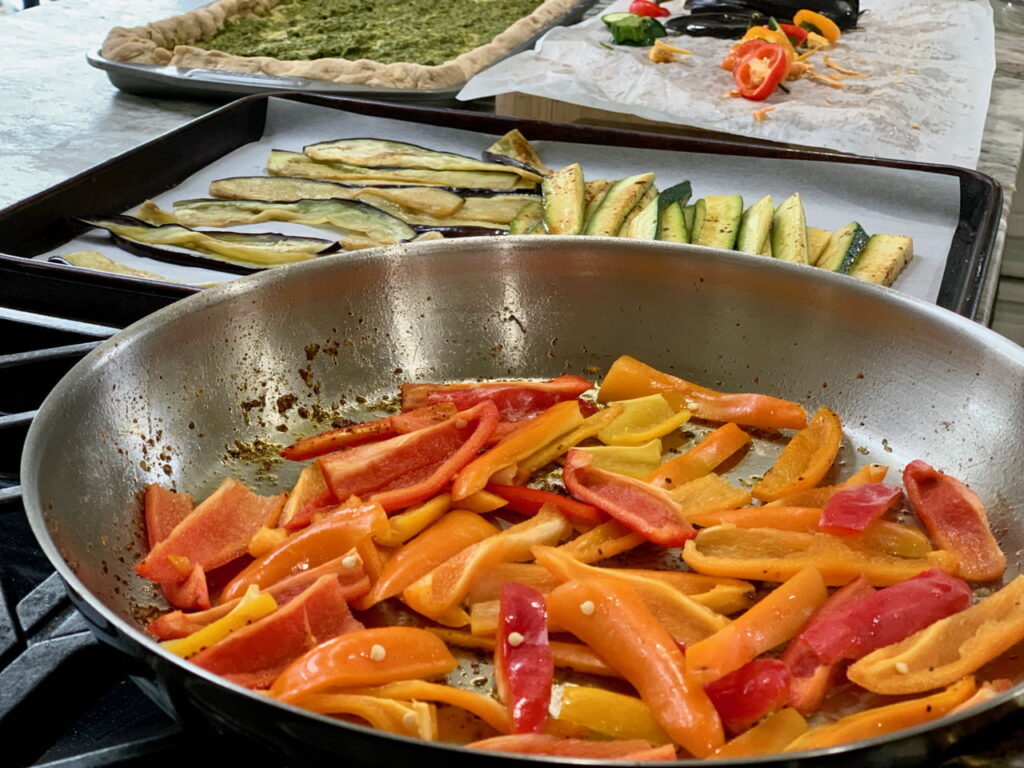 Homemade Pizza Is The Best
Who doesn't love pizza! Thick crust or thin, there is something totally scrumptious about well thought out toppings over a homemade crust.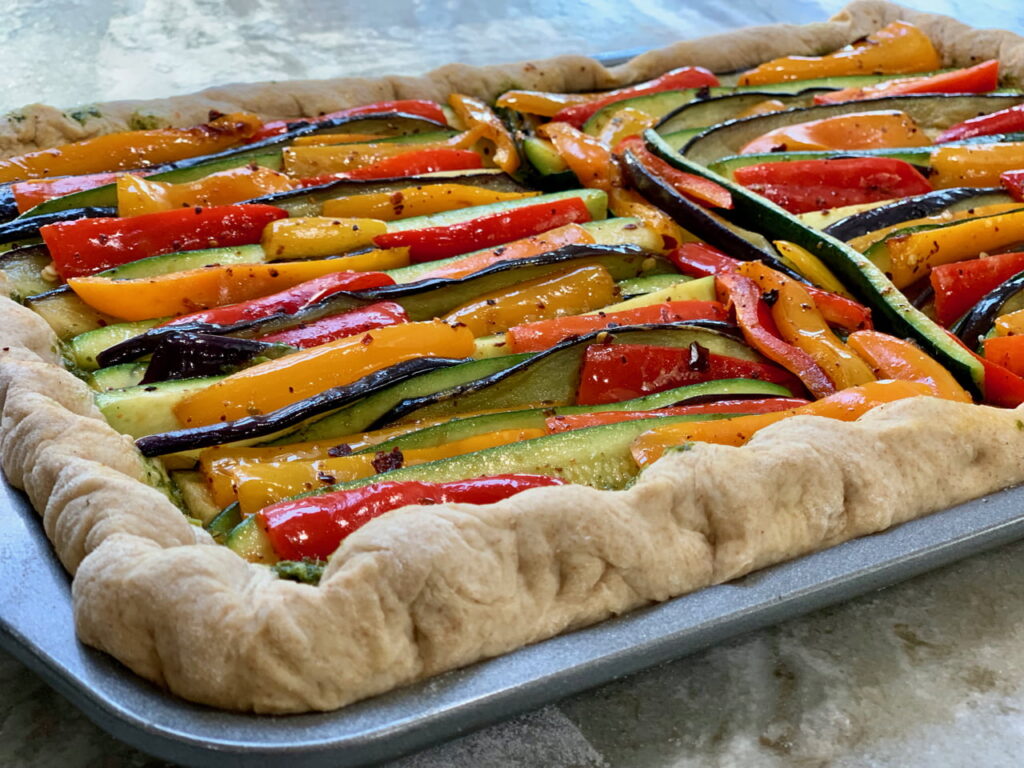 When a pizza crust is homemade, what goes into the dough can be as thoughtful as what goes on top.
With an easy to make (really, all my kids make this dough, and have since they were teens), Homemade Bread dough, I add grated cheeses, sometimes garlic and always herbs to make the crust just as much the star of the pizza.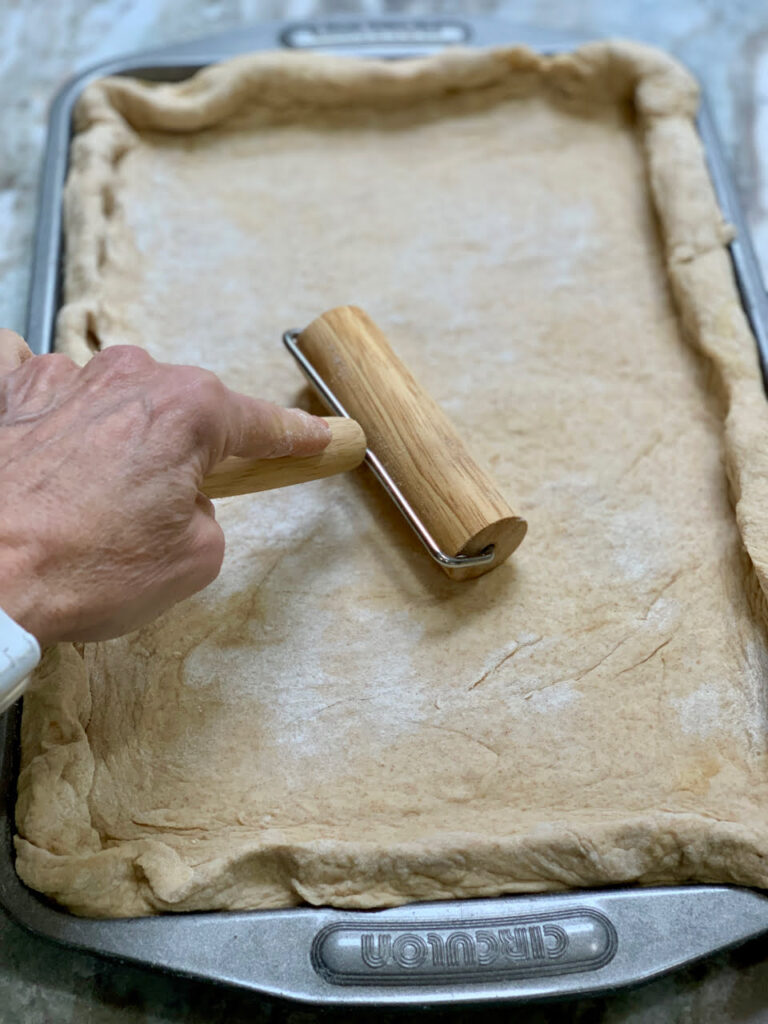 Green Pizza Sauce
Tomato sauce ain't the only sauce in town! In fact, once you've had 'green' sauce on your pizza you will realize where the real flavor in your pizza is coming from.
Pesto, salsa verde and Chermoula. Green sauces that have no tomatoes in them. For this pizza I chose the Moroccan Chermoula sauce. It's fast to make and keeps in the fridge for days.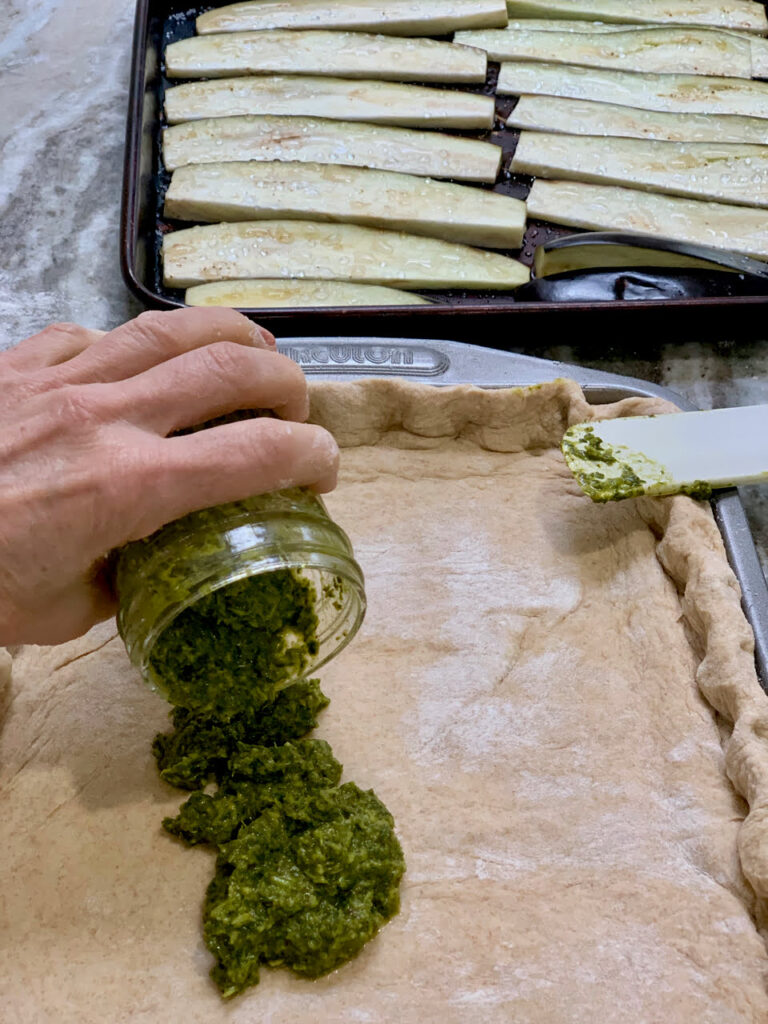 Chermoula is a puree of parsley, cilantro, garlic, lemon, olive oil, smokey spices and a little heat.
Nothing fancy and no cooking. Just toss the ingredients into a food processor or blender and in one minute you have a scrumptious sauce.
Make plenty. Have some on your pizza and on another night try roasting a Whole Fish or lamb with Chermoula. If you've any leftover, freeze it for all your cold weather soups and stews.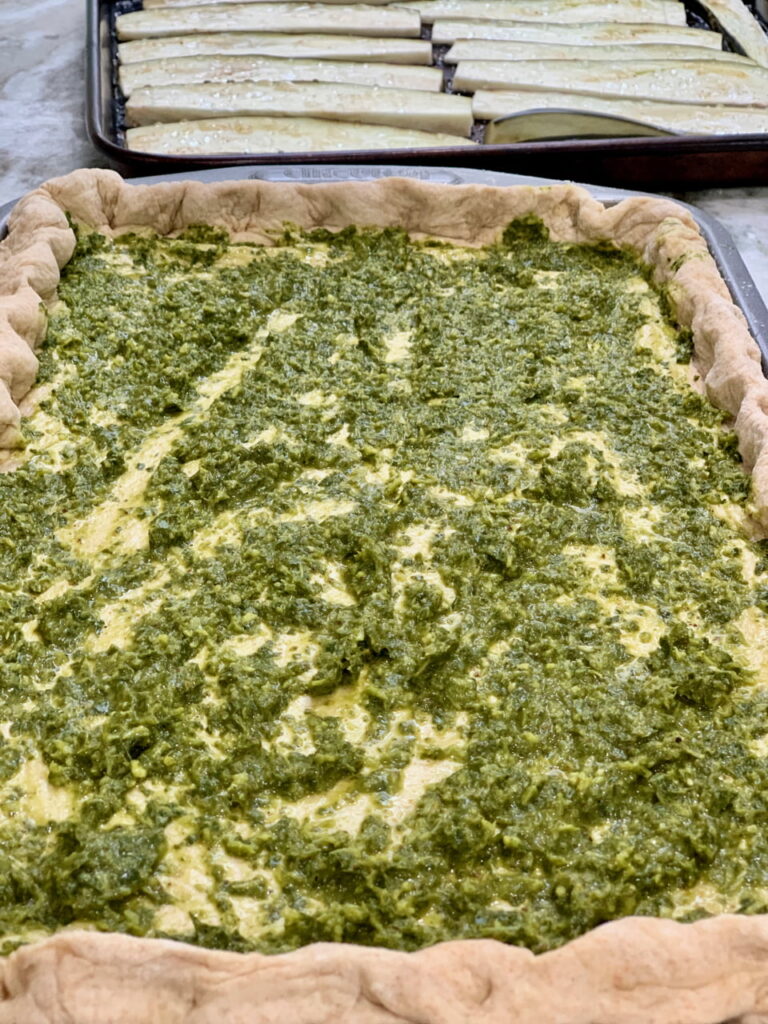 Think Ahead Ratatouille
While my first ratatouille was made at the end of summer from garden veggies or my local farmer's markets, this pizza was created on a chilly spring evening.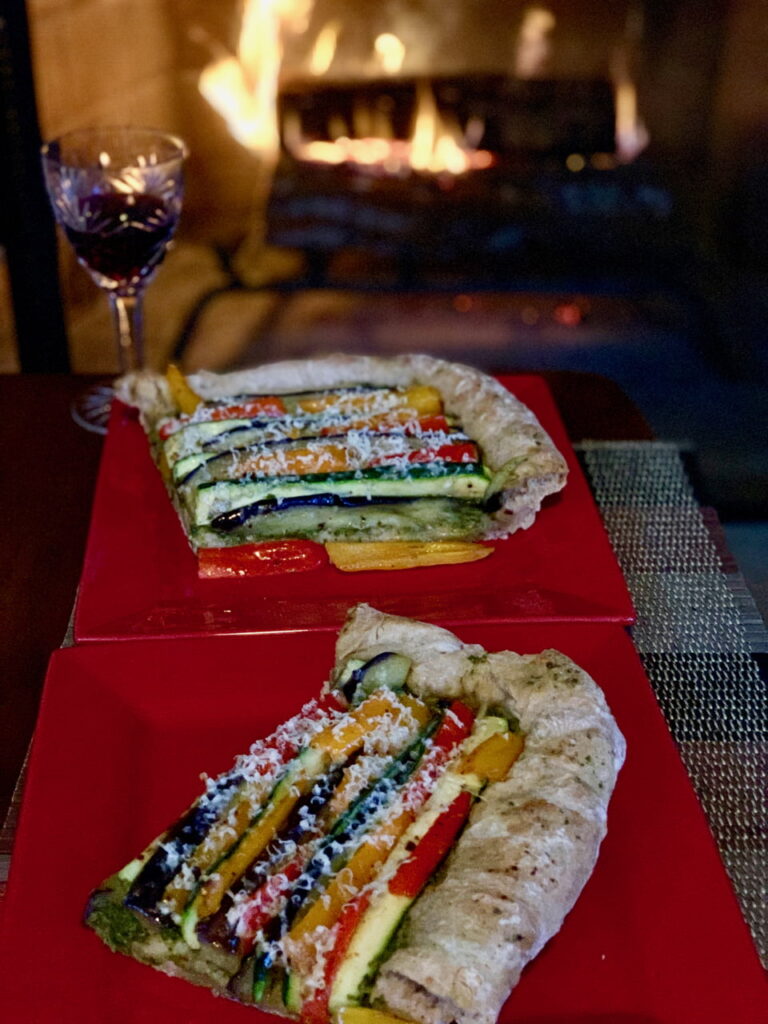 Making this pizza assured me of which vegetables and herbs I will be planting in my garden this summer.
In fact, the seeds have already been started indoors so I can experience the excitement of the months ahead and the many batches of ratatouille I will be making.
Ingredients Needed
Easy Pizza Dough – or store bought
Eggplant
Zucchini
Multi-colored mini peppers
Olive oil
Butter
Coarse salt
Sumac
Garlic
Manchego cheese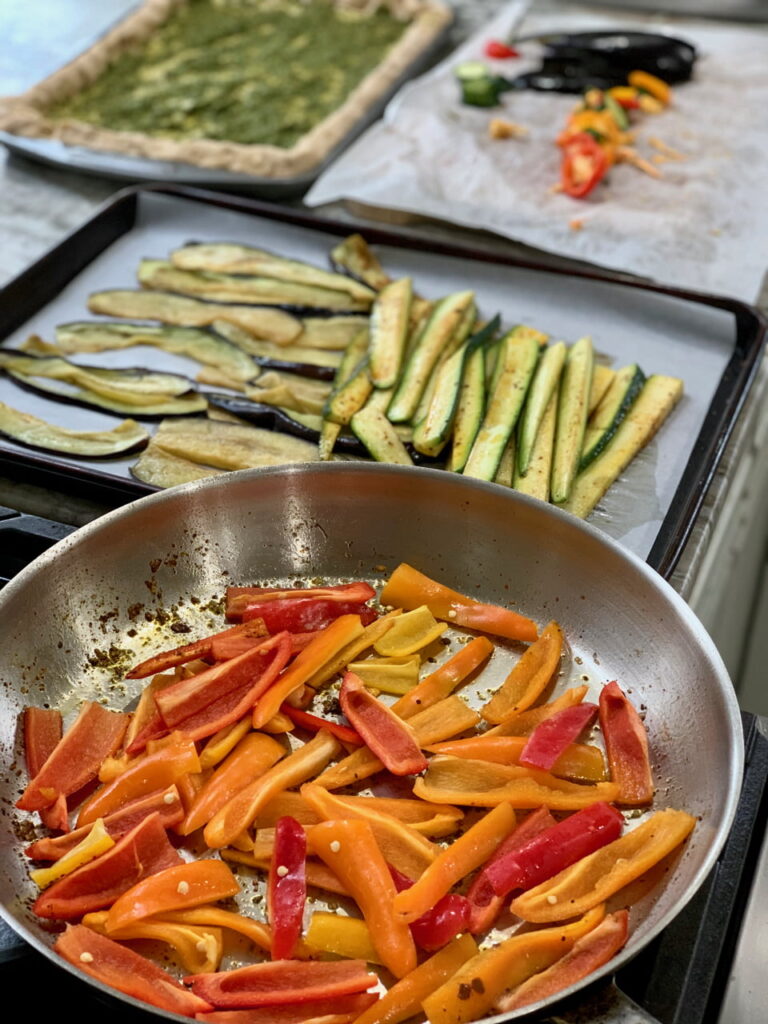 Equipment Needed
Baking sheet pan or pizza pan
Rolling pin
Cutting board
Chopping knife
Saute pan
Slotted spatula
Food processor
Oven
Deconstructed Ratatouille Pizza
Course: Pizza
Cuisine: Mediterranean
Eggplant, zucchini and peppers roasted in herbs and layered in strips across a homemade pizza dough with a schmear of pesto and a sprinkle of Manchego cheese. 

Ingredients
Easy Pizza dough – or store bought

Eggplant – 1 medium

Zucchini – 2 medium

Multi-colored Mini peppers – 1 lb

Pesto or Chermoula – 1/2 cup

Olive oil – 1/4 cup or as needed

Butter – 2 tbsp

Smoked paprika – 1 tsp

Coarse salt – 3 tbsp (to de-bitter eggplant and season)

Sumac – 1 tsp

Garlic – 2 cloves, crushed

Manchego cheese – 1/4 cup, grated
Directions
Slice the eggplant in half, lengthwise. Then cut lots of thin strips, keeping the shape of the eggplant visible. Sprinkle 1 -2 tablespoons of salt on both sides and all to sit an hour to de-bitter the eggplant. Pat dry.
Slice the zucchini and peppers in the same way and set aside. They do not need to be de-bittered.
Heat a large saute pan with 1 tablespoon of oil and 1 tablespoon of butter. Stir in 1 clove of crushed garlic, 1/2 teaspoon paprika and sumac and quickly glaze both sides of the eggplant. Remove from the pan.
Add more oil, butter, garlic and seasoning and glaze the zucchini and then the peppers in the same way as the eggplant. Remove.
Preheat the oven to 400.
Roll out the pizza dough and press into the pan of choice, round or a rectangle baking sheet. Crimp the edges.
Spread the pesto or chermoula evenly across the dough.
Decoratively layer the glazed vegetables across the top of the pesto covered dough. Sprinkle the cheese.
Bake until the crust is golden, about 20 minutes.
Recipe Video