Countryside Chicken and Waffle Picnic is made with a secret Maryland seasoning on a sautéed, not fried, chicken thigh, drizzled with chili honey. As of it's not delicious enough, the chicken is then tucked inside a homemade waffle, wrapped and ready for a picnic!
Nothing inspires a picnic more than the countryside and no country girl picnic would be right, without a Chicken and Waffle sandwich!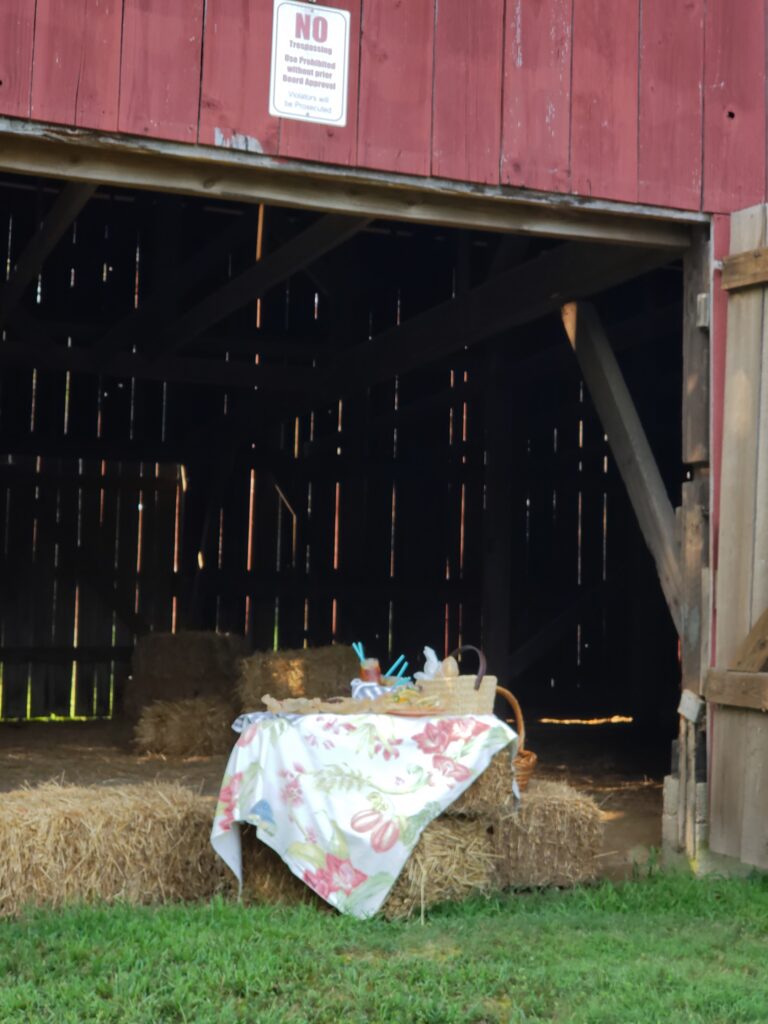 Countryside Picnic
Nothing inspires wholesome living quite like a drive through the countryside. Fields of food growing, wildlife everywhere and the inspiration to slow down, stop and spread a picnic.
Where I live, tucked back in a wooded area, is a trail that leads to an old red barn. A country bestie of mine, also a food blogger, was coming to visit. I knew we just had to pack a lunch and go visit that barn.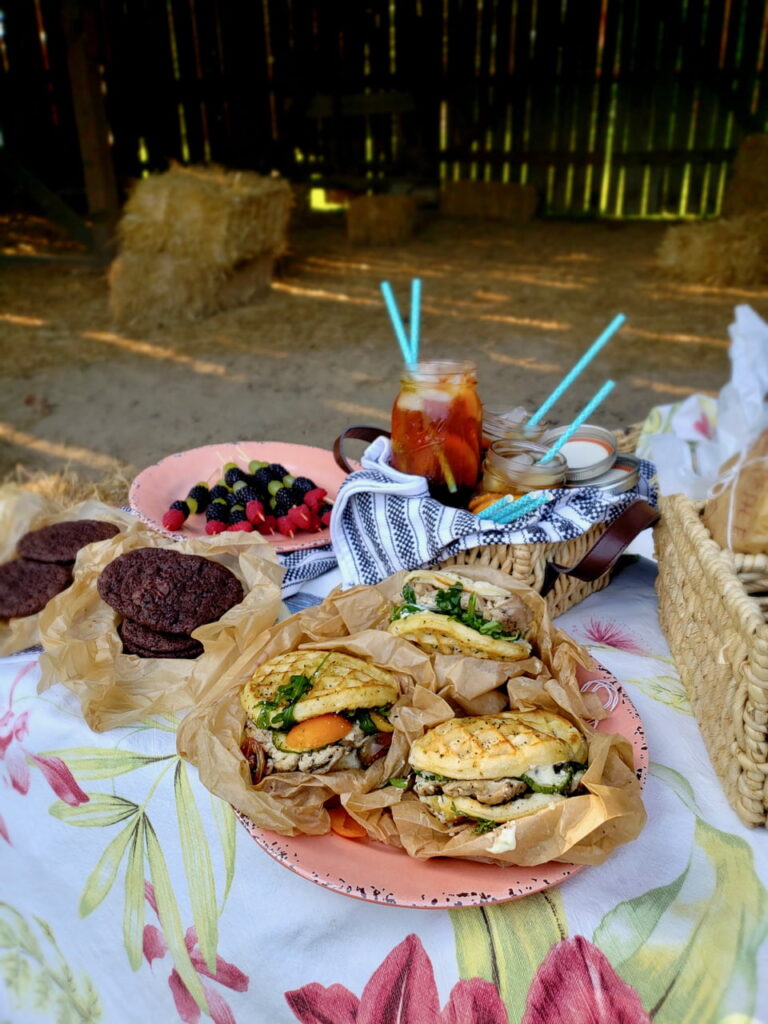 Waffles For A Sandwich?
When I was growing up, back in the 50's and 60's, suddenly everything that was once homemade, became freezer food at the grocery store, which could be microwaved.
While I understand their convenience, waffles were not going to be one of them in my kitchen, not for this lovely picnic.
Waffle makers are so easy to use, very affordable and make lots of waffles quickly. We just need a yummy batter.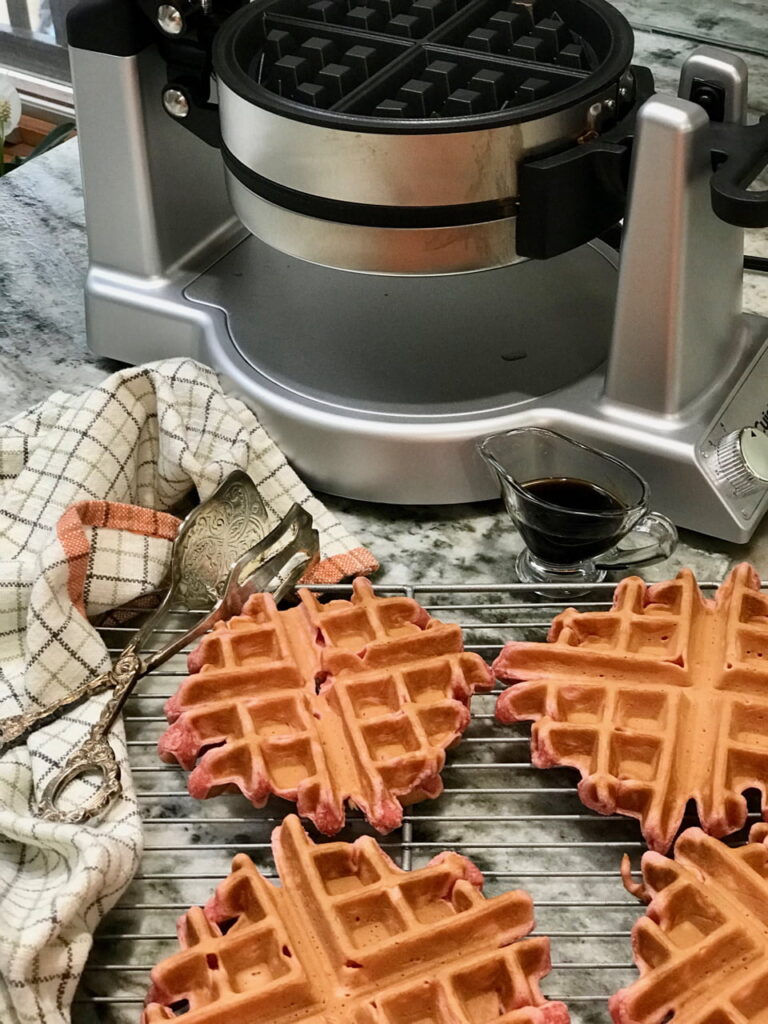 Whole milk or buttermilk, melted butter and a pinch of cinnamon are what go into this easy batter. The waffles cook in about a minute, each.
The waffles can be made in advance, and yes, you can even make huge batches of them on a meal-prep day and freeze them. At least these frozen waffles will be homemade!
Chicken: To Fry Or Not To Fry
Nope! Chicken doesn't need to be fried to have a crisp, flavorful golden finish. All we need is a hot cast iron pan, a dusting of spiced flour and we have a healthier, delicious chicken for our sandwich.
While I feel pretty certain that chicken and waffles is a southern thing, I wanted to make 'my' chicken and waffles, 'mine'!
There is a secret spice we Marylanders use in so many recipes, even though it was probably originally created for the seafood of Maryland.
Old Bay seasoning (and no, I am not an affiliate with them, just love the stuff), is the secret ingredient in my chicken and waffles!
A sprinkling of this seasoning in the dusting flour for the chicken is going to make the chicken burst with flavor; celery salt, crushed red pepper flakes and paprika are just a few of the ingredients.
Giving the chicken a quick sauté in a little oil, removing them from the oiled pan and finishing them in the oven will both make them crisp and moist but also not greasy, the way fried chicken often is.
Take A Hike – Picnic
Ok, so here's the scoop on this 'crazy fun' video; I am a Rookie Filmmaker, a wanna be producer for visual storytelling!
I created the story for this video, chose the menu, set the stage, operated all cameras, while being in the stories; except for the hike in the woods and then a photographer friend of mine, Brian Barber, captured our shenanigans in the woods.
Editing though, is where the real work, the real story comes together for visual storytelling and film making.
Hours of footage has to be sifted through, sound that concords, and 'B-roll' (supporting photography), has to be gathered to bring a 10-minute video or a 90-minute feature film together. I Just Love, every aspect of filmmaking!
I would love to know what YOU think of my filmmaking attempts!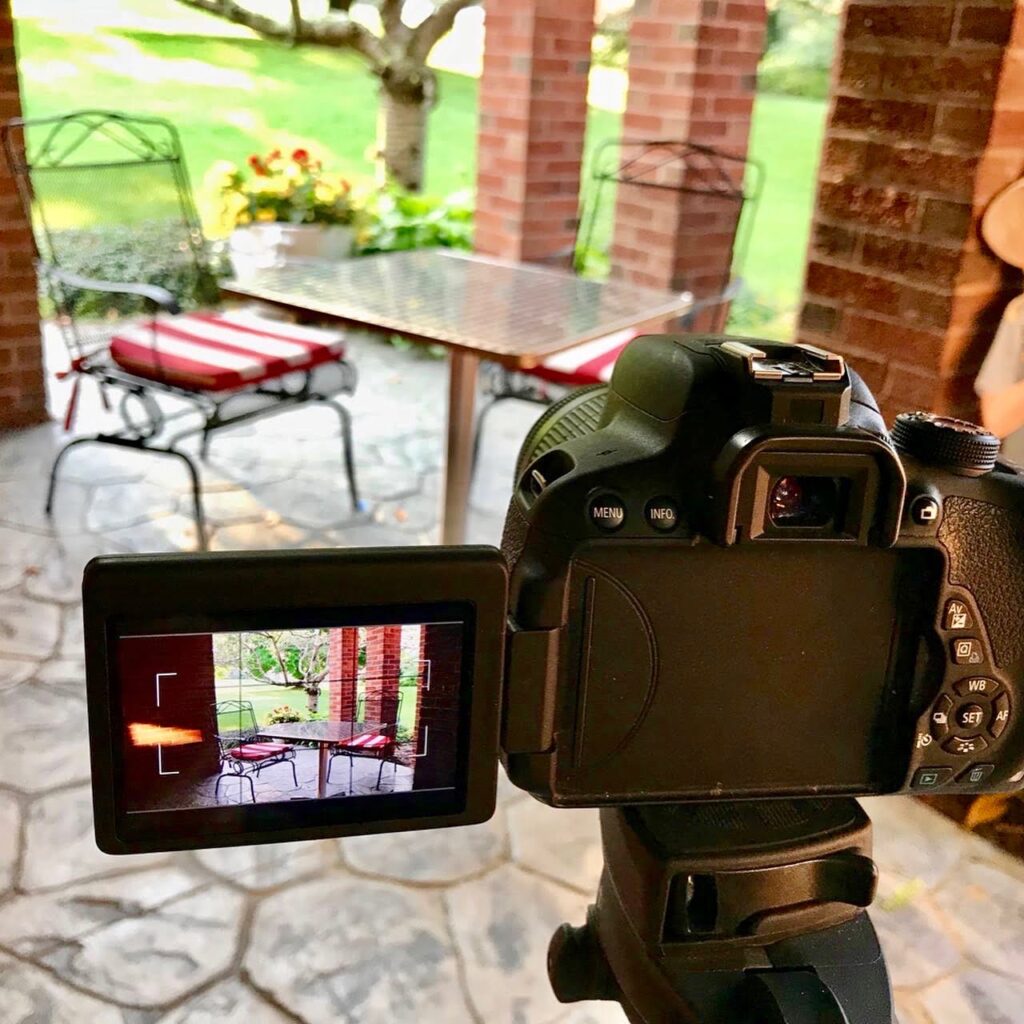 Chicken and Waffles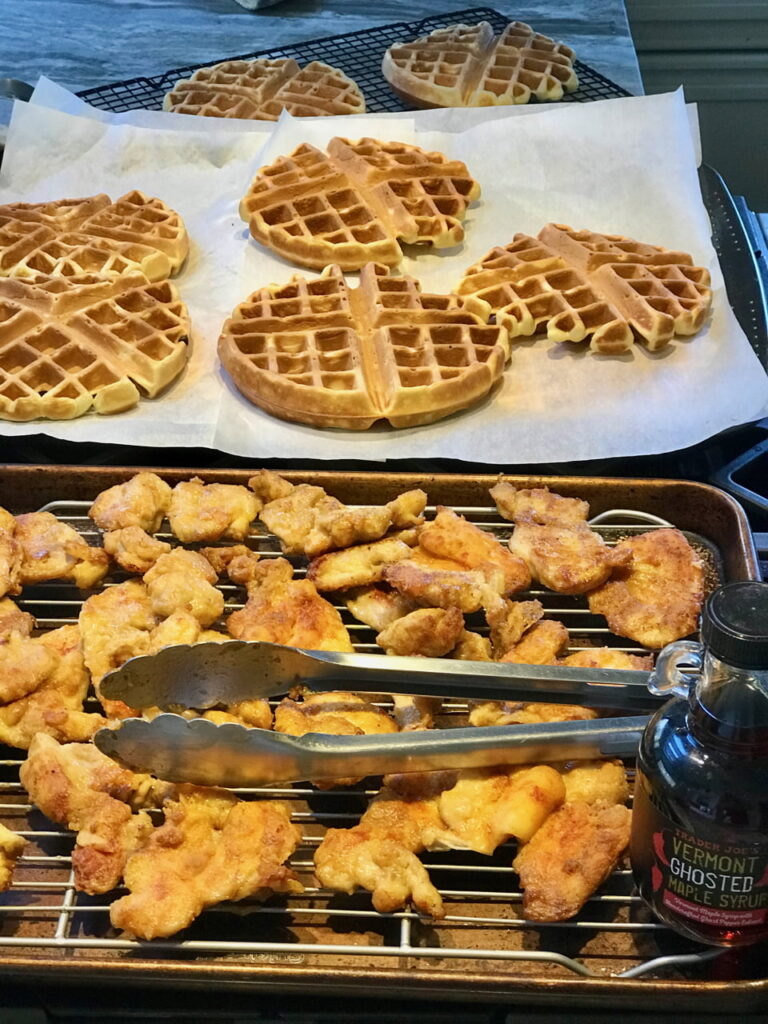 I don't know who thought to make chicken and waffles a 'thing' but darn if it doesn't make for a great sandwich, especially when made as a 'to-go' picnic meal.
Along with our chicken and waffle picnic, we packed homemade cookies, fruit kabobs and a yummy Persian Iced Tea.
This picnic is perfect, not only for a barn and hay picnic but also great for tailgating, boating, beach of simply a blanket under a tree in your own backyard.
These chicken and waffles though, are equally fabulous to just enjoy right there at your kitchen table!
Ingredients Needed
Flour
Baking powder
Salt
Cinnamon
Butter
Eggs
Whole milk or buttermilk
Sugar
Honey
Smoked paprika or chili powder
Boneless chicken thighs
Vegetable oil
Buttermilk
Garlic
Cornstarch
Old Bay Seasoning
Equipment Needed
Waffle Iron
Cast iron pan or other heavy sauté pan
Cutting board
Chopping knife
Parchment paper
Kitchen twine
3 Mixing bowls
Wire whisk
Tongs
Fork
Hand mixer
Measuring cup
Measuring spoons
Baking sheet
Oven
Countryside Chicken and Waffle Picnic
Course: Breakfast u0026amp; Brunch, Lifestyle, Meat
Cuisine: Maryland
A secret Maryland seasoning on a sautéed, not fried, chicken thigh, drizzled with chili honey, tucked inside a homemade waffle.
Ingredients
Waffle Ingredients

Flour – 2 cups

Baking powder – 1 tbsp

Salt – 1/2 tsp

Cinnamon – 1 tsp

Butter – 6 tbsp, melted/cooled

Eggs – 2, separated

Whole milk – 2 cups

Sugar – 3 tbsp

Chicken Ingredients

Honey – 1/4 cup

Smoked paprika or chili powder – 1/2 tsp

Boneless Chicken thighs – 4

Vegetable oil – 1/2 cup, give or take

Buttermilk – 1 cup

Garlic – 2 cloves

Flour – 2 cups

Cornstarch – 2 tbsp

Old Bay Seasoning – 1/2 tsp

Salt – to taste
Directions
Making the Waffles – Heat the waffle iron.
Whip the egg whites and set them aside.
In a separate bowl, whisk the milk, sugar, egg yolks and slowly pour in the melted butter.
Whisk in the flour, baking powder, salt and cinnamon.
Fold in the egg whites.
Make the waffles and lay them on parchment paper. They are ready when you are to make the sandwiches, can be made in advance and kept in an airtight container.
Making the Chicken – Preheat the oven to 350. Place parchment paper onto a baking sheet pan.
Heat a cast iron pan, or large sauté pan, with just enough oil to cover the bottom.
Cut the thighs thinner, horizontally, soak them in buttermilk and crushed garlic.
Mix the flour with cornstarch and salt.
Dip the chicken into the flour mixture and brown quickly on both sides in the hot oiled pan. Transfer to the baking sheep pan. Finish cooking in the oven for 20 minutes.
Whisk the honey and chili powder together. *See Notes. Drizzle across the tops of the chicken when they are removed from the oven.
Assemble For Picnic – Cut 4 pieces of parchment paper in half.
Place a slice of honey drizzled chicken between 2 waffles. Bundle them in the parchment paper and tie with twine. They are now ready for picnic time!
Notes
Honey and chili powder are an easy mix at home but there are several products now with honey and chili already mixed, or maple syrup and chili already mixed. 
Slices of tomato or some greens can also be layered in with the chicken and waffles.