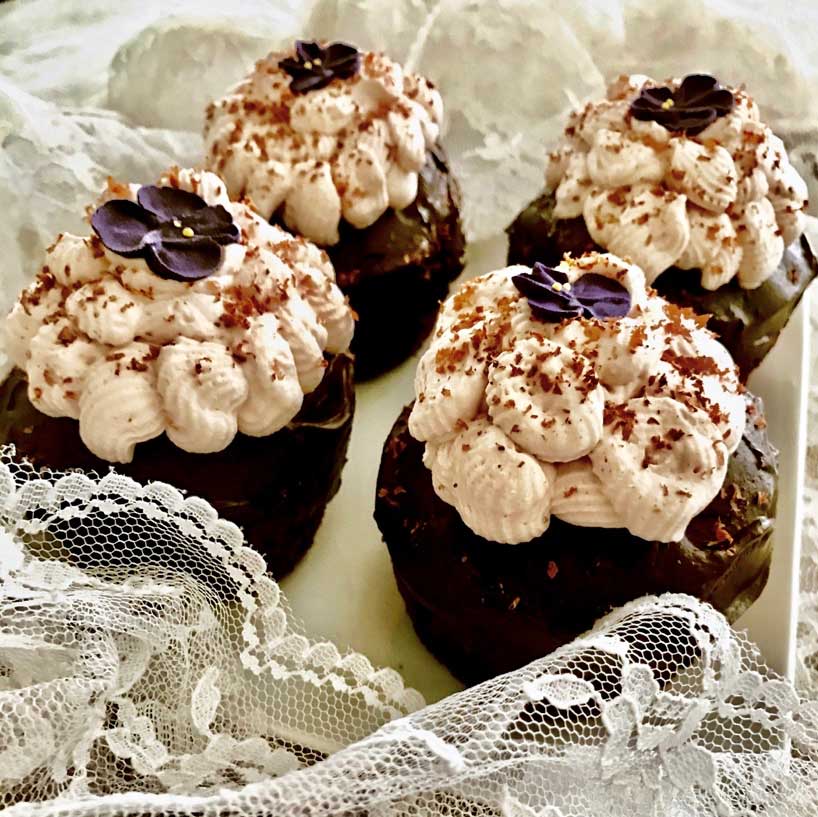 The earthy, slightly sweet marriage of dark chocolate with garden hot chili peppers makes for a very adult cupcake, don't you think!
Chili and Chocolate
Chili Chocolate Cupcake Recipe is the best cupcake recipe for adults! Why? It's deliciously spicy and 'hot'! When I have a sweet tooth and feel like indulging in… maybe even diving into, the most decadent sweet treat I can think of, it's going to be Chocolate, laced with a naughty pinch of chilis, teased with the dreamy taste of coffee, and if that isn't a "Cakegasm" I don't know what is!
Moist, dark chocolate, not overly sweet, not covered up with icing, just real honest to yumminess chocolate, coffee with a dazzle of cream. Do I feel guilty when I indulge in the most scrumptious bite of a Chocolate Cupcake? Nope! Not when I make them into tiny little, harmless size, petite cupcakes! "What harm could one, oh… say, two delicate little bites be"? My thoughts, exactly!
Just standing over the little cast iron pot of cream, delicately melting the chocolate for my sweet, devilish indulgence of something hot to wake the chocolate flavor, as chilis do so beautifully, gives me goosebumps. Look how innocently the squares lose their arrogant hard exterior, as they dissolve ever so gently into the warm pot of cream. How could there be any harm in the decadence they infuse into the batter about to be made…
When you've wrapped your tastebuds around this umami combination, you will definitely want to try making your own Chocolate Chili Pasta! Yep!
Dark Chocolate
Plucked and roasted from the seed of the cocoa tree, a bit bitter or even peppery on its own, but give it a kiss of something sweet and already cocoa is transformed. Leave it without sugar and you have the perfect dark rich enhancement to meats and savory sauces. So when I make a dessert with cocoa, I want the flavor to shine.
Healthy? Ohhhh yes! Dark chocolate is loaded with minerals and anti-oxidants and even a healthy amount of soluble fiber. Add to that lineup, iron. Yep! Maybe that's why with each of my pregnancies or even during the cycle for most women, we crave chocolate. Our little body is crying out for more iron, "Give me chocolate, give me chocolate," it's saying!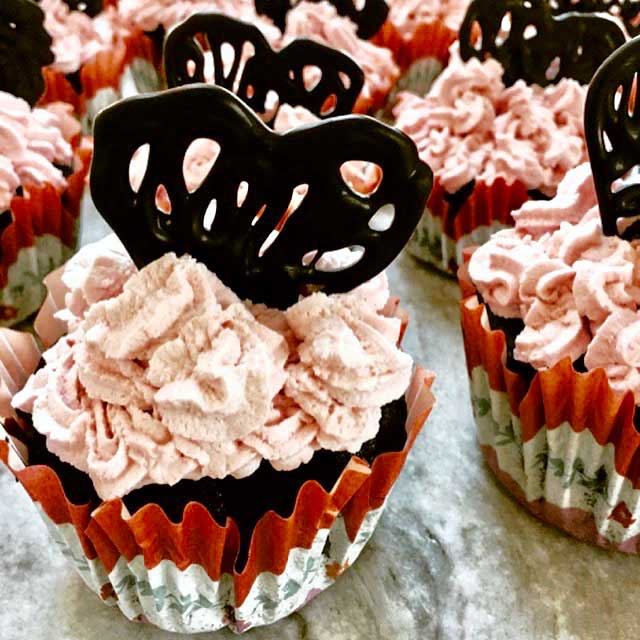 Coffee
Yet another seed plucked and roasted from a tree, the coffee bean, when freshly ground and brewed has a naturally occurring oil from the coffee bean. While there are a number of skin benefits to using coffee oil externally because of its high amounts of vitamin E and other essential nutrients, I use it in chocolate desserts to make them moist. When coffee is used in this recipe it adds another layer of depth to the dark, earthy flavor of the chocolate.
Chilis
Why on earth would you put 'bite-your-tongue' hot chili peppers in a luscious chocolate cake? Ohhhh, just try it! It does something magical to bring out more of the cocoa bean flavor, deepen the character of the chocolate flavor and send a hot little tingle through your mouth, sure to wake it up!. If using fresh chopped chili pepper, just add a little sliver to the cup of hot coffee, let it steep and then strain the pepper out, leaving its heat in, or simply add a pinch of Cayenne pepper to the dry ingredients.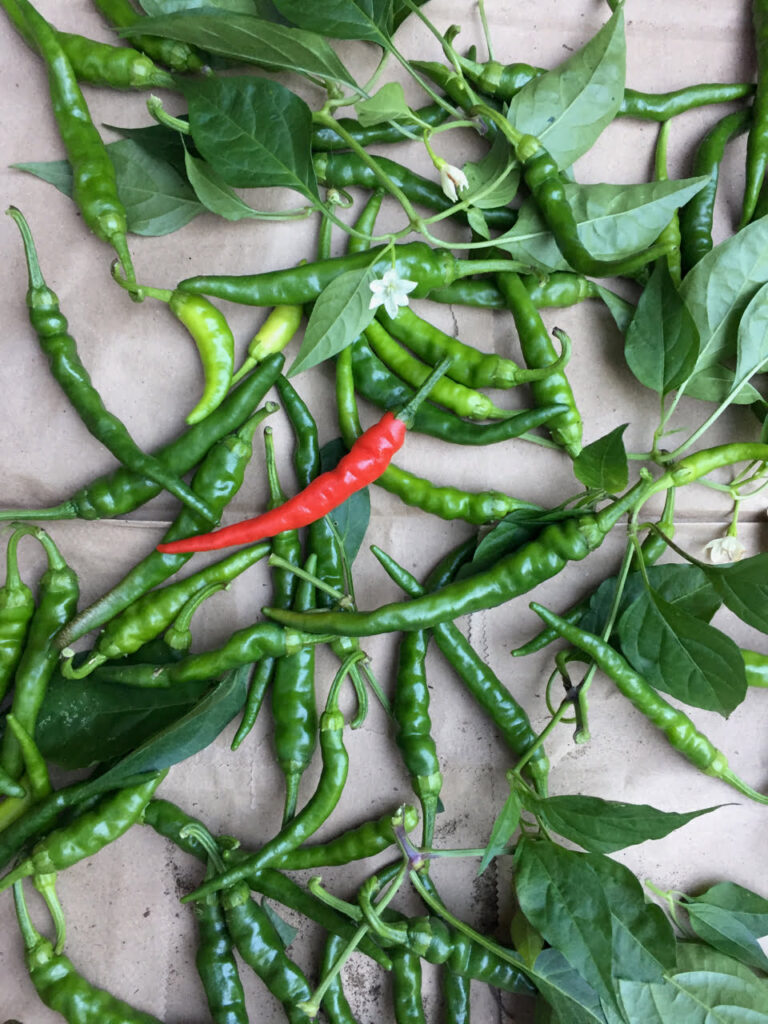 Savory Chocolate And Chilis
Just a word on my experience in using chocolate and chilis together. When using chocolate in a savory dish or sauce, a higher SHU (Scoville Heat Unit), can be used simply because flavors in a savory dish can stand up to the heat; Thai to a Ghost Pepper level of heat (50,000 to 1,000,300 SHU). For a sweet heat, which is a more delicate flavor, it is best to stay with a chili pepper a little lower on the heat level, but still use a pepper that has a complimenting flavor; Serrano or Cayenne (8,000 to 50,000 SHU). The flavor of a jalapeño or poblano have very definite flavors of their own and I have not preferred them in sweet hot dishes. Love to know if you have found a hot chili pepper you like in a dessert!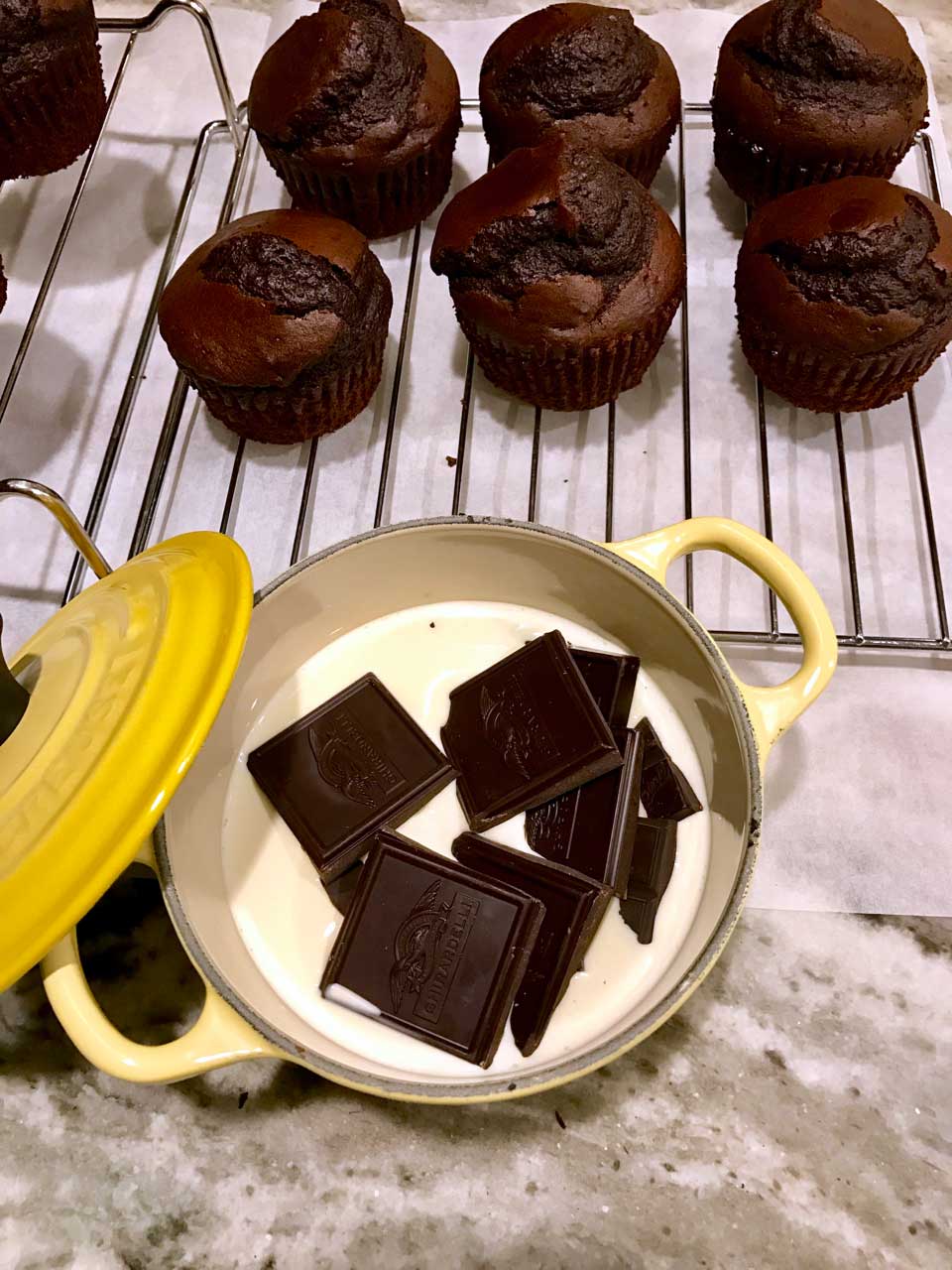 Icing
I prefer these chili chocolate cupcakes without anything on top, but if you must have something on top, keep it simple. Perhaps whip a little cream, toss in some booze and give a dollop of this to the cupcake. You could also add a little cacao and confectionery sugar with a pinch of cayenne pepper to butter or whipped cream, and pipe that on as an icing. My take on icing for these chocolate cupcakes is to let the cake be the star and not the icing.
But, let's get to the point! Don't you get annoyed when you look for the perfect recipe, only to find lots of blah, blah, blah stories you don't really care about. JUST GIVE ME THE RECIPE! Okay, OK, the best recipe for Hot Chocolate Cupcakes is about to be on your evening plate!
Ingredients Needed
Chilies
Sugar
Water
Eggs
Milk
Oil – sunflower or your choice
Coffee
Cacao
Flour
Baking powder
Baking soda
Salt
Cinnamon
Allspice
Butter
Confection sugar
Cream
Equipment Needed
Cupcake Tin
Non-stick spray
Sauce pan
Strainer or slotted spoon
Mixing bowl
Whisk or hand held mixer
Measuring cup
Measuring spoons
Spoon or ice cream scoop – to fill the pans
Coffee maker
Oven
Chili Chocolate Cupcake Recipe
Ingredients
Eggs – 2

Sugar – 1 cup

Cream/Milk Mix – 1 cup

Oil – 1/2 cup (your choice)

Hot Coffee – 1 cup

Flour – 1 3/4 cups

Cacao – 3/4 cup

Baking powder – 1 1/2 teaspoons

Baking soda – 1 1/2 teaspoons

Salt – 1 teaspoon

Fresh Tabasco, Serrano or Cayenne Pepper – 1 inch slice (optional)

Cinnamon – 1 teaspoon

Whipping Cream – 3/4 cup

Confection sugar – 1 tablespoon, sifted

Flavored liqueur of your choice, I used Chambord Raspberry liqueur for the color – 1 tablespoon
Directions
Heat oven to 350. Prepare pan/tins with butter and a dust of flour
In a cup of hot coffee, set the fresh pepper slice to steep for 15 minutes. Remove the pepper when ready to use the coffee and heat the coffee in the microwave for just 20 seconds.
Whip eggs and sugar together about 5 minutes, until light in color. Slowly pour in the cream/milk mixture, and oil.
In a separate bowl, sift the dry ingredients, then gently whisk into the wet ingredients. Last, slowly pour in the hot coffee and mix well. Pour 3/4 full into prepared pan/tins. Bake until tester comes out clean. Cool completely.
Whip the cream until it begins to thicken. Slowly add sugar and liqueur. Place a dollop on each serving of cake, or drizzle chocolate topping (above) and then add that luscious dollop of raspberry cream!
Recipe Video
Notes
When choosing heat to add to these chocolate cupcakes, you want flavor as much as you want heat. Habenero is way too hot for the delicate flavors in this cupcake, while jalapeño lacks the flavor to better enhance the chocolate. For this reason, I choose to use fresh tabasco, serrano or cayenne peppers in sweets with heat. The flavor is a lovely compliment to the sweet chocolate. A pinch of powdered chili pepper can be substituted.