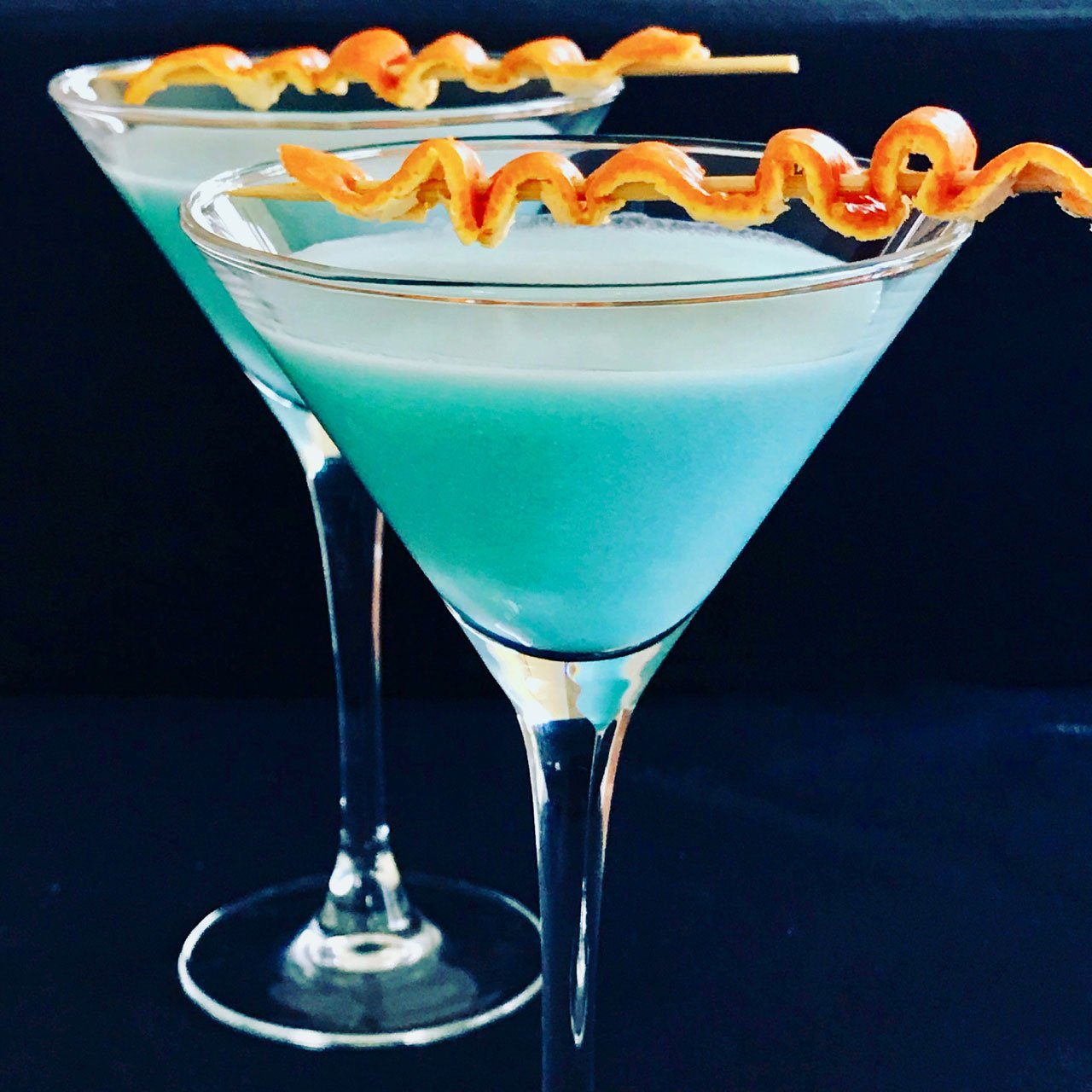 A baby blue cocktail of Blue Curacao, an orange flavored liquor, and the velvety texture of coconut milk, make for the best cocktail to celebrate the Blue Moon!
Blue Moon
A blue moon comes around about every two or three years. Once in a Blue Moon! In 2018, when I created this Curacao Cocktail for the occasion, we had two blue moons that year and only two months apart, which also happened to be a lunar eclipse! Wouldn't you agree a mixed drink, a Blue Curacao Cocktail, magical in color, needed to be created to mark this occasion?
Full Moon – Super Moon
So what's the big deal about a full moon? While you may not be someone who gives any credence to astrology, you probably don't give a hoot about a full moon. If you are a doctor, nurse, ambulance affiliate or someone who works in the emergency room on the night of a full moon, you can attest to the phenomenon, that it is a crazy busier than usual night; more women go into labor, more crime and accidents happen on the night of a full moon, heck, even crustaceans release their fertile cycle during the full moon! But why?
Astrology
In Astrology, it is said that the moon represents our inner world and deeper emotions and that during a full moon we tend to recognize (if subconsciously only), aspects of our life that need our attention; cleansing, if you will. While many of us know our astrological sun sign, based on the month of your birth, many don't know their moon sign, and we all have one. For a deeper understanding of your moods, remember the moon affects our moods, you will need to know your exact birth time as well as date. Something fun to explore.
In the scientific world, it is recognized that the moon plays a big role in affecting tides. The gravity force of the moon creates more activity in high tides during a full moon. Since our body is about 60% water, a full moon is bound to shake things up a bit inside our body, which led me to the idea that a Blue Curacao Cocktail was the perfect mixed drink to shake, pour and help us to 'chill the heck out'!
So what was the big deal in February of 2018 that inspired me to make this curaçao drink? Was it a Blue Moon? Was it a Blood Moon? It was, in fact, a Super Moon, an event that had not occurred in 152 years, so for sure we all needed something special to mark the occasion!
You may not believe this but the idea for this particular Curacao and Vodka cocktail came to me in a dream. Crazy, I know, but the fierce energy being stirred by the universe, can do some rather wild and noteworthy things to us. So, when I woke that morning, I grabbed pen and paper and wrote it down before I forgot the dream.
It had to be blue. It had to have a refreshing citrus bite to it, as in orange juice, or a mixed drink with citrus. It definitely needed a velvety hug of something soft on the tongue. Hmmmm. Blue Curacao, coconut milk and lots of ice sounded good for starters. It brought to mind my dream of a big full moon shining down on the Caribbean Sea, with sparkle reflections dancing off the water. Coconut trees swaying to the rhythm of the tide as it splashed against the shore. Yes! This is what I saw in my dream. I had never tasted Blue Curacao before but I knew the color was stunning and the flavor was orange. Vodka is always a 'supporting actor' in a mixed drinks since it doesn't dominate flavors but offers a refreshing substance to a mixed drink. Time to explore, I thought…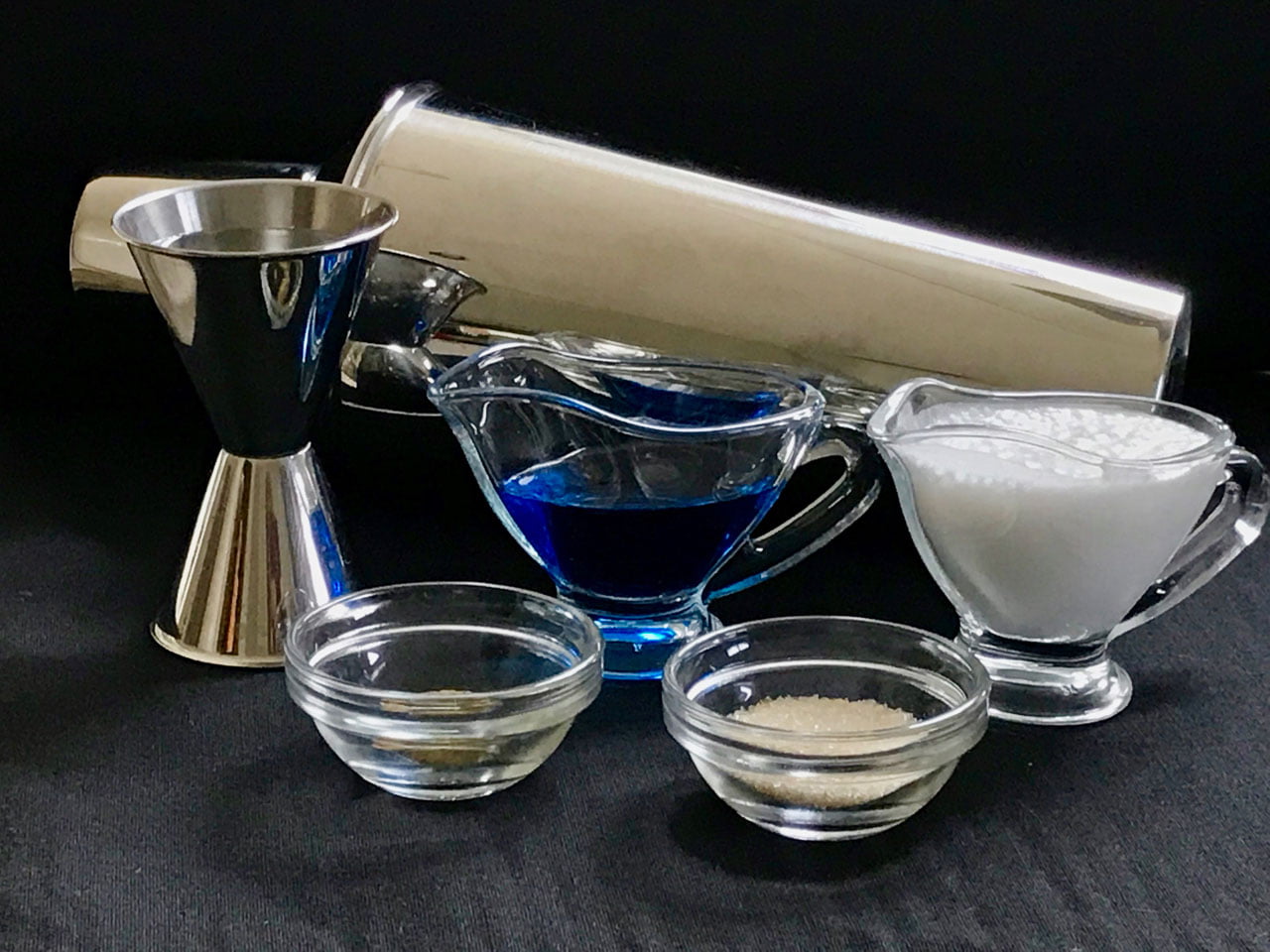 Blue Curacao
Traditionally, a Curacao cocktail is used in a mixed drink because of its intense bitter orange flavor, made from the bitter Seville orange. These oranges have an unusually strong, aromatic scent, making them a particularly potent flavor to extract in the making of liquors. The oil in the peel also acted as a carrier to deepen the flavor once extracted.
Curacao liquor is usually colorless, however a few companies have added a stunning color hue to their Curacao, making it almost a neon blue, or electric orange. The blue Curacao liquor was the one to capture the color aspect of this Blue Moon Cocktail.
Like most forms of flavor extraction, the primary ingredient used to extract from plants, seeds or fruit, is alcohol; pure, clear, grain alcohol. Vodka is often used for small batch, home extractions, so it made perfect sense to me, to add vodka to this cocktail concoction.
Vodka
There is another reason why I chose Vodka as the other ingredient that would go into this signature mixed drink to celebrate such a memorable occasion; Fertility. Call me weird, but I love, really love, symbolism. Let me show you a beautiful symbolism between Blue Moon Curacao Cocktail, the moon, and vodka; Potatoes. I am no mixologist. I am not a cocktail master. But what I am, is one who listens to a quiet rhythm of things around me. Vodka is made from potatoes, well, usually. Potatoes grow in the ground, unlike the origin of so many other alcohol beverages; mixed drinks, beer or wine, in which the fruits, nuts, plants, or vegetables in which most alcohol is made from, grow above ground.
The night of a Super Moon cocktail, needed to be made from something whose origin is considered fertile, like the womb. The ground, is considered the fertility of our earth. Potatoes grow deep inside the womb of our earth. Vodka is made from potatoes, and so… Blue Moon Blue Curacao Cocktail, which was made to remember this historic event of the moon, needed to be made NOT only for its color, or bright citrusy notes, but from the fertility of the earth, the potato.
And so, I am excited to share with you this absolutely fabulous cocktail, a mixed drink you will remember both for its refreshing taste, gorgeous color, and its fertile, sensuous symbolism associated with the energy that comes from deep within the earth as it reflects the magic of the moon.
Be certain to save this recipe somewhere safe for the special occasions when you will make it, cause for sure I won't be here to give it to you again, 152 years from now, when the next Super Moon returns!
Ingredients Needed
Blue Curacao
Vodka
Coconut milk
Sugar
Cardamom seeds
Orange
Ice
Equipment Needed
Cocktail shaker
Small pan
Shot glass
2 Serving glasses
Cutting board
Chopping knife
Measuring cup
Measuring spoons
Vodka, Blue Curacao and Orange cocktail.
Ingredients
Blue Curacao – 1 shot

Vodka – 2 shots

Coconut milk – 1/2 cup plus 2 tablespoons for simple syrup

Sugar – 1 tablespoon, more to sugar the garnish made of orange rinds

Cardamom seeds – 3

Orange rind – for garnish, peeled in a 1/4 inch wide strip and speared with a cocktail garnish stick

Shaker/Mixer

Small pan

Ice – 1/2 cup
Directions
To make the simple syrup, in a small hot pan, lightly toast the seeds, crushing them as they warm. Sprinkle sugar across the seeds, stir, and watch closely so as not to burn. Pour 2 tablespoons of coconut milk into the pan and remove quickly from heat. Stir, strain and chill.
Simply peel long strips of an orange rind: 4 inches long x 1/4 inch wide. In a medium warm pan, toss a little sugar to melt, be careful not to burn. Add the strips and shake the pan giving the rind a chance to release a tiny bit of its oil, causing the sugar to stick to it. Cool, then weave a cocktail garnish stick, small kabob stick or appetizer stick in and out of the rind, giving it a snake-like look. Set aside. These can be made in advance and kept in the fridge.
Place ice in a shaker cup. Add vodka, Curacao, spicy simple syrup, and coconut milk. Give a good shake, pour and place a prepared orange rind garnish across the top.
Recipe Video