My dream as a filmmaker and visual story teller is to entertain and inspire, everyday people, in ways I most enjoy to be entertained; taking away something learned, something worth remembering.
Two Bestie Food Bloggers
How did it happen that two food bloggers, who live in different parts of the United States, meet, collaborate their very different yet unique styles in the kitchen, on film?
Food Network! That's how. In 2015, my name got tossed into the ring to apply for my very first food competition with Food Network: Clash of the Grandmas.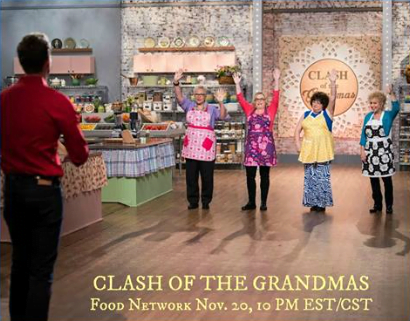 Food Network
Ally Phillips, CEO of Ally's Kitchen was to be on a different episode from me. Production accidentally sent me her emails. Accident my tahootie!
The rest is history. We both knew nothing happens by accident and so we spent a few weekends together and I wrote, filmed and produced 'our' kinda camera kitchen fun!
Visual Storytelling
We capture our guests and audience with antics, our yummy food, and alluring tablescapes, and invite them to "Come sit, Eat, and Chat with us!"
As cherished "Grandmas", we offer ideas, wisdom, and encouragement, served with a mix of light hearted laughter, deliciously healthy recipes, and good old-fashioned anecdotes that our guests and audience might sample the comforts and companionship that are much needed in the journey through life.
Classic Fables
In my passion for storytelling, I am often reminded of Aesop's Fables and the Parables, where profound messages are transmitted in the simplest of ways.
My foodie friend Ally and I believe we will gather a viewing tribe and engage many people as they become our "Peas & Carrots" buddies, friends, besties, and more.