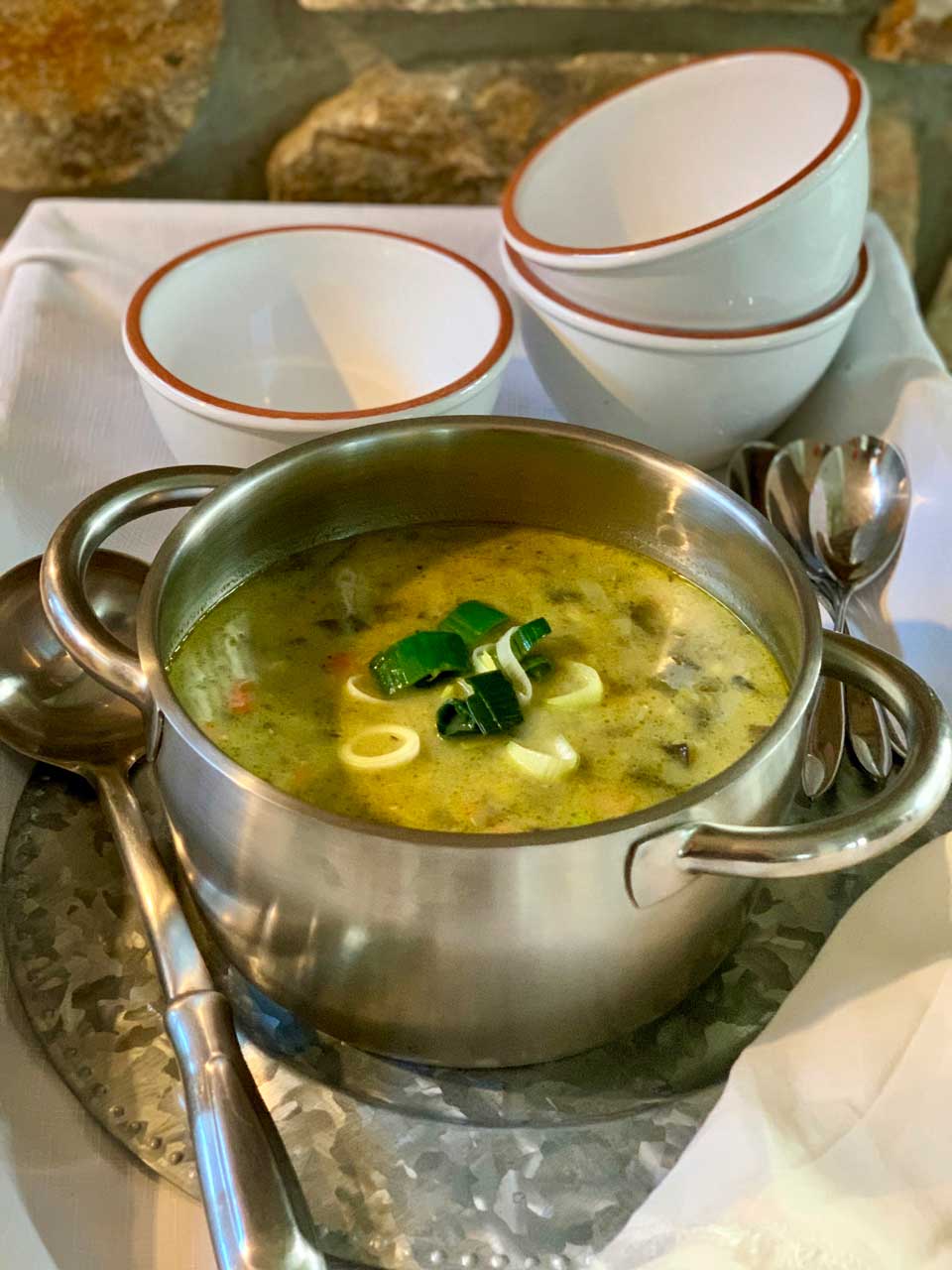 Immune Boost
Immune boost onion soup with antioxidant properties from veggies, herbs and spices is an age old wellness practice for everyday life. Immune Boost, was probably the top focus of 2020, something we probably gave very little thought about before that year began.
It's odd how we remember things in our mind's eye, that happened, or were said, when we were very young. At the age of 18, I had been working in my mother's beauty salon since I was 12. Got my apprentice license at 16. Did two years of education and testing so that by the time I was 18, I had a full book of clients and was making fabulous money while my friends were just considering which college to go to.
Old School Health
There was a client of mine, whose face came to mind often during 2020. She had dedicated her life to being a nurse at clinics for those with little income. I swear, I don't remember any of us having medical insurance back in the early 70's, but her commitment was for the poor who could barely afford to live, much less afford a doctor visit now and then.
This kind, yet tough and knowledgable woman told me something about staying well, something we didn't hear much of back in those days. She said, "If you want to make your body strong and resistant to many of life's illnesses, make a huge pot of onion soup (like, pounds of onions), and eat on it often".
Back then we never spoke of an immune system, or food as medicine, but she did say there were chemicals naturally in onions, all types of onions, that had powerful abilities to keep you well.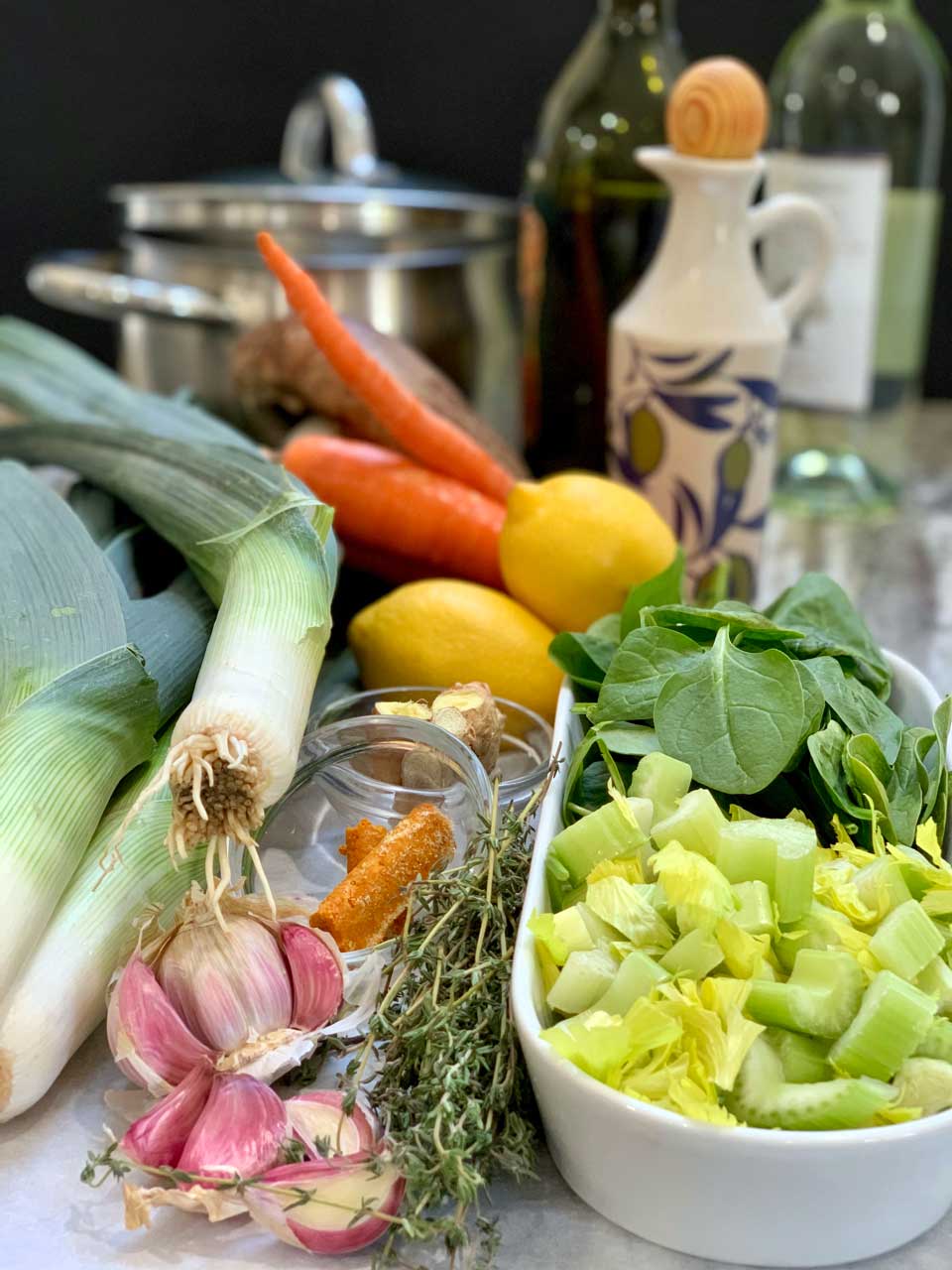 This Immune Boosting Onion Soup I am going to share with you is not only powerful in the immune department but an incredible cleanse, in the detox department as well. I made this soup in early December 2020, froze small batches, and ate on it all throughout the busy month, and flu/cold season month. It is fabulous for hangovers as well.
Leeks Are 'Superfood' Onions
Why have a regular ole onion when you can have an onion on steroids! Leeks are in the onion family (garlic family too), but leeks have so many health benefits it's unreal! It's vitamin K (for healthy bones), is off the charts. Add to that, a huge mineral profile, vitamin C, iron, fiber and a bunch more benefits.
How To Make Immune Boost Soup
For my immune boosting onion soup, I started with a huge heap of leeks. Not the nice little, neatly cut and packaged leeks in some stores, but the big ole, massive, held together with a rubber band, heap of leeks. From there, we layer on several other superfoods to make this an incredibly powerful, immune boosting soup.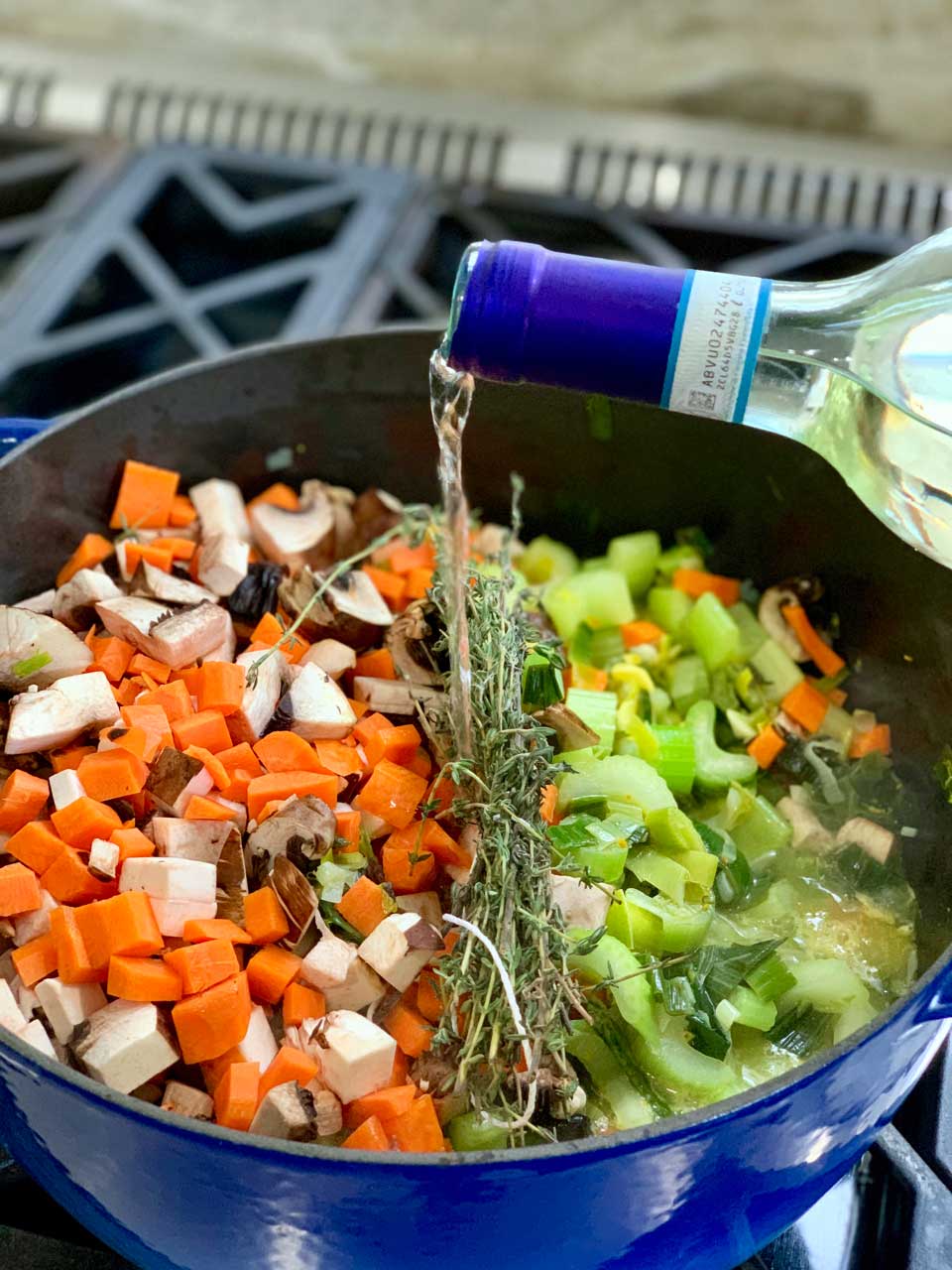 Chop them into thin rings. WASH, the heck out of them, they are loaded with sand between the cracks. Lightly sauté in EVOO, then begin to layer on the other, purposeful ingredients, a splash of white wine and then simmer for an hour. Puree some of the soup and add it back to the soup for a creamy appearance.
There is no need to use a meat broth with this onion soup because the many flavors simmered into this pot of onion soup simply do not need it! Serve it with a grain-rich bread, brown rice, quinoa, or sprinkle a little grated cheese on top, should you like an added measure of creaminess to this onion soup.
Be certain to portion out small amounts to pop into your freezer so a quick lunch or daily immune boost can be easily obtained. Simply reheat and eat!
Ingredients Needed
Leeks
Carrots
Garlic
Celery
Spinach
Mushrooms
Fresh ginger
Fresh turmeric
Olive oil
Lemon
Thyme
Salt
White wine
Water
Equipment Needed
Soup pot with a lid
Cutting board
Chopping knife
Measuring cup
Measuring spoons
Vegetable peeler
Ladle
Cooking twine
Immune boost onion soup with antioxidant properties from veggies, herbs and spices is an age old wellness practice for everyday life.
Ingredients
Leeks – 4 large, roughly 8 cups, chopped

Carrots – 3, peeled and chopped

Garlic – 1 full head, peeled and chopped

Celery – 1 bundle, roughly 2 cups, chopped

Spinach – 2 cups

Mushroom – 2 cups, chopped

Fresh Ginger – 1 tablespoon, chopped

Fresh Turmeric – 1 tablespoon, chopped

EVOO – 1/4 cup

Lemon – 2 lemons, juiced and zest

Thyme – 1 bundle, tied

Salt – 1 tablespoon

White wine – 1 cup

Water – 6 cups
Directions
Once the leeks are chopped, washed several times and drained, heat EVOO in a very large pot, add leeks, stir and saute for about 2 minutes.
From there, simply layer into the pot, the remaining bulk ingredients, pour in the liquid ingredients, bring to a quick boil, lower, cover and simmer for an hour.
Remove the herb bundle. Scoop out about 3 cups of soup. Cool. Puree and return back to the soup. Soup is now ready to serve, or portion out into smaller servings for later servings.
Notes
Soup can remain in the fridge for several days, or the freezer for several months. The addition of grated cheese, a dollop of plain yogurt, or  kefir can add a creamy texture if desired.