Flavors in this traditional Bolognese sauce taste as though they cooked all day, but for busy families, this Instant Pot recipe is ready in 35-minutes.
Busy Family Cooking
At this time in my life, I have the time to cook anything my heart desires. But for my grown children and their busy families, meal time often produces guilt for not having the time to prepare healthy meals, quickly.
I decided to create a few recipes for busy families such as this, using an Instant Pot! I heard so much about slow cookers, but even the name doesn't ring a practical bell. My family needs to have something Fast, not Slow!
So, what is an Instant Pot? How does it compare with a slow cooker/crock pot? An Instant Pot is really just a pressure cooker with lots of convenient bells and whistles!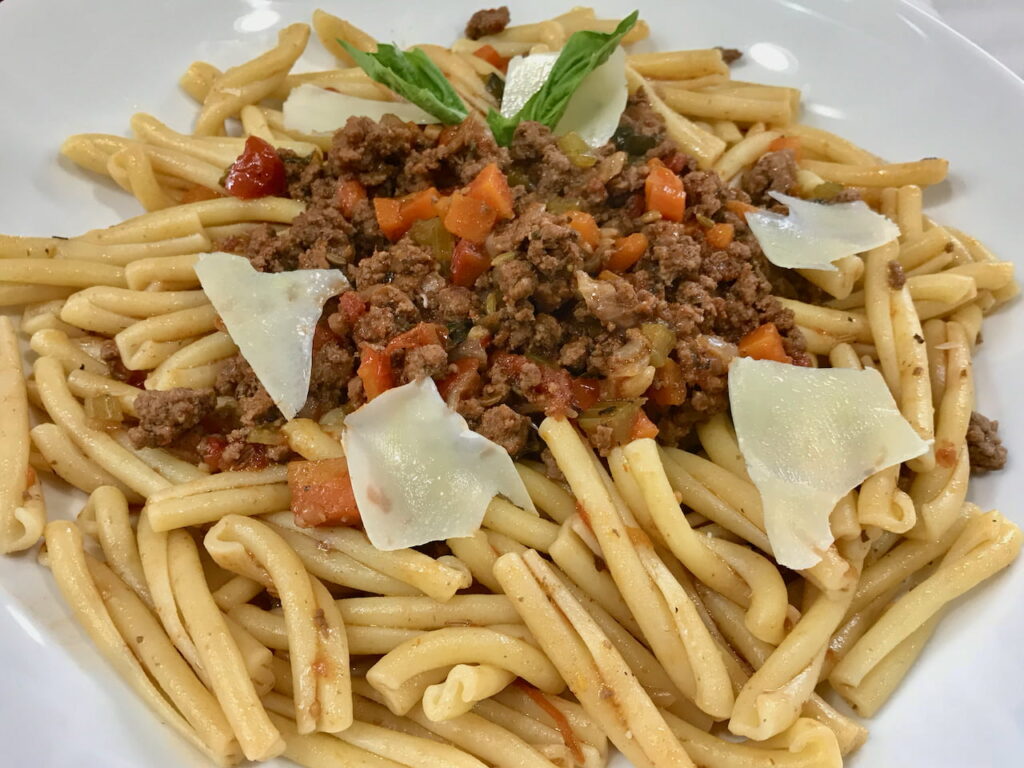 Cooking With An Instant Pot
Ingredients go into the pot, just as you would a slow cooker, except in less than an hour the meal is cooked and ready to serve; rather than sitting on your counter cooking All day while you are out and about.
That thought worried me. But something else troubled me about the slow cookers and crockpots, something no-one talks about; bacteria.
Common sense should tell us that a slow cooker takes several hours to reach a safe, bacteria-killing temperature for meat, particularly pork or poultry.
The last thing I want is a delicious barbecue slow-cooked pork in which I will have tummy troubles for several days following!
Panela Pot Of Brazil and Instant Pot Of America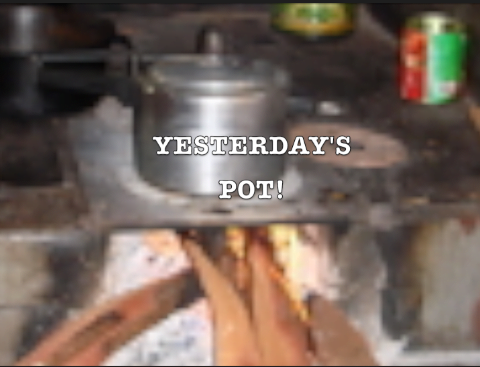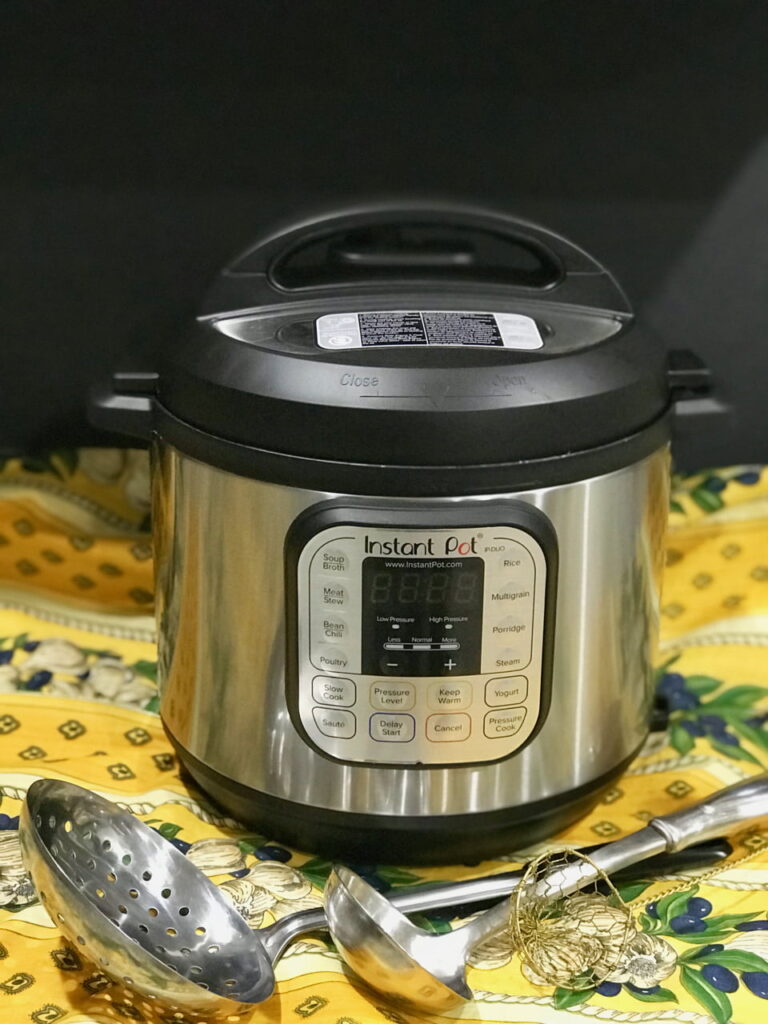 While living in Brazil, I became familiar with the Panela, the pressure cooker. Everyone owned one, rich or poor, and every morning you would hear the hissing of the controlled steam escaping through the little wooden ball that danced around, like a wild samba dancer, on the top of the pan.
Beans and rice were always cooked in these pots. Not instant par-cooked rice, or canned beans, but the REAL stuff! There was something comforting about the smell and sound.
It made you think about the attention that would be given to a healthy meal you knew you could look forward to. Shredded chicken was also used in a variety of popular Brazilian dishes and the best way to cook it fast, and keep it moist, was in the pressure cooker.
Now, I own an Instant Pot, and for me it has all the safety resolves for fast heat and the elimination of bacteria, the moist requirements a slow cooker provides, a sauté feature for flavorful braising, and the speed we need in the kitchen for our crazy busy lives!
Busy Family Bolognese
Every Italian cook knows the time it takes to create depth of flavor in a Bolognese sauce. It simmers for hours on top the stove, evaporating the liquid of light flavors and deepening them into a rich sauce.
My first dish to share with you will be a meat sauce, a Bolognese sauce to be served over pasta, though I have also served this sauce over Homemade Pizza dough or wrapped inside Homemade Stromboli dough and it is simply the best meat sauce!
Ingredients Needed
Ground Beef
Olive oil
Onions
Carrots
Celery
Salt
Pepper
Red chili flakes
Garlic
Basil
Ground fennel
Oregano
Red wine
Crushed tomatoes
Sugar
Cooked pasta (optional)
Pecorino cheese (optional)
Pizza dough (optional)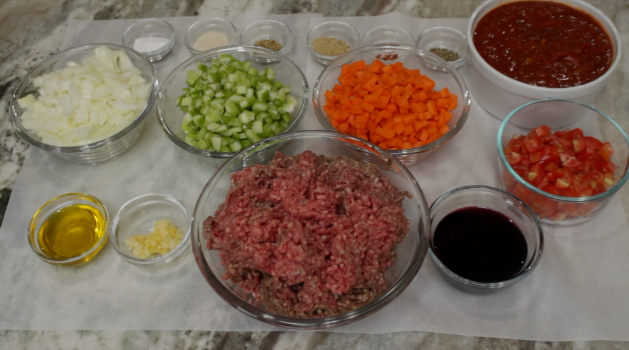 Equipment Needed
Instant Pot
Cutting board
Measuring cup
Measuring spoons
Chopping knife
Ladle
INSTANT POT BOLOGNESE
Course: Sauce, Pasta, Pizza
Cuisine: Mediterranean
Flavors in this traditional Bolognese sauce taste as though they cooked all day, but for busy families, this Instant Pot recipe is ready in 35-minutes. 

Ingredients
Ground Beef – 1 ½ lb.

Olive oil – 3 tablespoons

Onion – 2 medium onions, finely chopped

Carrot – 4 carrots, finely chopped

Celery – 4 stalks, finely chopped

Salt – 2 teaspoons

Pepper – ½ teaspoon

Red chili flakes – a pinch

Garlic – 3 cloves, mashed

Basil – ½ cup roughly chopped

Ground fennel – 2 teaspoons, (optional, gives the taste of sausage)

Oregano – 1 teaspoon

Red wine – ½ cup

Crushed Tomatoes – 3 cups, fresh tomatoes can be used as well

Sugar – 1 tablespoon

Cooked Pasta – 1 lb. or enough for 8

Pecorino Cheese – ½ cup, grated
Directions
Set Instant Pot to Saute.
Place oil in the pot. Add onions, garlic, celery, and carrot. Sauté until onions soften.
Add the meat and spices and cook until meat browns.
Deglaze with wine. Cook for 15 minutes until the wine is reduced.
Stir in tomatoes and sugar. Close the lid. Press 'Cancel' then 'Manual or Pressure Cook' and cook for 35 minutes.
When it is finished, press cancel. Carefully release the pressure, and unlock the top when ready to serve.
Serve over Pasta with grated Pecorino Cheese, or use as a topping on pizza dough!