Fancy French Fondant Potatoes are a buttery, herb crusted, elegant French technique of roasting a russet potato. Once cooked, they are creamy on the inside with a crunchy golden edge on the outside.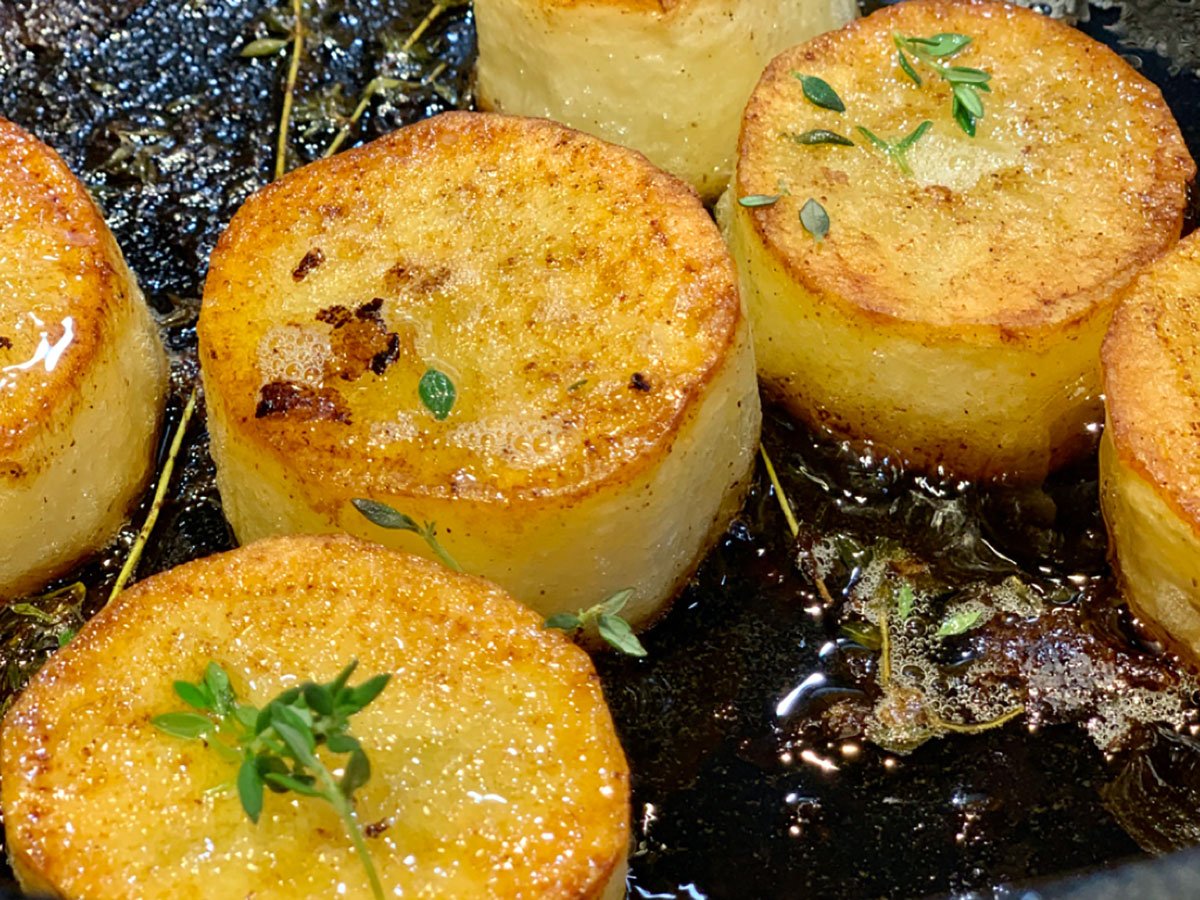 Fancy Potatoes
Is it possible for a potato to wow you with the most amazing flavor, texture and presentation? YES! Fondant potatoes, first created in France and known as pommes de terres fondantes, are a style of cooking a potato sure to wow you!
While there are endless ways to elevate a potato, none quite like the fondant potato, with its classic French technique, showcases all the delicious aspects of a potato, without additional ingredients, such as cream, milk, cheese or sauces.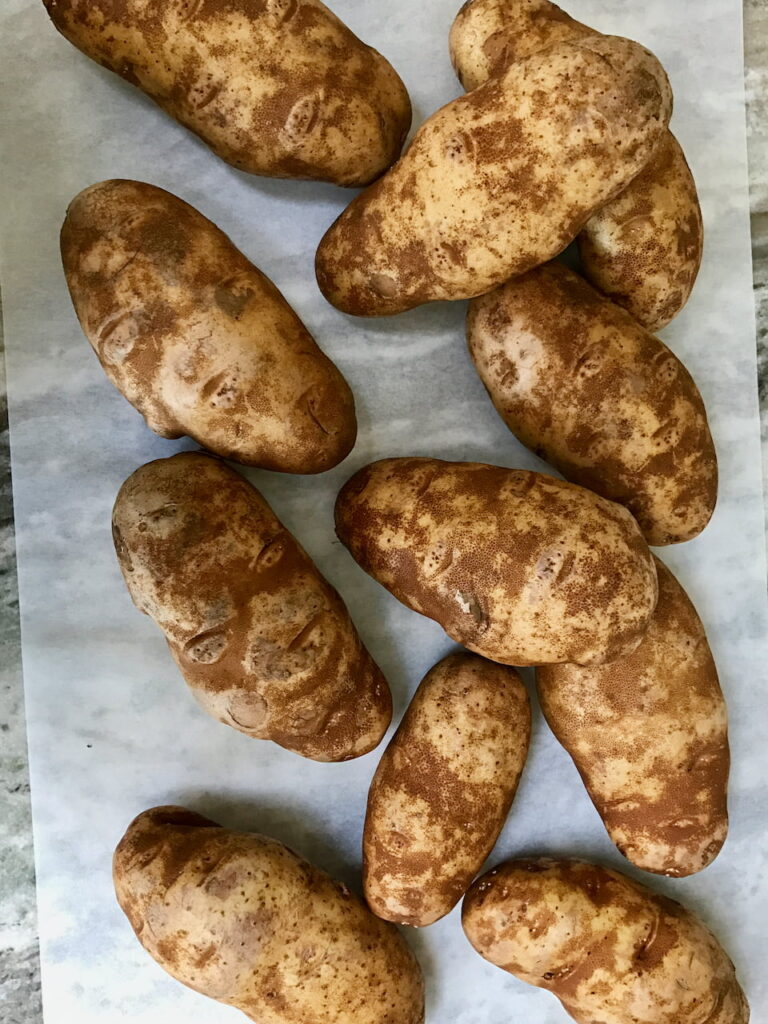 Potatoes
Let's be honest, they are always delicious no matter how they are prepared! But not every style of cooking a potato does justice to other items you intend to serve along side it. I've decided that every potato dish has a personality all its own; character, if you will.
Baked Potatoes
Baked potatoes used to be popular when I was growing up as a side dish in many restaurants, lathered with sour cream and chives, but then seemed to disappear from menus across America.
When they made a comeback, it was the Twice Cooked Potato that seemed to replace that ole sour cream and chive baked potatoe. Same baked potato but once baked (hours or days in advance), it got stuffed with everything in the fridge, rebaked and often served as the meal, in and of itself. Cool idea, but definitely not fancy.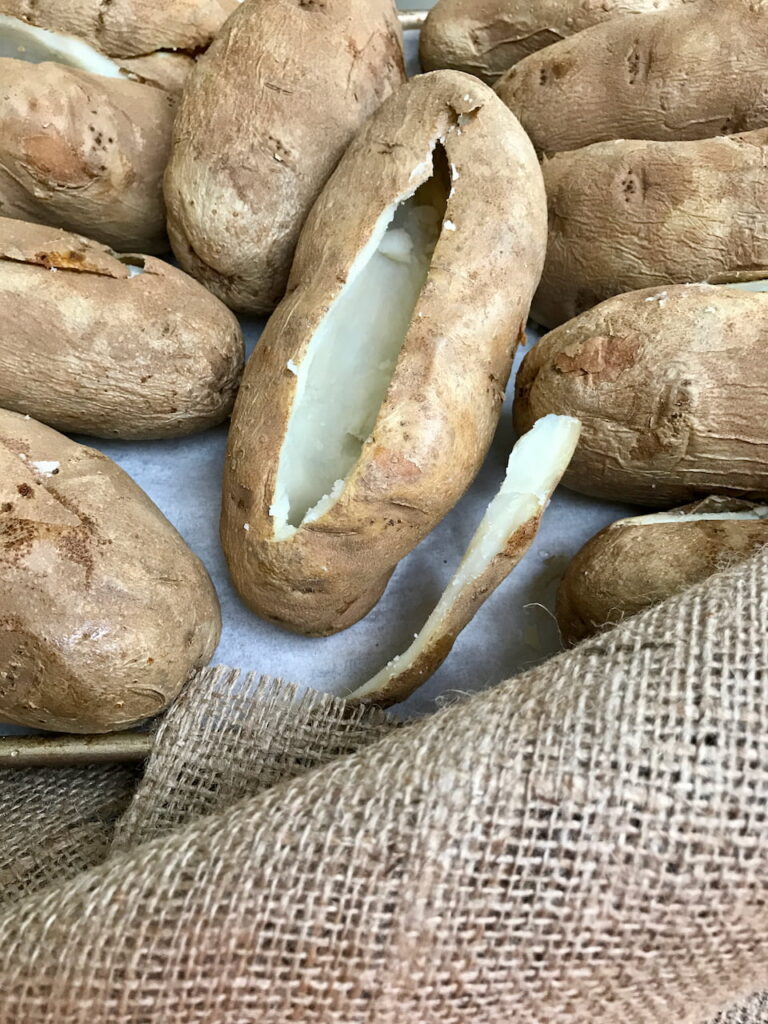 French Fried Potatoes vs French Fondant Potatoes
Totally not French, but what burger, hotdog or trip to the beach would be complete without a heap of hot, crunchy golden fried, French fried potatoes! Too soggy for leftovers though, and no… not fancy.
Rosemary Oven Fried Potato is the best way to enjoy fries at home. All that's needed is a really hot oven and a sharp knife.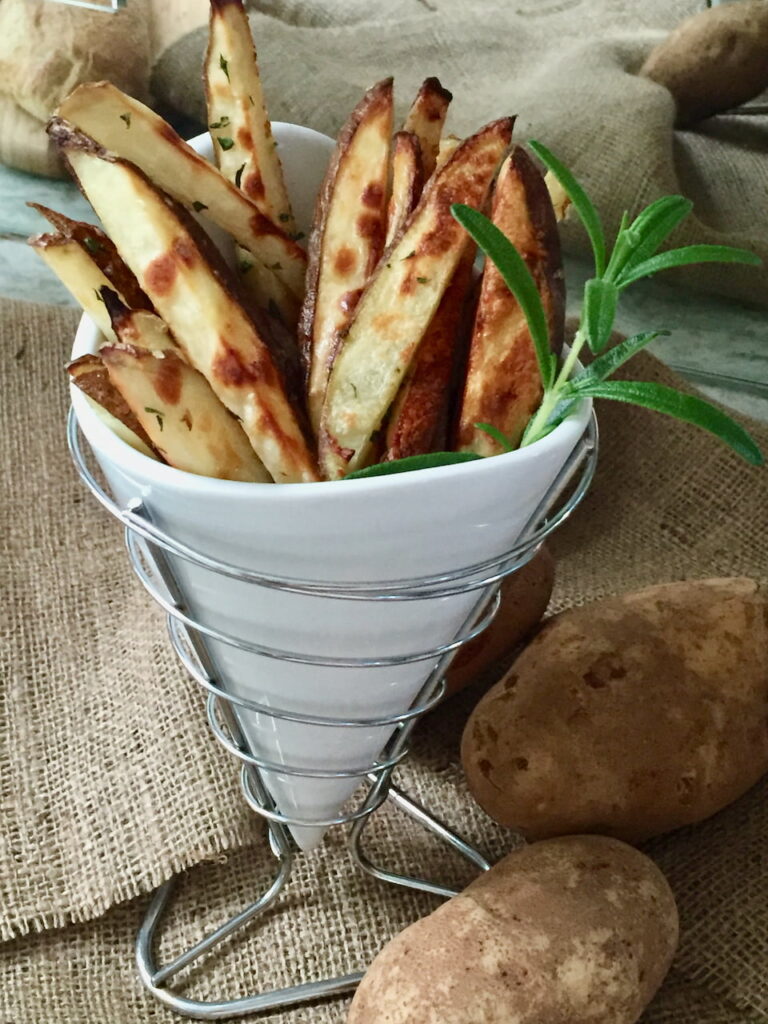 Other Fancy French Potatoes
Now, we're beginning to talk about a luscious potato dish that looks stunning on a fancy plate of food at a high end event or a fancy dinner party, or can also be dressed down for a down-home meal.
What is Dauphinoise Potatoes, you might ask? Thin, thin, thinly sliced potatoes layered in a tall mound and baked with heavy cream, butter, garlic nutmeg and herbs.
Once baked to soft golden perfection they can be served right out of the baking dish, or elevated by using a biscuit cutter to press out rounds of this luscious creamy mound of potatoes, placed on parchment lined baking trays and heated just before serving on an elegant porcelain dish at any event dinner party.
Dauphinoise Potatoes hold up beautifully, can be prepared in advance, reheated to perfection, and are definitely fancy but… definitely potatoes all dressed up with calorie extras.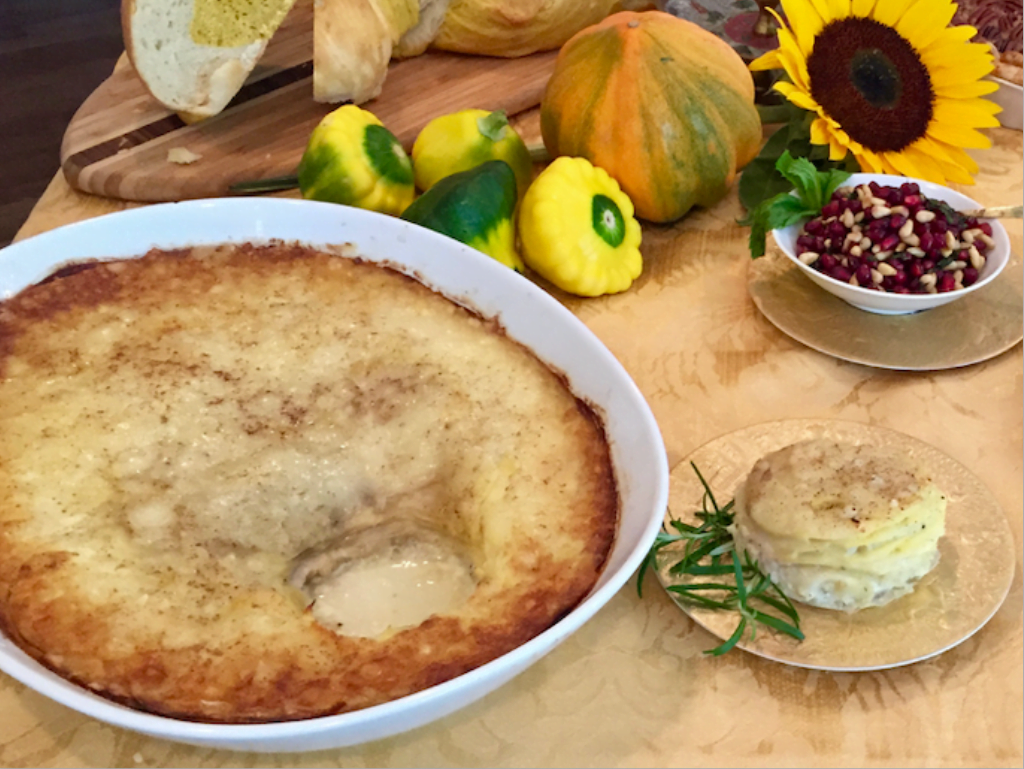 Fondant Potatoes
Leave it to the French to create the most decadent, stand-alone, fancy presentation of a potato that makes perfect sense to serve any time of year and along side any main course meal.
Fondant Potatoes are cut into a cylinder from a whole russet potato, usually 3 cylinders per potato depending on the size. Soaked in cold salty water to extract the starches from the potato, dried then browned on either ends in oil, butter and lots of herbs until each end is crunchy golden brown, then popped into a hot oven to finish baking.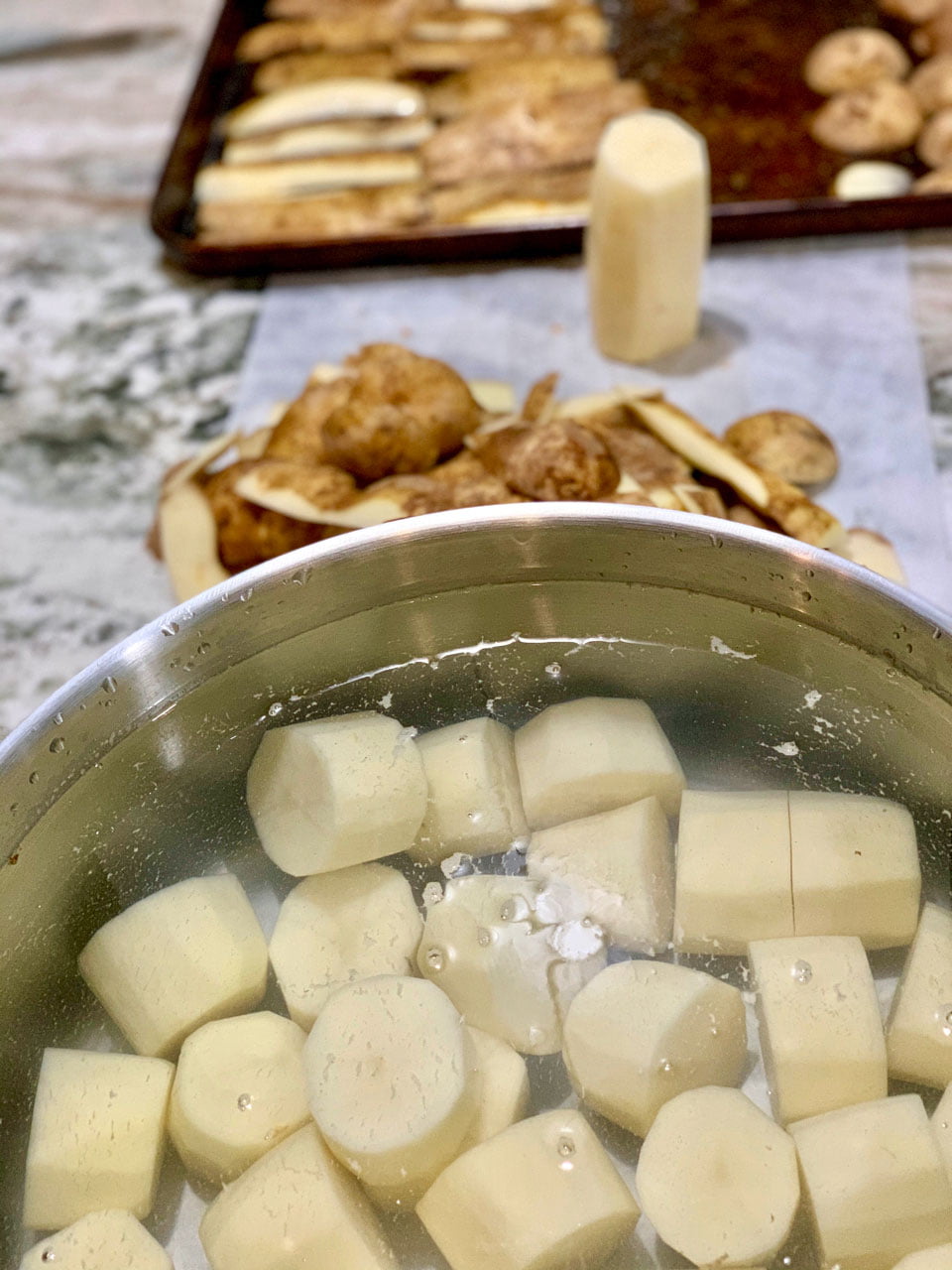 The center remains a creamy texture while the outside forms a crunchy crust and they can be neatly served on an individual plate as the side dish, though I would certainly call it the show stopper, or can be stacked beautifully on a platter for a buffet presentation.
Kids love them and adults swoon over them. I love lots of thyme, browned in the hot pan as well as more placed on top when they bake. One could almost call them the fancy, decadent version of a French fry, only not fried!
Let me show you how easy it is to make what will soon become your favorite way to indulge in potatoes!
Cast Iron For Crisp Fondant Potatoes
While I didn't grow up with cast iron pans in my mother's kitchen, I sure own many now!
No other metal locks in the temperature needed, when a 'high sear' is called for. Get the pan sizzling hot, have the food room temperature, drizzle a little oil and or butter and you've got a great sear on whatever you are cooking.
Why is searing a potato important? Because of the starch in potatoes, it is easy to make them soft, which we want on the inside. The outside though, we want a fast, firm, crispy finish, while the inside remains creamy. A cast iron pan is the best way I know to accomplish this.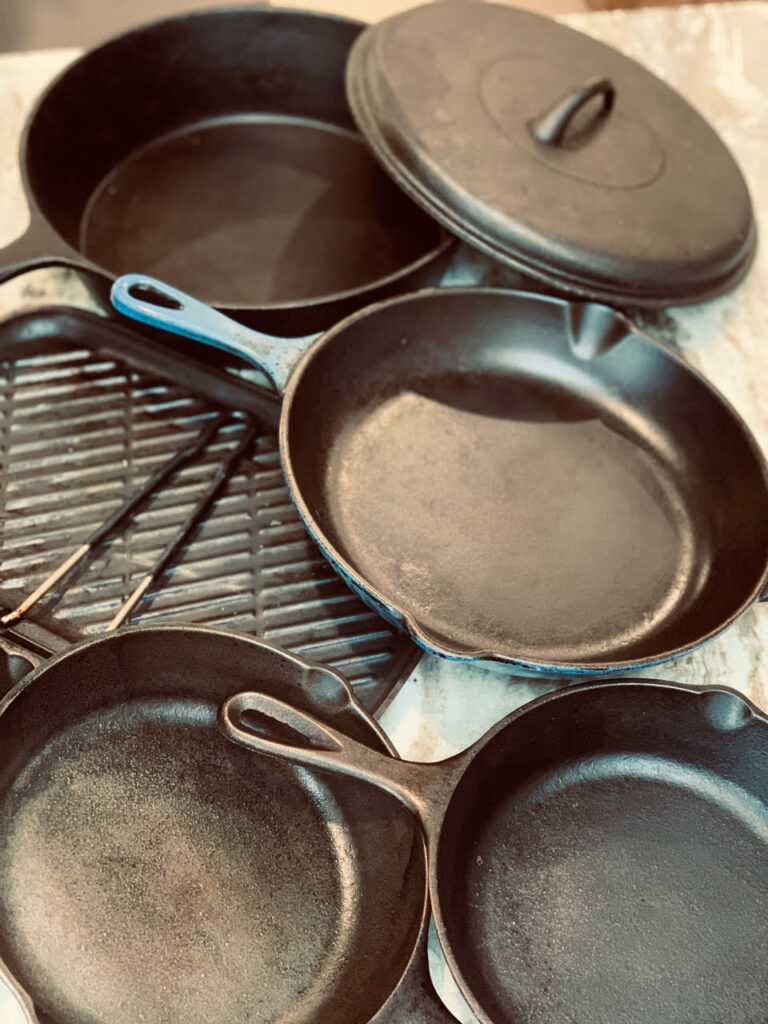 Ingredients Needed
Russet Potatoes
Canola or Sunflower oil
Butter
Salt and Pepper
Fresh Thyme
Broth
Equipment Needed
Cast iron pan – preferably
Large bowl – to soak potato slices
Kitchen towel – to dry potatoes
Cutting board
Sharp knife
Measuring cup
Measuring spoons
Metal spatula
Sauce pan – to warm the broth
Stove top or burner
Hot oven
Fancy French Fondant potatoes are a buttery, herb crusted, French technique that cooks them creamy on the inside with a crunchy golden edge on the outside.
Ingredients
Large russet potatoes – 3

Canola or sunflower oil – 2 tablespoons

Butter – 2 – 3 tablespoons

Salt and pepper to taste

Broth – 1/2 cup, any broth of your choice, warmed

Sprigs of thyme – several

Cast iron pan works best
Directions
Preheat oven to 400ºF
Cut a flat end to each end of the potato. Stand it on one end and cut the skin off, rather than peel, with the intention of making the potato appear to be a long cylinder. After creating the cylinder, lay it on its side and cut 3 even sections. You should have what looks like 3 giant scallops.
Drop the cut potatoes in a bowl of cold water with 1 teaspoon of salt. Let them sit for at least 20 minutes (or over night). When ready to prepare, rinse the starch from the potatoes and dry well on paper towels. Salt and pepper to taste.
Heat a heavy frying pan, preferably a cast iron pan, something that can also go in the oven. Add oil, and when oil is hot add the potatoes on their flat end. Strip a few sprigs of thyme across the potatoes. Keep the potatoes on that one side for a good 5 minutes. When they look a deep golden brown, carefully turn them over to the other flat end, take a wad of paper towel into you tongs, swab up the oil quickly and toss in the butter. Add more thyme. Everything will be sizzling and popping. Use a spoon to lift up the hot butter and pour it over the potatoes repeatedly until that side of the potatoes are golden. Turn off the stove top, pour the warm broth into the pan and pop it into the hot oven quickly, no lid.
Bake for about 25 minutes. Check at 20 minutes to make sure the broth has not totally evaporated. If it has, add a few tablespoon more warm broth, but it should be good. After 25 minutes, take the pan out and let the potatoes rest 5 minute before serving. Garnish with a few more thyme leaves.
Notes
Having the broth hot before adding to the cast iron pan keeps the pan's temps right where they need to be.