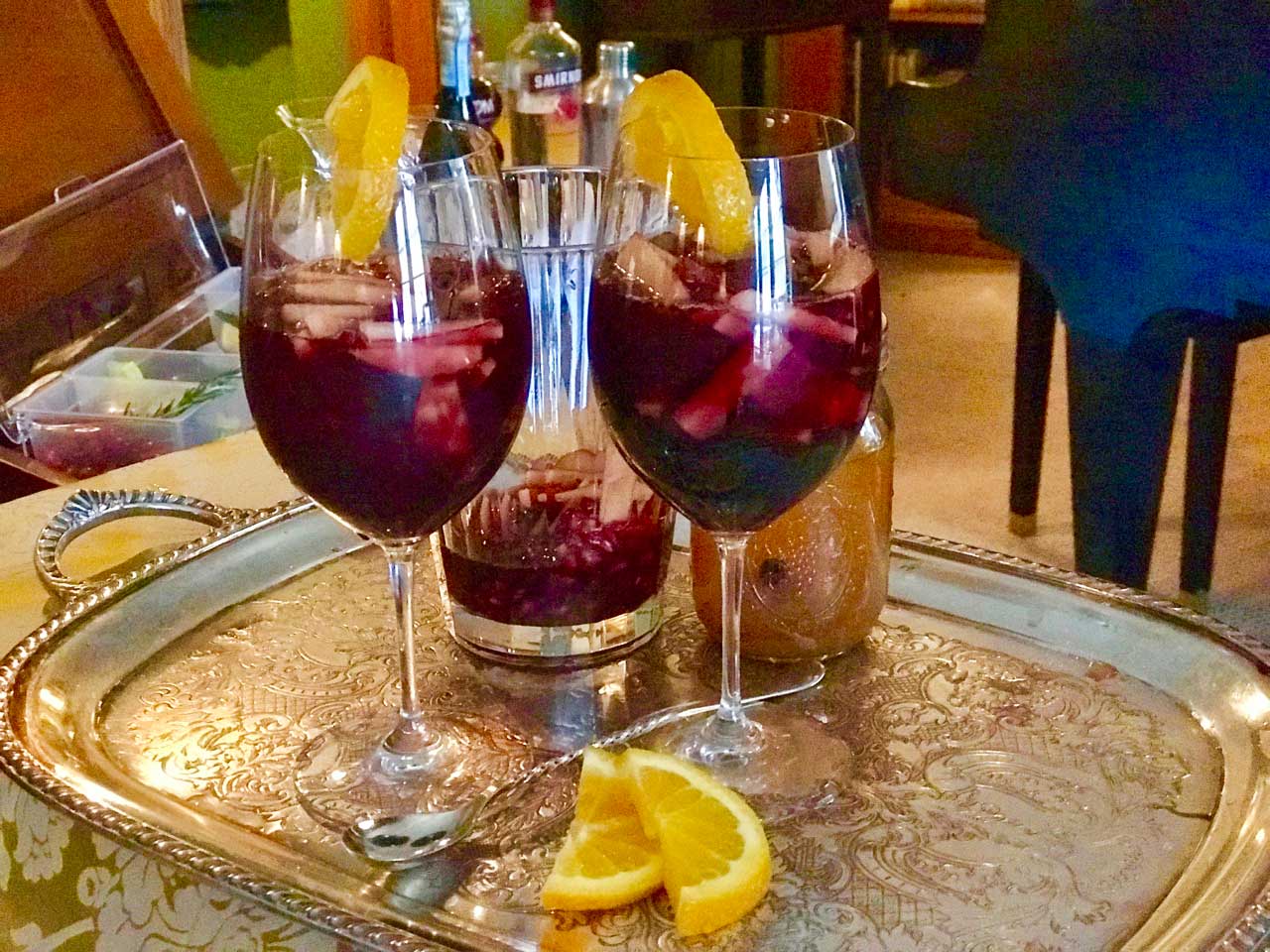 Sangria with fruit, liquors, spiced simple syrup and herbs has as many recipes as there are wines to mix them with. Every type of wine or champagne is fair game for a great sangria recipe.
Winter Sangria
A dark red sangria lends itself to heavy spice mixes to flavor the simple syrup, with fruits that best compliment the liquors chosen to add. An apple brandy makes a great addition to a dark red wine. Add a splash of apple cider simmered with cinnamon, cloves and orange rinds, and you've got the perfect fruit sangria for the winter months and holiday occasions celebrated in the winter.
Sangria Origin
Sangria, derived from the word 'sange' or blood in Spanish, originated as a way to ward off bacteria in water many years ago, protecting the blood from bacteria related diseases.
Having spent a greater part of my child rearing years with a large Italian family, I became aware that Sunday Suppers, a traditional large gathering, every single Sunday for a midday meal of pasta, 'meata balla's', homemade breads and of course wine, always included the kids at the table with wine. I was a bit taken aback when I saw this, until I was in the kitchen and happened to see the children's glasses being prepared; a glass of water, a drizzle of Chianti. When I asked why, the answer; 'tradition'! I guess it stemmed from bad water.
My First Fruit Sangria
I must admit, my first glass of sangria, with all the luscious fruits, didn't happen unto the late 90's. I went to a fabulous Spanish restaurant in Baltimore Maryland for the best Paella I'd eaten in a restaurant (I say that because one of my sons makes the very, very best Paella I've ever had in my life!), and happened to notice nearly every table had a huge ornate pitcher of sangria loaded with fruit. I had to have it. Fabulous!
I have to admit, if there is one really good reason to drink sangria other than the fact that it tastes fabulous, it's because you can drink a whole lot more during the course of an evening without feeling over the top! (wink)
Sangria Popularity
Part of the food and dining experience is about the drink! While I can pop the cork on my favorite bottle of wine, I knew very little about cocktails until I went to have my niece (a wedding planner), give me a few lessons on cocktails, what people like and why.
The first, so called, cocktail she wanted me to learn to make was Sangria with fruit. She said it lends itself to such a huge varieties of additional liquors, fruits, herbs and spices that it should be the first cocktail a home cook would want experiment with.
Serving Sangria
While Sangria was originally prepared in beautiful over-sized handmade clay pitchers with traditional painting on the sides, we Americans in our quest to appear to live a casual lifestyle, have started serving Sangria in oversized Mason Jars! Geez! Just think, you can have a Mason Jar filled with an array of fruits and herbs, sip on it all day and no one will suspect 'ya got booze' in there!
Ingredients Needed
Red wine
Apple cider
Cinnamon stick
Honey
Apples
Brandy
Orange slices
Ice
Equipment Needed
Saucepan
Pitcher
Measuring cup
Measuring spoons
Stirring spoon
Stovetop or burner
Sangria with winter fruits, liquors, spiced simple syrup and herbs.
Ingredients
Merlot – 2 cups, or a favorite red

Apple Cider – 3/4 cup

Cinnamon stick – 3, 2 for garnish

Honey – 1 tablespoon

Apples – 1 cup thinly sliced red and green

Brandy – 1/4 cup, apple brandy is yummy

Orange slices – 1 orange, in slices (2 for garnish)

Ice – 1 cup

Tall pitcher
Directions
In a small sauce pan, place apple cider, 1 cinnamon stick and honey. Bring to a simmer, turn off, cover and let steep for 15 minutes. Cool. Remove cinnamon.
In a large pitcher, place ice and remaining ingredients. Stir.
In large glasses, place an orange slice on the rim of the glass, 1 cinnamon stick each and pour the sangria in each glass. Serve. Allow pitcher to sit out room temp while sipping.