Beetroot Ice Cream made of naturally sweet and earthy beetroots, roasted and pureed with a sprinkle of sugar, cream, egg yolks and vanilla, is an ice cream for all year.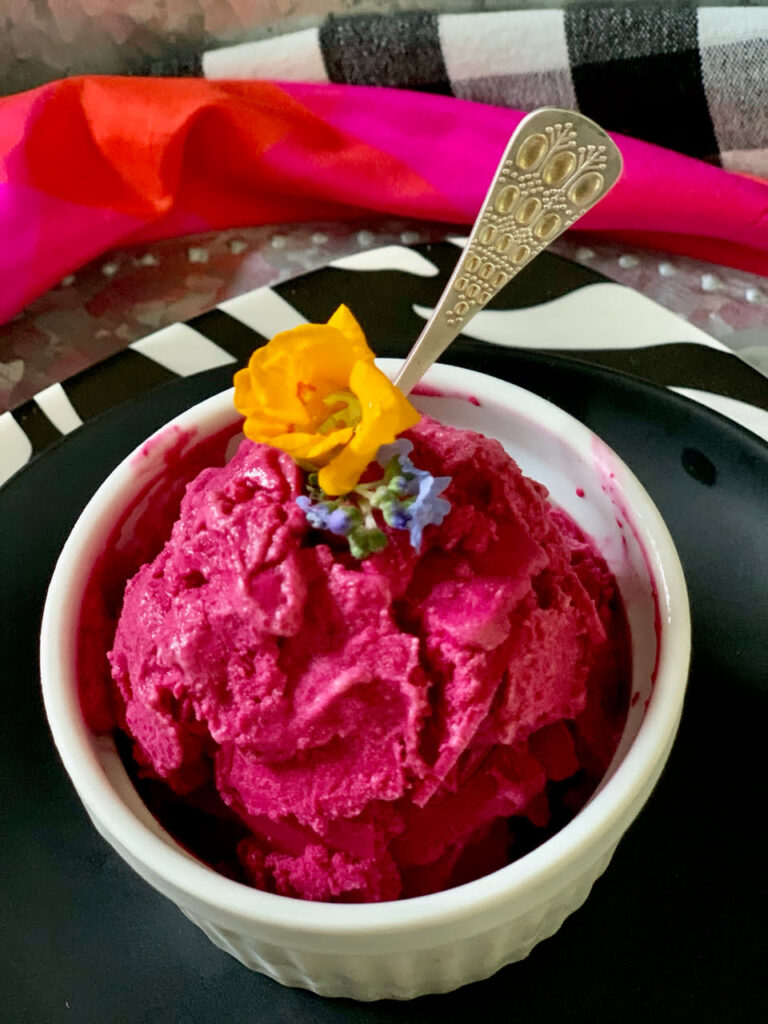 Beetroots
Beets have been a superfood for such a long time, but many of us are just making the discovery for ourselves. Better late than never!
It's time they are finding their way into yours hearts, literally; they are a powerful antioxidant and anti-inflammatory properties.
Eaten cooked, dehydrated or raw, the possibilities are endless. However, let's not forget the beet greens, most folks throw those away.
Natural sugar producers (the good kind), beets are fabulous in baking. What? Desserts? Absolutely! The color and the earthy sweetness of cooked beets makes them delicious in cakes and custards.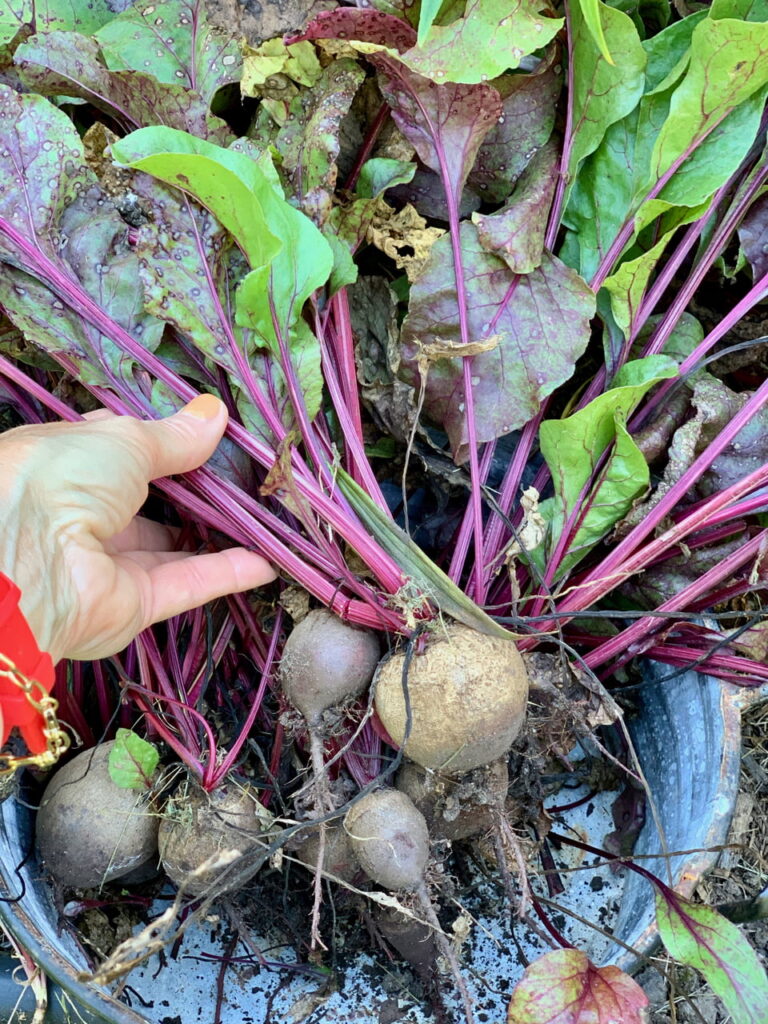 The list of savory dishes for beets is endless, though I will share a few with you here, one for sure will be a beet juice cocktail! Yep, I created that one while drinking Caipirinhas in Brazil.
These are only a few, so search 'Beets' at Whisk and Dine and there are plenty more!
Home Grown Beets
Beets popping their little heads out from the dirt, whispering 'pick me, pick me.' Seasonal produce inspires more newly created recipes, for me, then just about anything else inspires my cooking.
I didn't grow up with a homegrown garden. Moving to the countryside, after my children had grown, inspired me to try planting.
Now, I am so inspired each year with what I have learned to grow. Growing these beets took zero effort.
Seeds went in the ground in spring and now they are producing so many beautiful beets.
Knowing what a beautiful color the beets would be, once I roasted and peeled them, I had to create something different.
Showcase their color and play up to the sweetness naturally found in beets. Ice Cream!!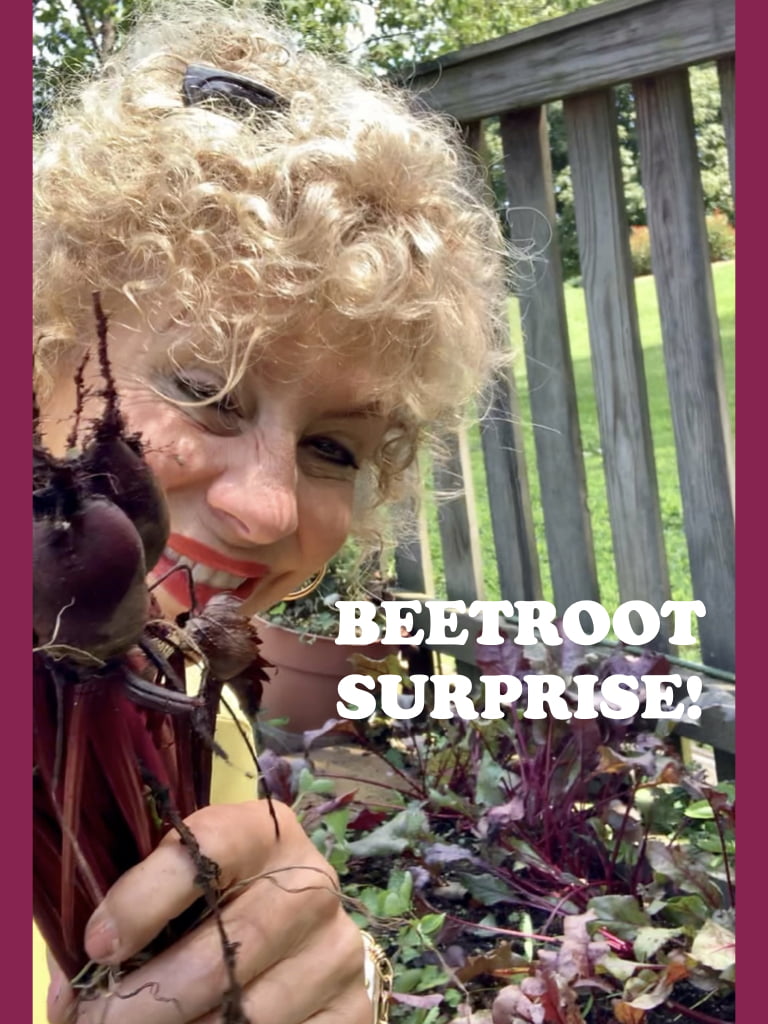 Homemade Ice Cream From Beetroots
Homemade ice cream is so easy to make when you have an ice cream maker to do all the work.
Under 80 bucks and the machine I bought has lasted year after year, in fact nearly 10 years.
I use is often in the summer. Just need to keep the frozen part stored in the freezer, fill it, flip the switch and in  20 minutes ice cream is ready!
When my summer gardens are feeding me with lots of beautiful produce, like beetroots, that ice cream maker gets a workout!
How To Make Beetroot Ice Cream
Making beetroot ice cream takes a little bit of prep time, as does most homemade ice creams.
Once the ice cream batter is made, which can be done in advance, even a day or so, the rest goes fast.
Preparing the beets first can be done in several ways. Roasting them in their skin is my preferred approach.
Scrubbed beets go into a baking dish with a drizzle of water on the bottom of the dish, lid on and baked for 50 minutes (unless the beets are large, then longer).
Cooled, peeled beets go into the food processor or blender to puree. Drizzle a little whole milk into the machine to help the puree process.
Sugar, remaining milk, pureed beets and egg yolks are whisked in a sauce pan until the temperature reads 160 degrees.
Vanilla and cream are added. The batter is chilled in the fridge for an hour or overnight, poured into the prepared ice cream maker. In 20-minutes you have Beetroot Ice Cream!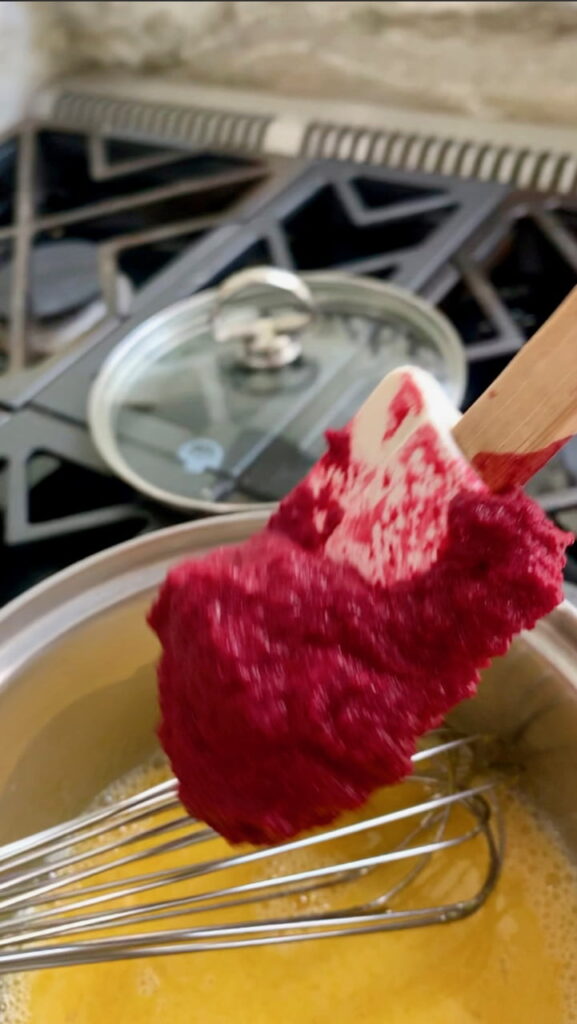 Equipment Needed
Baking dish with a lid
Vegetable peeler
Knife
Gloves
Food processor or blender
Saucepan
Whisk
Thermometer
Measuring cup
Measuring spoons
Ice cream maker
Cupcake papers (optional)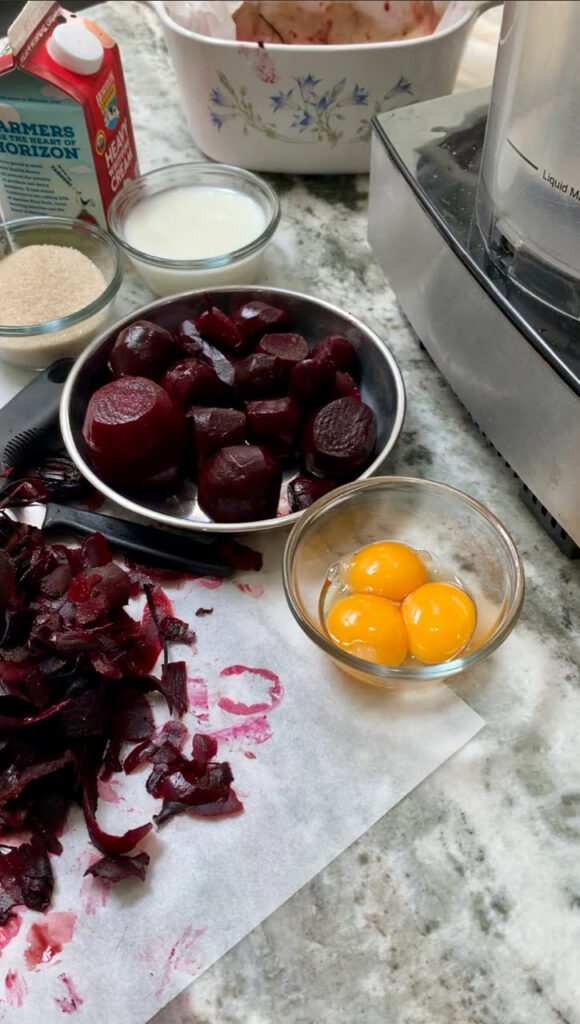 Ingredients Needed
Beets
Sugar
Whole milk
Egg yolks
Whole cream
Vanilla extract
*Full cream Coconut can substitute the dairy products here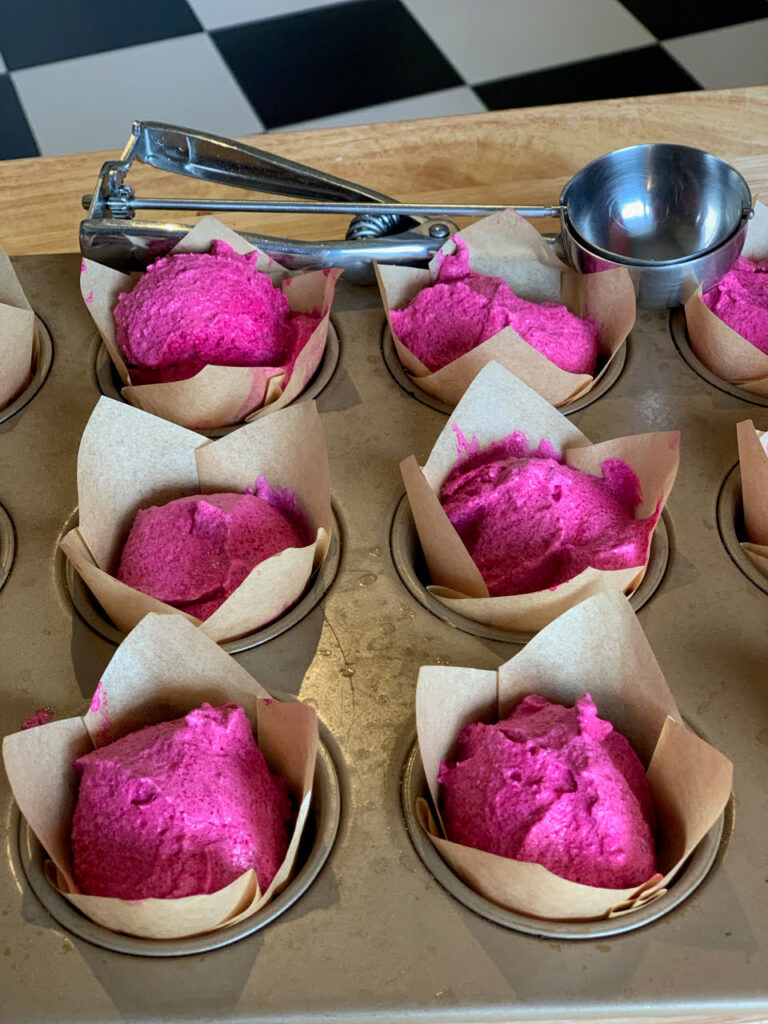 Beetroot Ice Cream
Course: Ice Cream
Cuisine: Fusion
Difficulty: Complex yet easy
Roasted beets pureed with a little sugar, cream, egg yolks and vanilla, churned into a beautiful creamy ice cream.
Ingredients
Beets – 1 1/2 cups

Sugar – 1/2 cup

Whole Milk – 3/4 cup

Egg yolks – 3

Whole Cream – 2 cups

Vanilla extract – 1/2 tsp
Directions
Roast the beets, cool, peel and chop to measure 1 1/2 cups. Puree with 1/4 cup milk.
In a saucepan, on medium/low, whisk the sugar, remaining milk and egg yolks until the sugar dissolves. Add the pureed beets and simmer, stirring consistently, until the thermometer registers 160. Remove from the stove.
Place the cream into a pourable container (that will hold at least 4 cups), add the simmered beet mixture, whisk in the vanilla, cover and chill for at least an hour or overnight.
Pour the chilled mixture into the prepared/frozen ice cream maker and churn for about 20-minutes. Serve, or scoop out into cupcake papers and freeze in an airtight container.
Recipe Video
Notes
Roasting beets in their skin, in a small baking dish with just a little bit of water on the bottom of the pot, lid on, for 50 minutes, retains more flavor than peeling first and boiling. 
Scooping the ice cream into cupcake papers, set in a muffin tin and freezing, makes it easier to serve the ice cream at another time. Once the ice cream is frozen, transfer the individual servings into an airtight container and store in the freezer.