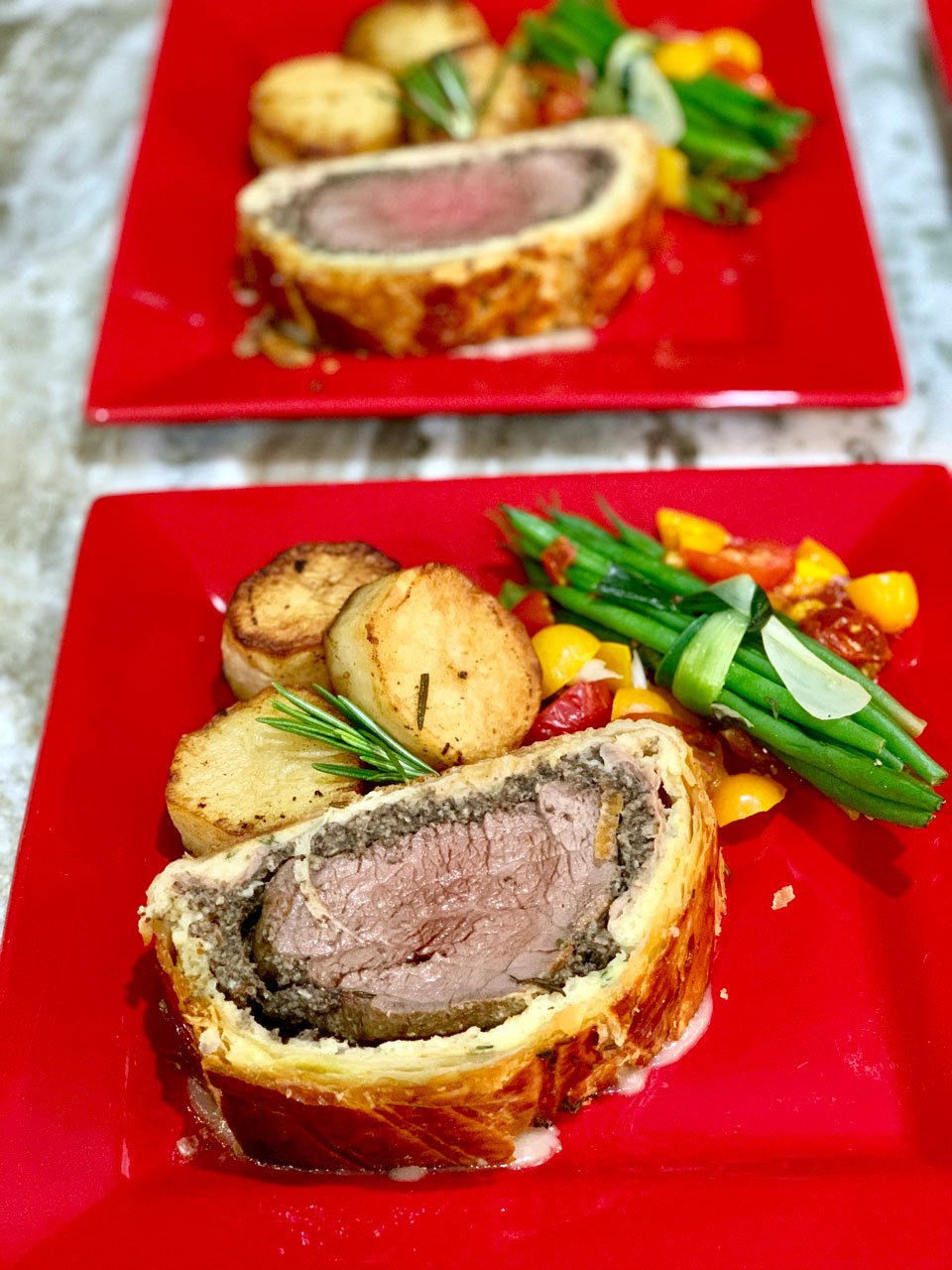 Beef Wellington, seared in herbs, encased in mushroom pate and an herb crepe, then wrapped in a buttery puff pastry and roasted to perfection.
Dinner Party Showstopper
If you want a dish that is fit for royalty, this is your 'piece de resistance'! Every slice tantalizes with its beauty and perfection. While Beef Wellington may appear to be a difficult dish to perfect, I promise you, it is not. There are several steps in preparing this beauty, and each step can be done in advance, except the final roasting time. But even that, and a meat thermometer, can be done while you are enjoying appetizers with guests.
What is Beef Wellington?
Beef Wellington is absolutely the most decadent, beautiful, showstopper meal you can ever serve! It's like that perfectly wrapped gift box that someone gives to you, with another perfectly wrapped box inside, with another inside until you reach the final box with a gorgeous diamond inside! It was the entertainment extravaganza of the 60's and has definitely made a come back!
I first learned to make Beef Wellington from Gordon Ramsay in his Master Class presentation. The steps were easy to follow and the results were impressive. I did, however, make a few changes. Shhhh don't tell him! My son is a fabulous Executive Chef and his real forte is meat and seafood. I was not happy with the timing on cooking the beef and found Gordon's instructions leaving me with beef that was just not cooked enough. Maybe it was the layers that added thickness, therefore not allowing the heat to penetrate, but my son gave me a few pointers and now my Beef Wellington is absolutely perfect ever time!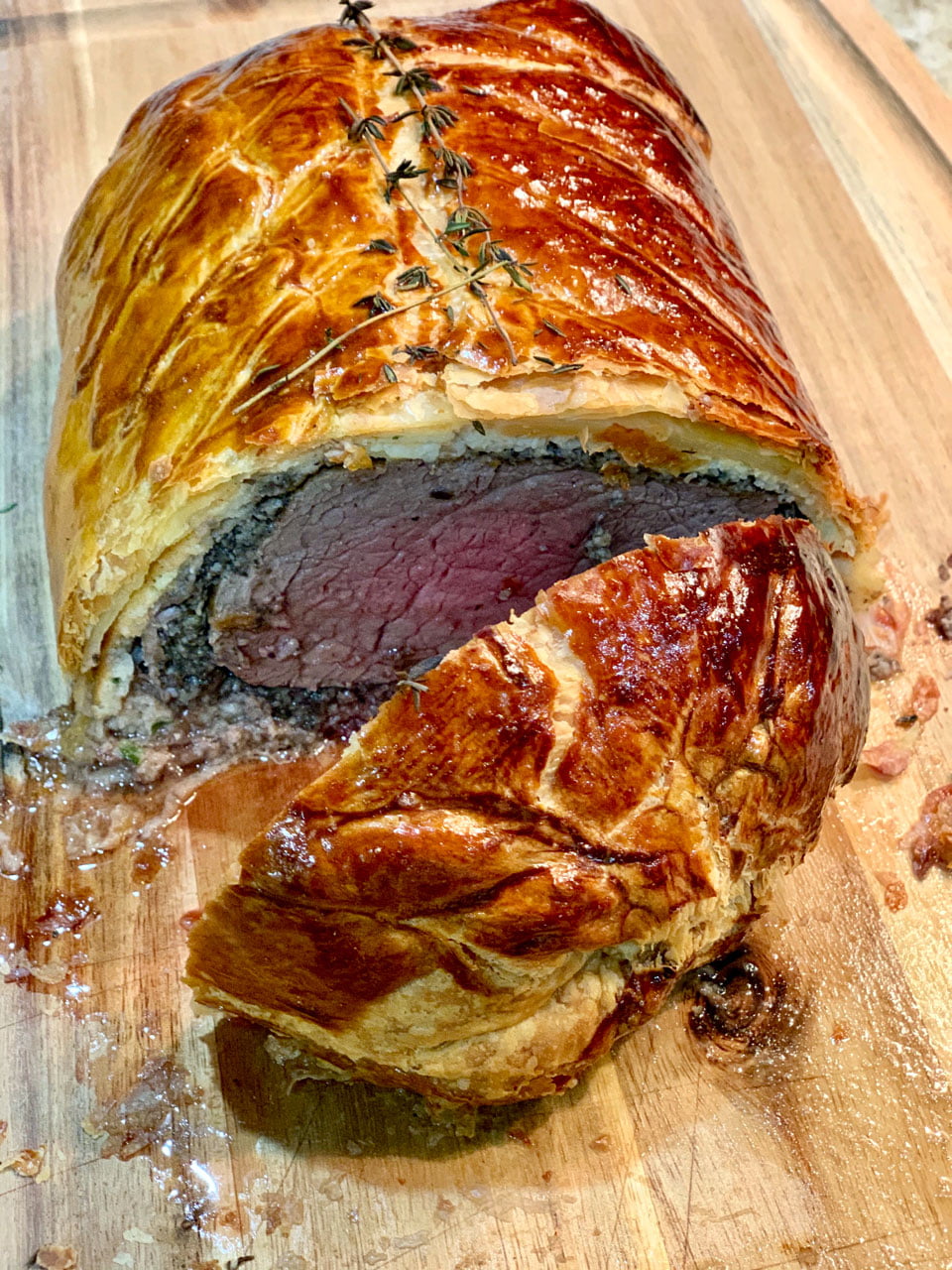 A perfectly salt and herb seared tenderloin. Wrapped then, in a pate, held in place with prosciutto, wrapped then, in a beautiful herb crepe, finally wrapped in a buttery puff pastry. Baked to perfection and served with applause! 
Sound like a lot of work? Here's the good news, each wrapping can be done a day in advance. The final wrapping of the herb crepe around all the goodies inside, gets wrapped tight in plastic wrap for a few hours, if not over night, anyway, so the only real work the day of serving, is to wrap the puff pastry and bake. Easy!
Beef Tenderloin
Beef Tenderloin is also the cut of a filet mignon. It is also the cut used to make Beef Wellington. What is often times not admitted, is that the beef tenderloin cut has the least amount of flavor of any other cut of beef. Tender? Totally! Flavorful? Nope! Why? Little to no fat. Fat is what imparts much of the flavor in the meats we cook. While the filet or tenderloin is a beautiful cut of meat, it really does need help with taste.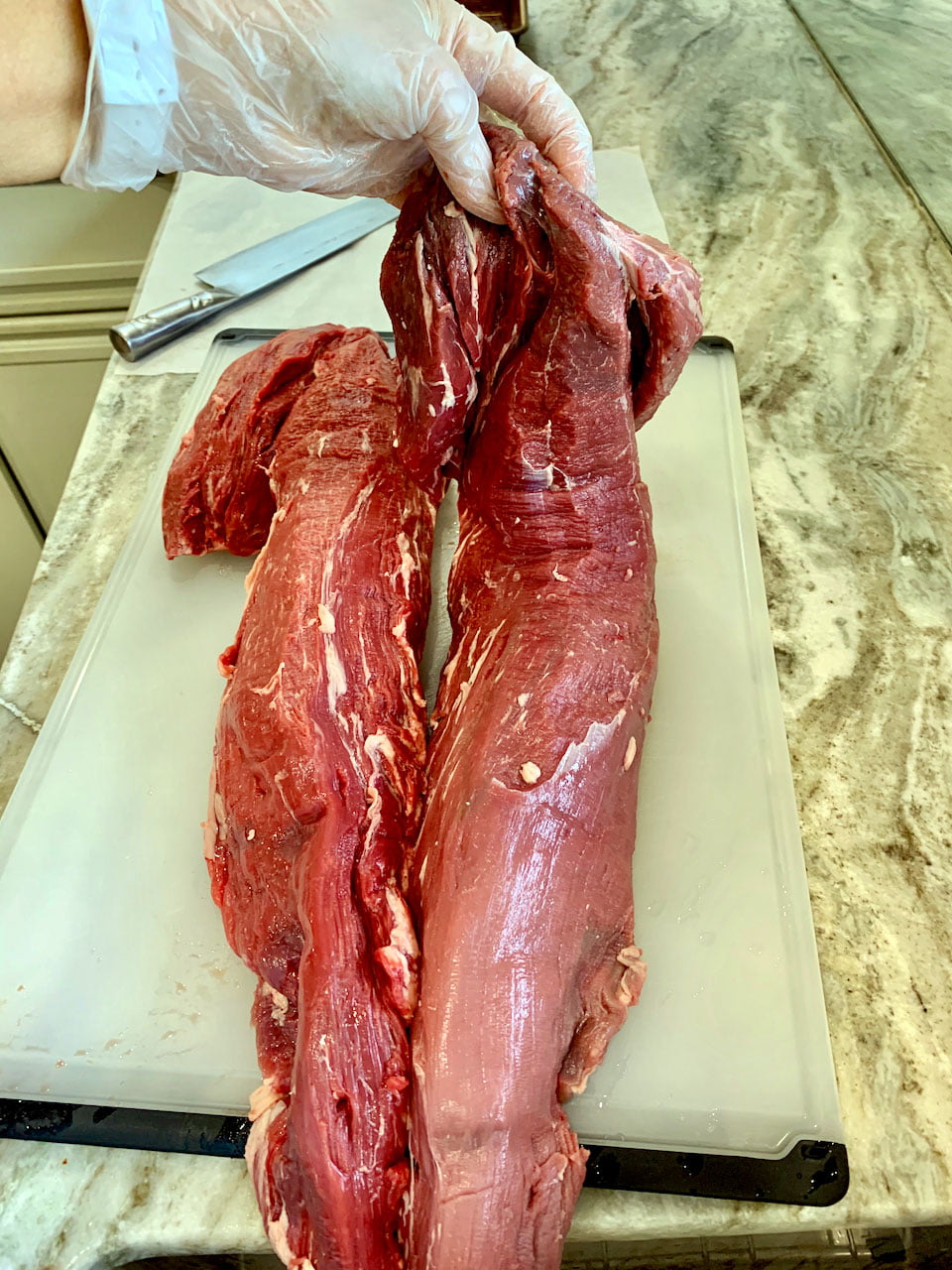 For this reason, when we prepare a Beef Wellington, the meat is seared first, in a hot iron pan with olive oil, butter, herbs and lots of course sea salt. Flavor surrounds the meat, its juices become secured inside by searing the outside of the beef and already the first phase of layering flavor to a beautiful cut of meat has begun.
Pate
While goose, duck or chicken liver pate is what is often used to cover the beef then wrap in bacon, I just felt it was too many conflicting flavors (pig, chicken, duck or goose), that would rob the beef of its own delicate flavor. Chicken liver pate, to me, has a strong flavor, as does faux gras (which, I'm sorry, I just don't like), and so I opted for mushroom pate.
Mushroom Pate
Who doesn't love the earthy flavor of mushrooms with beef anyway! Homemade mushroom pate is so easy to make, you will wonder why you don't make it often for a variety of other dishes. A huge, like really huge, heap of mushrooms gets tossed into a big pot with a little butter, garlic a drizzle of wine and herbs, simmered down and pureed! That's it. Don't forget to set some aside (freeze if need be), to toss into many of your winter soups.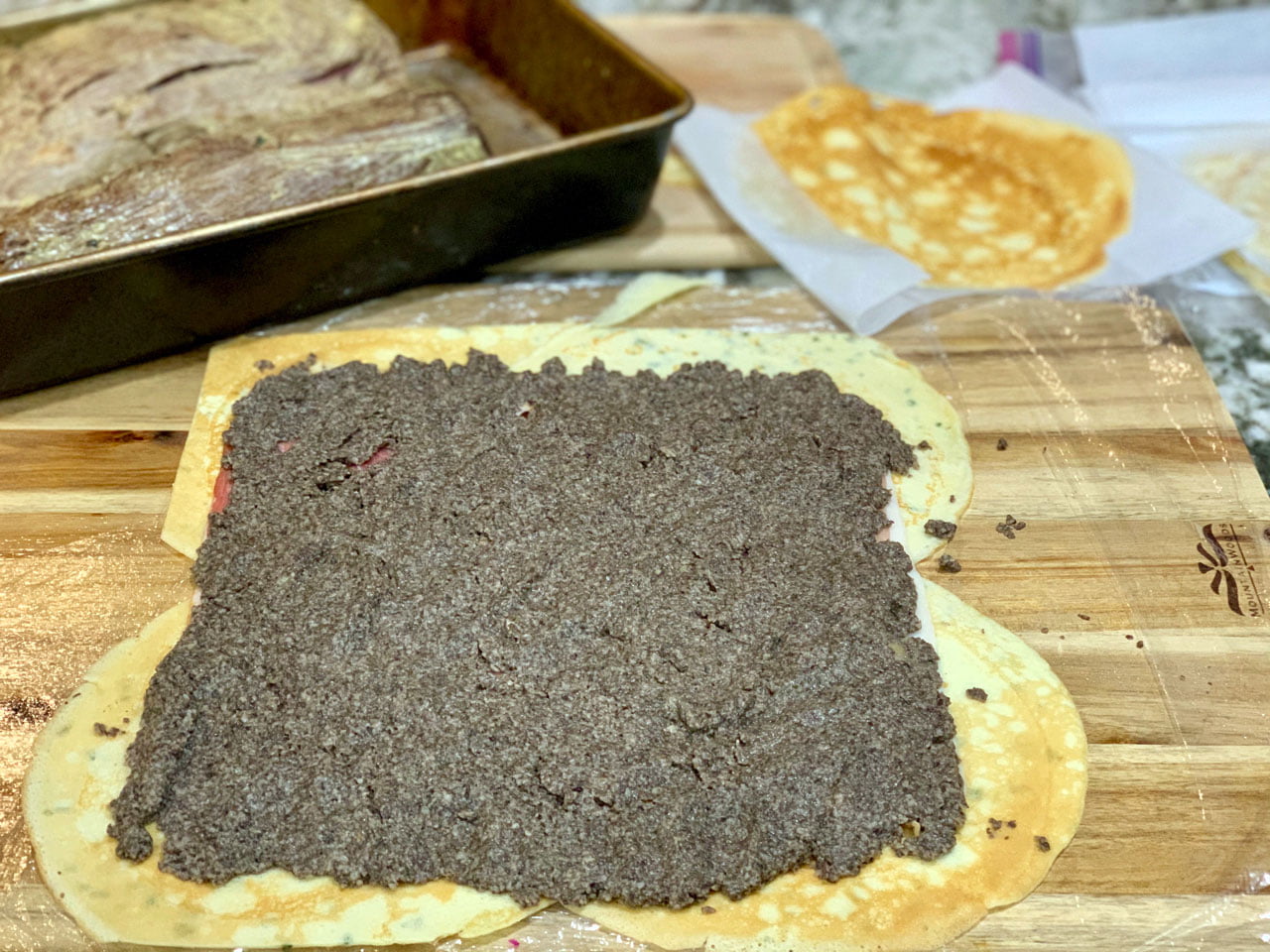 Herb Crepes
Why use crepes in the making of Beef Wellington? Several reasons. First, the herb crepes are a batter of eggs, milk and flour and once they are made, they have a firmness that holds the pate and prosciutto in place. Another brilliant reason is that the crepe is what lays next to the puff pastry and not the pate or meat, which protects the puff pastry from getting soggy when it bakes, as many have complained about the making of Beef Wellington. They also impart flavor and texture to each bite.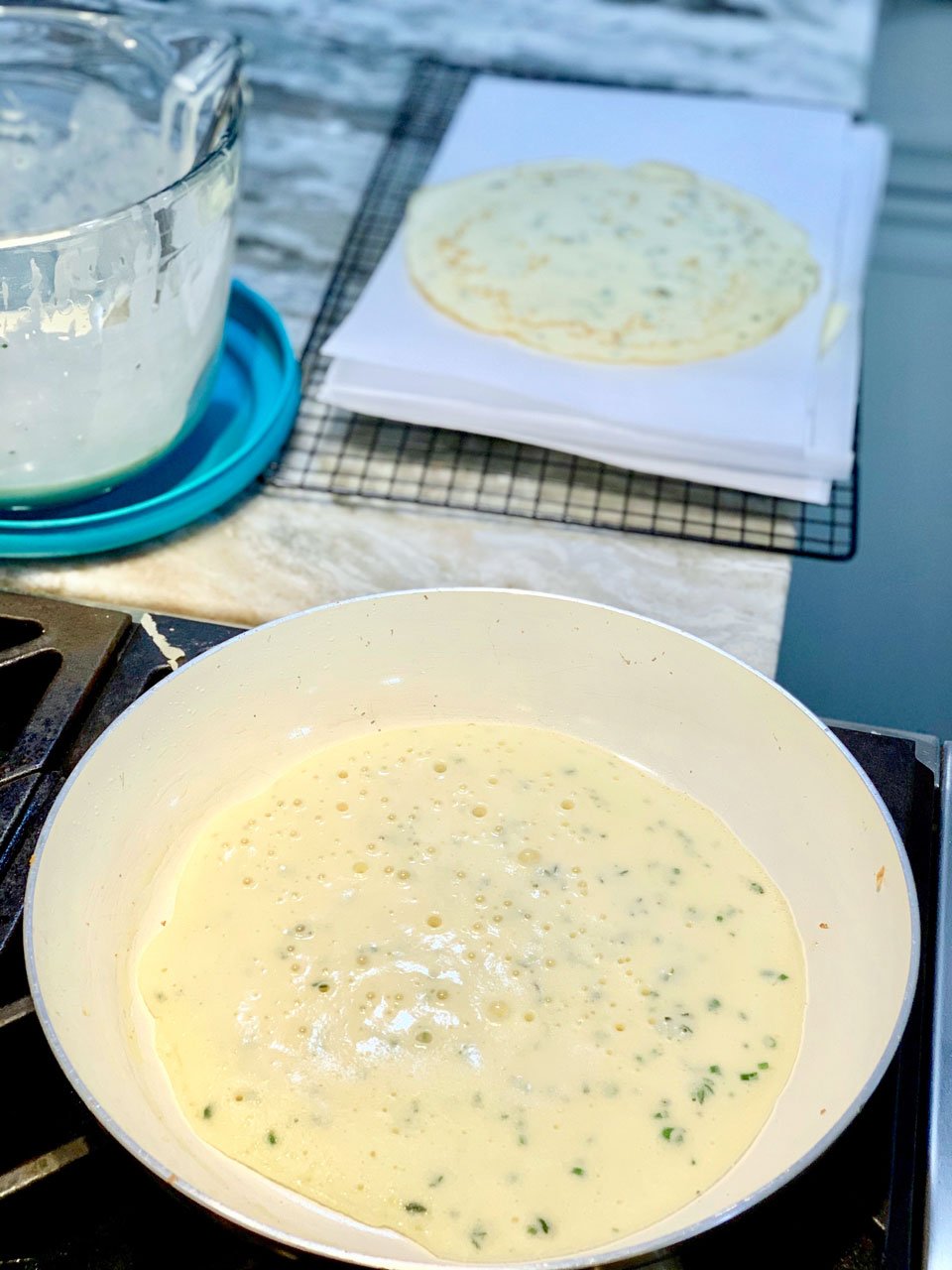 Ready to put this together and wow your dinner guests every time? Yes, there are several steps, but as I said, nearly all of them can be done in advance. Lots of photos included here to give you the confidence along the way.
Ingredients Needed
Beef Tenderloin
Salt and Pepper
Fresh Thyme
Olive oil
Dijon mustard
Prosciutto
Mushrooms
Garlic
Butter
Puff pastry
Egg yolks
Flour – for dusting
Equipment Needed
Large saute pan
Large cast iron pan
Cutting board
Chopping knife
Tongs
Mixing bowl
Whisk
Measuring cup
Measuring spoons
Meat thermometer
Basting brush
Metal spatula
Stovetop or burner
Oven
Beef Wellington: The Dinner Party Showstopper
Course: Beef, Meat
Cuisine: British
Classic Beef tenderloin, seared in herbs, wrapped in mushroom pate, crepes, puff pastry and roasted to perfection.
Ingredients
Mushroom Pate Ingredients

Mushrooms – 4 cups, finely chopped

Olive oil – 3 tablespoons

Salt and pepper to taste

Thyme leaves – 1 teaspoon

Herb Crepes Ingredients

Eggs – 2 large

Flour – 1 cup

Milk – 1 – 1 3/4 cups, enough to make a medium thin batter

Chives – 2 teaspoons, chopped fine

Thyme leaves – 1 teaspoon

Salt – just a pinch

Nonstick cooking spray

Beef Ingredients

Select a beef tenderloin according to the number of servings you want to have, considering a one-inch wide slice per serving. Remember also that the beef needs to fit into a pan, so if you are serving a number of people it is best to make more that one Beef Wellington.

Coarse sea salt and pepper to taste

Oil – 1 tablespoon of any high heat tolerant oil

Thyme leaves – several stalks

Cast iron pan works best

Additional Ingredients

Dijon mustard – 1 tablespoon, or enough to lightly brush on beef after it is seared

Prosciutto – 6 slices per bundle

Puff Pastry – 1 9oz. sheet (approximately) thawed

Egg yolks – 2, whisked and set aside to brush over pastry

Thyme sprigs – 2-3
Directions
Mushroom Pate
In a medium sauce pan over medium high heat, place oil, mushrooms and seasoning. Cover until the mushrooms start to wilt, uncover and stir periodically until mushrooms have cooked and moisture has evaporated (about 10 minutes). Remove, cool, puree and set aside until ready to use.
Herb Crepes
In a large mixing bowl, combine all ingredients (except spray). Whisk until well incorporated. Let it rest in fridge for at least 30 minutes.
Lightly spray a 10-inch nonstick pan and place over low heat. Add 1/4- cup batter and swirl quickly so batter spreads. Let it cook for 30 seconds or until you see little bubbles beginning to form, gently flip over for a few more seconds and remove before edges begin to brown. Continue cooking until you have about 5 crepes. Place parchment paper between each layer and store in an airtight container or baggy in fridge until ready to assemble.
Beef
Season beef liberally with salt and pepper on all sides. Heat a cast iron pan (preferably) and add oil. Sear beef on all sides, 60 seconds per side. Remove beef and brush mustard on all sides while warm. Let it rest.
Final Preparation
Preheat oven to 425
Bring mushrooms and crepes to room temp.
Take a damp cloth and wipe over the surface of a cutting board. Layer 3 pieces of plastic wrap, overlapping each other on the board. Lay several crepes on top of the plastic, taking note to trim them the fit the width and circumference of the beef. I used a piece of string to check these measurements. Layer the prosciutto on top of the crepes, in long strips, top to bottom, overlapping the edges.
Spread mushroom pate across the prosciutto, taking care to leave the edges of the crepes free of filling.
Set the beef on top of the pate, 1/3 up from the bottom.
Using the plastic wrap to lift as you pull the crepe over the beef, roll the beef up completely, smoothing plastic and twisting the ends to form a tight package. Refrigerate for 20 minutes. (I did up to this step the day before, took the package out to sit room temp for 40 minutes before continuing. Also, I doubled this recipe which was a perfect amount)
Again using a damp cloth to wipe board and cover in the same way with plastic wrap. Place puff pastry in the center. Use a rolling pin and roll out to about 1/8 inch thickness, trimming if necessary to fit beef bundle. Unwrap beef bundle and place on the pastry 1/3 way up. Lightly brush pastry with egg yolk wash and season once again with salt and pepper. Lift the plastic wrap up and roll the pastry over the beef, until the edges meet, then massage the pastry, smoothing it evenly across and sealing the seam. Twist the plastic taking the excess pastry with it, until pastry melts together, and cut off the ends. Unwrap the Wellington, discard the plastic and smooth the ends, then brush with egg wash, several times. Using the back of the knife, gently score the Wellington and create a decorative pattern. Season with more salt, place time sprigs on top and place on a parchment lined tray and refrigerate for 5 minutes.
Place in the center of the oven on a heavy baking sheet pan and bake for 35 to 50 minutes, or internal temperature registers 135 for medium rare or 150 for medium. Remove and let rest for 5 minutes before slicing and serving
Notes
If children will be dining with you, I have found it more fun for them to be served individual, mini versions of what the grown-ups will be served. Small cubes of the tenderloin wrapped in mini versions of the adult recipe. Wrapped in small squares of puff pastry. Since everything in these adorable child servings has been scaled down, bake them only until the puff pastry is golden, about 15 minutes.